Easter Rocky Road is an awesome way to use up leftover Easter candy. Make it as an Easter treat or it makes a great Easter gift idea as well.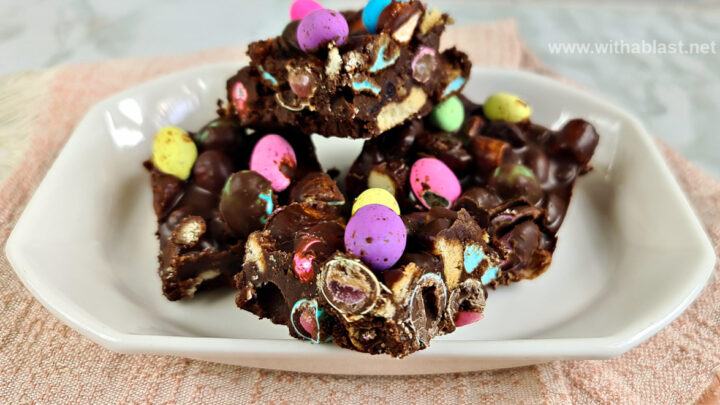 It is almost Easter and next week this time many will ask, what to do with leftover Easter candies. You can finish it off as is, or turn the leftover candy into Easter Rocky Road !
I recently bought my granddaughter a kind of little lucky packet at one of our weekly markets. She did not want the piece of Rocky Road included, and after one bite, neither did I when tasted. Very floury taste.
Thereafter, I decided to make my own as the Easter Rocky Road not only makes a great way of using leftover candy, but can be given as an Easter gift as well.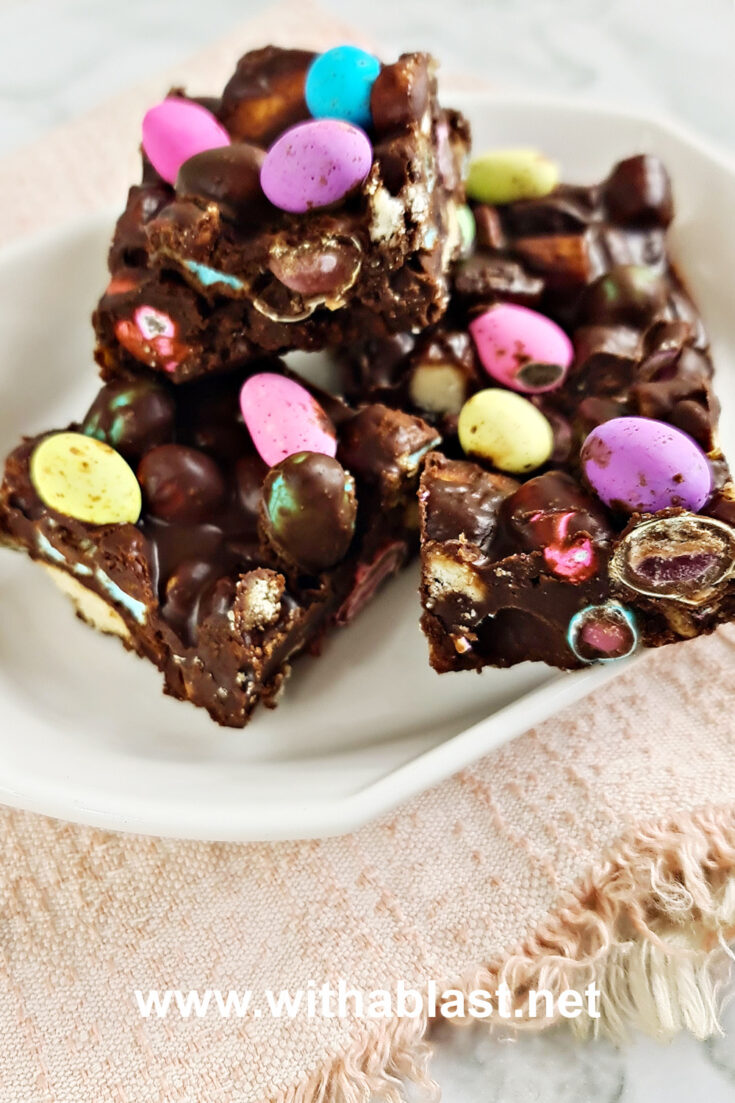 When given as an edible chocolate gift, simply wrap the bars in cellophane and it is good to go.
You can use any type of mini Easter eggs in the recipe, however I like the chewy jelly filled type. It adds chewiness and there are less hollow spots in the bars.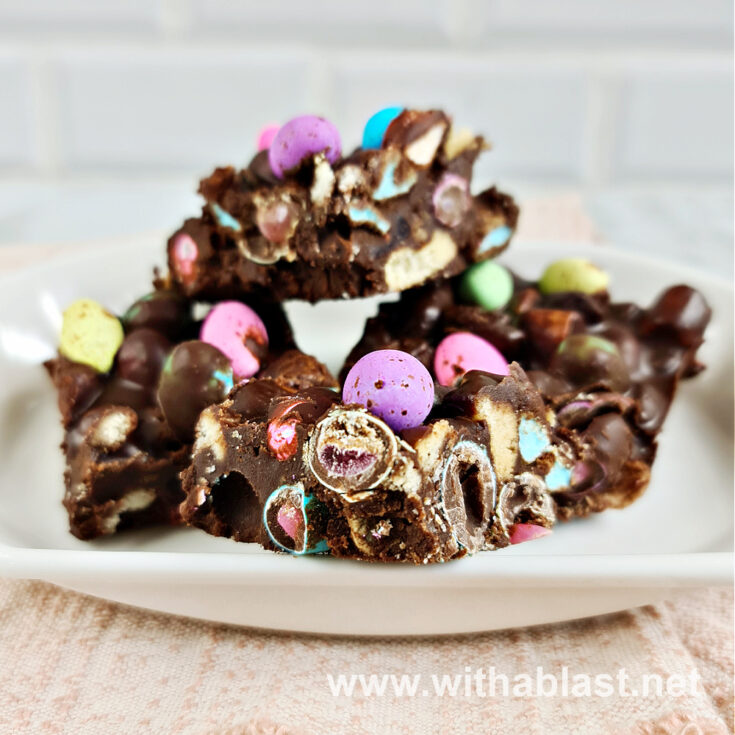 The dried Cranberries can also be substituted for any dried fruit (chopped small if using bigger dried fruit), or leave it out if you prefer no fruit.
How to store the Easter Rocky Road ?
We have just started Fall in South-Africa and the days are so different from one another. One day it is hot, then icy cold the next.
Therefore, if you are in a warm/hot area, store the Rocky Road in an airtight container in the refrigerator. Remove 10 minutes before serving. (Yes, I know, ideally chocolate should not be refrigerated)
But if you have a cool area in the house, or it is Fall/Winter, then store in any airtight container without refrigeration.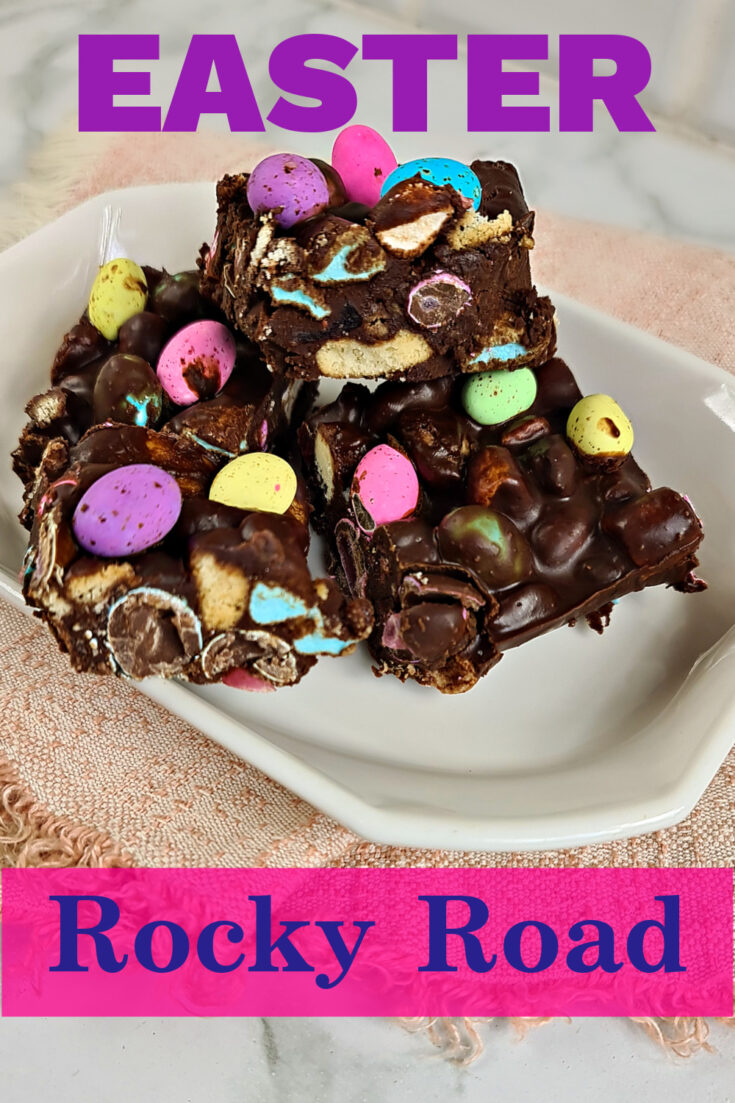 More Easter recipes you might like:
Easter Rocky Road
Yield: 12 Servings
Easter Rocky Road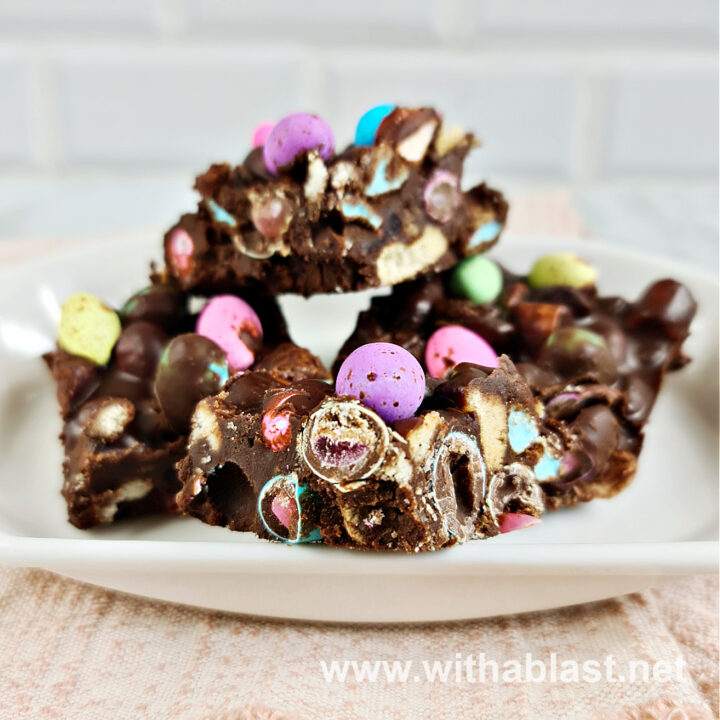 Easter Rocky Road is an awesome way to use up leftover Easter candy. Make it as an Easter treat or it makes a great Easter gift idea as well
Total Time
1 hour
25 minutes
Ingredients
225 grams Dark Chocolate, broken into pieces, good eating quality ( 8 oz ) - see notes below
100 grams Unsalted Butter, ( 3.5 oz )
2 TB Cocoa Powder
2 TB Golden Syrup, or Treacle Syrup
100 grams Shortbread Cookies, ( 3 .5 oz )
1 1/2 cups Mini Marshmallows
2/3 cup Dried Cranberries
200 grams Chocolate Mini Easter Eggs, chewy jelly filled ( 7.5 oz )
Instructions
Line a 20 x 20 cm ( 8 x 8 inch ) baking dish with cling wrap (cross over)
Melt the Dark Chocolate in the microwave, stirring regularly, until halfway melted - add the Butter and microwave until all is melted - stir until glossy and smooth
Stir in the Cocoa Powder and Syrup - leave to cool at room temperature 10 - 15 minutes
Chop the Shortbread into smaller pieces (shortbread in a plastic bag, rolled with rolling pin works great) - you do not want the pieces too small though
Stir the Shortbread into the Chocolate mixture together with the Marshmallows, Cranberries and 3/4 of the mini Easter Eggs
Pour the Chocolate mixture into the lined baking dish and press down gently to remove most air pockets
Sprinkle over the remaining mini Easter Eggs - press down slightly and refrigerate an hour until set
Cut into bars using a sharp knife
Notes
Milk Chocolate works just as well as Dark Chocolate
Serving sizes/quantity depending on your cut
The bars will keep well in an airtight container for around a week
Nutrition Information
Yield
12 Servings
Serving Size
1 Bar
Amount Per Serving
Calories

383
Total Fat

20g
Saturated Fat

12g
Trans Fat

0g
Unsaturated Fat

7g
Cholesterol

39mg
Sodium

66mg
Carbohydrates

48g
Fiber

3g
Sugar

35g
Protein

4g
Nutrition value is not always accurate