The ultimate sandwich ! This Heart Attack Sandwich is perfect to serve for lunch or dinner – so tasty and packed with meats and cheese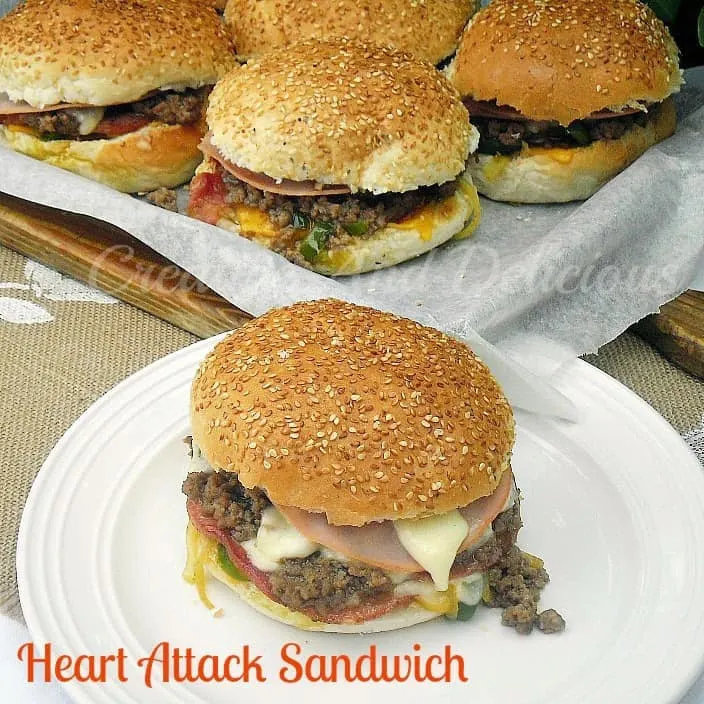 The other day I had a nap – supposed to be a usual 1-2 hour nap. Anyway, hubby left me sleeping from 11 am and I only woke up after 4 pm ! Gulp ! Really ..
Therefore, dinner had to be a quick one and I came up with this Heart Attack Sandwich. I was almost done as my son walked in and asked "what is this called".
Normally I would have thrown a tantrum at a question like that. However, after I started blogging, especially about food, it is a normal question asked in our house.
Without thinking I answered him with " It's a Heart Attack Sandwich " to which he looked intrigued, but not really surprised ! And then the name stuck ..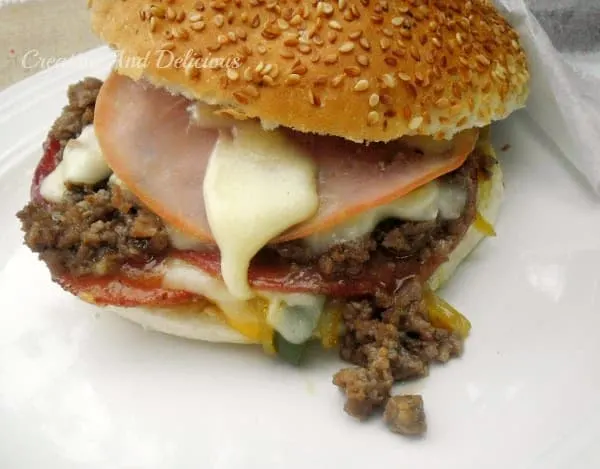 I would not advise anyone to eat something like this on a regular basis. Especially people with high blood cholesterol.
Have I ever mentioned my daughter and I have this irritating condition? No? Okay, we do, but she wasn't home and well, I am not really watching what I eat as I should.
Right, enough, this is anyway a real.to.die.for. ultimate sandwich !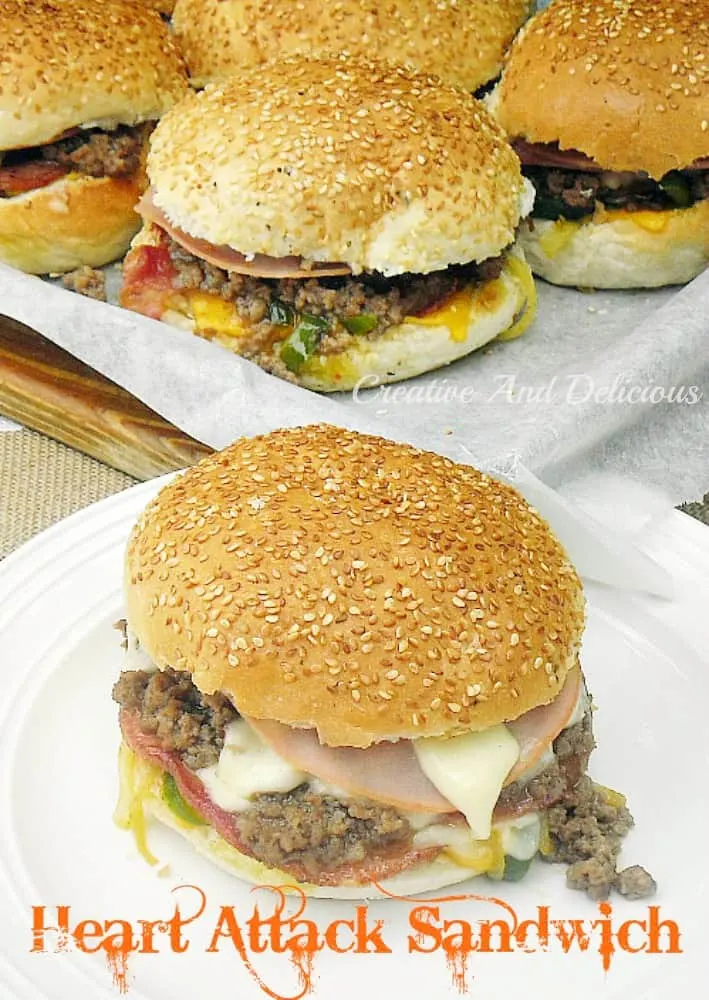 More recipes you might like for quick dinners:
Heart Attack Sandwich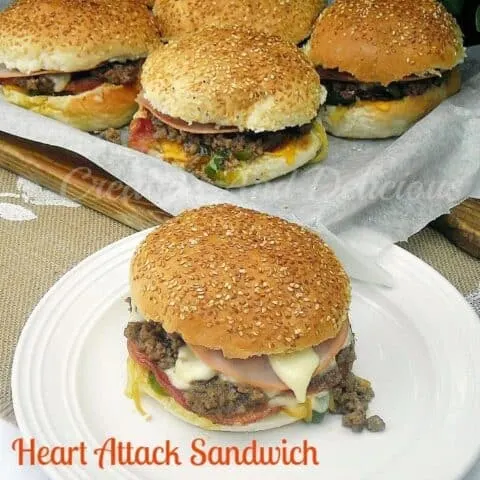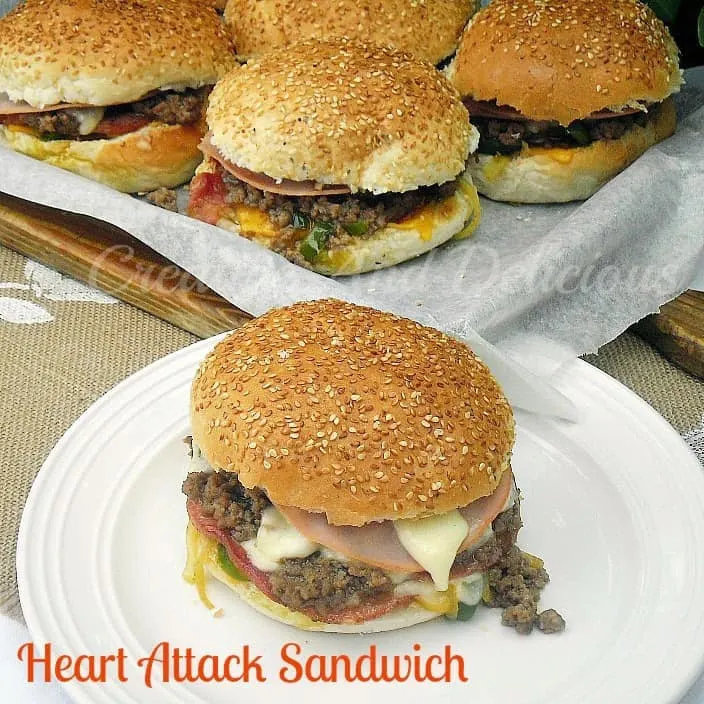 Heart Attack Sandwich
The ultimate sandwich ! This Heart Attack Sandwich is perfect to serve for lunch or dinner - so tasty and packed with meats and cheese
Ingredients
6 Large Burger Buns ( or 2 Oval French Breads )
6 slices Gouda Cheese
2 TB Butter
1 Large Onion, sliced
1 Green Bell Pepper, chopped
12 slices Back Bacon
12 slices Deli Salami
450 g Lean Ground Beef ( 1 pound )
Salt and Pepper, to taste
1/2 cup BBQ Sauce ( your favorite brand )
12 slices Deli Thin Ham ( I like Gypsy Ham )
12 slices Mozzarella Cheese, cut into several smaller pieces (divide into 3 batches)
Instructions
Slice the Buns in half – place the bottom halves on a baking paper lined baking sheet – top each with a slice of Gouda Cheese – place under the grill until just starting to melt – remove and keep aside
Saute the Onion and Bell Pepper in the Butter until soft and golden in a medium saucepan – spoon mixture over the Gouda Cheese
Cook the Bacon as per your preference – place two slices, per sandwich, over the Onion/Pepper and top with a few pieces of Mozzarella – under the grill again for a minute or two – remove – place two slices of Salami over the Mozzarella
Using the same saucepan as used for the Onion/Pepper – stir-fry the Ground Beef until done – season to taste and stir in the BBQ Sauce
Spoon the Beef over the Mozzarella and add another few pieces of Mozzarella over the Beef – back to the oven – grill a minute or so and remove
Place two slices of Ham over the previous layer of Mozzarella and top with a final layer of Mozzarella – under the grill again – remove and close with the top piece of Bun
Nutrition Information
Yield

6
Serving Size

1
Amount Per Serving
Calories

1053
Total Fat

55g
Saturated Fat

25g
Trans Fat

0g
Unsaturated Fat

24g
Cholesterol

301mg
Carbohydrates

40g
Fiber

2g
Sugar

16g
Protein

96g
Nutrition value is not always accurate