A Christmas Dessert Board which is easy to pull together, no matter your budget ! Variations and more ideas given as well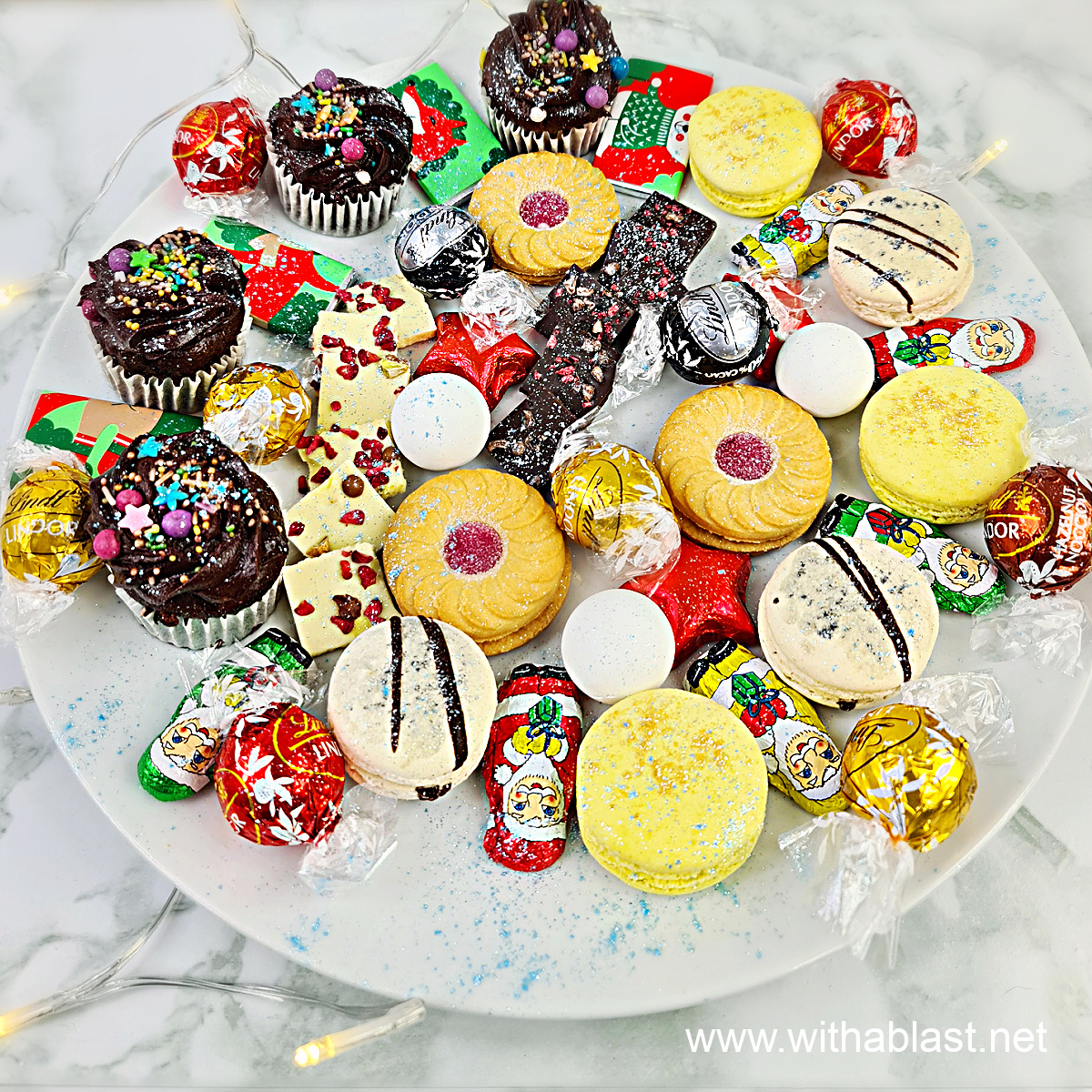 If you love putting together platters, this will give you a good idea for a Christmas sweet platter to play around with.
I absolutely LOVE platters ! Sweet, savory and all the rest of it.
What is so great about making your own platter, is that you choose what goes on it ! Besides that, you can really work with any budget.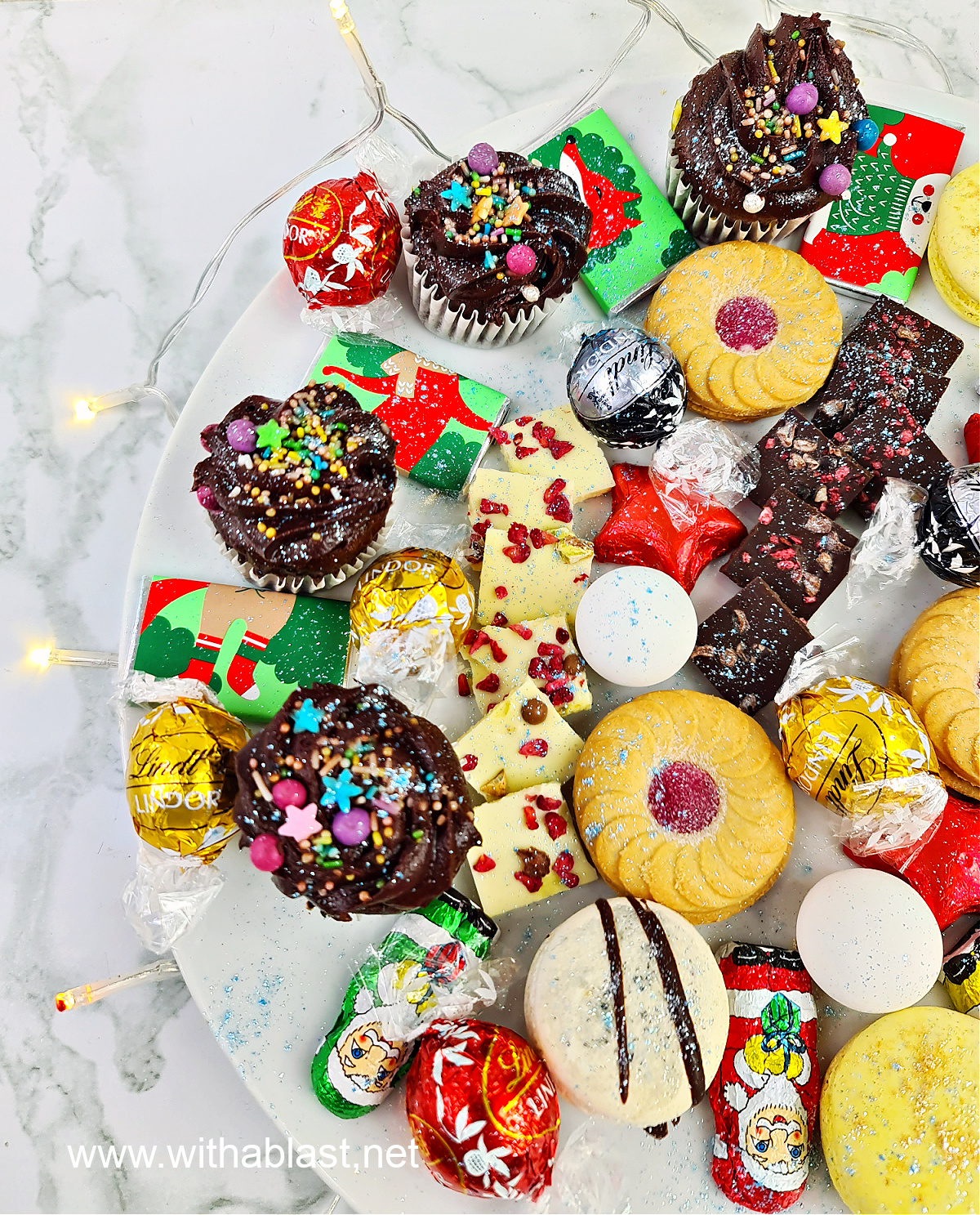 To save some money, or you prefer homemade sweet treats, bake, make your own items for your platter. Grab some ideas from this post or the variations given below the items for mine in the photos.
( Scroll down for a printable How-To card )
Basic Ingredients / Items for a Christmas Dessert Board :
Cookies, homemade or store-bought
Cupcakes, bite size (Christmas decorated/iced if available)
Macarons, different colors
Star Chocolates, festive wrapped
Small Santa Chocolates, wrapped
Small Chocolate "envelopes", good quality
Specialised Chocolate Blocks, White and Dark Chocolate
White Candy Coated Chocolate Balls
Lindt "Lindor" Chocolates, the assorted box is perfect
Edible Glitter, optional (festive colors)
Alternatives to add to a Christmas Dessert Board :
Homemade Cookies, Christmas cut-outs used and iced
Homemade or Store-bought Chocolates, especially truffles
Any store-bought small Christmas shaped Chocolates, wrapped festively
Candy Canes, for a platter / board rather the smaller ones
Fruit Mince Meat Pies
Marshmallows
Caramel Popcorn Clusters
Chocolate covered Pretzels, sticks, shapes etc
Mini donuts, festively decorated
White / Red / Green M&M's or Smarties
Meringue Kisses, colored or white sprinkled with a bit of edible glitter
Chocolate coated Cookies
Dip – especially if you have something that goes well with dipping i.e. marshmallows
I am sure I am missing a whole lot of great goodies ! Just have a look around the sweets / cookies aisle in your supermarket and you will see the potential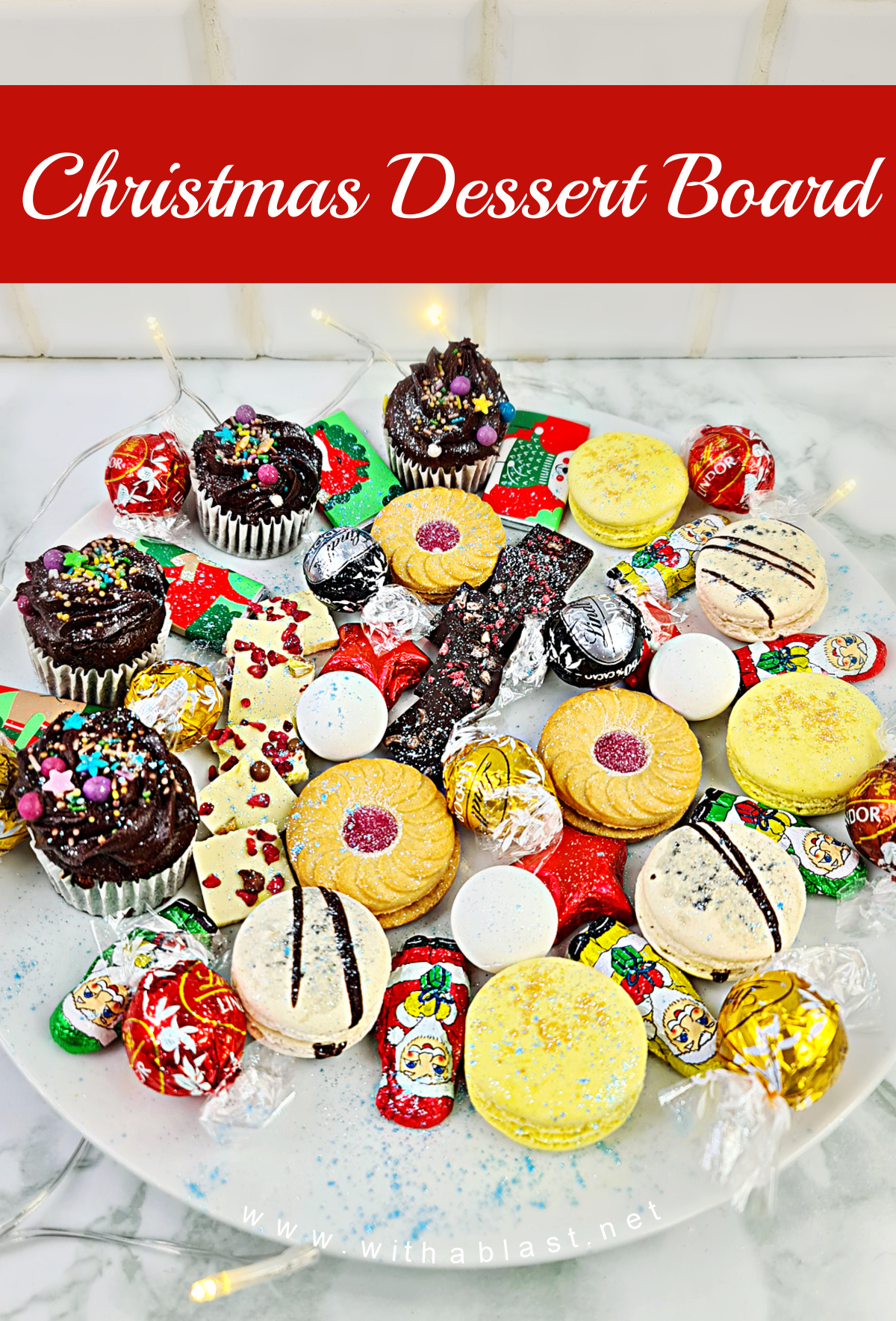 Now, I doubt this will be your dessert for Christmas Day ! However, it does not matter 😉
Also whether you call it a Christmas Dessert Charcuterie Board, a Christmas Sweet Treat Platter or simply a Christmas Dessert Board, all the same thing in the end. Only YOUR pick of ingredients / items and YOUR personal stamp will make the difference ! Enjoy
Christmas Sweet Treats to make at home :
Christmas Dessert Board
Yield: 1 Board
Christmas Dessert Board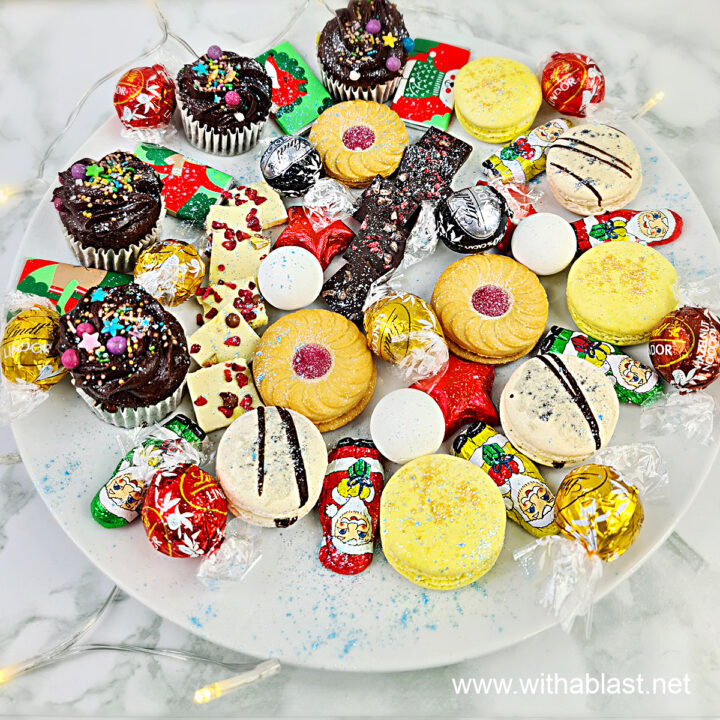 A Christmas Dessert Board which is easy to pull together, no matter your budget ! Variations and more ideas given as well
Materials
SEE NOTES BELOW:
Cookies, homemade or store-bought
Cupcakes, bite size (Christmas decorated/iced if available)
Macarons, different colors
Star Chocolates, festive wrapped
Small Santa Chocolates, wrapped
Small Chocolate "envelopes", good quality
Specialised Chocolate Blocks, White and Dark Chocolate
White Candy Coated Chocolate Balls
Lindt "Lindor" Chocolates, the assorted box is perfect
Edible Glitter, optional (festive colors)
Tools
Large round serving plate or better yet, a Christmas Tree shaped platter
Instructions
Start with the larger items and place around the edges of the plate
Fill in any openings with the smaller items
Sprinkle edible glitter over the board / platter (if using)
Notes
I have mentioned only the iitems which I have used for this specific Christmas Dessert Board
This Board is enough for 3 - 4 people or 2 adults and 2 small kids
Simply double, triple or even 10 x more the items for a crowd - all up to your preference and guests
See in post for variations etc