Rich Chocolate Trifle made with Brownies, instant Pudding and Chocolate. The Pudding and Cream breaks the richness a little, making this a deliciously balanced dessert.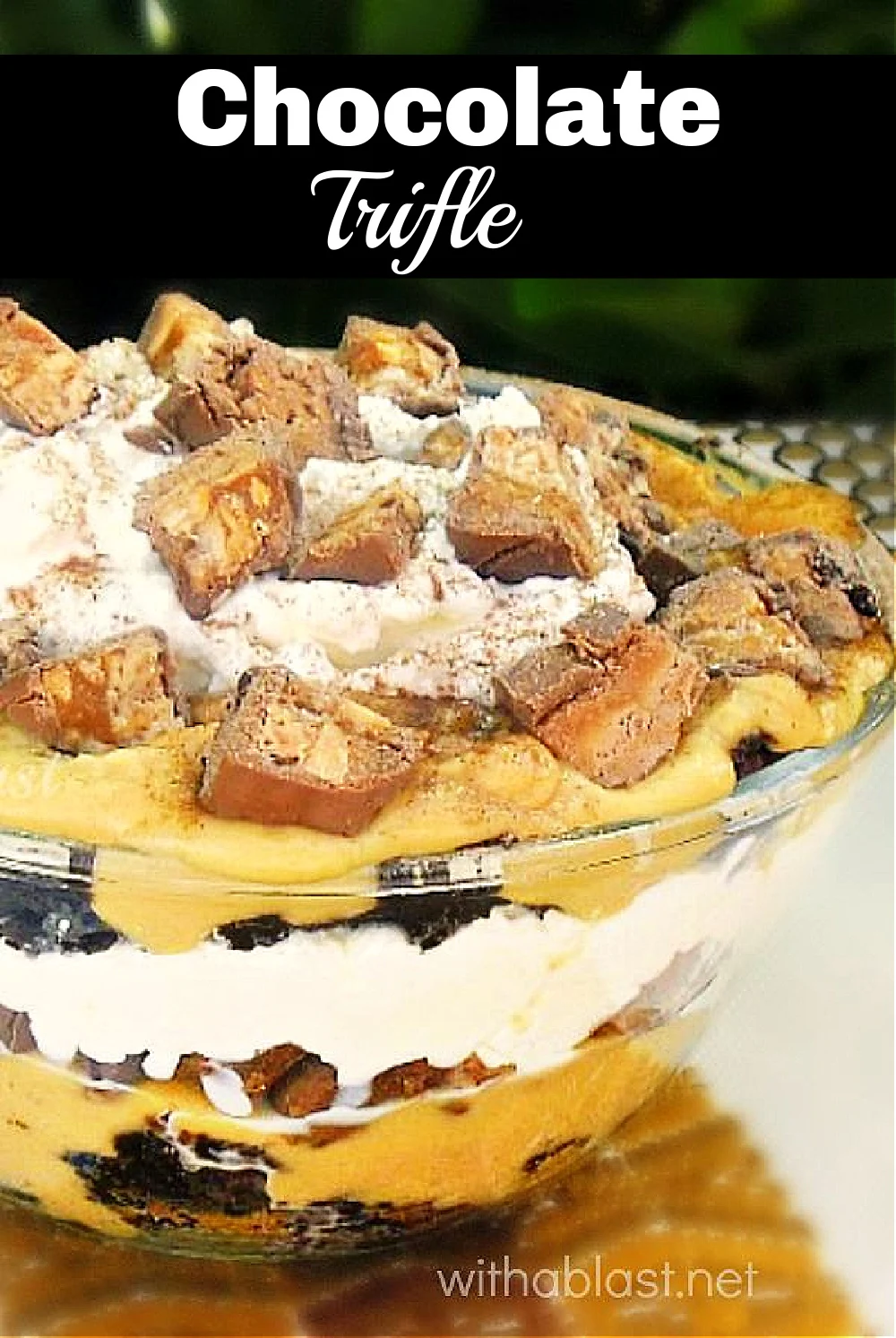 When we think of desserts, Chocolate Trifle is one of the first that comes to mind. It is a classic British dessert that has been enjoyed for centuries.
A Traditional Trifle is a layered dessert that consists of cake, custard, fruit, and whipped cream.
Now, Chocolate Trifle is a variation of this dessert that uses chocolate brownie pieces, butterscotch pudding, chocolate bars and whipped cream.
Trifle is a perfect dessert for any occasion. It is easy to make and can be prepared a day in advance, making it ideal for dinner parties or family gatherings.
This also a great dessert to serve during the holidays, as it's rich and indulgent. Whether you are looking for a dessert to impress your guests or just want to treat yourself, this trifle is a great option.
There are many variations of chocolate trifle, and each one is unique in its own way. Some recipes use brownies instead of cake, while others use different types of chocolate for the pudding.
Some recipes also include liqueur, such as Kahlúa or Baileys, to add an extra kick to the dessert. No matter what variation you choose, chocolate trifle is sure to be a hit.
Chocolate Bar Substitutions
When making a chocolate trifle, we often rely on chocolate bars to add richness and depth to the dessert. However, there are times when we may not have chocolate bars on hand or may want to try something different.
Kit-Kat
Twix
Mars
Almond Joy
Toblerone
Aero – any flavor
Peanut Butter Cups – cut larger ones in half and use whole mini cups
and so the list carries on !
Keep in mind that the flavor and texture of your trifle may be slightly different when using different chocolate bars.
Butterscotch Pudding Substitution
When it comes to making chocolate trifle, there are many variations you can try to make it unique and delicious. One way to switch up the recipe is by substituting the usual chocolate pudding with butterscotch pudding.
Butterscotch pudding is a less sweet alternative to chocolate pudding, which is why I prefer butterscotch.
Trifles are great dessert options for summer barbecues, potlucks, or any occasion that calls for a sweet and indulgent treat.
Brownie or Chocolate Cake ?
While some people prefer using brownies, others swear by chocolate cake. At the end of the day, it all comes down to personal preference.
If you are making the trifle from scratch, you can bake a batch of brownies or chocolate cake at home. However, if you are short on time, store-bought options work just as well !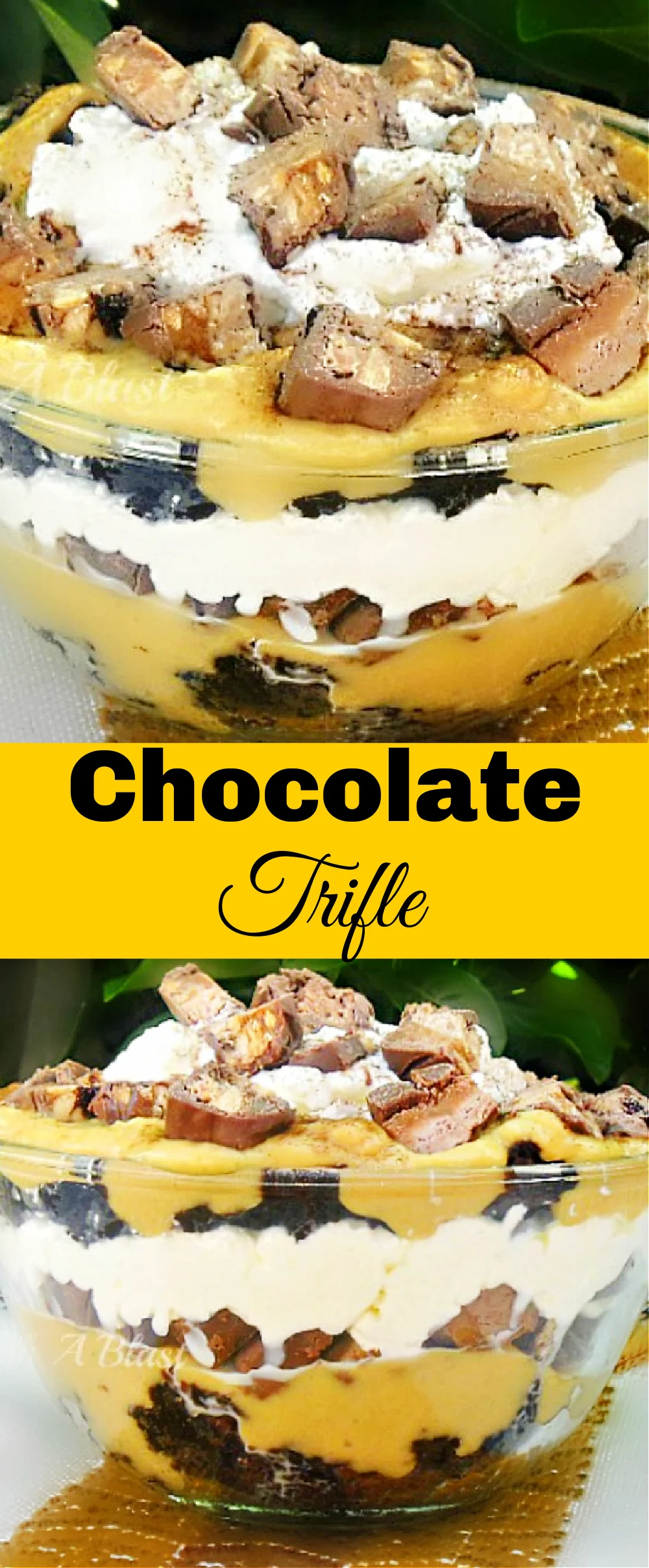 Yes ! Trifle can be served throughout the year
As trifle is a versatile dessert, it can be served throughout the year. Whether it is a summer picnic, a winter holiday gathering, or a springtime brunch, trifle is perfect for any occasion.
One of the best things about trifle is that it can be made a day in advance, which makes it perfect for busy hosts.
With its versatility, make-ahead convenience, and customizable options, it is no wonder why trifles are such a popular choice for many occasions.
More Chocolate recipes you might like:
Chocolate Trifle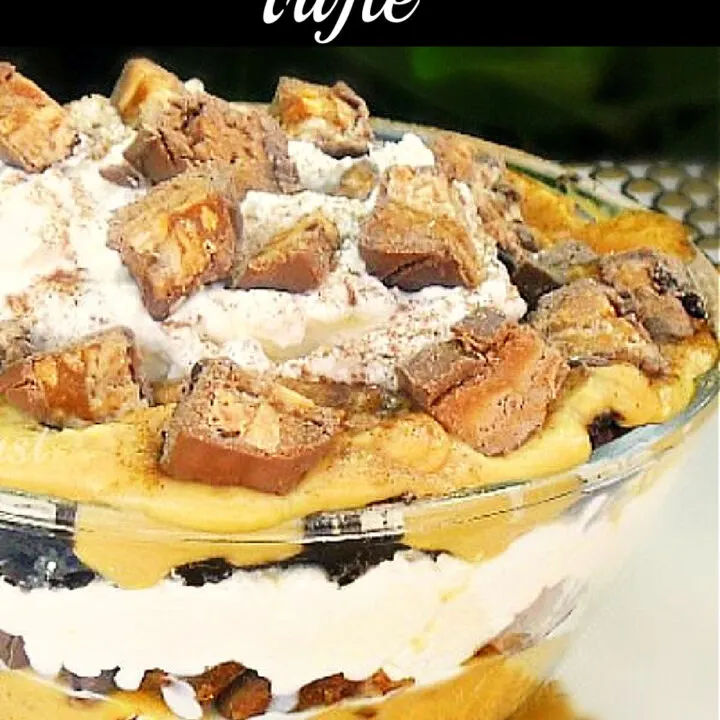 Chocolate Trifle
Total Time:
1 hour
20 minutes
Rich Chocolate Trifle made with Brownies, instant Pudding and Chocolate. The Pudding and Cream breaks the richness a little, making this a deliciously balanced dessert.
Ingredients
450 grams Brownie Cake, broken into pieces (1 pound) - store-bought or homemade
2 Boxes Instant Butterscotch Pudding, (plus Milk as per the boxes) - 4 servings size boxes
3 ½ cups Chocolate Bars, chopped (I used Snickers and Bar One)
1 cup Fresh Cream, whipped (double cream/whipping cream)
Instructions
Prepare the Instant Pudding as per the instructions on the box – chill 5 minutes
Place ½ of the Brownie pieces in the bottom of a serving dish – top with ½ the Pudding
Scatter 1 ½ cups of the broken Chocolate Bars over the Pudding, followed by ½ of the whipped Cream
Repeat the layers, ending with the remaining ½ cup Chocolate pieces
Chill at least 1 hour before serving (the longer this Trifle chills, the better!)
Notes
Prep Time given are based on already baked Brownie use
Nutrition Information
Yield

12
Serving Size

1
Amount Per Serving
Calories

483
Total Fat

29g
Saturated Fat

16g
Trans Fat

0g
Unsaturated Fat

11g
Cholesterol

57mg
Sodium

223mg
Carbohydrates

50g
Fiber

2g
Sugar

37g
Protein

7g
Nutrition value is not always accurate. Please also check your ingredient labels.