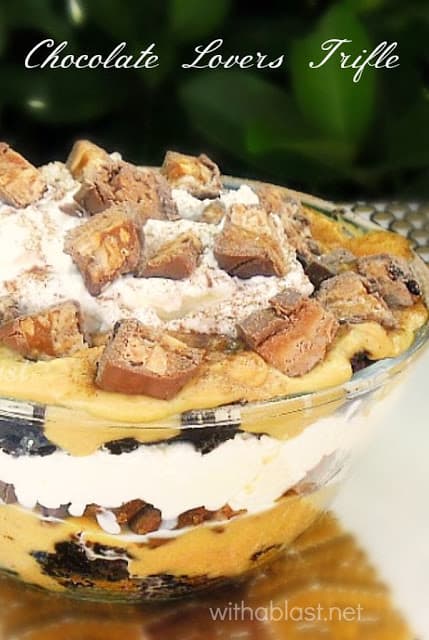 This Chocolate Lovers Trifle is exactly as the name suggests – love chocolate, you will definitely be hooked on this delicious dessert.
Besides the chocolate, there is also a fair bit of creamy Butterscotch going on in the trifle. Combine the whole lot, and you have one scary delicious dessert for your family or even to take with to a social gathering.
I did not mention how quick this is to put together, did I ?! Pity all trifles need a little time to chill and for all the flavors to marry but that is the other joy of a trifle – the longer it stands – the better!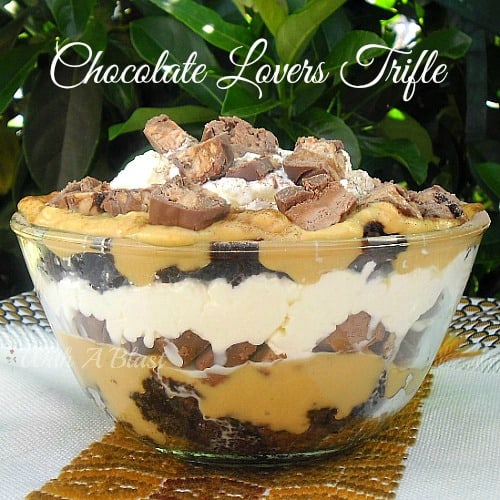 Chocolate Lovers Trifle
INGREDIENTS:
1 Brownie Cake/Loaf, broken into pieces
2 Boxes Instant Butterscotch Pudding (and Milk as per the boxes)
3 1/2 cups Chocolate Bars, chopped (I used Snickers and Bar One)
1 cup Fresh Cream, whipped (double cream/whipping cream)
DIRECTIONS:
1.) Prepare the Instant Pudding as per the instructions on the box – chill 5 minutes.
2.) Place 1/2 of the Brownie pieces in the bottom of a serving dish – top with 1/2 the Pudding.
3.) Scatter 1 1/2 cups of the broken Chocolate Bars over the Pudding, followed by 1/2 of the whipped Cream.
4.) Repeat the layers, ending with the remaining 1/2 cup Chocolate pieces.
5.) Chill at least 1 hour before serving (the longer this Trifle chills, the better!)
LINDA