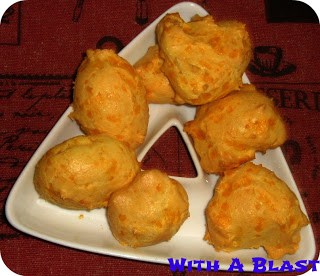 A recipe I pinned on Pinterest weeks ago, but have made several times already as it was an immediate hit with Roy.
I actually double the recipe now, and then we still have no leftovers. Gougeres are similar to Puffs, only difference being this is savory.
Sometimes I forget my mission to make as many recipes/projects from Pinterest, or should I rather say .. post about them..
Cheese Gougeres
source: The Kitchn
1 cup Water
1 stick (1/2 cup) Unsalted Butter, cut into pieces
1/2 t Salt
1/2 t Mustard Powder
1 cup Flour
4 Extra-Large Eggs, lightly beaten in small bowl
1 1/2 cups Cheddar, grated
1.) Pre-heat oven to 220 deg C (425 deg F). Line two baking sheets with baking paper.
2.) Boil Water, Butter, Salt and Mustard Powder in a medium pot – until Butter is melted.
3.) Remove from heat. Add Flour all at once, stir vigorously – must look like mashed potatoes.
4.) Return pot to med/low heat – Stir all the time for 3 – 5 minutes. (This is to dry out the dough as much as possible). When dough glistens and is thick enough to hold a spoon upright, it's ready. Starch build-up at the bottom of the pot is normal.
5.) Place dough in a mixer with a plastic blade. Beat on low/medium until it stops steaming and is just warm. (My mixer has a cup in the lid which I remove in order for the steam to escape). This action takes a few minutes.
6.) Continue beating at same speed, add Eggs in four additions – Dough should be creamy/smooth.
7.) Add the Cheddar Cheese while still beating.
8.) Scoop round tablespoon full of dough onto baking sheets. Space at least 2.5cm (1 inch) apart.
9.) Bake 5 minutes at 220 deg C (425 deg F) – then turn the oven down to 180 deg C (350 deg F) – Bake a further 20 – 25 minutes.
10.) When done: Gougeres must be puffed and golden brown, dry to the touch and must feel hollow.
We eat them as is, and it usually doesn't last long .. but what about adding some cottage cheese, cream cheese or whatever you like. {But, I suggest trying one plain and then decide, these are really delightful little snacks}
Later,
Linda
Linking up with these cool parties: