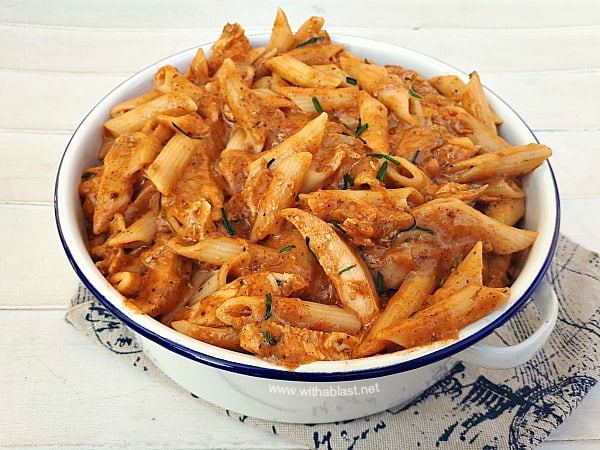 Cajun Chicken Pasta is a lightly spiced, creamy dish which makes a delicious, quick and easy dinner.
Seems I am making a lot of Pasta dishes lately – must be because it is January ! After Christmas and the long South-African holiday period, I really wasn't looking for time consuming dishes.
This dish was liked by everyone and I will definitely make it again. There is a bit of a bite into it, but not too much, just the way we like our food.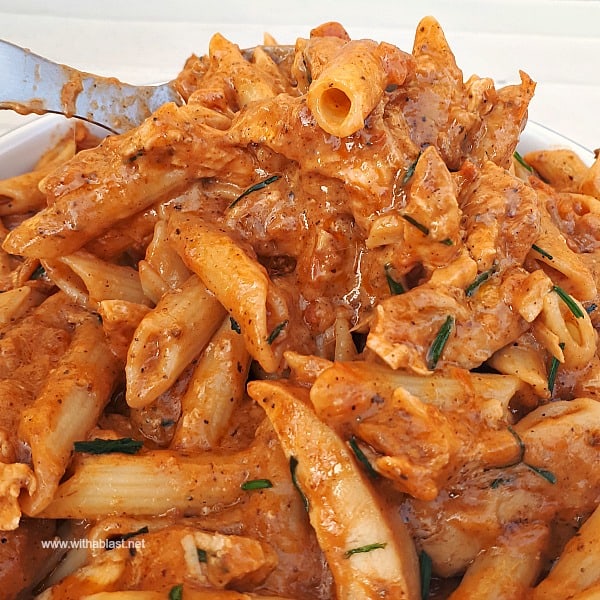 White Cheddar is one of my favorite cheeses to cook with these days, it is not too sharp, but has a bit more flavor than ordinary Cheddar. It is also great to add to this kind of Pasta dish – a little more cheesy in flavor and the White Cheddar blends in perfectly with the Tomato Pasta Sauce, to give it that smooth ultra creamy color as well.
I serve extra Cheese and Chives on the side for everyone to help themselves – I like extra Chives, but hubby and the kids prefer to sprinkle over additional Cheese.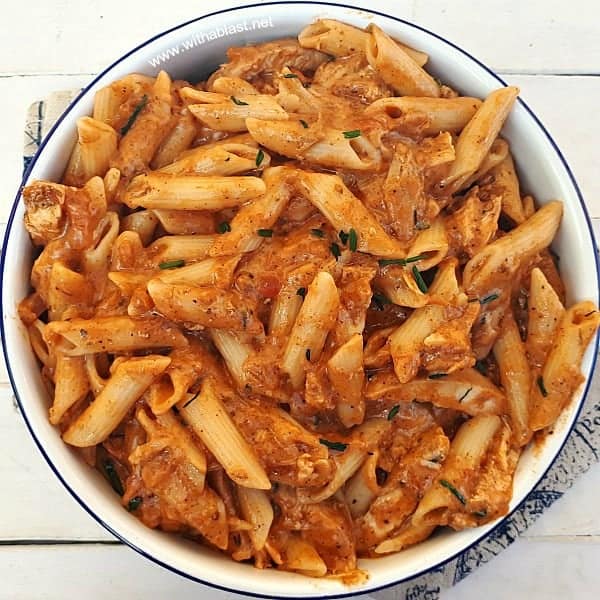 Tip: Whilst the Pasta is cooking – do step no 3 – by the time this step is done the Pasta will also be cooked
Cajun Chicken Pasta
Serves: 4
INGREDIENTS:
2 cups Penne Pasta
2 t Potato Spice
2 TB Olive Oil
4 t Cajun Spice
4 Chicken Fillets, large
1 1/2 cups Tomato and Basil Pasta Sauce (homemade or store-bought)
1/2 cup Fresh Cream (whipping cream)
1/2 cup White Cheddar Cheese, grated
2 TB Chives, chopped
Extra White Cheddar Cheese, to serve – optional
Extra Chives, to garnish – optional
DIRECTIONS:
1.) Cook the Pasta in lightly salted water as per the instructions on the packet.
2.) Drain the Pasta, but reserve 1/2 cup of the water, – place pasta back into pot – stir through 2 tablespoons of Olive Oil and the Potato Spice – keep warm until the chicken is done.
3.) Cover the Chicken Fillets in the Cajun Spice – heat a little Olive Oil in a medium pan – cook the Chicken Fillets until almost done – remove from pan, let stand 5 minutes and slice into strips.
4.) Pour the reserved pasta water into the pan to de-glaze it – add the Tomato and Basil sauce and the Cream. Return the Chicken strips to the pan and cover with the Tomato/Cream sauce – simmer 5 minutes or until the Chicken is fully cooked.
5.) Add the Chicken with the Sauce to the cooked Pasta – add the Cheese and Chives – stir through.
Serve with extra Cheese and Chives sprinkled over, if using.
LINDA