Ground Beef Macaroni Verde is packed with crunchy vegetables and quick and easy to make too, especially on a busy week night
Oh, am I glad to be putting a new recipe on the blog to share with you. After some ongoing health issues, today marks exactly 2 months of me not blogging, and I thought it a great time to add a recipe again.
But I hope this quick and easy Ground Beef Macaroni Verde will make up for the time I have been away!
The doctor ordered me 6 weeks of not using my arms, right arm specifically, but it took slightly longer to get better this time.
BUT, I have also received the most amazing speech program from my sweet blogging friend all the way from Texas, thanks Evelyn from My Turn For Us ! With the help of the program I can finally answer e-mails, type letters and of course this blog post … isn't that just awesome?? And you guys already know my hubby helps with the cooking.
I am just happy to be back (sort of!), not that I have a clue on how often I will be able to share a recipe, but I do have a few on hand.
Today's recipe is not really a traditional macaroni verde, but one that I adapted to suit our carnivorous tastes a bit more, by adding ground beef.
The recipe is enough for 6 adult sized servings but can be stretched easily to serve 2 – 3 adults and 3 kids. With a small side dish if you so wish. We enjoy the Pasta dish on it's own with a dessert afterwards.
More Pasta dinner recipes you might like:
Ground Beef Macaroni Verde
Yield: 6 Servings
Ground Beef Macaroni Verde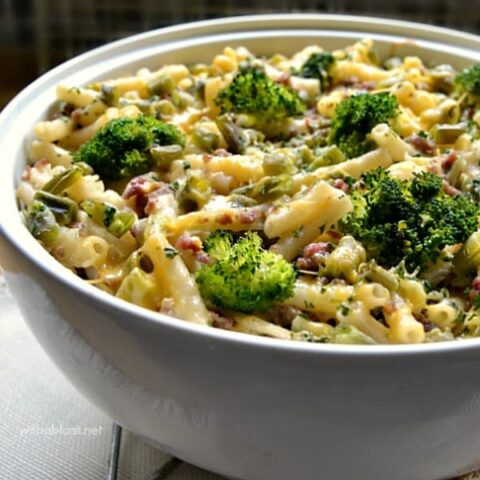 Ground Beef Macaroni Verde is packed with crunchy vegetables and quick and easy to make too, especially on a busy week night
Ingredients
500 g Macaroni ( 16 oz )
1 TB Olive Oil
450 g Lean Ground Beef ( 1 pound )
Salt and Black Pepper, to taste
1/2 cup Parsley, chopped
1 1/2 cups Cheddar, grated
2 cups White Sauce (Homemade or Store-bought)
1 1/2 cups Broccoli, blanched
1 1/2 cups Green Beans, blanched (whole or chopped)
Instructions
1.) Pre-heat the oven to 180 deg C (350 deg F) – spray a large oven dish with cooking oil
2.) Cook the Macaroni as per the instructions on the packet
3.) Meanwhile, heat the Oil in a skillet and cook the Ground Beef until done – remove from the heat and season to taste with Salt and Black Pepper
4.) Add 1 cup Cheddar and the Parsley to the cooked Beef and stir through
5.) Drain the Pasta and transfer to a large mixing bowl – add the Beef mixture, together with the White Sauce, Broccoli and Green Beans to the Pasta – gently stir through
6.) Transfer to a large oven dish, sprinkle over the remaining 1/2 cup Cheddar and bake 30 minutes
7.) Remove from the oven and let stand 3 minutes
Nutrition Information
Yield
6
Amount Per Serving
Calories

678.1
Total Fat

30g
Saturated Fat

13.5g
Unsaturated Fat

12.4g
Cholesterol

150.9mg
Sodium

652mg
Carbohydrates

69.7g
Fiber

4.6g
Sugar

4.5g
Protein

32.8g
Serve with a small side dish or a salad on the side.
LINDA