This Blueberry Lemon Meringue is such a refreshing, different pie ! Easy to make and everyone loves it. You always have a winner when combining Blueberries and Lemon.
Originally posted July 11, 2013
If you want to wow your family or guests with an amazing dessert, this Blueberry Lemon Meringue is just the dessert for you.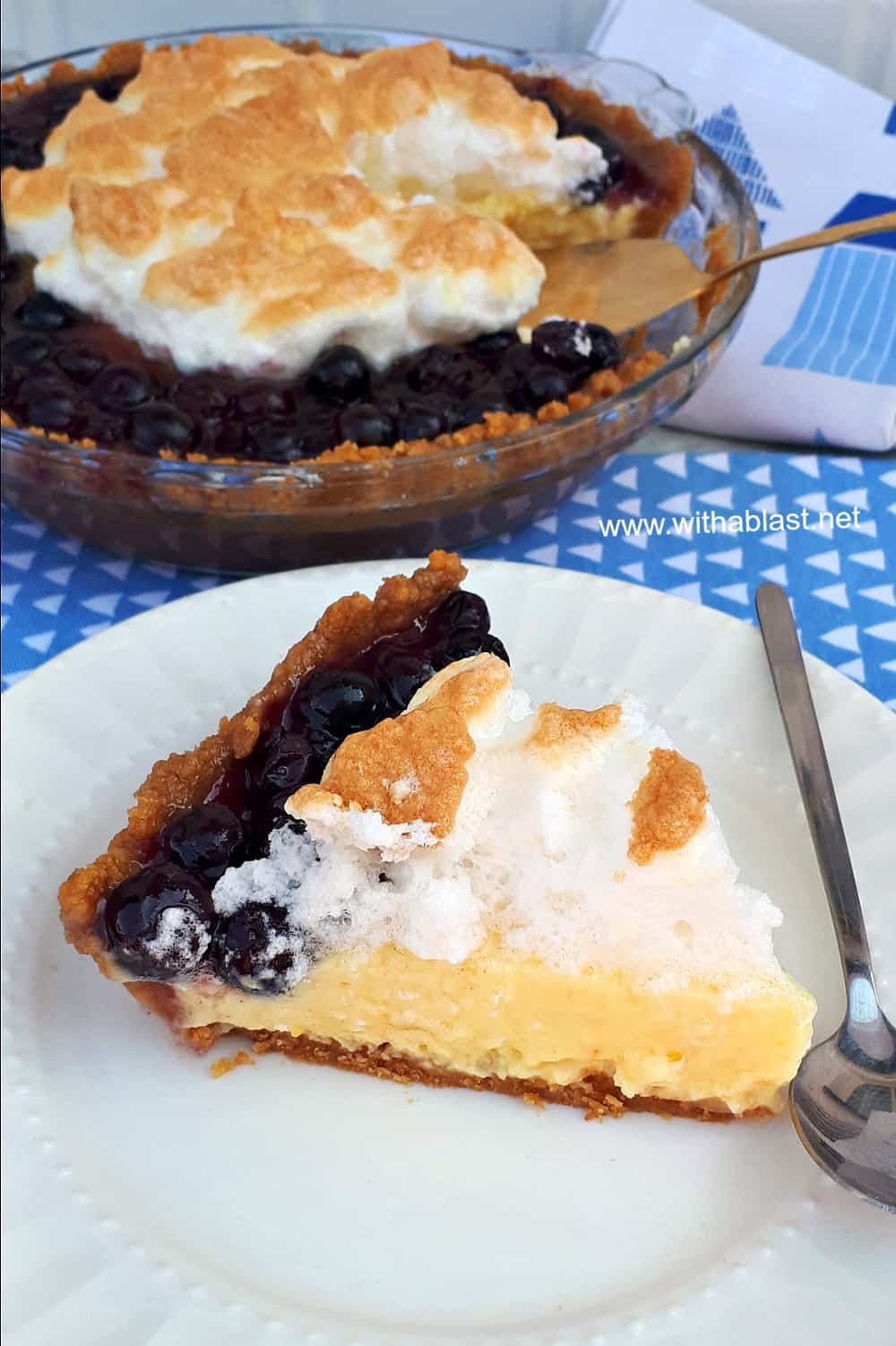 Make the Blueberry compote the night before, if possible, and finish the dessert the next day. The longer the Blueberry Lemon Meringue stands, the better is gets !
You will notice that the crust, especially on the sides get a little soft. This is due to the, oh so yummy syrup from the Blueberry compote.
It does however still slice nicely, as long as you chill the dessert for at least 4 – 6 hours. This will also set the Lemon filling completely.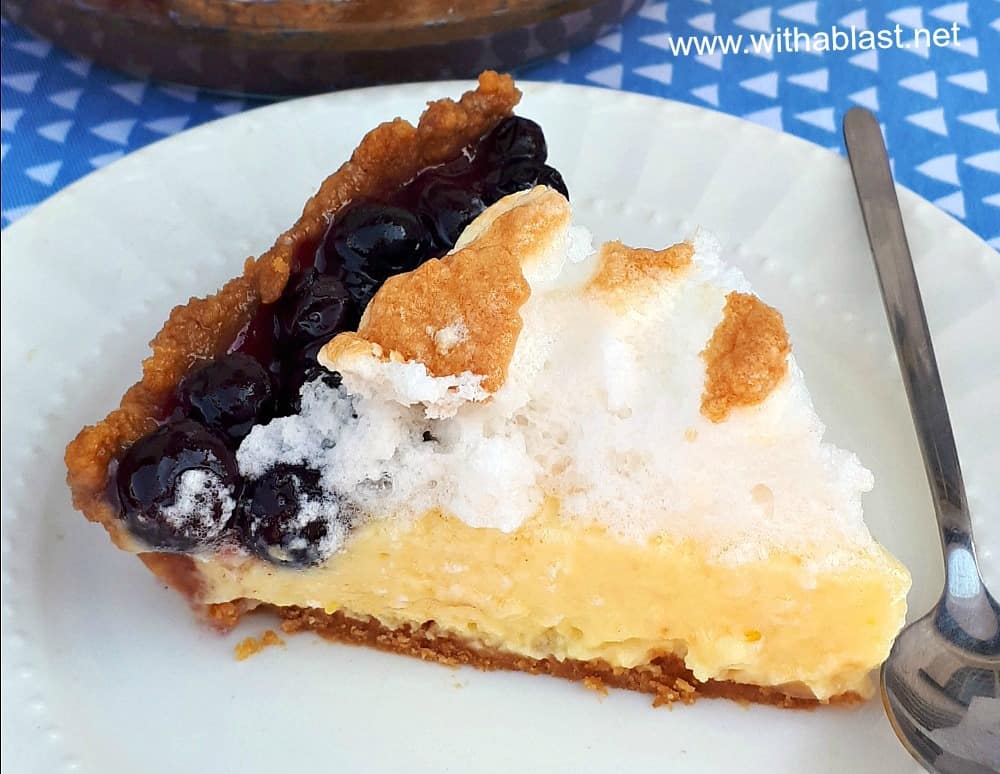 As fresh Blueberries are not always available, I tend to forget about this awesome version of a Lemon Meringue.
And it is not only an impressive looking pie, it is most delicious ! Sweet Blueberries in a light syrup and zesty Lemon is always a winner.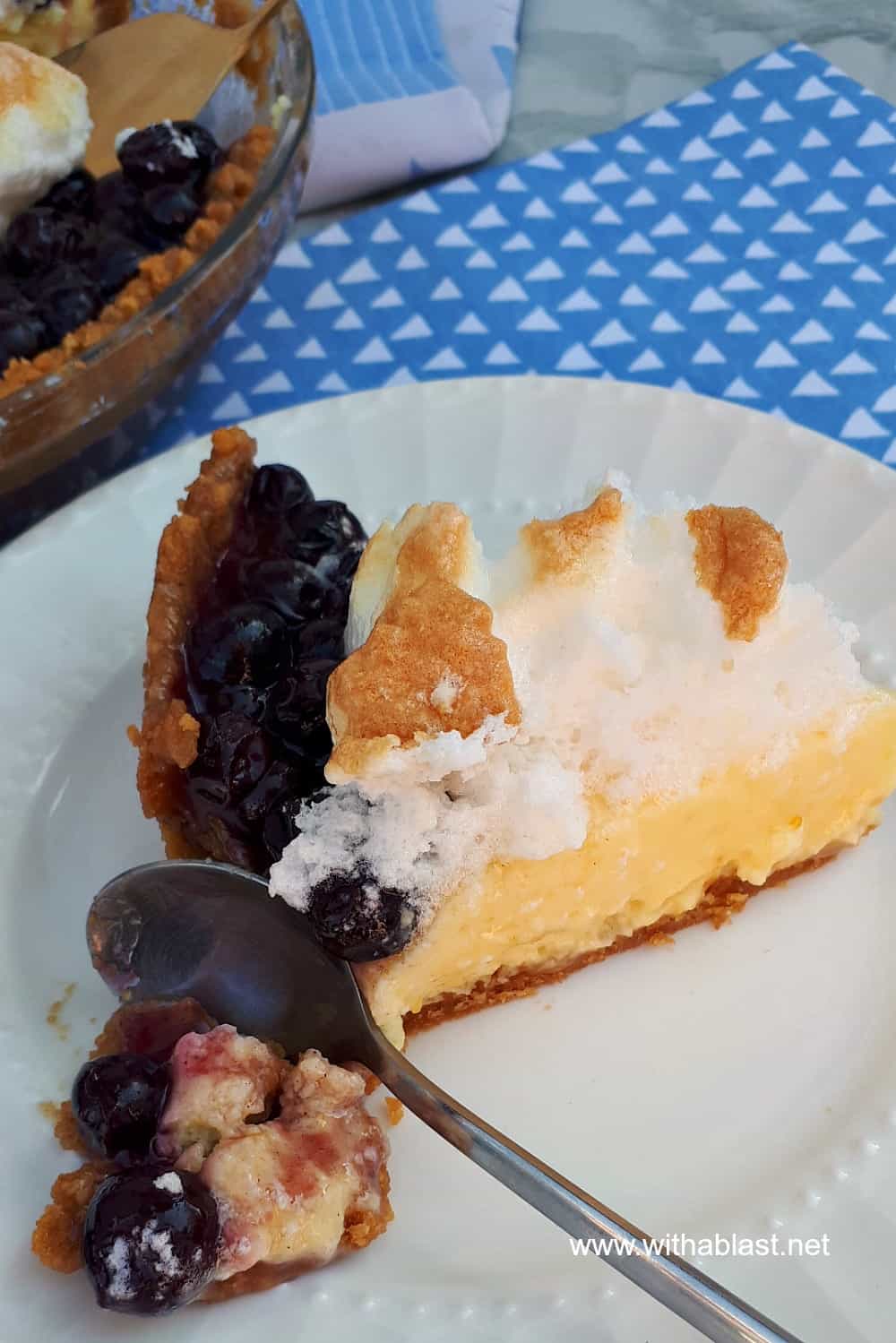 Just look at the piece off the spoon – way past decadent. Next time you decide on a Lemon Meringue, why not give this Blueberry Lemon Meringue a go ?
As it is a rich dessert, you should be able to get at least 6 large slices, however, I found when cut into 8 slices, it is just right.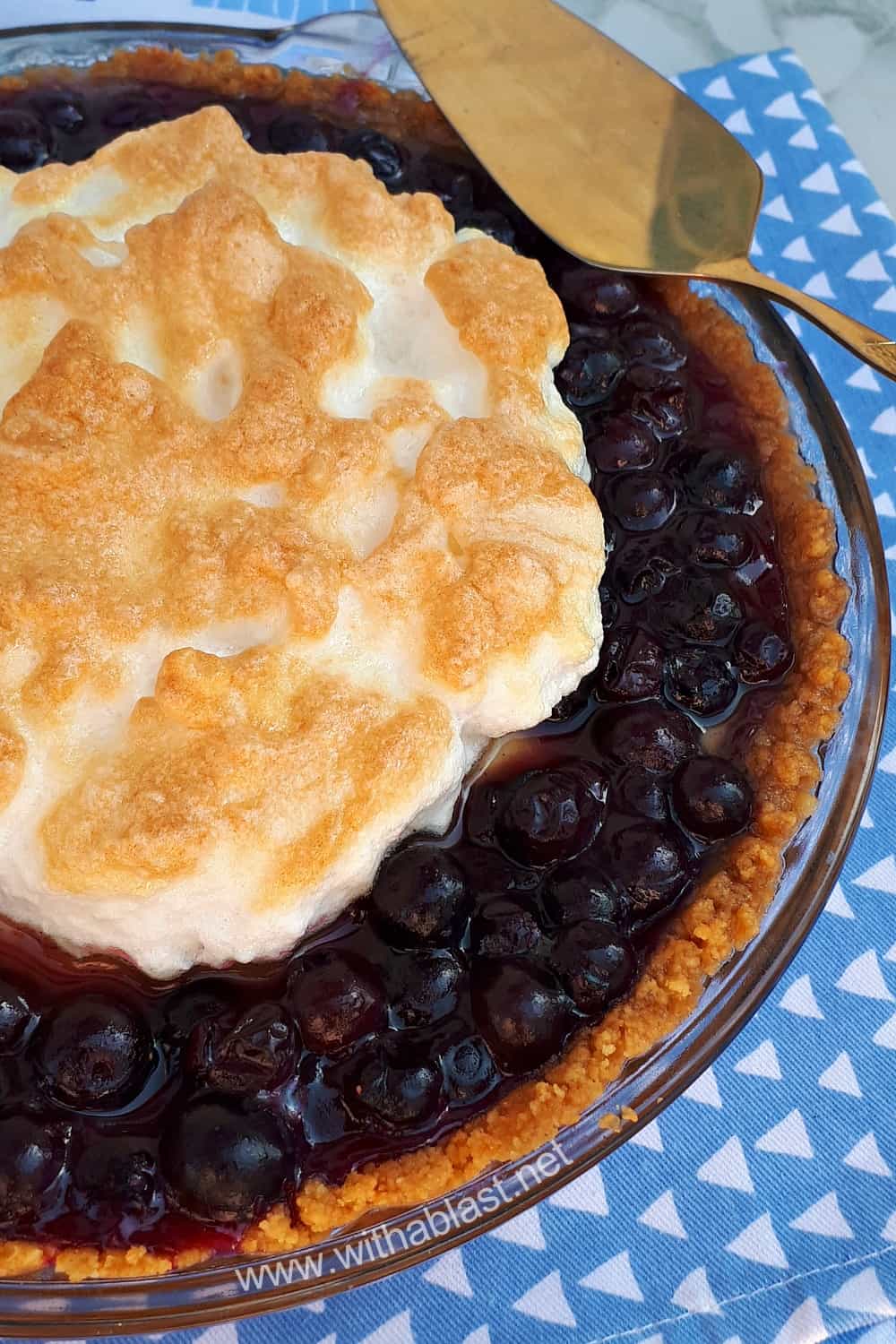 So perfect and just the dessert to take along when it is your turn to bring the dessert !
More Blueberry recipes you might like:
Connect with us :
PINTEREST TWITTER FACEBOOK INSTAGRAM
Blueberry Lemon Meringue
Yield: 8 Servings
Blueberry Lemon Meringue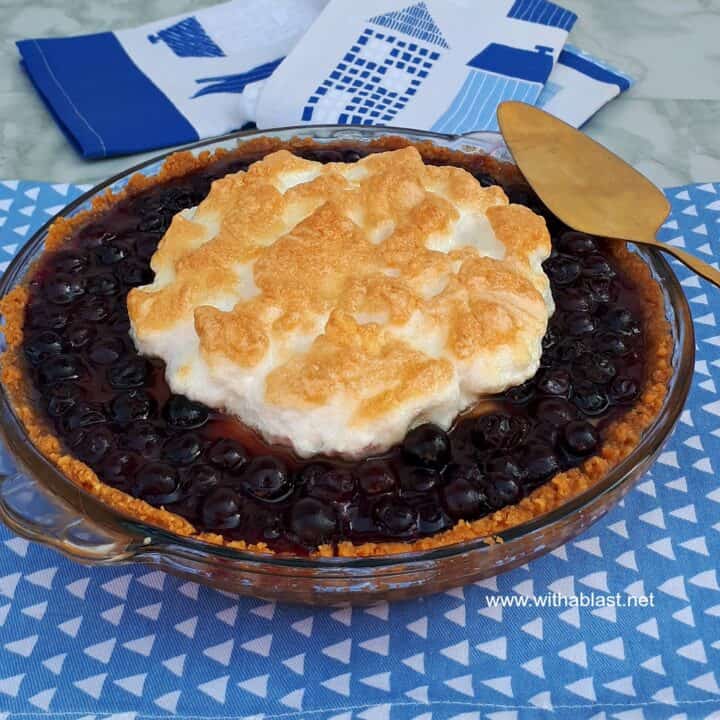 This Blueberry Lemon Meringue is such a refreshing, different pie ! Easy to make and everyone loves it. You always have a winner when combining Blueberries and Lemon
Total Time
6 hours
40 minutes
Ingredients
BLUEBERRY COMPOTE:
1 1/2 cups Fresh Blueberries, divided
3 TB Sugar
3 TB Water
1 t Lemon Juice, freshly squeezed
1/4 t Lemon Zest, finely grated
1/8 t Salt
1/8 t Ground Cinnamon
1 t Flour
LEMON MERINGUE:
200 grams Cookie Crumbs, Graham Crackers or Tennis Biscuits ( 7 oz )
6 TB Unsalted Butter, melted
3 extra-large Eggs, separated
1 can ( 397 grams ) Sweetened Condensed Milk , ( 14 oz can )
1/2 cup + 2 TB Lemon Juice, freshly squeezed
1 t Lemon Zest, finely grated
1/8 t Salt
4 TB Caster Sugar, ( Superfine Sugar )
Instructions
Place all the ingredients (except half of the Blueberries and the Flour) in a small saucepan – cook over medium heat until the Sugar has dissolved – add the Flour – cook another minute -remove from the heat – stir in the remaining Blueberries – cool and chill for at least 2 hours in the refrigerator
Pre-heat the oven to 160 deg C (325 deg F) – spray a standard size pie dish with cooking oil
Combine the Cookie Crumbs and the Butter – press into the bottom and sides of the prepared pie dish
Beat together the Egg Yolks, Condensed Milk, Lemon Juice, Zest and Salt until well combined
Pour the filling into the prepared crust – bake for 10 minutes – remove from oven
Beat the Egg Whites until stiff peaks form – add the Caster Sugar by the tablespoon
Scoop the Blueberry Compote around the outer sides (all round) over the Meringue Filling – scoop the beaten Egg Whites onto the middle – overlapping slightly with the Blueberry Compote – return to oven and bake another 10 – 15 minutes until golden brown and set
Remove from the oven, let cool and place into the refrigerator to fully set for 4 - 6 hours
Notes
The Blueberry Compote only takes a few minutes to make therefore try to make it the night before if possible
Nutrition Information
Yield
8 Servings
Serving Size
1 Slice
Amount Per Serving
Calories

337
Total Fat

19g
Saturated Fat

9g
Trans Fat

0g
Unsaturated Fat

9g
Cholesterol

94mg
Sodium

235mg
Carbohydrates

39g
Fiber

1g
Sugar

25g
Protein

5g
Nutrition value is not always accurate
Linked up at : WEEKEND POTLUCK – The Country Cook