This Pina Colada Trifle can be made boozy or non-alcoholic and is an all seasons recipe. Perfect for potlucks, Sunday dessert or as a special week night dessert.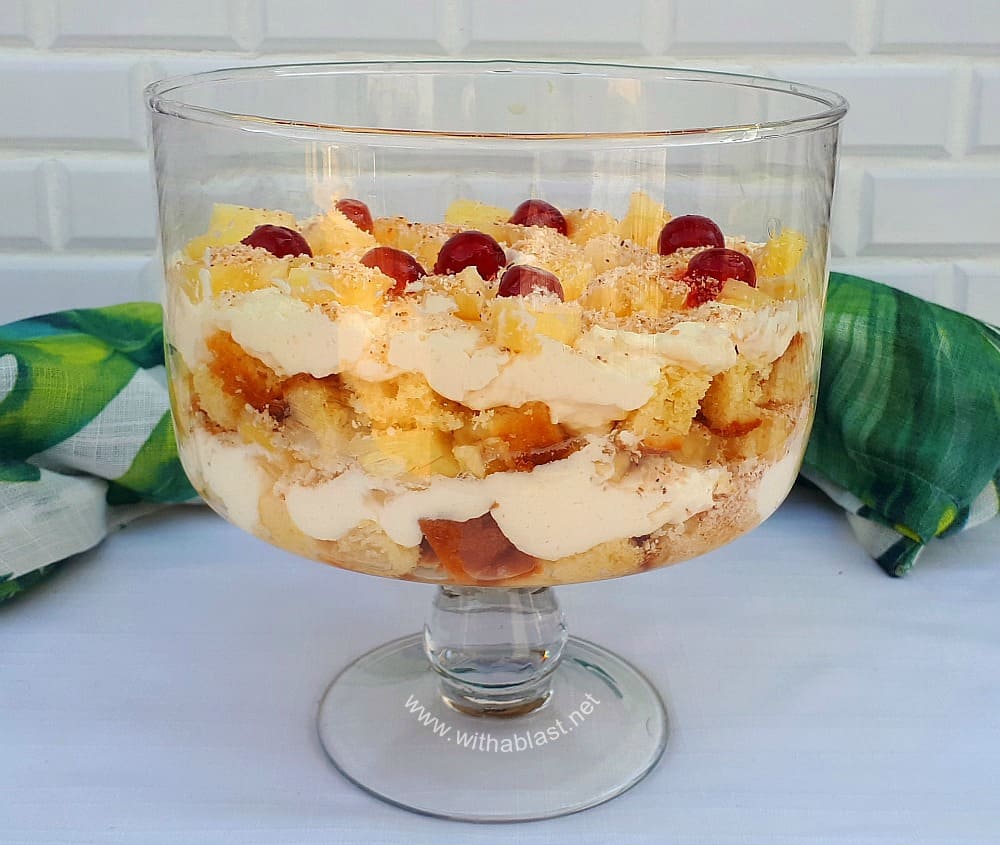 This trifle has a tropical taste out of this world ! And best of all is created by using simple, everyday ingredients.
Make the Pina Colada Trifle with alcohol or substitute the Malibu Rum with Rum essence, which is more family (kiddo's) friendly.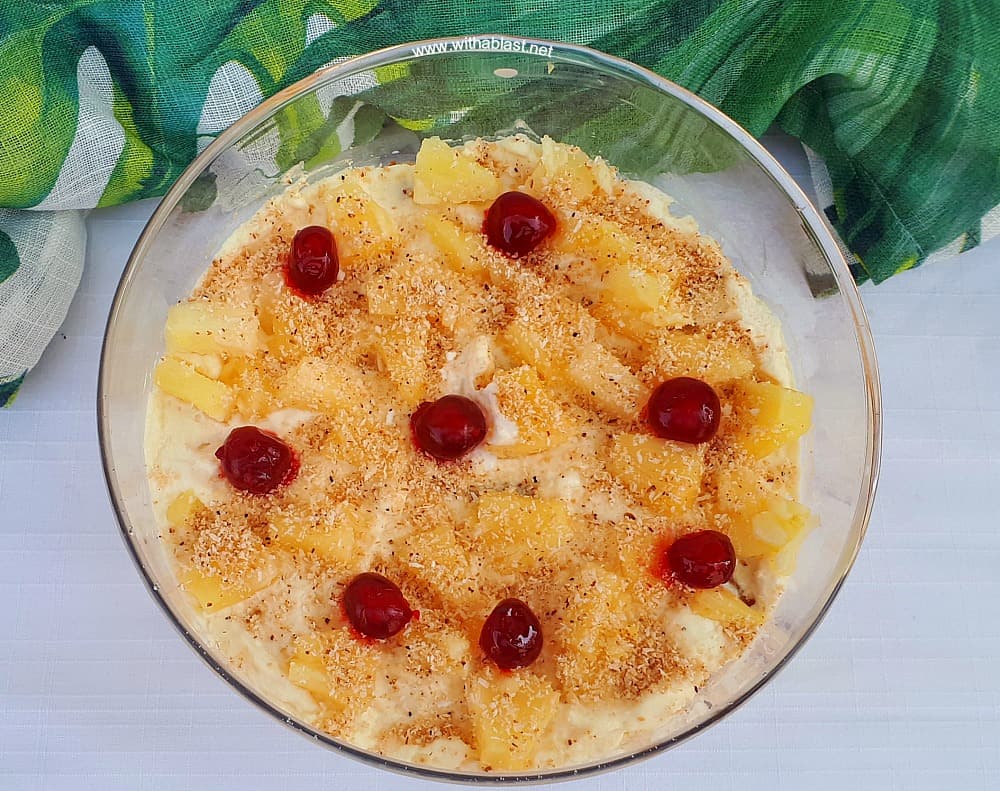 I have not made a trifle in some time, and was just craving for some the other day. However, I did not want the same old jello / cake combination… I wanted something a little different.
Malibu Rum is the most tropical drink around, and is used in so many desserts ! No wonder, tropical equals refreshing in my book.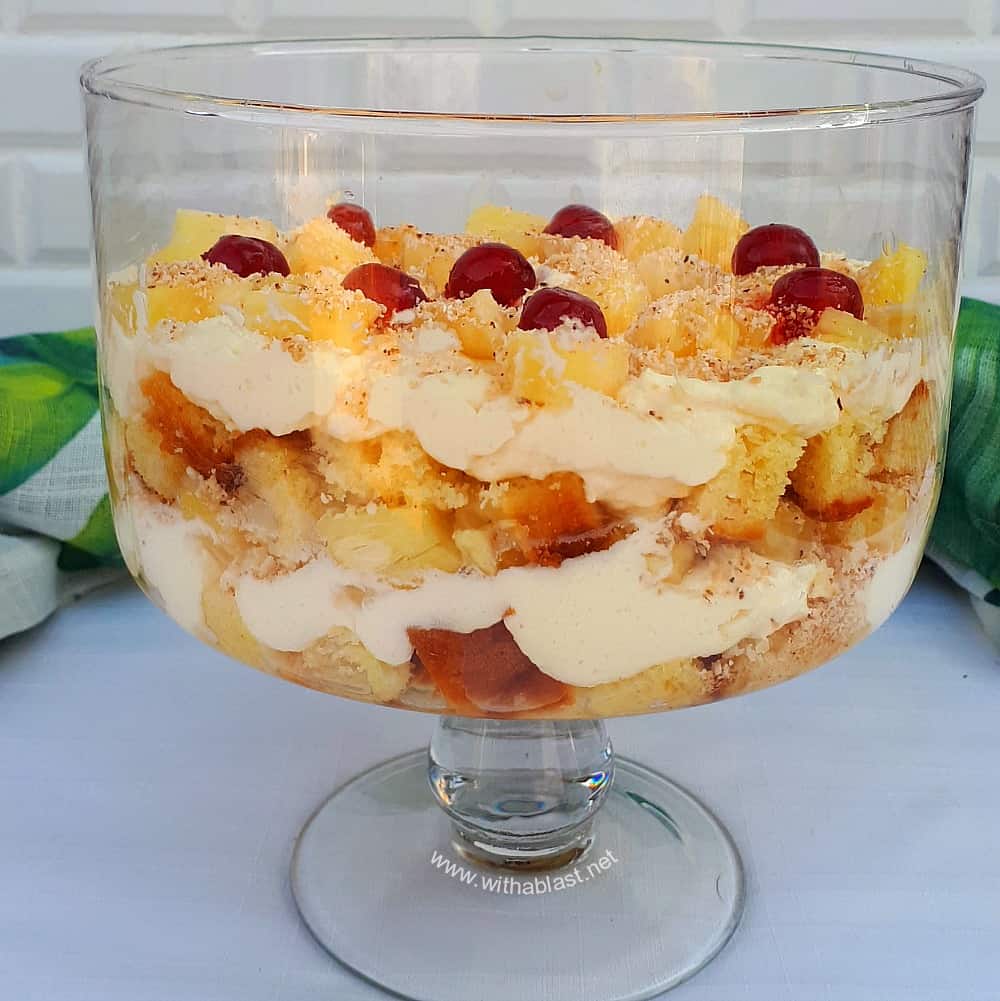 Trifles are also no longer just meant for around Christmas time. You would think that this particular tropical trifle is also only for Summer.
Nope, it is not ! After a few weeks into Winter, I start to crave Summer foods again. And vice versa.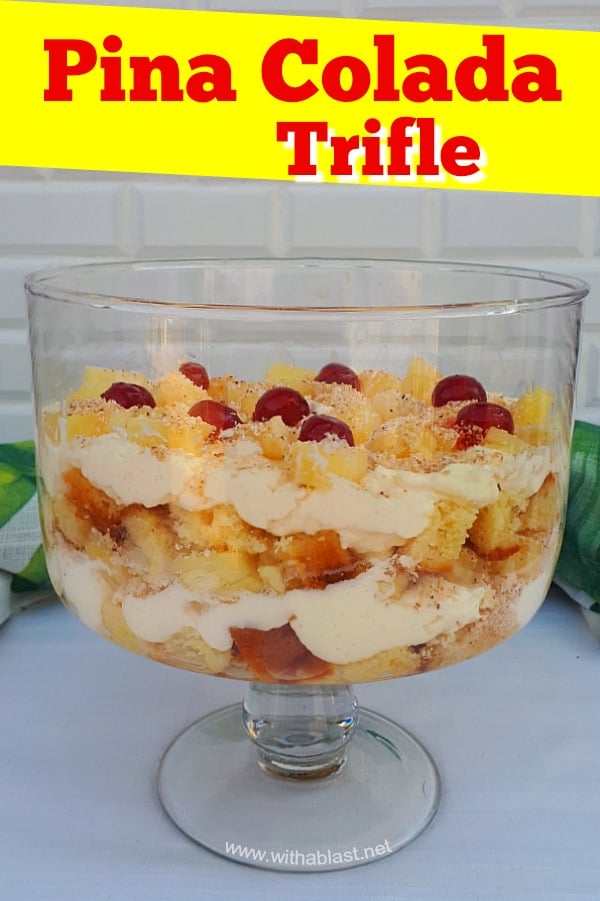 You can add a little Rum (the alcohol) or Rum (the Essence) to the Pineapple Syrup/Juice if you'd like to. As per the recipe card, I add a 1/4 cup Malibu Rum, but it is really to your preference.
Make it stronger, lighter on the alcohol or simply add one teaspoon Rum Essence for the non-alcoholic version.
The longer a trifle stand/chill, the better, but it is fine to serve after 2 hours.
More Tropical and/or fruity desserts and drinks you might like:
Connect with us :
PINTEREST TWITTER FACEBOOK INSTAGRAM
Pina Colada Trifle
Yield: 10 Servings
Pina Colada Trifle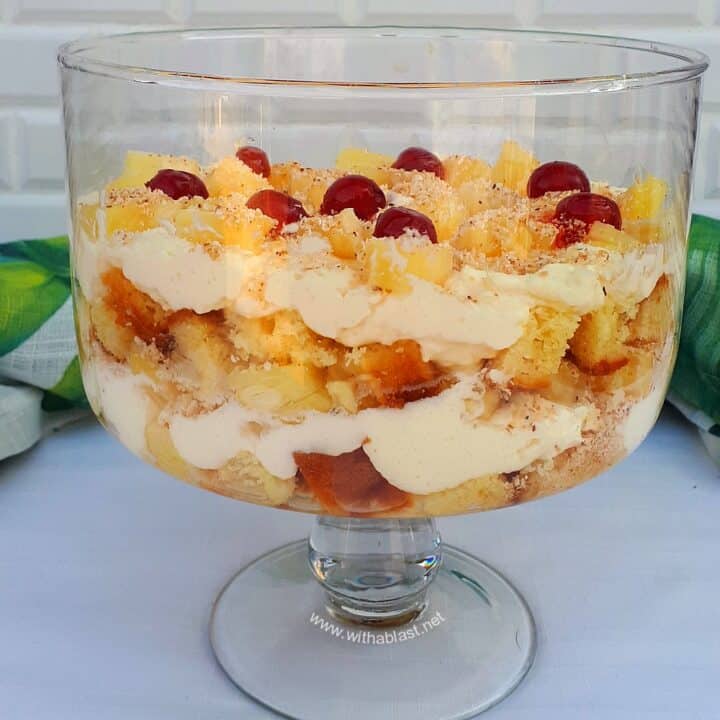 This Pina Colada Trifle can be made boozy or non-alcoholic and is an all seasons recipe. Perfect for potlucks, Sunday dessert or as a special week night dessert
Total Time
2 hours
15 minutes
Ingredients
2 cups Milk
1 box Cheesecake Instant Pudding, or Vanilla ( 4 servings size )
1 cup Fresh Cream, (whipping cream)
1 Store-bought Loaf Cake, cubed (Vanilla, Madeira, Sponge – any small loaf type cake without icing)
1 can (410 grams) Pineapple Pieces, drained, but keep the Syrup/Juice aside ( 15 oz can )
1/4 cup Malibu Rum, or Rum Essence, optional (quantity to your preference – stir into the retained Pineapple Syrup/Juice)
1 cup Desiccated Coconut, toasted (I dry-toast my Coconut in a small skillet for a about 2 minutes, stirring all the time)
10 Red Glace Cherries, to decorate (more of you prefer)
Instructions
Whisk the Milk and Pudding according to the instructions on the packet – set aside for 2 or 3 minutes to start setting
Beat the Fresh Cream until stiff peak forms – fold it into the Pudding mixture
Place half of the Ingredients in this order in a serving bowl – cubed Cake, a few splashes of Pineapple Syrup/Juice, Pudding mixture, Pineapple pieces and the Toasted Coconut
Repeat the layers with the other half of the ingredients
Decorate with Glace Cherries (see note below)
Notes
Additional whipped cream can also be added as a topping/decoration
Nutrition Information
Yield
10 Servings
Amount Per Serving
Calories

287
Total Fat

16g
Saturated Fat

10g
Trans Fat

0g
Unsaturated Fat

5g
Cholesterol

44mg
Sodium

189mg
Carbohydrates

28g
Fiber

1g
Sugar

18g
Protein

4g
Nutrition value is not always accurate