Best Marinade In Existence, which tenderize and adds flavor to most meats, poultry and more. Truly the best steak marinade for one !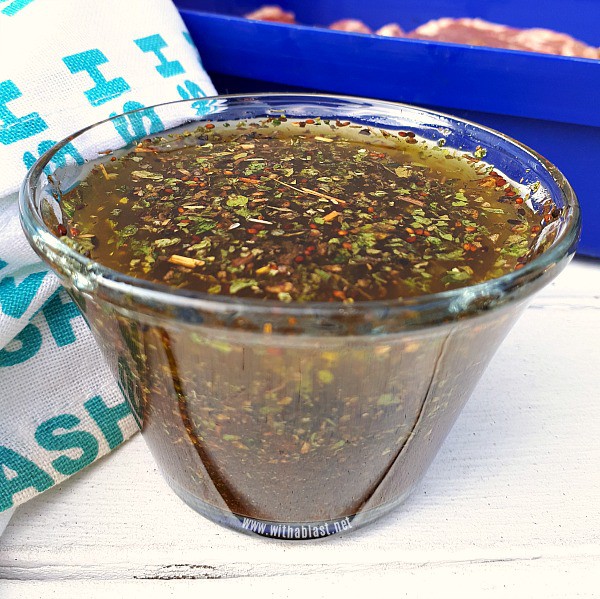 A Pinterest pin I tried, tested and was very happy with!
This is absolutely the best Marinade in Existence. No store-bought ( or any of my current homemade marinades ) come even close to this marinade.
I forgot about posting this even though I promised I'll do so many weeks ago.
Well, here we are and I hope you will add this to your homemade collection as well – so worth it !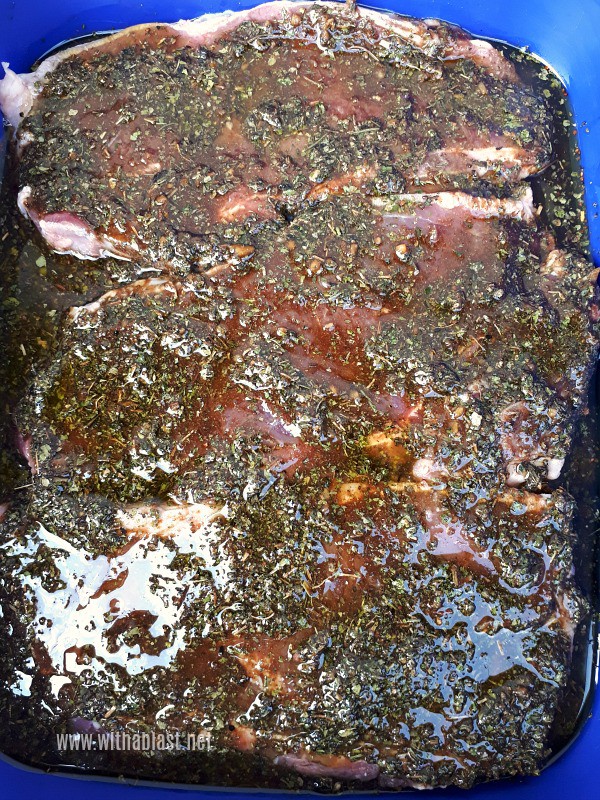 Anyhow, this is the way I like my steak done – medium, but well done on the edges (try explain that to your waiter in a restaurant..).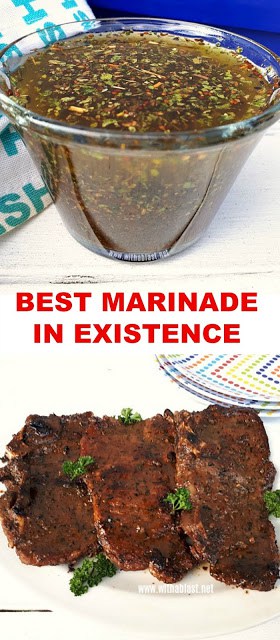 I never bother to make large batches, as this Marinade takes only minutes to make, and it contains all standard, everyday pantry ingredients.
This way I can also make a single batch, double or even more, depending on how much meat we want to cook on a specific day.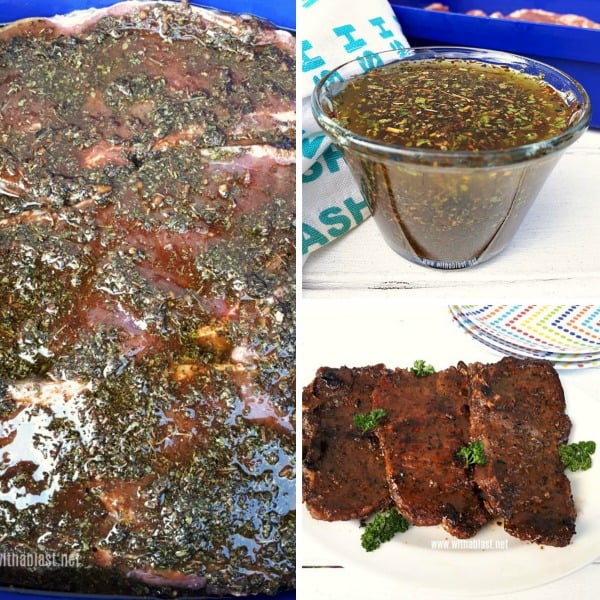 Using this Marinade turns out the meat (whether cooked on the barbecue, oven or pan-fry), tender and juicy, each and every time.
I always have to share the recipe with all our family and friends when we have them over for a barbecue or dinner !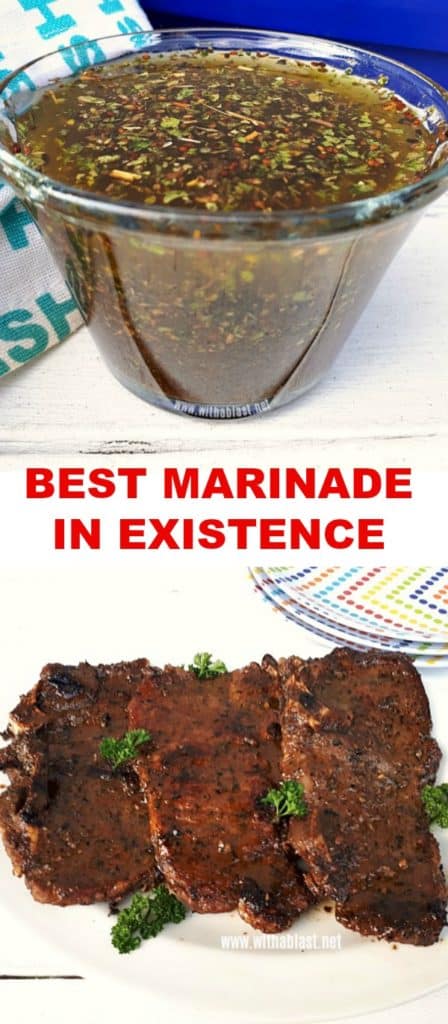 Cooked to perfection and ready to be served
Update:
Over time we have used the Marinade not only with most red meats, but it is also very good with chicken and pork.
My daughter also marinated a pork roast (for a special dinner) and they loved it !
She did however, marinated the roast over night as she had a busy day ahead.
Every now and then she turned over the marinade container. And then she cooked the roast, using her rotisserie gadget in her oven. Below the roast she had a dish with plain, lightly salted potatoes into which the juices from the roast dripped.
Hearing about how fantastic her pork roast turned out, I just had to try it, also with the potatoes in a separate dish below the roast. Absolutely amazing !
You might also like these recipes:
Connect with us :
PINTEREST TWITTER FACEBOOK INSTAGRAM
Best Marinade In Existence
Yield: 1 1/2 cups
Best Marinade In Existence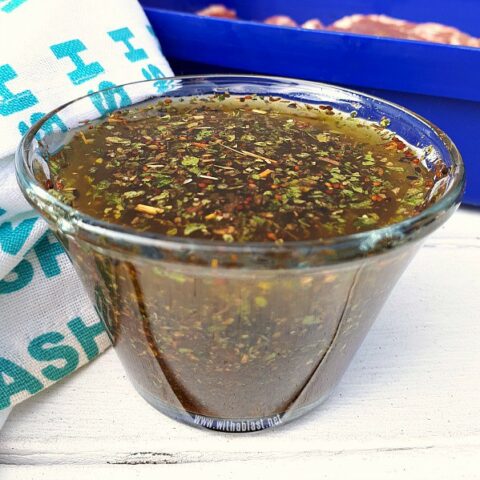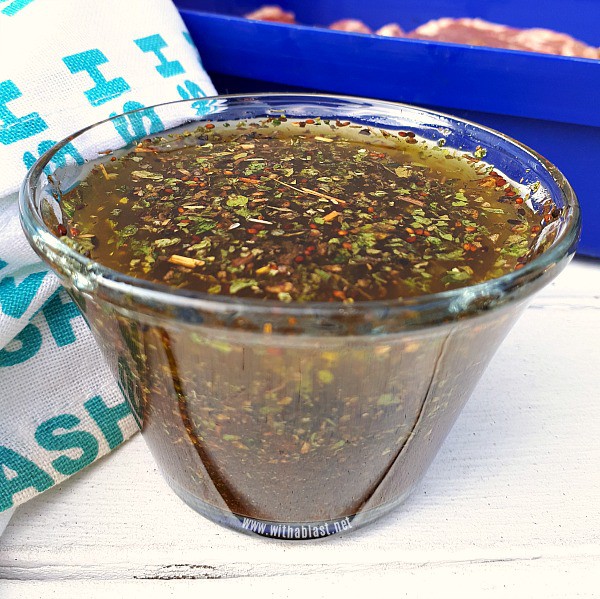 Best Marinade In Existence, which tenderize and adds flavor to meat – truly the best !
Ingredients
1/3 cup Soy Sauce
1/2 cup Olive Oil, extra-virgin
1/3 cup Lemon Juice
1/4 cup Worcestershire Sauce
1 1/2 TB Garlic Powder
3 TB Dried Basil
1 1/2 TB Dried Parsley Flakes
1 t White Pepper
1/8 t Cayenne Pepper
1 t Fresh Garlic, crushed
Instructions
Mix all ingredients
Pour over meat – refrigerate up to 8 hours turning the marinate container over regularly (I marinate mine for 4 hours)
Cook meat as desired
Notes
originally pinned from Plain Chicken
Calories calculated on full recipe - 1 1/2 cups
Nutrition Information
Yield
1 Batch
Serving Size
1 Batch
Amount Per Serving
Calories

1155
Total Fat

109g
Saturated Fat

15g
Trans Fat

0g
Unsaturated Fat

91g
Cholesterol

0mg
Sodium

5345mg
Carbohydrates

41g
Fiber

8g
Sugar

9g
Protein

13g
Nutrition value is not always accurate
LINDA