So refreshing and delicious ! Blanc-Mange with Stewed Fruit is ideal to serve when entertaining or as a special dessert during holidays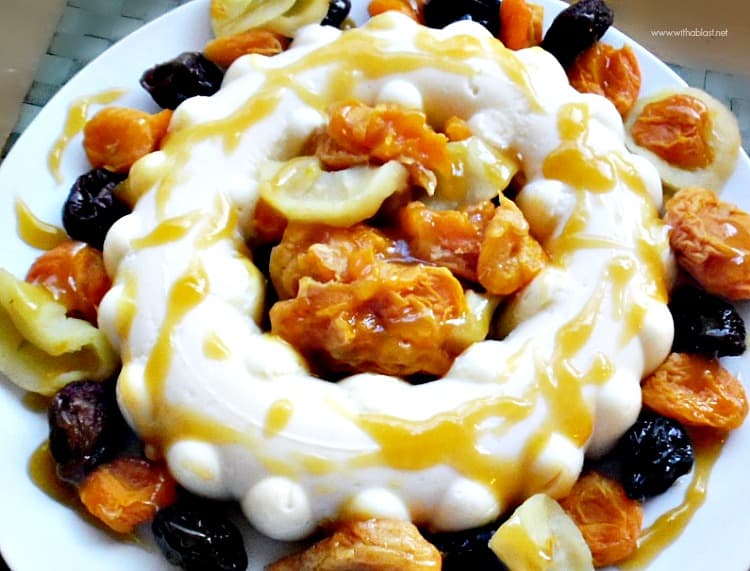 I think this Blanc-Mange is one of the most delicious dessert I have ever made !
For some reason I always have a fear when making anything in a mold and have to turn it out. Three reasons .. my desserts always break, it did not set properly or it sticks to the mold.
Years ago, must be about 10 or 12 years, I bought a Tupperware mold, quite fancy ! The mold has a lid and a smaller mold which made the "hole" in the middle (the smaller one can be used on it's own as well).
Well, it was still brand new when I used it for the first time yesterday and it did the magic!
Must say, I think it is because of the recipe mainly, as it really set nicely and took only about 3 hours of chilling.
The Blanc-Mange and the Glaze is a recipe which I (gawked!) looked at for years as well.
I found it in one of my favorite cookbooks Spyskaarte vir Elke Seisoen by Annette Human (available in English as SEASONAL MENUS).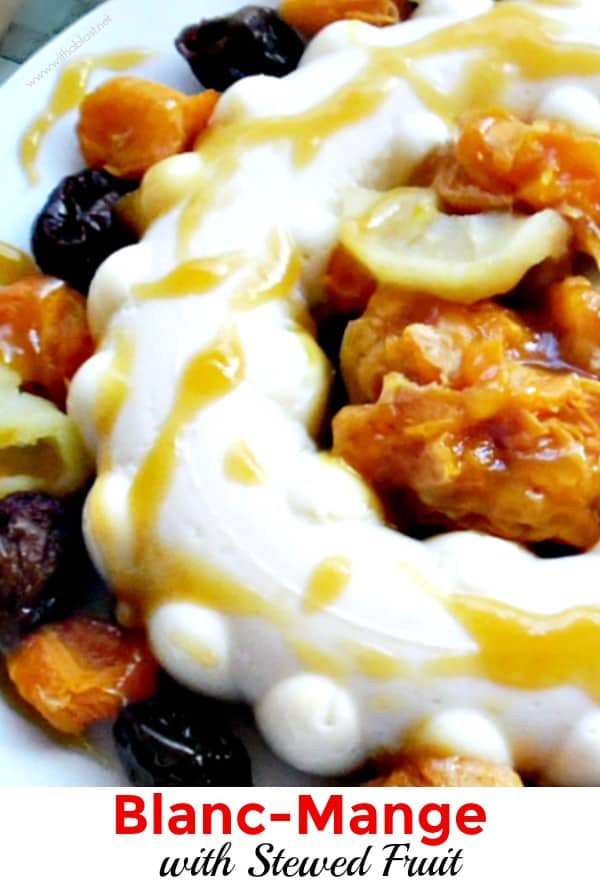 The Fruit I stewed, as I think, my Granny used to do it – but I could be wrong. Anyhow, the whole dessert was delicious. Oh, I already mentioned that !
More No-Bake Dessert recipes you might like:
Blanc-Mange with Stewed Fruit
Yield: 16 Servings
Blanc-Mange with Stewed Fruit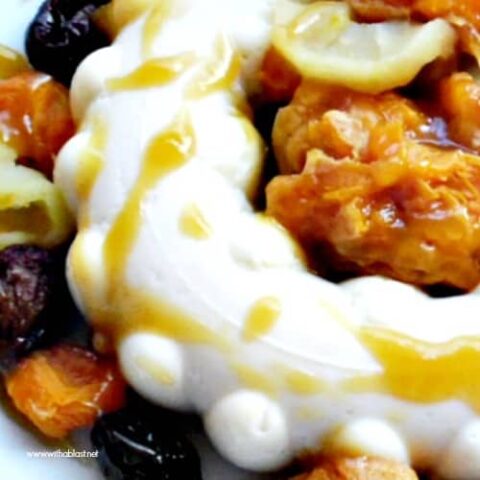 So refreshing and delicious ! Blanc-Mange with Stewed Fruit is ideal to serve when entertaining or as a special dessert during holidays
Total Time
3 hours
35 minutes
Ingredients
STEWED FRUIT:
250 g Mixed Dried Fruit ( 8 oz )
1 1/4 cup Water
1 Cinnamon stick
3 TB Sugar
BLANC-MANGE:
5 TB Cornflour (Cornstarch)
4 TB Sugar
1/4 t Salt
3 cups Milk
1 large Egg
1 t Vanilla Essence
GLAZE:
1 1/2 t Cornflour
2 TB Water
1/4 cup Smooth Apricot Jam
1 t Unsalted Butter
2 TB Sherry
Instructions
STEWED FRUIT:

Simmer all the ingredients for 20 minutes until soft. Remove from heat – drain and keep aside until completely cooled

BLANC-MANGE:

Heat 2 3/4 cups of the Milk in a medium saucepan over medium heat

Meanwhile, combine the remaining 1/4 cup Milk with the Cornflour, Sugar and Salt - Add the Egg and Vanilla and whisk well

As soon as the Milk in the saucepan reach boiling point – add the Cornflour mixture slowly, stirring continuously

Turn down the heat to low and simmer until thick, stirring all the time (3 – 5 minutes)

Remove from heat, let cool for about 2 minutes and pour into a mold which was rinsed in cold water (use the mold wet)

Chill for 3 – 4 hours before turning out

GLAZE:

Mix the Cornflour and Water until smooth in a small sauce pan – Add the Apricot Jam and Butter and simmer over medium heat until thick – Remove from the heat and add the Sherry – stir well

Let the Glaze cool completely before serving

Serve the Blanc-Mange with the Stewed Fruit and some Glaze drizzled over
Recommended Products
As an Amazon Associate and member of other affiliate programs, I earn from qualifying purchases.
Nutrition Information
Yield
16
Amount Per Serving
Calories

124.1
Total Fat

2.1g
Saturated Fat

1.3g
Unsaturated Fat

0.3g
Cholesterol

12.3mg
Carbohydrates

23.1g
Fiber

1.1g
Sugar

17.2g
Protein

2.3g
LINDA