Bacon, Mushrooms, Cream, Spinach and more in this Best EVER Chicken Pie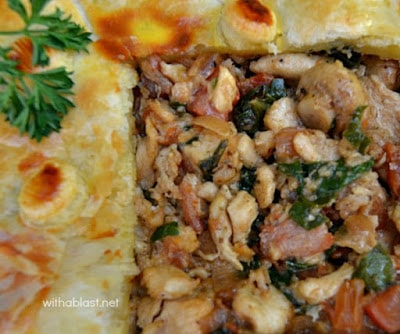 I Must have made this best ever Chicken Pie dozens of times over the years. I do not think I have ever tried another version, as this one is so good!

The pie is loaded with vegetables and the Mushrooms, especially, adds so much texture and taste to the dish. This is just a total winning combination of flavors all in one comforting Chicken Pie.
Only a little bit of Bacon is added, but the flavor it brings to the pie, is absolutely to die for delicious and I am sure this recipe would become one of your favorites too.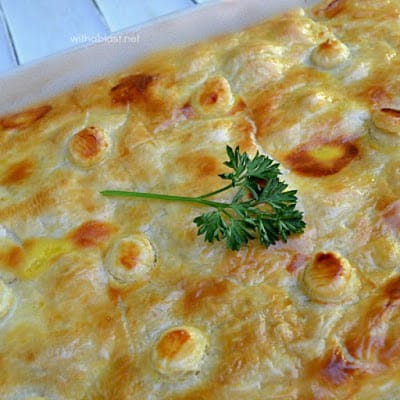 When we have guests over for dinner, I like to make small individual servings in oven proof serving dishes.
Yuppiechef has a wonderful collection of different sizes, colors and shapes, or you could simply use plain ramekins.
I usually make the filling during the day and only need to cover the dish/es with the Puff-Pastry just before baking – 30 minutes later and dinner is on the table.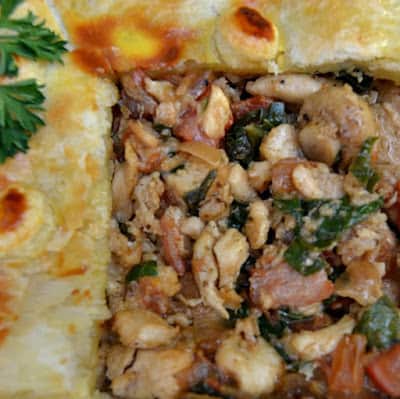 Best Ever Chicken Pie
Check out this quick video and see how easy it is to make this pie !
Best Ever Chicken Pie
Bacon, Mushrooms, Cream, Spinach and more in this Best EVER Chicken Pie
Ingredients
1/2

cup

Flour

Salt and Black Pepper

to taste

1

kg

Chicken Fillets

cut into stir-fry strips (2.2 pounds)

Olive Oil

to fry

125

g

Bacon

chopped (5 ounces)

250

g

Mushrooms

( 8 oz )

1

Onion

chopped

1

Large

Tomato

peeled, chopped

4

cups

Spinach

chopped

1

t

Dried Mixed Herbs

1/4

cup

Fresh Cream

(whipping cream/double cream)

1

roll

Frozen Puff-Pastry

defrosted

1

Egg Yolk

mixed with a little milk, for glazing
Instructions
Pre-heat oven to 200 deg C (400 deg F) – Spray a 20 x 30cm oven dish with cooking oil

Combine the Flour, Salt and Pepper – Cover the Chicken strips in the Flour mixture and fry in a little oil in batches until all the chicken are cooked and light brown. Remove Chicken from pan and set aside

Fry the Bacon in the same pan as used for the Chicken until crispy, remove and add to the Chicken – keep aside

Using the same pan, fry the Mushrooms until soft – Add the Onion, fry until translucent – Add the Tomato and Spinach – Stir-fry until the Spinach has wilted

Add the Mixed Herbs and Fresh Cream to the Mushroom mixture in the pan – simmer 1 – 2 minutes

Remove the Mushroom mixture from the stove and stir in the Chicken and Bacon

Transfer to the prepared oven dish – Cool completely before covering the top with Puff Pastry (cut away any excess pastry and use to decorate, if so desired)

Paint pastry with Egg yolk mixed with a little milk – Bake 30 minutes until Pastry is puffed and light brown
Recipe Notes
slightly adapted from a recipe in HUISGENOOT Magazine
Serve with a vegetable side or two (or salads)
LINDA