Amish Chicken Casserole is an easy, hearty pasta dish and sure to please any family member at dinner time – all standard pantry ingredients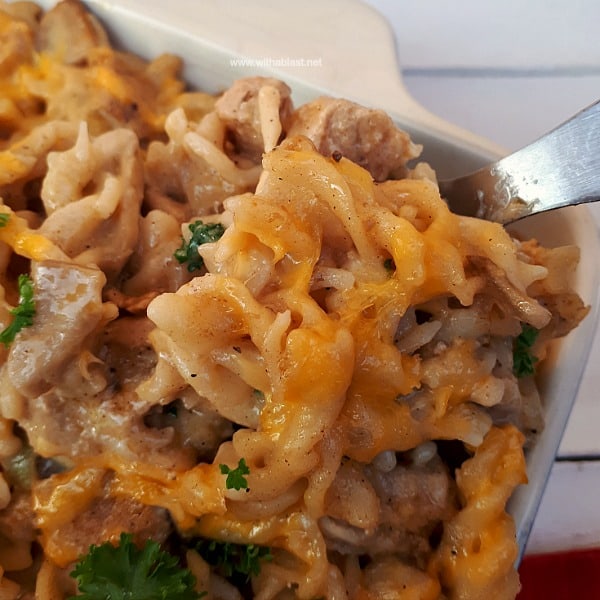 Nothing better than a good old Amish Chicken Casserole for dinner ! Add a salad or two on the side and you are set. Or vegetables .. however the weather permits.

I found a recipe some time ago, here, which I wanted to try soon. However, I have so many recipes on my to-try-list that I rarely ever get to make them.
My family is actually quite set on certain dishes, and usually request one of our older family favorites, long before I can decide which new recipe to try. Therefore, whenever I have no requests, I go to my list as mentioned before.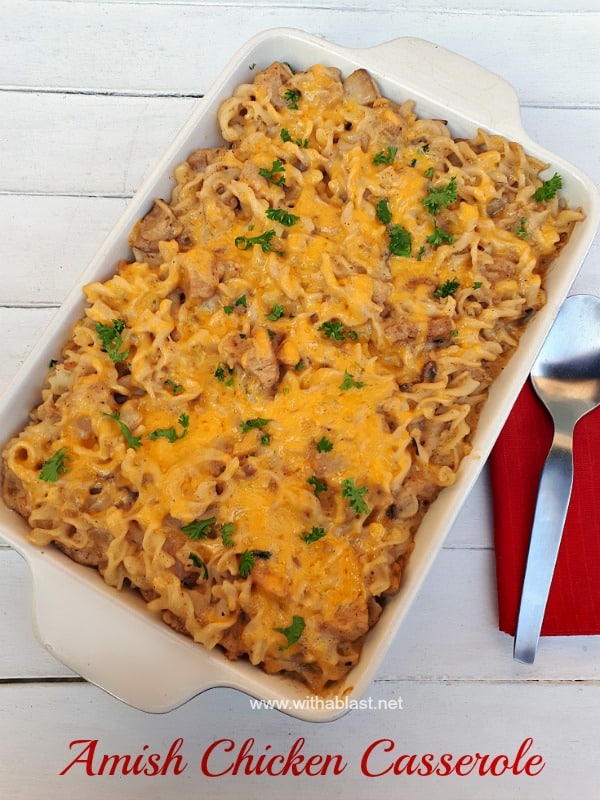 What a hit with the family !
I adapted the original recipe I found a bit, but it was still a HUGE hit with my family ! And truly, this Amish Chicken casserole will be made over and over again in our house.
My daughter and her fiance are also curious about the casserole we all raved over, and I decided I will make it again this weekend when they come over for dinner on Sunday.
I can already say, with full confidence, that they will love it !
Unbelievable how such a simple, everyday ingredient filled, recipe can turn out to be so tasty. Well, tasty is an understatement for this casserole – it is totally amazing !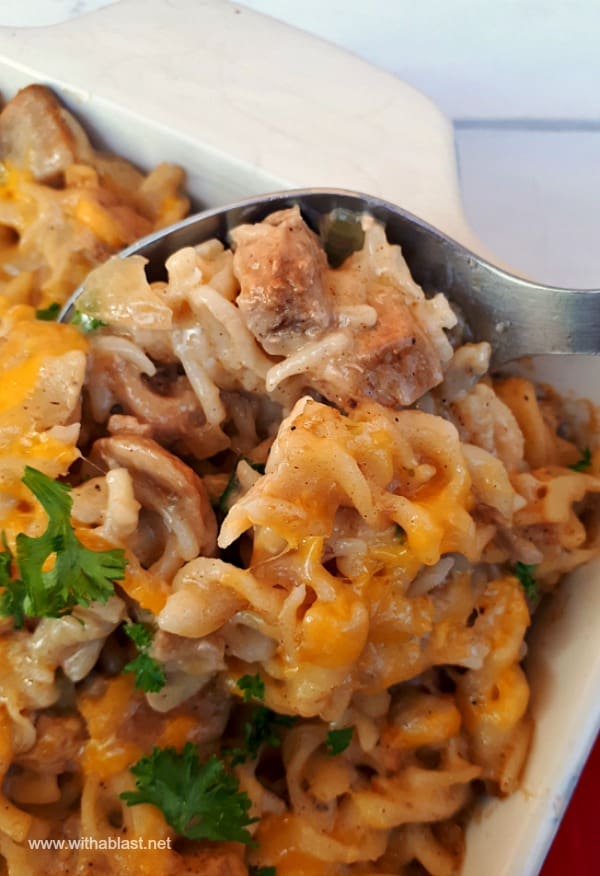 One thing to keep in mind though, take care with the final seasoning, as the Chicken Spice and the Stock already adds a lot of saltiness to the dish.
I almost made the mistake of just sprinkling over Salt and Pepper, but fortunately tasted first.
Therefore I ended up hardly adding any additional seasoning. (A reminder in the Instruction step number 6 … just in case ? )
Amish Chicken Casserole
Yield: 6 Servings
Amish Chicken Casserole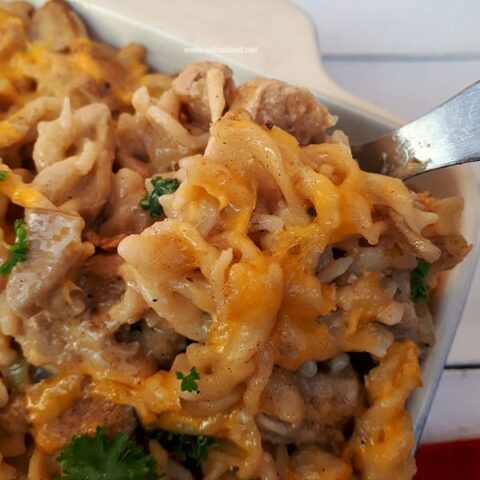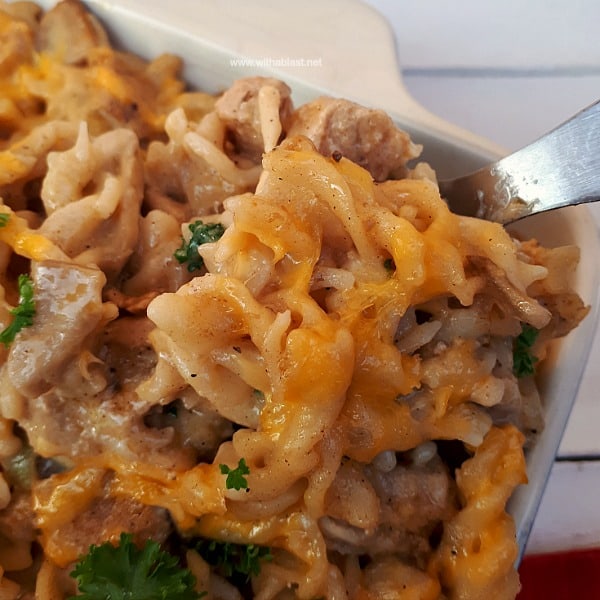 Amish Chicken Casserole is an easy, hearty pasta dish and sure to please any family member at dinner time – all standard pantry ingredients
Ingredients
1 Onion, chopped
250 g Pasta, ( I prefer Fusilli ) ( 8 oz )
3 Chicken Fillets, cubed ( about 1 pound )
2 t Chicken Spice
1/2 cup Butter, divided
250 g Mushrooms, sliced ( 8 oz )
1 TB Olive Oil
1/3 cup Flour
2 cups Chicken Stock
1 cup Milk
2 TB Parsley, chopped
Salt and Black Pepper, to taste
1/2 cup Cheddar Cheese, grated
Instructions
Pre-heat the oven to 180 deg C ( 350 deg F ) – spray a 20 x 30cm ( 9 x 13 inch ) oven dish with cooking oil
Cook the Pasta as per the instructions on the packet – drain and keep aside
Meanwhile, heat the Oil in a large skillet – coat the Chicken with the Chicken Spice – stir-fry until done and remove from skillet – drain excess oil
Melt 2 tablespoons of Butter in the skillet – saute the Mushrooms and Onion until soft – remove and set aside with the Chicken – drain excess liquid
Melt the remaining Butter in the skillet – stir in the Flour until a paste forms – add the Chicken Stock ( a little at a time, stirring well after each addition) to the Butter – add the Milk – bring to the boil then reduce heat and simmer until the sauce has thickened – remove from the heat
Stir in the Parsley and season to taste with Salt and Black Pepper (keep in mind the Chicken Stock already added salt)
In a large mixing bowl combine the cooked, Pasta, Chicken, Mushroom mixture and the Sauce – stir through gently and transfer to the prepared oven dish – sprinkle over the Cheddar Cheese – bake uncovered 25 minutes or until heated through
Recommended Products
As an Amazon Associate and member of other affiliate programs, I earn from qualifying purchases.
Nutrition Information
Yield
6
Amount Per Serving
Calories

502.8
Total Fat

25.7g
Saturated Fat

13.7g
Unsaturated Fat

12g
Cholesterol

98.8mg
Sodium

1414.2mg
Carbohydrates

40.5g
Fiber

1.2g
Sugar

4g
Protein

28.5g
Serve with a side salad or two OR vegetables of your choice.
LINDA
Linking up at: WEEKEND POTLUCK – Sweet Little Bluebird
You Might Also Like: