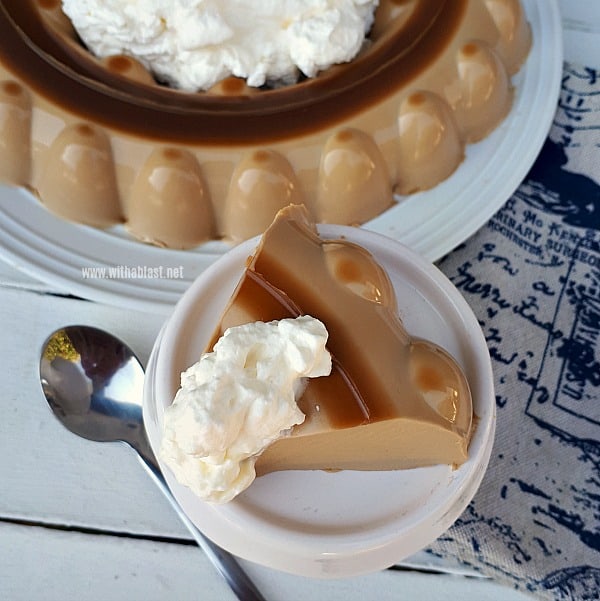 Who loves Coffee ?? Most people, I think, but I only have a cup .. maybe once every three/four months. Roy enjoys a cup now and then, the kids – not at all. This Coffee Cream dessert, however, we have at least once a month !

I Prefer Iced coffee, especially after a visit to the supermarket – love the one our favorite store sells right at the entrance door, and then of course, some kind of coffee dessert. It shouldn't be overpowering but the coffee taste must definitely be there.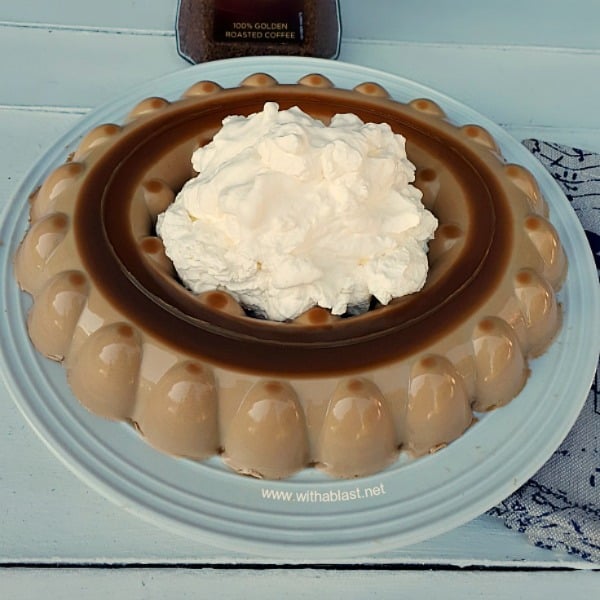 My very first food post was actually Coffee Jello's which I love to make and definitely to eat!
A little of  the coffee "sunk" to the bottom (which is now the top after I removed it from the mold) , however, the flavor is a bit stronger in the darker part but still present in the lighter part.
Coffee Cream
adapted by me from the cookbook Lekker Vinnige Etes 
12 Servings
INGREDIENTS:
2 TB Plain Gelatin
1/4 cup Cold Water
2 cups Fresh Cream (whipping cream)
1 t Vanilla Extract
1/2 cup Caster Sugar
1/2 cup Strong Coffee (Espresso works best) – I used 2 TB Instant Coffee Powder
Sweet, slightly Vanilla flavored Whipped Cream
DIRECTIONS:
1.) Sprinkle the Gelatin, using a small microwavable bowl, over the Water until spongy.
2.) Meanwhile, heat the Fresh Cream, Vanilla and Caster Sugar over low heat until boiling point – remove from heat.
3.) Dissolve the Gelatin in the microwave – it is ready when runny and clear. (30 – 60 seconds)
4.) Add the Gelatin together with the Hot Coffee to the Cream – stir to mix well.
5.) Use a wet mold (at least 3 cups capacity) and pour the mixture into the mold – Refrigerate overnight to set.
Decorate and serve with Sweet Whipped Cream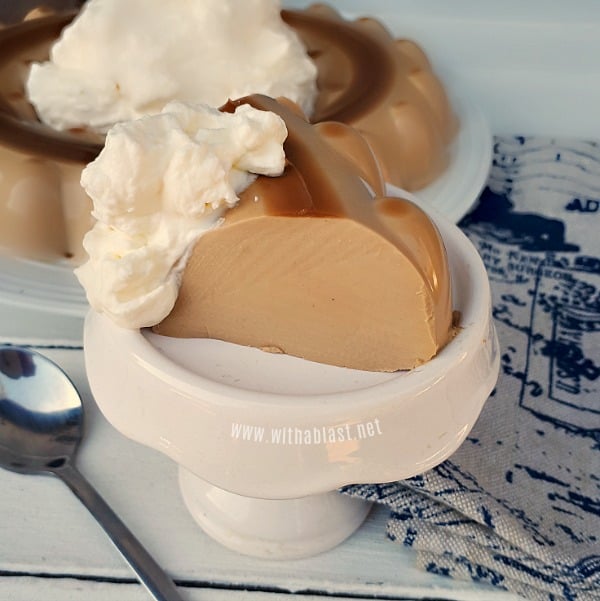 LINDA