Valentine's Champagne which is a little different than the usual flavored Champagne Cocktails ! This drink has a Cherry Liqueur Jello Shot which slips down your throat with the last sip.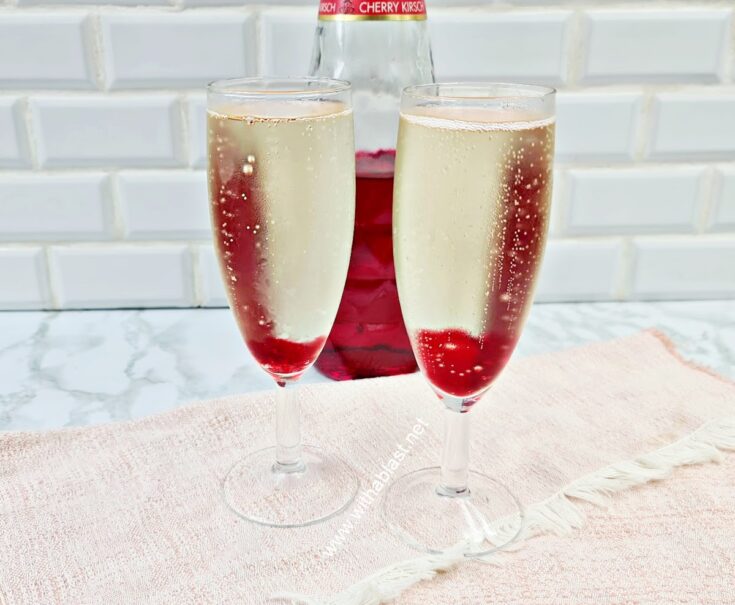 No need to worry about the Jello Shot messing around with your Champagne's taste ! But that last sip gives you a smooth, tasty surprise.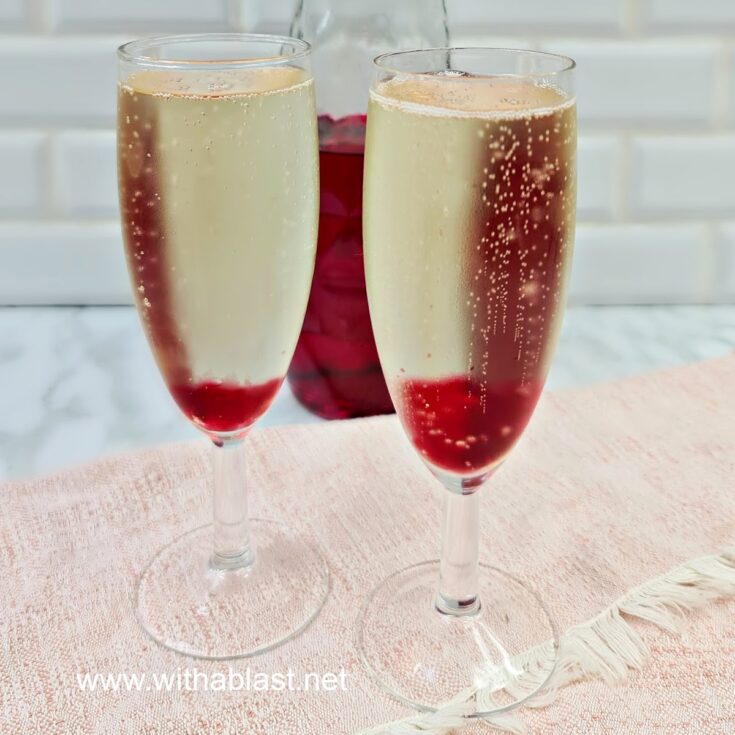 I love the somewhat tart taste of Cherry and the combination of Cherry Jello and Cherry Liqueur is absolutely delicious.
You may not prefer, or like, Cherry all that much, therefore you can change the Jello Shot to Strawberry, or just about any other flavor.
However, I would stick to a fruity flavor, meaning not going for Chocolate or Coffee ! I really can not even imagine how that will taste with Champagne.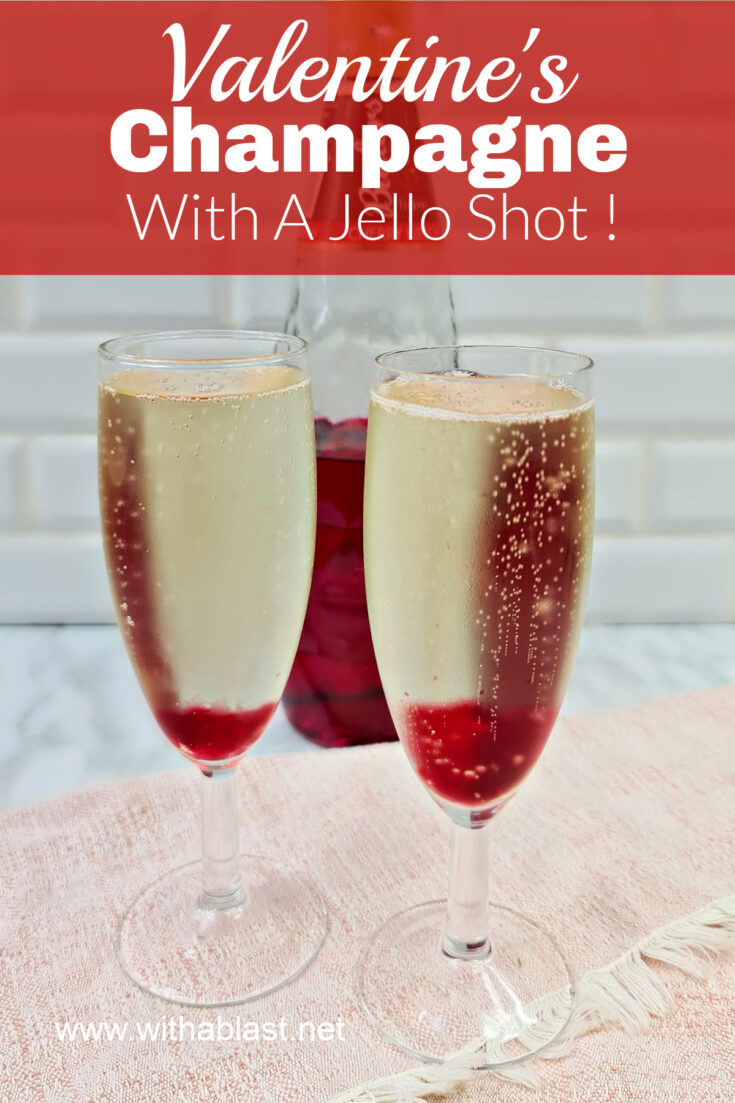 Depending on how many glasses you are serving, you will have quite a bit of Jello Shots left, unless you are serving to a huge crowd.
I pour the mixed, not set, Jello into a smooth, large tray with a lip (plastic or even steel), cut into blocks (enough for the drinks) when set.
Then cut the remaining Jello into larger blocks, which we enjoy from a shot glass later.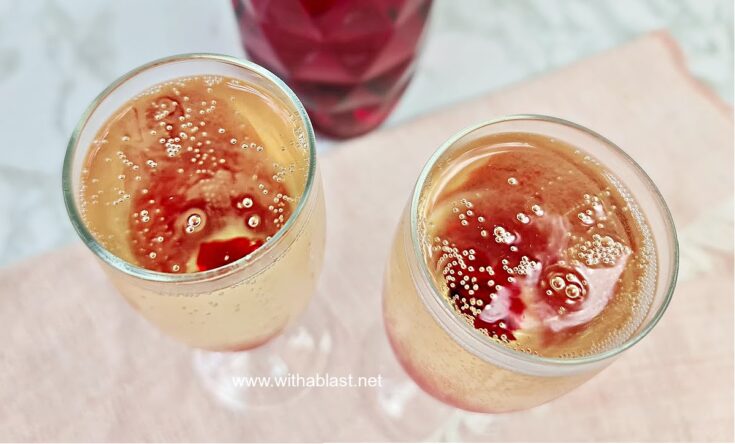 The Jello Shot size for the Valentine's Champagne should be about 1.5 centimeters square ( 1/2 inch square ), but it is not a set size.
I just found this to be the perfect size for us to enjoy our Champagne in full as well as the surprise Jello shot last.
You can also only pour enough Jello mixture into a smaller tray and the remaining mixture into individual shot glasses or small serving bowls/cups.
In this last image you can see the Cherry Liqueur Jello Shot at the bottom of the glass, ready to be sipped !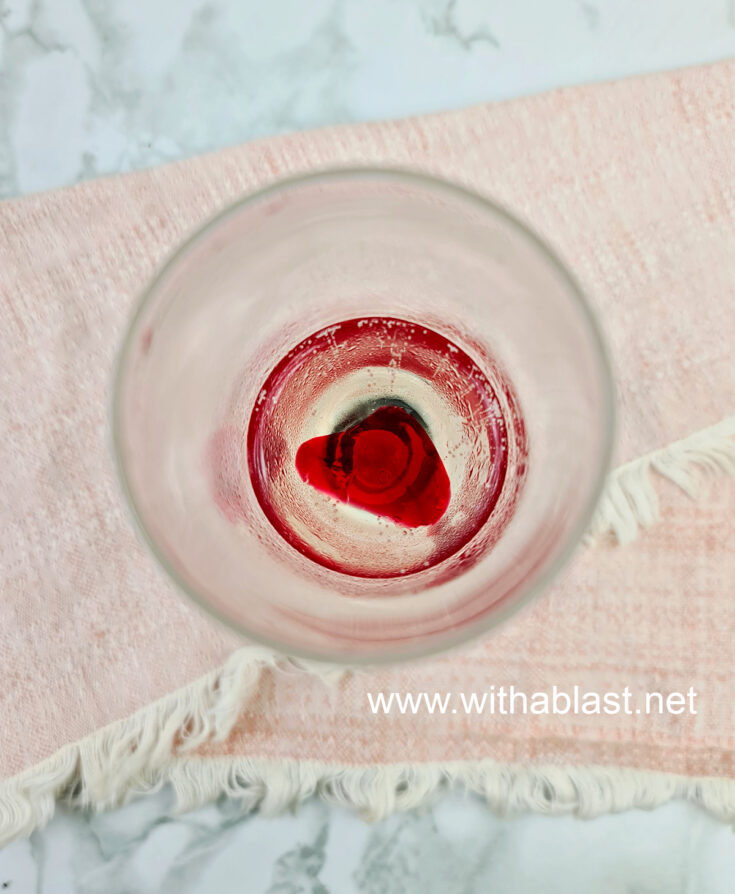 More Valentine's Day Treats you might like:
Valentine's Champagne (With A Jello Shot !)
Yield: 2
Valentine's Champagne (With A Jello Shot !)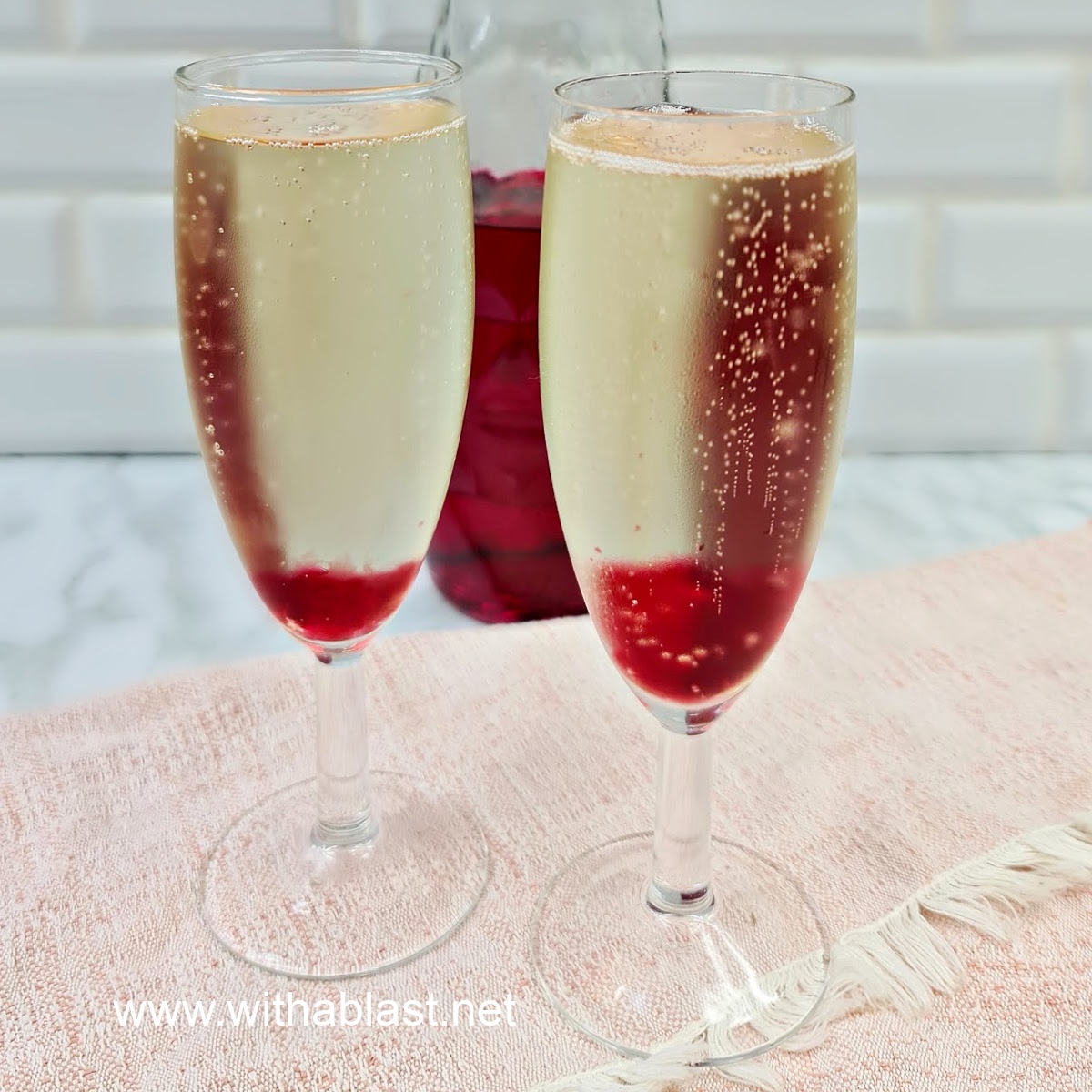 Valentine's Champagne which is a little different than the usual flavored Champagne Cocktails ! This drink has a Cherry Liqueur Jello Shot which slips down your throat with the last sip
Total Time
2 hours
5 minutes
Materials
1 packet Cherry Jello
1/2 of the boiling Water for the Jello
1/4 of the cold Water for the Jello
1/4 (same measurement as for the cold Water) Sherry Liqueur
Champagne, your choice
Tools
1 plastic or Stainless Steel tray with a lip (Approximately 20 x 20 centimeters - 8 x 8 inch)
Sharp knife
Champagne Flutes
Instructions
Combine the Jello mix with the boiling Water - stir until dissolved
Add the cold Water and the Cherry Liqueur and stir well
Pour into the tray and chill until set
Cut enough cubes ( 1,5cm x 15cm / 1/2 inch x 1/2 inch) for your serving quantities - Cut the remaining Jello into larger cubes to enjoy later (Keep in a sealed container in the refrigerator)
Pour Champagne into the flutes, about halfway up
Slowly add a Jello cube and fill with Champagne
Serve Immediately
Notes
Feel free to cut your Jello Shots into bigger pieces, but not too big, as the Champagne is afterall still the star