Turtle Cookie Cups filled with Chocolate Chips, Pecans, Caramel, topped with another Pecan Nut and drizzled with White Chocolate. Perfect dessert or tea time treat.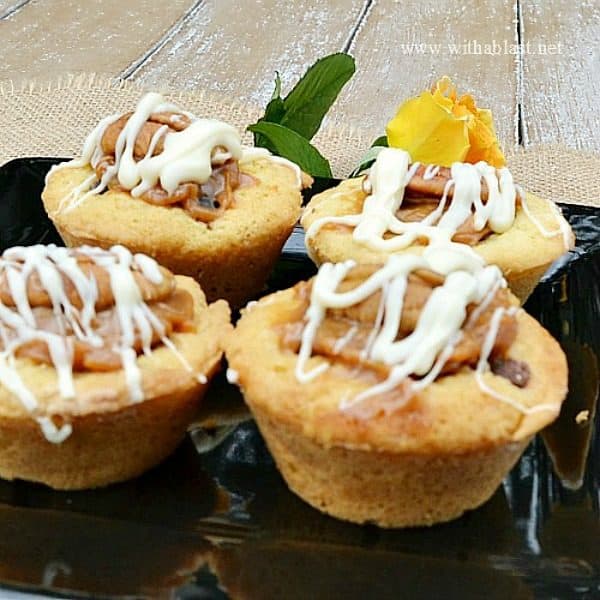 Turtle Cookies are one of my favorite cookies and when I came across a recipe for these Turtle Cookie Cups a while ago, I knew I had to make them as soon as possible.
Absolutely fantastic ! The Cups are Cookies, same texture and crunch, but in a small Cup form.
Filled with Chocolate Chips and finely chopped Pecans, this is a winner already !
And who does not like a gooey Caramel filling ? Topped with another Pecan half and drizzled with White Chocolate !
Your guests will most definitely be impressed with these sweet delights, or make some for dessert and enjoy the leftovers the following day at tea time (or with your first cup of coffee!).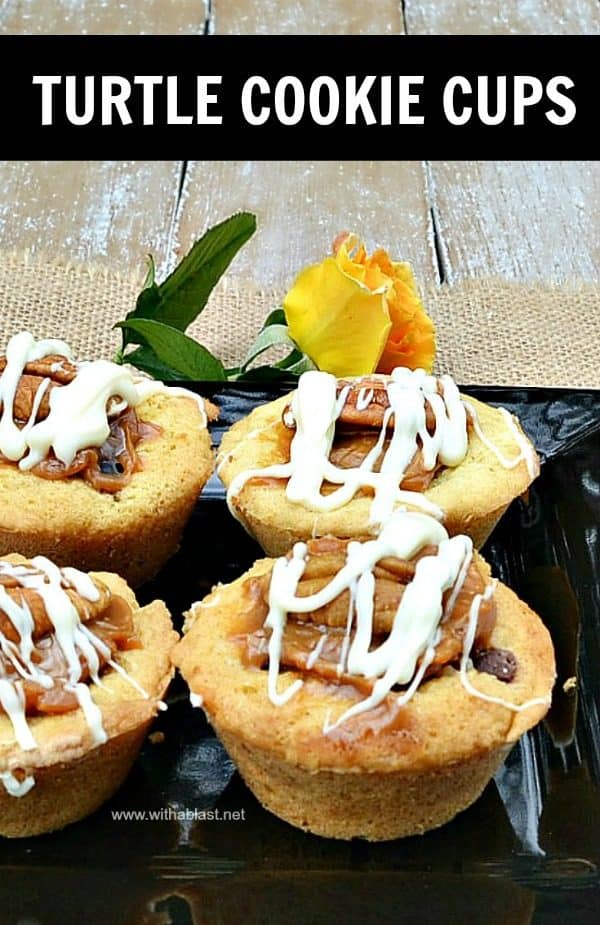 And again, I had way more than I should have, but these Turtle Cookie Cups are so addictive, one just can not stop eating them.
At least this time I had quite a few helpers enjoying them just as much as I did. Instant family favorite ..
I made mine in my Babycakes Cupcake Maker which I have been using at least once or twice a week since I bought it a couple of months ago.
It is just so much quicker and for these specific Cookie Cups, one does not need to pre-heat the machine at all.
Whether you use your oven or a machine, these little sweet treats will win over everyone's taste buds.
*As all countries do not stock the Caramel Condensed Milk, you can make your own by Googling how to make it in your slow-cooker. Or follow the recipe for the Caramel from the original recipe (link in recipe card).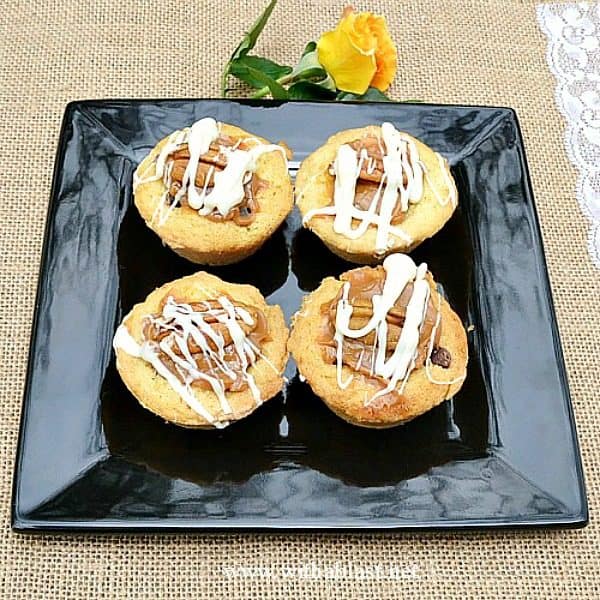 More Sweet Treat recipes you might like:
Connect with us :
PINTEREST TWITTER FACEBOOK INSTAGRAM
Turtle Cookie Cups
Yield: 24 Servings
Turtle Cookie Cups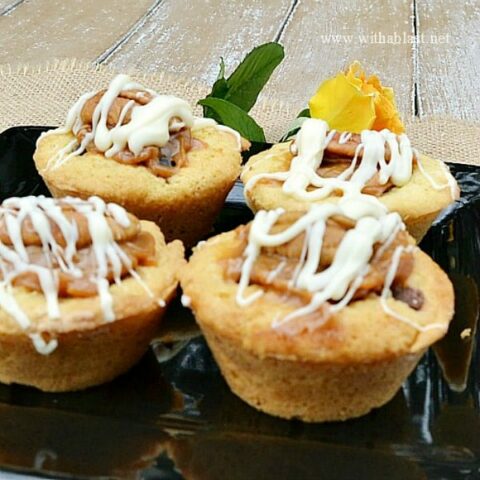 Turtle Cookie Cups with Chocolate Chips, chopped Pecans an Caramel, These are perfect for dessert or a tea time treat sweet platter
Ingredients
COOKIE CUPS:
1/2 cup Unsalted Butter, softened
1/2 cup Brown Sugar
1/4 cup Sugar
1 Egg, extra-large
1/2 t Vanilla
1 1/2 cup Flour
1/2 t Baking Soda
1/4 t Salt
1/3 cup Chocolate Chips
3 TB Pecan Nuts, chopped finely
FILLING:
1/2 can (of a 397g can) Nestle Treat Caramel Condensed Milk*
24 Pecan Nut Halves
1/3 cup White Chocolate, melted
Instructions
Pre-heat the oven to 190 deg C (375 deg F) – spray a mini muffin pan or a Babycakes Cupcake maker with cooking oil

Beat together the Butter and the Sugars until creamy – add the Egg and Vanilla – beat until well combined

Sift together the Flour, Baking Soda and Salt – gradually beat into the Butter/Egg mixture

Spoon approximately 1 tablespoon of the batter into the prepared mini muffin pan holes or into the Babycakes Cupcake maker – use a small spatula to spread the batter over the bottom and up the sides of each muffin hole

Sprinkle the Chocolate Chips and chopped Pecan Nuts into the centers of the batter "cups" – bake 12 – 15 minutes in the oven or if using the Cupcake Maker, follow the directions of the Maker

Remove from the oven or Cupcake Maker and let cool completely on a cooling rack

Fill each Cookie Cup with a teaspoon of Caramel Condensed Milk (you might need to press down a bit) and top with a half Pecan Nut

Drizzle with the White Chocolate and chill for a few minutes until the Chocolate has set
Recommended Products
As an Amazon Associate and member of other affiliate programs, I earn from qualifying purchases.
Nutrition Information
Yield
24
Serving Size
1 Cookie Cup
Amount Per Serving
Calories

150.7
Total Fat

8.1g
Saturated Fat

4.2g
Unsaturated Fat

2.8g
Carbohydrates

19.7g
Fiber

0.7g
Sugar

12.3g
Protein

1.8g
Nutrition value is not always accurate