The best Garlic and Herb Mushrooms side dish ever ! This recipe is quick, easy and delicious, especially to Garlic lovers
Mushrooms are one of the best and quickest side dishes to prepare and cook. For this Garlic and Herb Mushrooms dish, I always buy the ready-sliced Mushrooms, which saves me even some more time on prepping.

Fortunately we are all Mushroom lovers and I know that my family would always love this dish with all the Garlic and Herbs added to it.
I also buy Fresh Garlic in big tubs (no preservatives added) which has already been crushed and as you can see in the pics, the Garlic is not that fine … another reason for all the Parsley added to this dish.
The quantities of Basil and Rosemary might seem insignificant, but I can assure you the tastes of both of these wonderful fresh Herbs contributes just enough to this Mushroom dish as it should. If you really like your Basil or Rosemary, you can always add more.
Garlic And Herb Mushrooms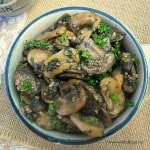 Garlic And Herb Mushrooms
Best Mushroom side dish ever ! Quick, easy and the perfect last minute dish
Ingredients
2

TB

Olive Oil

500

g

Mushrooms

sliced ( 16 oz )

4

t

Garlic

fresh, crushed

1

t

Basil

fresh, finely chopped

1

t

Rosemary

fresh, finely chopped

1/4

cup

Parsley

fresh, chopped

2

t

Balsamic Vinegar

Salt and Pepper

to taste
Instructions
Heat the Olive Oil in a large pan – saute the Mushrooms and Garlic for 2 – 3 minutes – add the Basil, Rosemary and Parsley – cook until most of the liquid has evaporated and the Mushrooms are soft and golden.

Drizzle with the Balsamic Vinegar and stir-fry another 2 minutes – season to taste with salt and Pepper.
Recipe Notes
Serve as a side dish with extra Parsley sprinkled over.
LINDA
You Might Also Like: