Sticky Pineapple Marinated Ribs are tender, juicy and soooo sticky ~ a must have rib recipe to throw on the barbecue!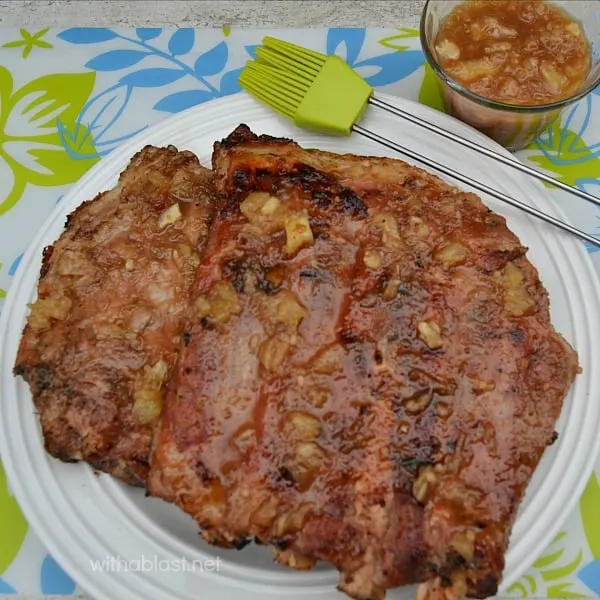 A Barbecue would not be the same without some juicy Ribs. Picking up a ready marinated pack is also no fun. Making these sticky Pineapple marinated Ribs from start is however !

I really had to hunt down these raw, not-marinated, not-smoked Ribs and finally found them at a small butchery which is close to our house.
Never bought there before, but I will now definitely become a regular. When you walk into the store, it is like entering another era, left far behind in history.
Down to earth, no exotic displays and mostly fresh meat without any marinades. Some old antiques are displayed.
Without it even looking like a display, and from up on a shelf, a radio playing an old song.
So not what I, and I think most of us, are getting used to in the bigger chain stores and fancy butcheries.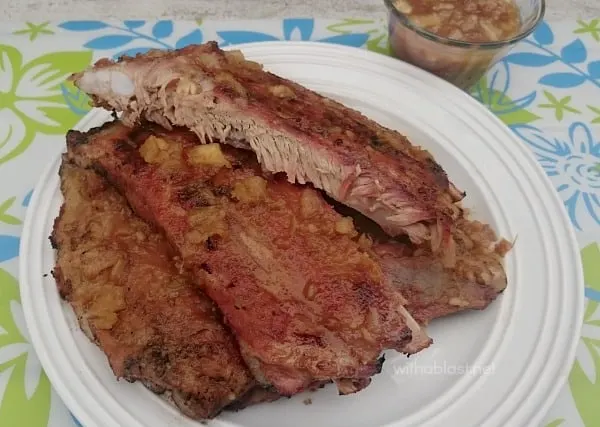 This recipe for these Sticky Pineapple Marinated Ribs require some pre-cooking, which was also a first for me. Oh, just blame it on all the convenience foods out there!
But I will most definitely rather cook the Ribs from now on, then brush and quickly slap on the barbecue.
The Ribs turned out super tender and so juicy. I hope I am not alone, but eating delicious, sticky Ribs are best done by hand !
And I just love watching kids eat these, their little hands, faces and just about everything else is covered in sticky sauce.
Fresh or canned Pineapple ?
You could use fresh Pineapple instead of canned if you prefer. Cube the Pineapple and blitz in the blender for a minute or so – use as is with all the juices.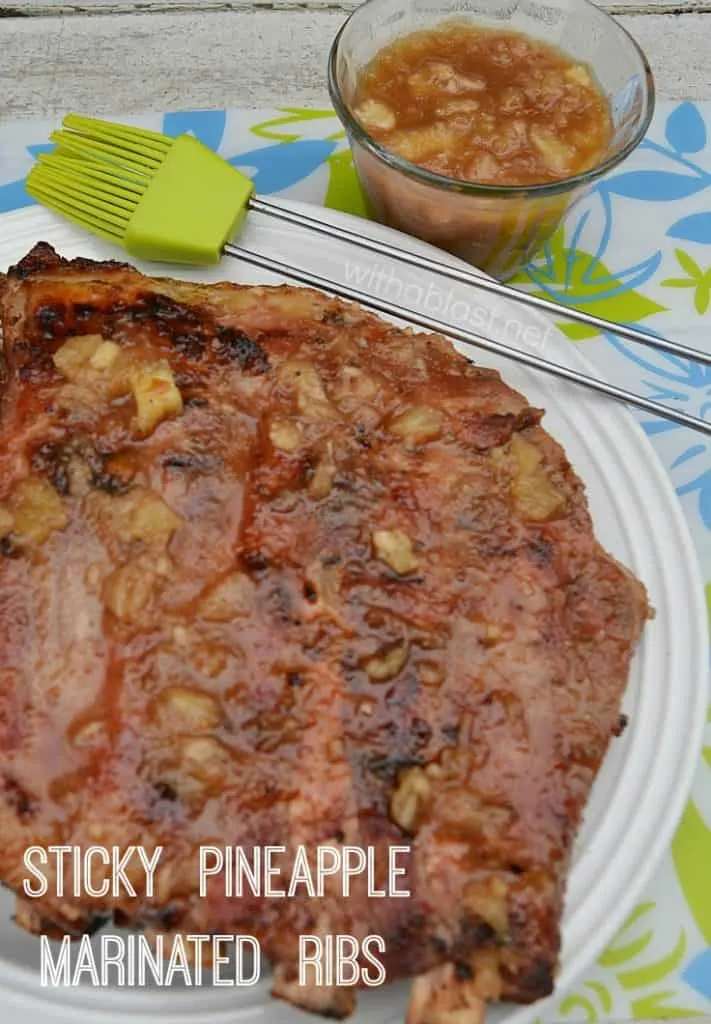 One can would equal about one and a half cups of fresh Pineapple, but you need not worry about getting the quantity 100% the same.
More recipes using Pineapple you might like:
Sticky Pineapple Marinated Ribs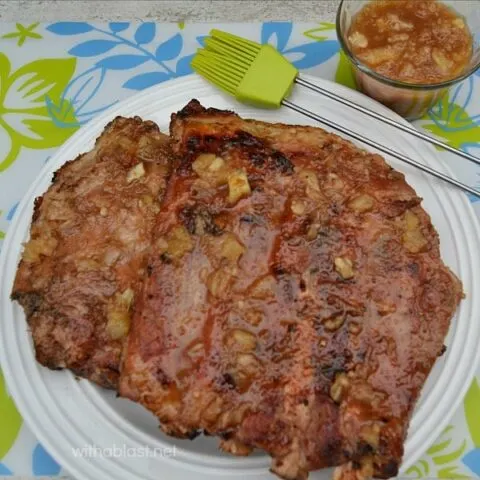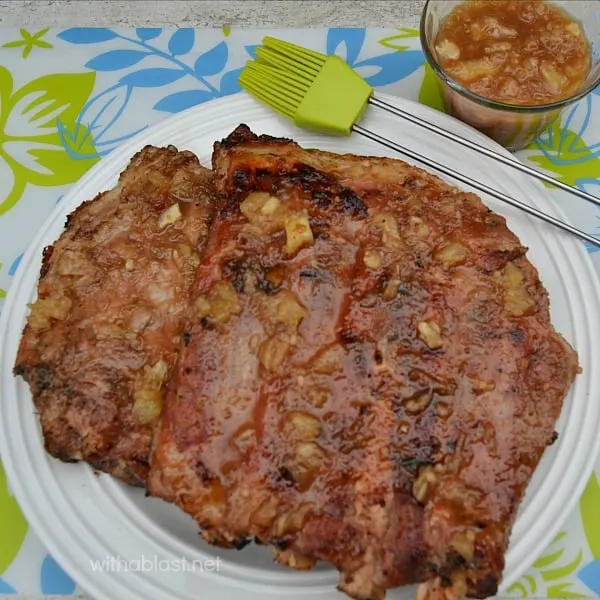 Sticky Pineapple Marinated Ribs
Cook Time:
2 hours
20 minutes
Total Time:
5 hours
30 minutes
Sticky Pineapple Marinated Ribs are tender, juicy and soooo sticky ~ a must have rib recipe to throw on the barbecue !
Ingredients
2 kg Pork Ribs, ( 4 1/2 pounds )
1 can (440g) Crushed Pineapple
1/3 cup Brown Sugar
1/4 cup Honey
2 TB Fresh Ginger, finely grated
1 TB Fresh Garlic, crushed
1/4 cup Tomato Sauce, ( thick Ketch-Up )
2 TB Soy Sauce
1 TB Worcestershire Sauce
1/4 cup Fruit Chutney
1/2 t Black Pepper, freshly milled
Instructions
Place the Pork Ribs in a suitable marinating container
Combine all the remaining ingredients and mix well – pour over the Ribs – marinate 3 – 4 hours or overnight in the refrigerator, turning over the container regularly
Brush all Marinade off the Ribs and keep in the refrigerator for later use
Place the Ribs in a large saucepan – cover with water – bring to the boil, then reduce heat and simmer Ribs for 2 hours or until tender
Remove Ribs from the pot – brush with the retained Marinade and grill over the coals, brushing with the Marinade after each turn (you only want to brown and caramelize the Ribs at this point)
Nutrition Information
Yield

8 Servings
Serving Size

250 grams ( 8 oz )
Amount Per Serving
Calories

988
Total Fat

77g
Saturated Fat

23g
Trans Fat

1g
Unsaturated Fat

34g
Cholesterol

263mg
Sodium

516mg
Carbohydrates

22g
Fiber

1g
Sugar

19g
Protein

53g
Nutrition value is not always accurate
Serve with salads and dinner rolls. Oh, and LOTS of serviettes !