Great way for re-cycled cans into Pretty Plant Pots. Some decoupage, a few decorations and you have cute plant pots – also great for growing herbs !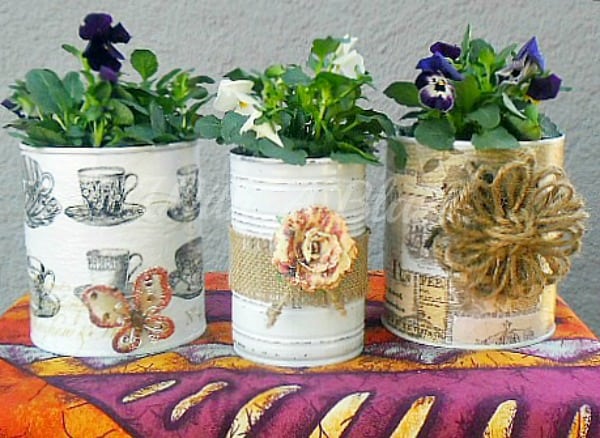 I enjoy decoupage crafts now and then. We bought some Viola seedlings recently to be planted in the garden in another 2 – 3 weeks. After the worst cold of Winter is over.
We also have a lot of re-cycled cans. All cleaned and ready to be crafted into pot plants !
And I decided to make some pretty pots for their brief stay. Once we plant them in the garden, it will be replaced with herbs, which won't need re-planting.
I'll have to add some more pots, though, for all the different herbs I am planning to keep in the kitchen.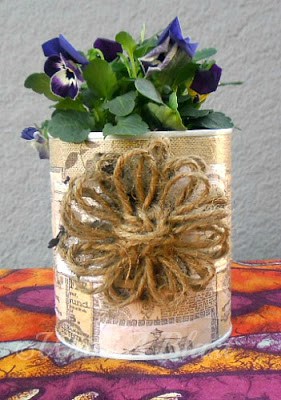 Nothing strange or difficult making these. All the re-cycled cans were first given a light coat of white spray paint after which I used paper serviettes (only the top layers) for the above can and the can below.
Gave each three – four layers of Mod Podge with a waiting of about 45 minutes in between and a final coat of hardener.
The jute flower above,,, I made using my small round loom – takes around 5 minutes to make a flower ! I used some hot glue to stick it in place.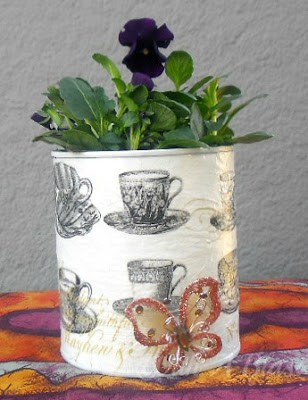 After the decoupage was done on the above can, I glued a Butterfly to the lower part.
Simple distressing with sanding paper uisng re-cycled cans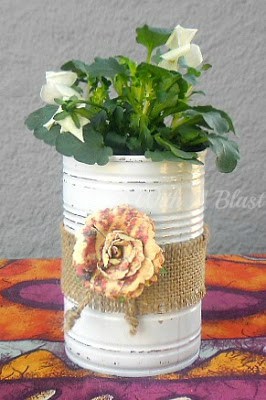 Even though the first two cans were decoupaged, I like this one most ! Simple distressing with a small piece of sanding paper over the ridges and edge.
Added a narrow strip of Burlap all round and a Flower glued into place. (the two small pieces of braided Burlap which hangs from under the flower were made with the pieces I pulled out of the strip)
Which one do you like most? I need to decide how to make the extras which will be used for the herbs !
Pretty Plant Pots (Re-Cycled Cans)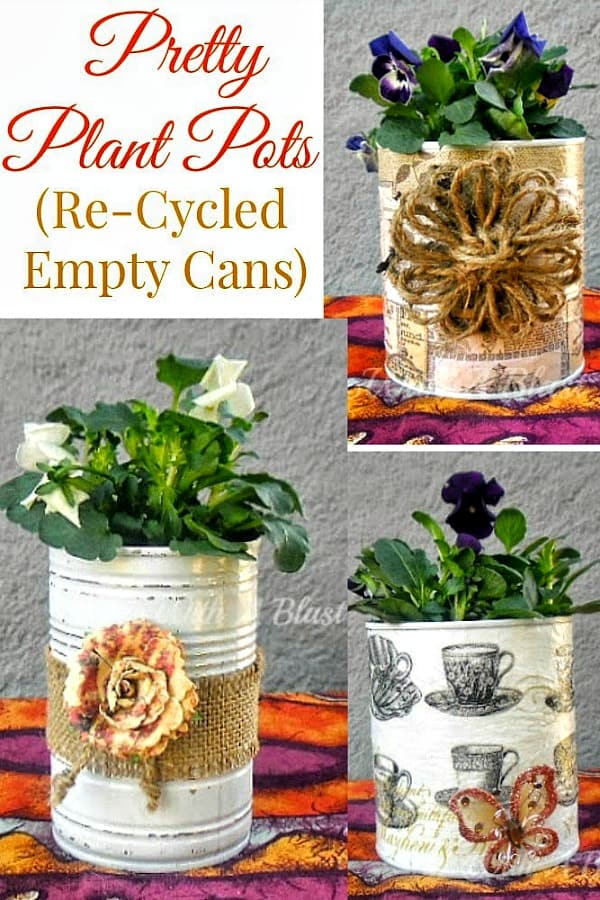 Start collecting your empty cans and turn them into pretty plant pots !
More Crafts you might like: