We all love easy dinner recipes especially when using fresh vegetables and this One-Pot Meatball and Rice Dinner is ideal [with substitutions given]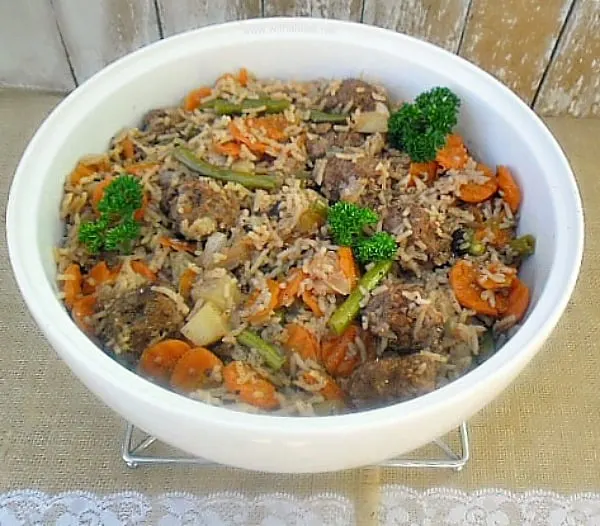 One pot meals are real time savers and I love the fact that everything's in there ! The starch, meat and vegetables.
There is a bit of frying going on in this one-pot Meatball and Rice dinner but I am talking minutes here, not very long.
At first I thought a gravy will be needed to serve on the side with this dish, but it was not necessary and saved me another few minutes.
This recipe is also very versatile on not only the vegetable options, but the meat as well.
Another kind of Ground Meat could be used (with the correct accompanying Stock). And the vegetables can be substituted to whatever you have on hand or prefer, as long as the cooking times are the same.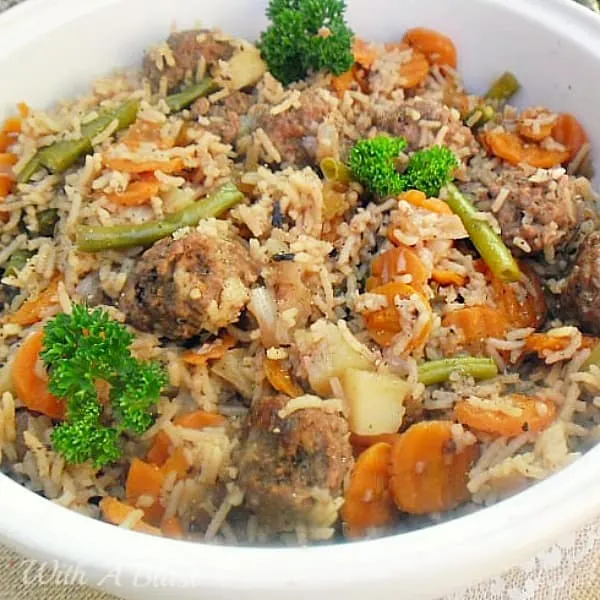 Dinner for a crowd !
I serve this Meatball and Rice dinner only with a crunchy side salad and it is more than enough for us 5 adults, plus leftovers for about another 2 adults.
Therefore this dish is perfect for a crowd or the larger family and it is fairly inexpensive.
I bought large sized bags of vegetables, used some in this recipe and some in another two recipes. And I blanched and froze about a quarter of what I have originally bought.
If you work out different combinations of vegetables added to stews or soups, the taste is different each time. You will also save quite a bit on buying in bulk. (which is always better – as long as one can actually afford to buy bulk!).
We have also recently started to do freezer meals in our family and so far it has worked out just fine and all the recipes I pulled from the Internet were perfect.
I am however, not going to blog about those meals, but I can tell you that the best recipes I have found are from Ruth who blogs over at Living Well Spending Less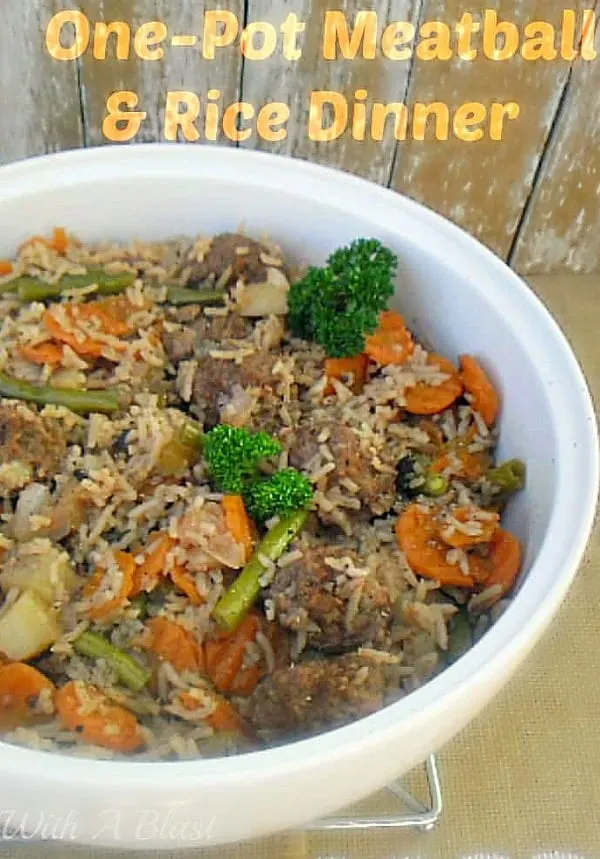 More Meatball recipes you might like:
Connect with us :
PINTEREST TWITTER FACEBOOK INSTAGRAM
One-Pot Meatball And Rice Dinner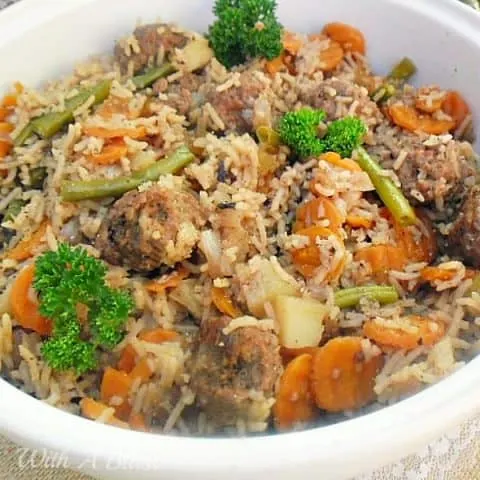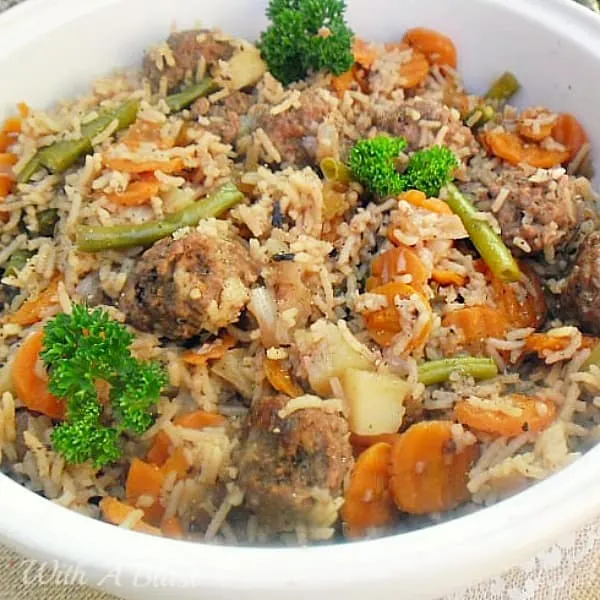 One-Pot Meatball and Rice Dinner
We all love easy dinner recipes especially when using fresh vegetables and this One-Pot Meatball and Rice Dinner is ideal
Ingredients
MEATBALLS:
450 g Lean Ground Beef ( 1 pound )
1 extra-large Egg
1 cup Fresh Breadcrumbs
1 t Ground Cumin
1/4 t Salt
1/4 t Black Pepper
1 Small Onion, grated
Vegetable Oil, for frying
VEGETABLES ETC:
1 Onion, large, chopped
1 Celery Rib, chopped
2 t Garlic, fresh, crushed
1 cup Red Wine (or more Beef Stock)
2 cups Rice, long grain white
1 cup Carrots, peeled and sliced into rings
2 cups Potatoes, peeled and cubed
4 cups Beef Stock
1 1/2 cups Green Beans, tips cut off and halved
Salt and Pepper, to taste
Instructions
Combine all the ingredients for the

Meatballs

– form into small golf ball sized balls

Heat a little Oil in a large skillet and quickly brown the Meatballs all over – remove from skillet and keep aside

Using a little more Oil, if needed, to the same skillet – saute the Onion, Celery and Garlic until just soft – add the Red Wine and simmer 3 minutes – transfer to a large pot with a lid

Add the Meatballs, Rice, Carrots, Potatoes and Beef Stock to the pot – simmer partially covered for 35 – 40 minutes or until the Rice is done (add a little Water if needed)

Stir in the

Green Beans,

15 minutes before the end time of cooking, to the pot – stir through and keep simmering

Season to taste with Salt and Pepper and serve
Nutrition Information
Yield

6
Serving Size

1 Adult Size
Amount Per Serving
Calories

599.3
Total Fat

16g
Saturated Fat

5g
Unsaturated Fat

9g
Cholesterol

92.2mg
Carbohydrates

51g
Fiber

4.9g
Sugar

5.2g
Protein

36g
Nutrition value is not always accurate
Transfer to a serving dish, season to taste with Salt and Pepper.
LINDA