If you love Lasagna but also need a lower in fat recipe, this Lightened-Up Lasagna is for you ! Very tasty with some hidden vegetables as well
You would never guess this is a lightened-up Lasagna. It is just as tasty as the usual, if not more delicious.
This recipe is also quick and easy to make and you can even make two. Simply by doubling all the ingredients, bake the one Lasagna and freeze (covered well) the second Lasagna after step 6.
All you need to do when you want to serve the frozen Lasagna, is to take it from the freezer, defrost overnight in the refrigerator and bake as per step 7.
The longest I have kept an unbaked Lasagna ( this specific recipe ), was for three months.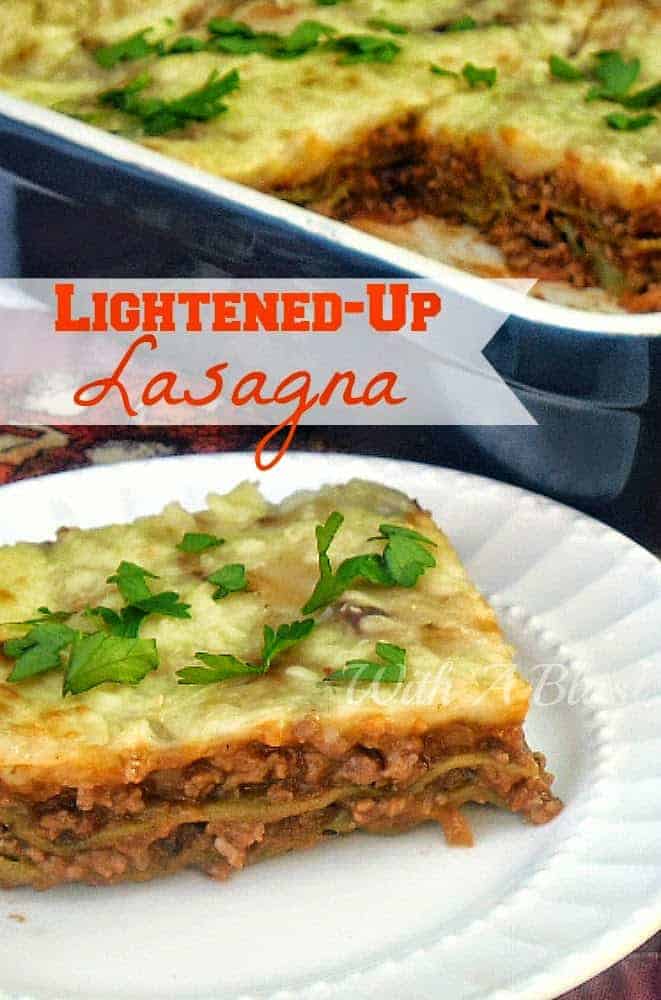 Low-fat Cheddar is better if you are on a strict diet. However, the quantity sprinkled over the top is not much, therefore I would not worry too much about that.
More Pasta recipes you might like:
Connect with us :
PINTEREST TWITTER FACEBOOK INSTAGRAM
Lightened-Up Lasagna
Yield: 6 Servings
Lightened-Up Lasagna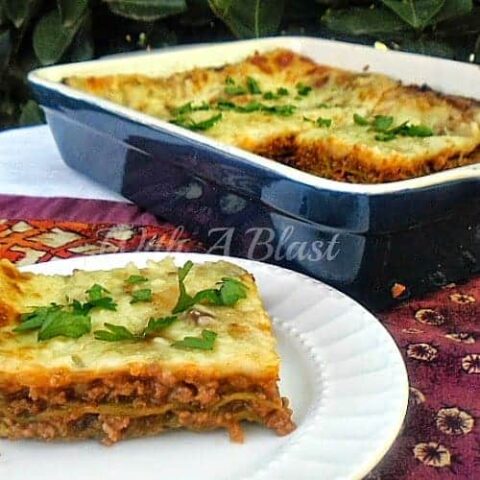 If you love Lasagna but also need a lower in fat recipe, this Lightened-Up Lasagna is for you ! Very tasty with some hidden vegetables as well
Total Time
1 hour
40 minutes
Ingredients
450 g Lean Ground Beef ( 1 pound )
1 Onion, chopped
2 t Garlic, fresh, crushed
1 cup Carrots, finely grated
1/2 cup Chicken Stock
12 TB Tomato Puree
1/2 packet Oxtail Soup Powder (use Beef if Oxtail is unavailable)
1/2 cup Water, boiling
1 t Dried Italian Herbs
1 t Paprika
1/2 t Salt
250 g Spinach Lasagna Sheets ( 8 oz )
3 TB Cornflour
1/2 packet Mushroom Soup Powder
2 cups Fat-Free Milk
Pinch Cayenne Pepper
1/3 cup Cheddar, low-fat, grated
Instructions
Pre-heat oven to 180 deg C (350 deg F) NB: (you can switch on the oven in step 6) – spray a large oven dish with cooking oil
Cook the Ground Beef in a non-stick pan until browned – add the Onion, Garlic and Carrots to the meat – stir-fry 5 minutes
Mix together the Chicken Stock, Tomato Puree, Oxtail Soup, Boiling Water, Herbs, Paprika and Salt – add to the meat mixture – cover and simmer 30 minutes
Start making the sauce a few minutes before the meat has done cooking – Mix the Cornflour and the Mushroom Powder with 1/2 cup of the Milk – place the remaining Milk in a medium saucepan over medium heat – stir in the Cornflour mixture and add the Cayenne Pepper – simmer and stir until a thick sauce has formed (takes only about 1 – 2 minutes) – remove from heat
Scoop a thin layer of the Meat mixture onto the bottom of the prepared oven dish – arrange a layer of Lasagna sheets over the Meat followed by half the remaining Meat – top with half the Sauce and repeat the layers from the Lasagna sheets once more
End with sprinkling the Cheddar over the last layer of Sauce – leave to stand 30 minutes (this is to soften the Lasagna sheets, so that you do not have to cook them in advance)
Bake 20 minutes or until the Cheese has melted and the dish is heated through
Notes
Serve with side salads or vegetables and dinner rolls
adapted from : Gesonde Gesinskos cook book
Nutrition Information
Yield
6 Servings
Amount Per Serving
Calories

356
Total Fat

14g
Saturated Fat

7g
Trans Fat

0g
Unsaturated Fat

7g
Cholesterol

89mg
Sodium

622mg
Carbohydrates

20g
Fiber

2g
Sugar

9g
Protein

32g
Nutrition value is not always accurate