Fresh Spiced Pumpkin Dip is a sweet Fall treat and so versatile – use it as a dip or as a spread on toast ~ serve warm or cold !
This fresh Spiced Pumpkin Dip is one of my favorite dips of all time.
It is also so versatile, if we don't use it as a dip, we spread the Spiced Pumpkin on toast – delicious breakfast !
I usually make a double, or even triple batch and place the leftovers in a sealed container in the refrigerator. Not sure how long it lasts, as we finish this delicious dip/spread within a day or two.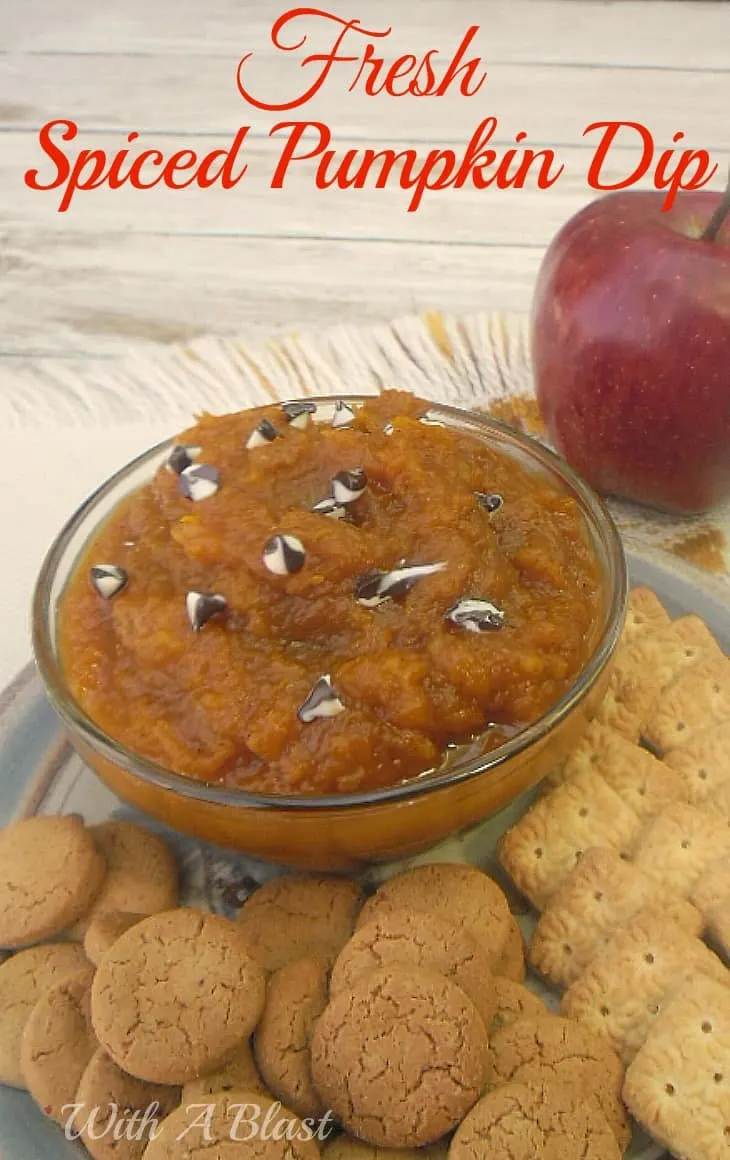 I prefer it served just warm to the touch as a dip, but spread cold on a slice of wholewheat brown toast.
You can also dry cook the Spiced Pumpkin to the degree of your preference.
Mine changes with each batch and sometimes I would remove some, to use as is, and continue to dry cook the remaining Pumpkin in the saucepan.
For the dip, I like it to be slightly syrupy. More gooey with a light syrup which forms around the sides of the serving bowl.
That bit of syrup is amazing and to my meaning the best part – soak a cookie, bite and you'll think you are in heaven!
More Pumpkin recipes you might like:
Fresh Spiced Pumpkin Dip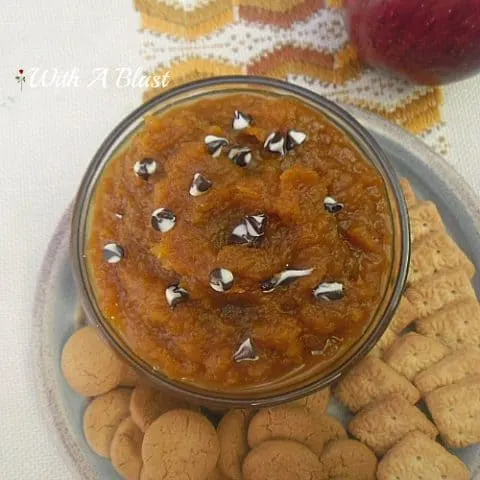 Fresh Spiced Pumpkin Dip
Fresh Spiced Pumpkin Dip ~ Delicious Spiced Pumpkin is so versatile - use it as a dip or as a spread on toast ~ serve warm or cold !
Ingredients
2 cups Pumpkin, peeled and cut into large chunks
1/4 cup Apple Juice
1 t Pumpkin Pie Spice
1/3 cup Sugar
1/8 t Salt
Chocolate Chips, to top (optional)
Instructions
Place the Pumpkin, Apple Juice, Spice and Sugar in a medium saucepan with a lid – bring to the boil, then lower the heat to medium and simmer 25 – 30 minutes until just tender. (stir frequently)
Remove the lid and cook, stirring continuously until all of the liquid has evaporated
Mash the Pumpkin and keep on cooking over low heat until you are satisfied with the consistency (here you can dry cook the Pumpkin as much or as little as you prefer)
Taste and if necessary add a pinch of Salt – stir and spoon into a serving bowl if serving warm (or let it cool completely and then spoon into a serving bowl if serving cold)
Nutrition Information
Yield

1
Serving Size

2.5 Cups
Amount Per Serving
Calories

445.7
Total Fat

2.3g
Carbohydrates

110.2g
Fiber

20.4g
Sugar

88g
Protein

8.2g
Top with Chocolate Chips, if using, and serve with a variety of cookies and wafers. I like to serve the dip with mini Ginger Snap cookies and mini Tennis biscuits.
LINDA
Remember to PIN !