Healthier Caprese Chicken Lasagna is an easy comfort food to make at home. Fresh vegetables, chicken and mozzarella makes this a winner dinner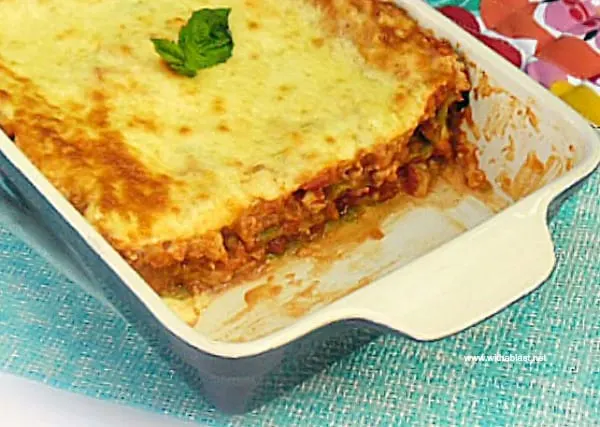 Caprese chicken lasagna is a delicious twist on the classic Italian dish that is sure to impress your dinner guests. Instead of using traditional beef, this recipe calls for chicken fillets, making it a healthier option that is just as satisfying.
The combination of chicken, tomatoes, and fresh basil creates a flavor that is both familiar and unique.
What Is Caprese Chicken?
Caprese chicken is a delicious Italian dish that combines the flavors of Caprese salad with chicken.
The Caprese chicken lasagna recipe takes the traditional Caprese chicken and incorporates it into a hearty, cheesy lasagna dish.
The chicken is cooked with onions, carrots, celery, and tomatoes in a red wine and chicken stock sauce. The sauce is then layered with spinach lasagna sheets, mozzarella cheese, and fresh basil leaves to create a delicious and satisfying meal.
One of the great things about Caprese chicken lasagna is that it is a healthier option compared to traditional beef lasagna.
Chicken is a leaner protein compared to beef, and the dish incorporates plenty of fresh vegetables and herbs, making it a flavorful and nutritious meal.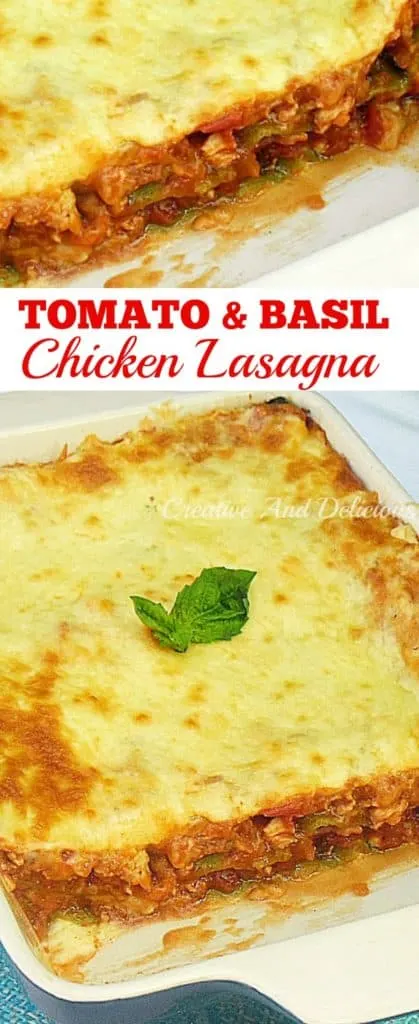 Caprese chicken lasagna is a delicious and satisfying meal that brings together the flavors of Italy in a comforting and hearty dish.
What to serve on the side with Lasagna?
As someone who loves a good pasta dish, I know that the right side dish can really elevate the meal. With Caprese Chicken Lasagna, there are a few options that pair perfectly with the flavors of the dish.
A simple green salad is always a great option. A mix of arugula, spinach, and cherry tomatoes with a light vinaigrette will provide a refreshing contrast to the rich flavors of the lasagna.You could also add some sliced avocado or fresh mozzarella for an extra indulgent touch.
Another great option is garlic bread. Toast some slices of crusty bread and rub with a garlic clove.Drizzle with olive oil and sprinkle with salt and pepper. This crispy, garlicky bread is the perfect accompaniment to the cheesy, tomatoey goodness of the lasagna.
For a vegetable side dish, roasted broccoli or asparagus is a great choice.Simply toss with olive oil, salt, and pepper, and roast in the oven until tender and slightly charred. The roasted flavor and crunch of the veggies will complement the lasagna perfectly.
OR, if you are looking for something a bit more substantial, a classic Caesar salad is always a crowd-pleaser.Toss some romaine lettuce with a homemade dressing of anchovies, garlic, lemon juice, and olive oil, and top with croutons and shaved parmesan cheese. The tangy, creamy dressing will balance out the richness of the lasagna.
The key is to keep the side dishes simple and fresh, so that they do not overpower the flavors of the lasagna.
With these options, you're sure to have a delicious and well-rounded meal.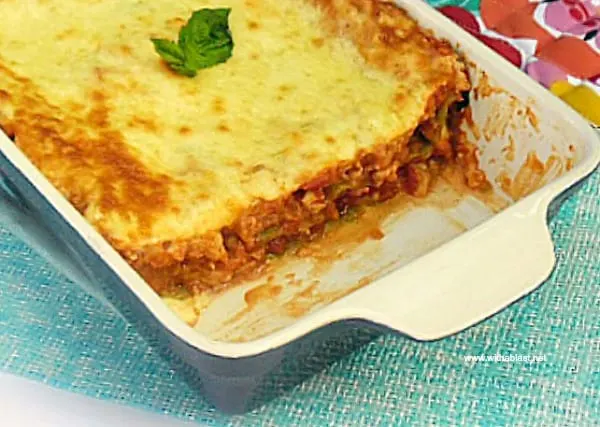 More Chicken recipes you might like:
Caprese Chicken Lasagna Recipe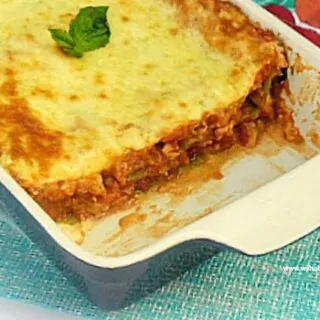 Caprese Chicken Lasagna
Prep/Cook Time:
30 minutes
Standing Time:
20 minutes
Total Time:
1 hour
20 minutes
Healthier Caprese Chicken Lasagna is an easy comfort food to make at home. Fresh vegetables, chicken and mozzarella makes this a winner dinner
Ingredients
1 Onion, chopped roughly
2 Carrots, chopped into small chunks
2 Celery Sticks, chopped
1/4 cup extra-virgin Olive Oil
450 grams Chicken Fillets, cut into small stir-fry pieces ( 1 pound )
1/2 cup Dry Red Wine
2 cans (410grams each) Chopped Tomatoes, (14 oz each)
2 teaspoons Sugar
1/2 cup Chicken Stock
1 cup Basil Leaves, torn
Salt and Black Pepper, to taste
6 tablespoons Butter, melted
6 tablespoons Flour
3 cups Milk
1/2 cup Mozzarella Cheese, grated
8 Spinach Lasagna Sheets
Instructions
Place the Onion, Carrot and Celery pieces in a food processor – blitz finely (but not into a soup stage)
Heat the Oil in a large skillet – saute the Onion mixture until soft – add the Chicken and fry 8 – 10 minutes or until golden
Add the Red Wine – simmer 5 minutes – add the Tomatoes, Sugar and Chicken Stock – simmer another 10 – 15 minutes until the liquid has reduced
Stir in the Basil Leaves and cook another 1 minute
Remove from heat and season to taste with Salt and Black Pepper
Make a white sauce with the Butter, Flour and Milk (stovetop or microwave)
Pre-heat the oven to 200 deg C (400 deg F) – spray a 20 x 30cm ( 9 x 13 imch ) oven dish with cooking oil
Pour 1/4 of the white sauce on the bottom of the prepared dish – top with a layer of Lasagna sheets, followed by half the Chicken mixture
Pour half of the remaining white sauce over the Chicken, followed by another layer of Lasagna sheets – then the remaining Chicken and finish with the remaining white sauce
Let stand for 20 minutes
Sprinkle the Mozzarella cheese over and bake for 30 minutes
Nutrition Information
Yield

6
Serving Size

1
Amount Per Serving
Calories

1076
Total Fat

57g
Saturated Fat

26g
Trans Fat

1g
Unsaturated Fat

27g
Cholesterol

220mg
Sodium

1576mg
Carbohydrates

71g
Fiber

6g
Sugar

17g
Protein

65g
Nutrition value is not always accurate. Please also check your ingredient labels.