Cape Malay Koeksisters (also pronounced Koesisters) are sticky, syrupy sweet treats. A South-African delicacy not to be missed
We have Koeksisters which is a sweet, sticky, braided, syrupy sweet treat in South-Africa. I have never made those and only buy from bakeries which I know is great.
Koeksisters seem like a lot of work, and watching my family go through a few packets in an hour or two, does not work for me.
Definitely not after going through all that. Therefore when I found a recipe for the Cape Malay Koeksisters, which I think are easier to make, I grabbed the opportunity to make a batch
These are not drenched right through with syrup as standard Koeksisters are and neither are they braided. It is a lot more spicy, though.
I followed the recipe, but really, it just did not work out the first time.
So I made a couple of changes and made a large batch of delicious Cape Malay Koeksisters – my way ! Whether this is still acceptable to carry the name, I have no idea.
UPDATE: If you want a simple version of the traditional koeksisters try these quick Breadsisters.
More Sweet Treats you might like:
Cape Malay Koeksisters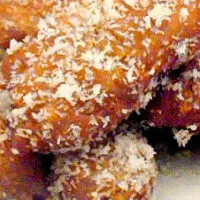 Cape Malay Koeksisters
Rise Time:
2 hours
30 minutes
Deep-Fry Time:
25 minutes
Total Time:
3 hours
20 minutes
Cape Malay Koeksisters (also pronounced Koesisters) are sticky, syrupy sweet treats. A South-African delicacy not to be missed
Ingredients
4 1/2 cups Flour
2 cup Self-Raising Flour
1 1/2 cup Sugar
1 t Salt
2 t Ground Ginger
1 t Ground Cinnamon
2 t Ground Anise
1 t Cardemom, husks removed and grounded
2 t Tangerine Peel, finely grated
3/4 cup Sunflower Oil, or vegetable oil
1 extra-largeEgg
1 1/2 cups Milk
1 1/2 cups Warm Water
1 TB Active Dry Yeast
1 t Sugar
Oil for deep-fry
SYRUP:
2 1/4 cups Sugar
1 1/2 cups Water
1 Cinnamon stick
2 Cardamom Pods, husks removed and grounded
TO ROLL:
2 cups Desiccated Coconut
Instructions
Place the Flour, Self-Raising Flour, Sugar, Salt, Ginger, Cinnamon, Anise, Cardemom and the grated Tangerine Peel in a large bowl – mix to combine – add the Oil, rub into the dry ingredients until crumbly
Mix the Milk and Water – divide into two smaller bowls – add the Yeast and Sugar to the one bowl and stir until dissolved – add the Egg to the other bowl, with the remaining Milk/Water mixture – beat well
Add first, the Milk/Water/Yeast to the Flour mixture, stir – add the Milk/Water/Egg also to the Flour mixture – mix until you have a soft dough - see note below – cover and leave 2 hours to rise (double in size)
Roll out the dough (on a floured base) to an approximate 5 centimeters (2 inch) thickness – cut into small squares – 2 1/2 centimeters (1 inch) – cover and leave to rise another 30 minutes
SYRUP: Boil the Sugar, Water, Cinnamon stick and Cardemom together until the Sugar has dissolved – this syrup must be kept warm all the time (not boiling, low heat – only to keep warm)
Heat the Oil for deep-fry to a medium heat – place a few pieces of dough in the Oil and fry 3 – 4 minutes until golden and cooked through – drain on paper towel and then dunk into the hot syrup for 30 seconds, turning and making sure the whole koeksister is covered, and some of the syrup has been absorbed
Finally, roll into the Coconut and place on a cooling rack to cool completely
Notes
If you find the dough too runny at this stage, add 1/4 cup of Flour at a time until you reach a soft dough (should not be more than 3/4 cup i.e. 3 x 1/4 cups added)
Nutrition Information
Yield

45 Servings
Serving Size

1 Koeksister
Amount Per Serving
Calories

179
Total Fat

6g
Saturated Fat

2g
Trans Fat

0g
Unsaturated Fat

4g
Cholesterol

1mg
Sodium

106mg
Carbohydrates

30g
Fiber

1g
Sugar

18g
Protein

2g
Nutrition value is not always accurate