Sweet And Sour Shrimp Fried Rice made at home is so much tastier and you have control of the sourness in this popular take-out dish.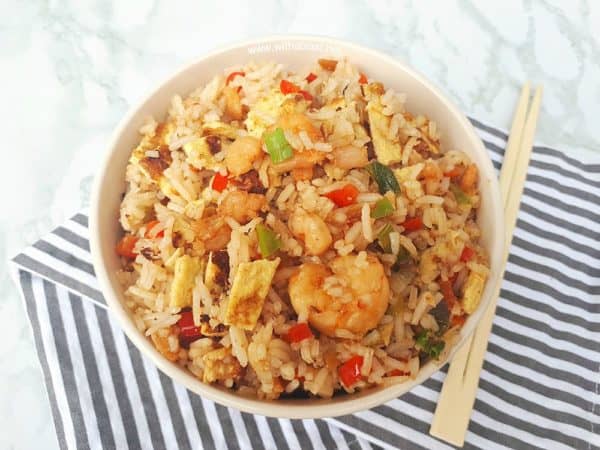 A Couple of weeks ago I was craving Sweet and Sour Shrimp Fried Rice and as we were ordering take-outs on the specific day, that's what I ordered.
Now I have to be honest, I am totally loving our newly found Chinese restaurant and have enjoyed all of their meals thus far.
But the Shrimp Fried Rice I ordered was not exactly what I wanted. You know when you are craving a specific something (usually made up in your – my – mind!), but it is not one hundred percent what you wanted.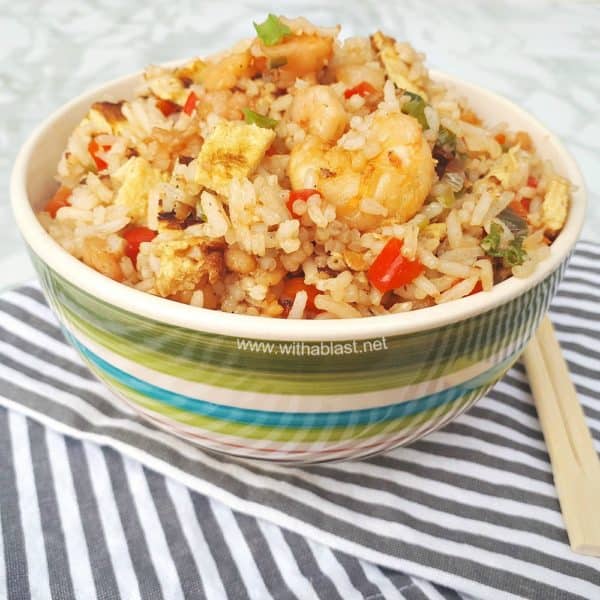 Instead of Sweet and Sour Shrimp mixed in with Fried Rice and a bit of vegetables, I received Fried Rice (almost no flavor or Egg bits), topped with large chunks of different Bell Peppers.
And maybe five or six pieces of Shrimp in between. All of the topping was covered in sweet and sour sauce – way too much to my liking.
So, what does a food blogger do ? Make up our own recipe !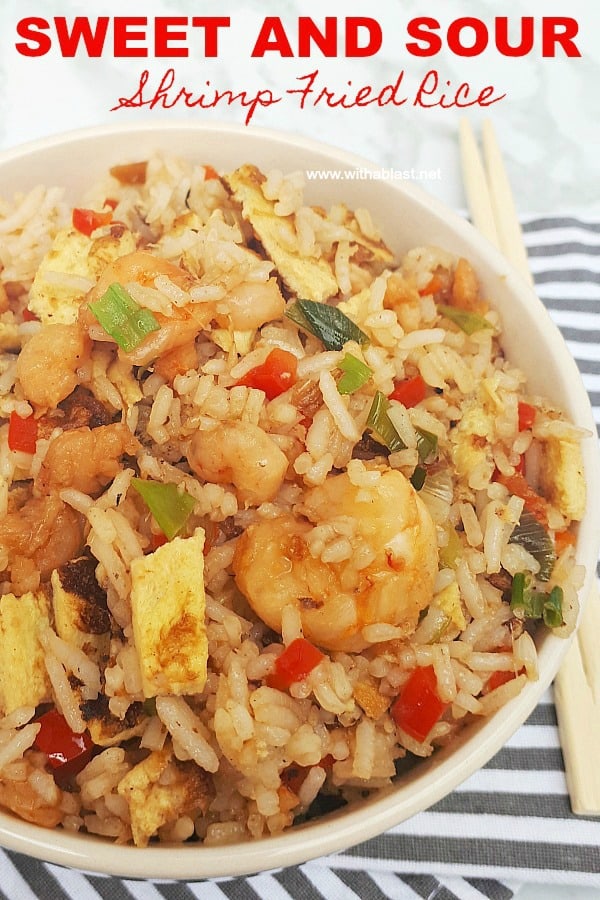 I mean, really, if anyone is craving a certain dish (whether only in their mind or something from the past), the best thing to do is make it yourself.
My version, or rather preference, might not be exactly the same as anyone else's. But, I am now happy, after the second time and a bit of tweaking.
The cooking time below is a rough estimate and should really take you less time to cook.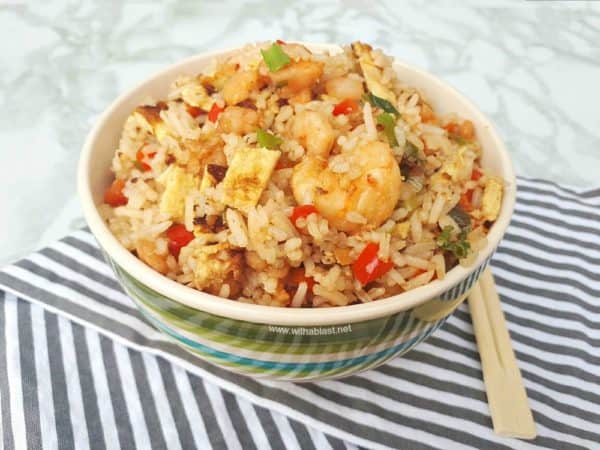 The times do not include cooking of the Rice. Anytime I have Fried Rice on our weekly menu, I make sure to either make extra the night before, or cook a new batch well in advance.
Which is easy for me as I am always home and can therefore cook the Rice in the morning.
You will notice that I have put in the quantity of Sweet and Sour Sauce between a third and half a cup. This is totally up to your preference – add even more if you like your sauce !
Sweet And Sour Shrimp Fried Rice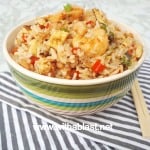 Sweet And Sour Shrimp Fried Rice
Sweet And Sour Shrimp Fried Rice made at home is so much tastier and you have control of the sourness in this popular take-out dish
Ingredients
3

TB

Sesame Oil

divided

2

cups

Blanched Shrimp

1/3-1/2

cup

Sweet And Sour Sauce

homemade or store-bought

2

Eggs

1

TB

Medium Sherry

2

t

Fresh Ginger

finely grated

3

Spring Onions

chopped

1

Red Bell Pepper

chopped (smallish)

4

cups

Cooked Rice

1

TB

Soy Sauce

( or to taste )
Instructions
Heat a little of the Oil in a large skillet or wok - stir-fry the Shrimp 1-2 minutes - remove using a slotted spoon and combine with the Sweet and Sour Sauce in a mixing bowl - keep aside until needed

Whisk together the Eggs and Sherry - Use more Oil if necessary - pour 1/3 of the mixture into the skillet or wok - cook 1 - 2 minutes, turning once - repeat twice until you have 3 thin "crepes or omelettes" - slice into small bite sized strips and keep aside

Heat remaining Oil in same skillet or wok - Stir-Fry the Ginger, Spring Onions, and Red Bell Pepper for 1-2 minutes - remove and keep aside with the Egg bits

Add the cooked Rice to the skillet or wok - Stir-Fry 5 minutes until just turning brown (more golden than brown) - Return the Shrimp, Egg bits and Vegetables to the Rice in the skillet or wok

Stir in the Soy Sauce and heat through
LINDA
Linking up at: WEEKEND POTLUCK – Sweet Little Bluebird
You Might Also Like: