Shrimp Salad with Spicy Watermelon Salsa is so refreshing, healthy and perfect for lunch or to serve as a light dinner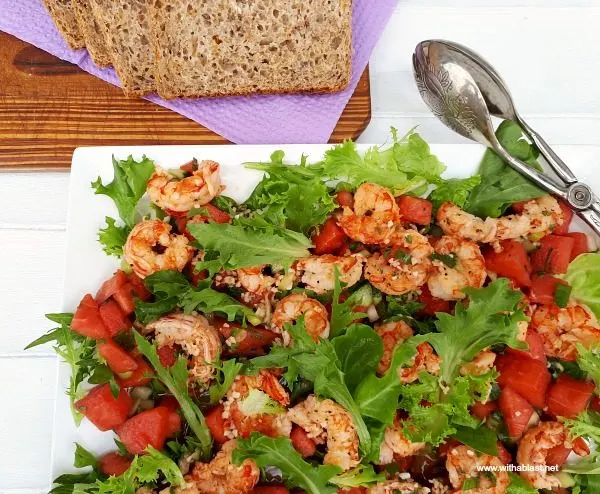 Shrimp and Watermelon are two of my favorite foods and once combined the flavors compliment each other so well.
This Shrimp Salad with Spicy Watermelon Salsa just screams Summer !
Normally we are not much of a too spicy loving family, but the spiciness in this salad recipe is just right for us. You can always increase the amount of Chilies in the recipe.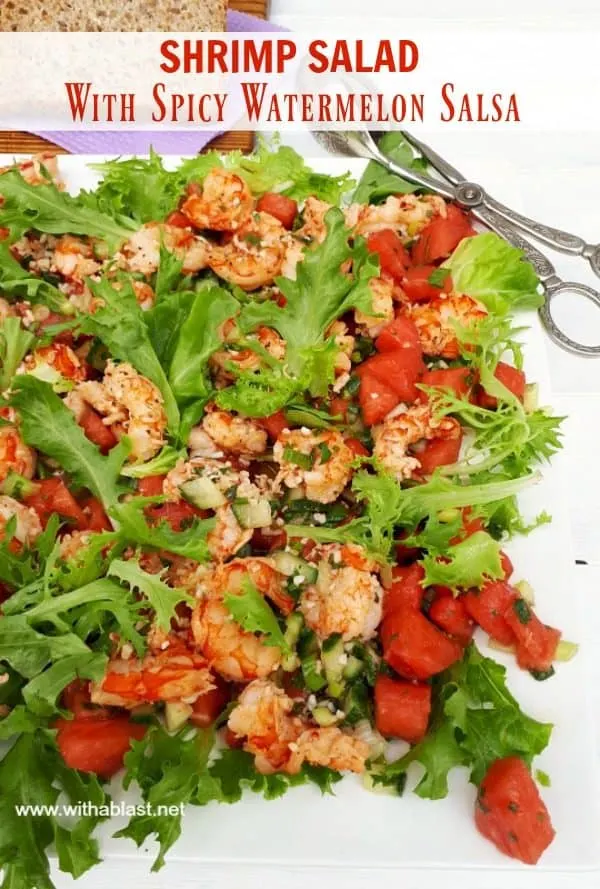 The Garlic and Ginger add a lot of bite to the salad as well. Not heat spicy, but a delicious flavor combo, especially with Shrimp.
I use minced Garlic (you can actually see the Garlic on the Shrimp), instead of my usual crushed Garlic which I so love to cook with.
No particular reason why I choose minced, only my personal preference when I make salads with Garlic as an ingredient.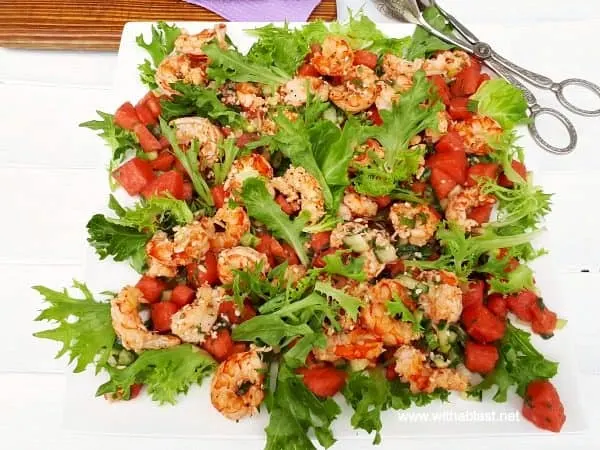 Do you have to use Herb Greens ?
No, you do not. Just another personal preference as I think Herb Greens add much more taste to a salad than ordinary lettuce leaves or Spinach leaves on it's own.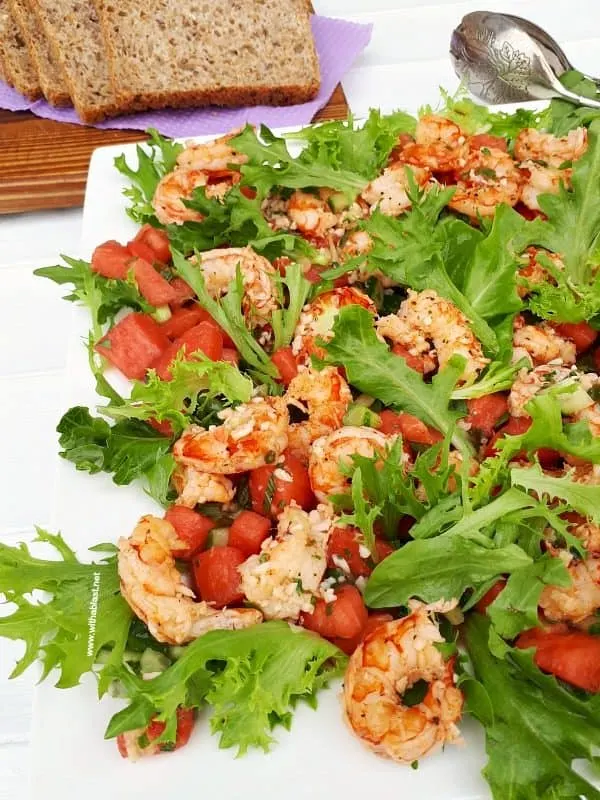 The recipe is also very easy to double or even triple and would take only a couple of minutes longer. I would however cook the Shrimp in batches unless you have a very large wok or similar skillet / pan.
You can also only make the Spicy Watermelon Salsa and serve on the side (or on top) of most grilled fish or any meat you think the Salsa will go well with.
The Salsa on it's own also makes a lovely and delicious appetizer ! ( do add some salad greens when serving as an appetizer though! ).
More Salad recipes suitable for lunch or as a light dinner:
Shrimp Salad With Spicy Watermelon Salsa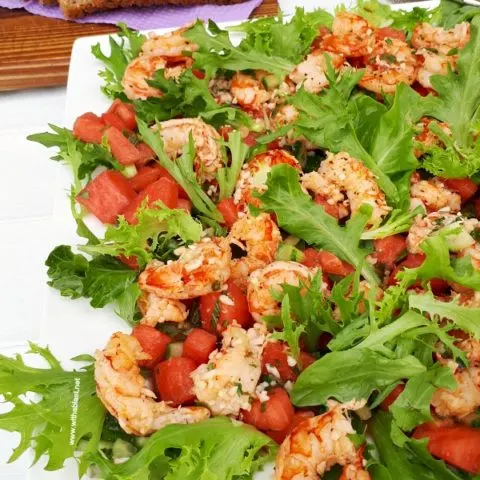 Shrimp Salad With Spicy Watermelon Salsa
Refreshing, healthy Shrimp Salad with a spicy Watermelon Salsa is perfect for lunch or serve as a light dinner
Ingredients
SALSA:
1/3 cup Lime Juice
1 TB Olive Oil
2 t Brown Sugar
2 t Fish Sauce
1 Red Chili, finely chopped
4 Spring Onions, finely sliced
1/4 cup Cilantro, finely chopped
3 TB Mint Leaves, finely chopped
2 cups Watermelon, diced
1/2 cup Cucumber, finely diced
SHRIMP:
1 TB Olive Oil
2 t Fresh Garlic, minced
2 t Fresh Ginger, finely grated
1 TB Lime Juice
900 g Shrimp, peeled, deveined ( 2 pounds )
TO FINISH:
Instructions
SALSA:
Combine the Salsa ingredients in a medium mixing bow, stir through and keep chilled until needed
SHRIMP:
In a medium skillet, heat the Olive Oil - saute the Garlic and Ginger 1 minute - add the Shrimp and Lime Juice - cook until pink (about 3 - 5 minutes)
Remove from heat and let stand to cool slightly
TO FINISH:
Arrange the Herb Greens on a large serving platter - Spoon over the Watermelon Salsa and give it a gentle stir - top with the cooked Shrimp
Nutrition Information
Yield

4
Amount Per Serving
Calories

341.8
Total Fat

11.2g
Saturated Fat

1.8g
Trans Fat

0g
Unsaturated Fat

9.4g
Cholesterol

342mg
Sodium

520.5mg
Carbohydrates

12.4g
Fiber

1.8g
Sugar

6.4g
Protein

47.3g
Serve immediately with wholewheat or seeded bread
LINDA