Curry Shrimp Sub is the perfect Friday night dinner or anytime weekend lunch – even kids love this mildly spiced shrimp sandwich.
I have never had a Curry Shrimp Sub before recently, or rather never had curried Shrimp. I like Shrimp with a sweet and sour sauce, or something lemony.

But when I mentioned Curry Shrimp to my hubby, he was all for it and we decided to at least try it once. Now there is no stopping us from enjoying curried Shrimp, not only in a Sub,but over rice as well.
This is an absolute lifesaver recipe when you have no idea what to make for dinner or need something which is quick and easy.
And, yes, it is filling enough on it's own as a light dinner, although we normally have the Subs over a weekend or on a Friday night when we have a lot of snacking in between meals as well.
Canned or fresh Tomato and Onion ?
I used a simple canned Tomato and Onion mixture, but feel free to cook up a batch of Tomato and Onion from scratch. This should be about 1 small Onion, with 1 large Tomato, but seeing as sizes differ so much from country to country, you need the same amount as a can would hold.
Options for the Curry Sauce:
As for the Cook-In-Sauce, I used, I know the Mild Durban Curry is a South-African product, which might very well be available in your country as well.
But if not I have a link below to the sauce I used (not an affiliate) and you can see if anything similar pops up in your supermarket. As long as it is curry, it will be fine.
If you really can not find a Cook-In-Sauce, leave it out, together with the Water and half the Yogurt. Use one and a quarter cup of curry sauce instead, the bottled type usually among the Indian spices and sauces in the supermarkets (or close to the pastas, depending on the store you shop at).
**NOTE: Read the above 2 paragraphs and here is a link to the one I used : KNORR Mild Durban Curry Cook-In-Sauce
More Shrimp recipes you might like :
Curry Shrimp Sub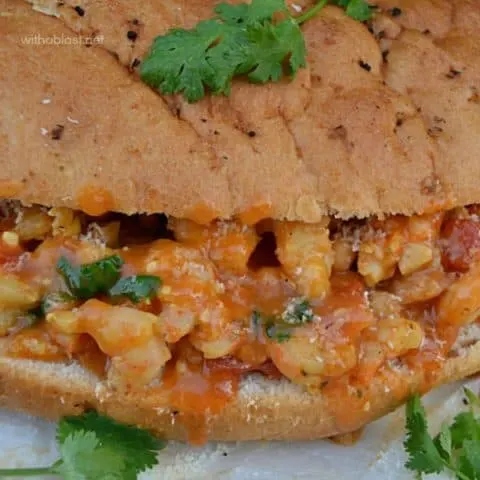 Curry Shrimp Sub
Curry Shrimp Sub is the perfect Friday night dinner or anytime weekend lunch - even kids love this mildly spiced shrimp sandwich
Ingredients
2 t Fresh Garlic, crushed
1 t Vegetable Oil
1 can (410g) Tomato and Onion
1 t Sugar
1 KNORR Mild Durban Curry Dry-Cook-In-Sauce (or similar- see note in post **)
1 can (410g) Chickpeas, drained, rinsed
1 cup Greek Yogurt
4/5 cup Water
450g Shrimp, cleaned (one pound)
1/2 cup Fresh Cilantro, chopped
2 Footlong Bread Rolls, cut in half and hollowed out a bit
1/2 cup Desiccated Coconut, lightly toasted
Extra Cilantro, to garnish
Instructions
1.) Heat the Oil in a large saucepan and add the Garlic – cook 30 seconds
2.) Add the can of Tomato and Onion together with the Sugar – cook 2 minutes
3.) Stir in the Dry-Cook-In-Sauce – cook 2 minutes stirring continuously
4.) Add the Chickpeas, Yogurt and Water, cover and simmer 5 minutes
5.) Stir in the Shrimp and cook another 7 – 8 minutes – remove from heat
6.) Stir in the chopped Cilantro
7.) Fill the hollowed Bread Rolls with the Shrimp mixture – sprinkle with Coconut and garnish with extra Cilantro
Nutrition Information
Yield

4
Amount Per Serving
Calories

831.3
Total Fat

30.3g
Saturated Fat

17.2g
Trans Fat

0g
Unsaturated Fat

13.1g
Cholesterol

193.6mg
Sodium

1586.9mg
Carbohydrates

98g
Fiber

6.2g
Sugar

14.2g
Protein

47.5g
Serve immediately.
LINDA