Spicy Bacon and Egg Breakfast Tacos are so quick and easy to make – perfect for busy week day mornings ! The filling can be as hot (or not) as you prefer.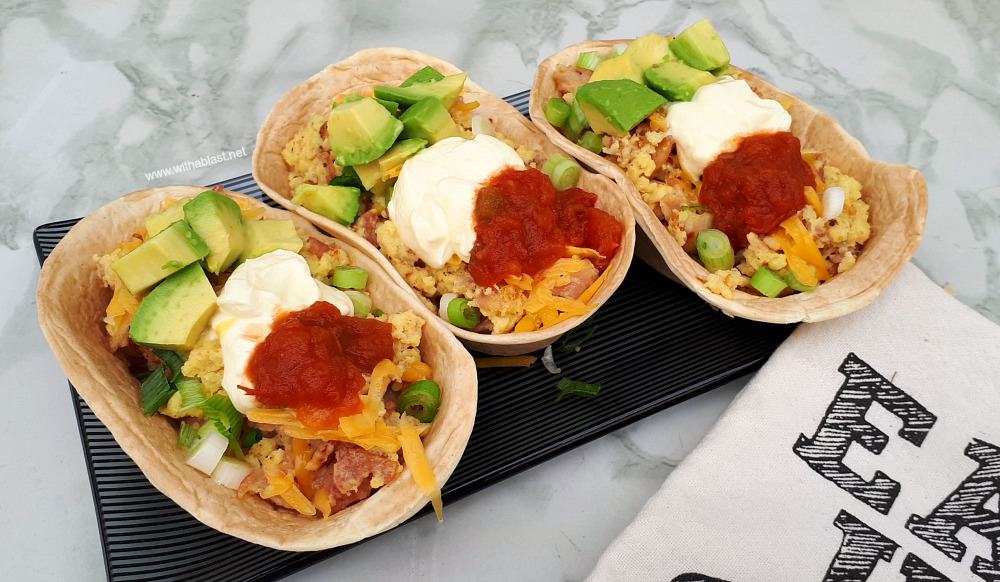 After the Holidays I am always at a loss of cooking normal food again. By that I mean, no foods specifically for entertaining, or more to the point – eating out !
These spicy Bacon and Egg Breakfast tacos were not only delicious, but ever so quick and easy to make too.
Breakfast (or Brunch) on the table within 20 minutes ! That is already a winner in my book.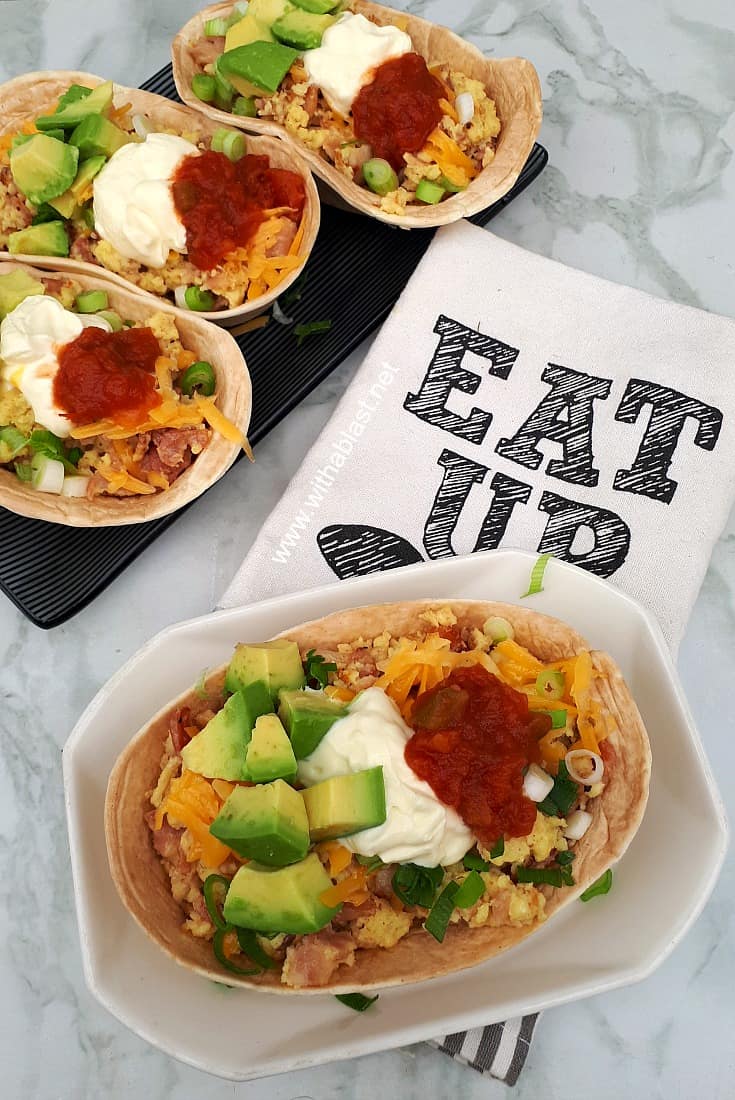 What I love most about these breakfast tacos are the ease of filling AND eating them. One Taco, some fresh fruit on a side plate and a juice – breakfast is set !
The filling is rich enough for an adult to have only one taco and some fresh fruit. For kids, I would say a taco is enough, but do know that a fruit (or juice) is a definite addition for them.
Breakfast is after all the most important meal of the day.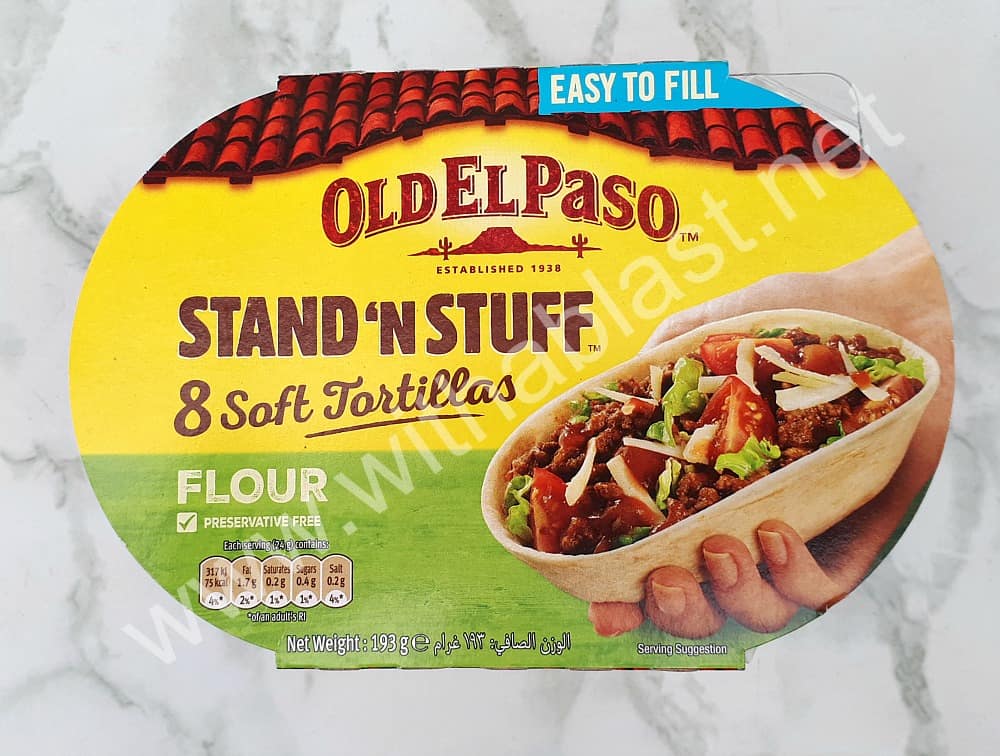 I have been looking for these bowl shaped tortillas (Old El Paso Stand 'N Stuff) for quite some time here in South-Africa.
Went to the coast on vacation and voila ! Found them in a country wide chain store. This is after I have basically stopped looking for them after a year or two since seeing them used in recipes.
Of course I grabbed a couple of packages, got home all excited, only to find them in a mega store we use every week. Murphy's Law, I am telling you ! Cheaper too ….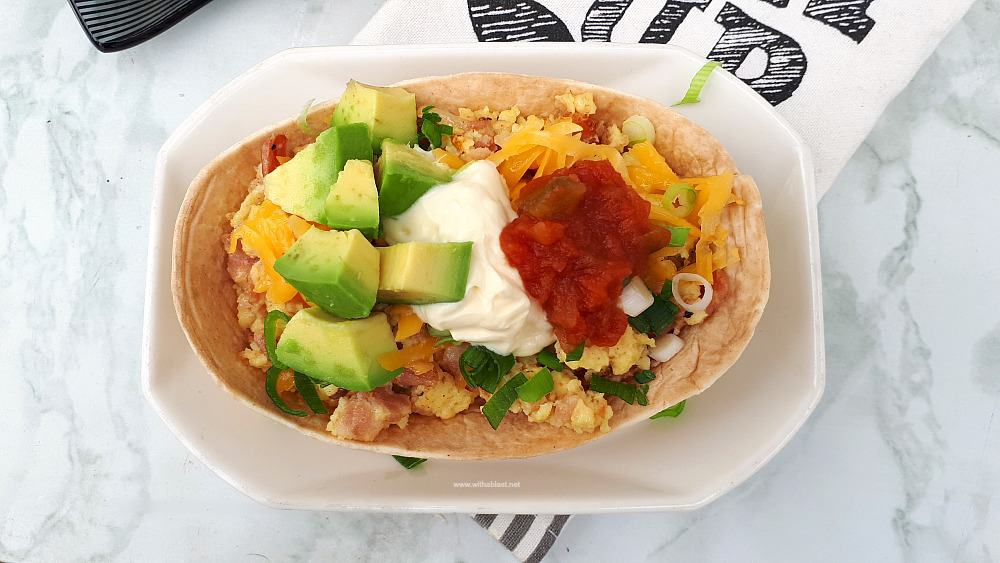 The spicy Bacon and Egg filling and all the toppings are all favorite ingredients we all love. Therefore putting together this recipe was very easy.
Fresh or Dried Chilies for Breakfast Tacos ?
Oh, and for a change we were in the mood for something with a tiny "bite" to it. Use a fresh chili (or more) if you have some on hand. I only had dried, but it was still delicious and just the right bit of spiciness.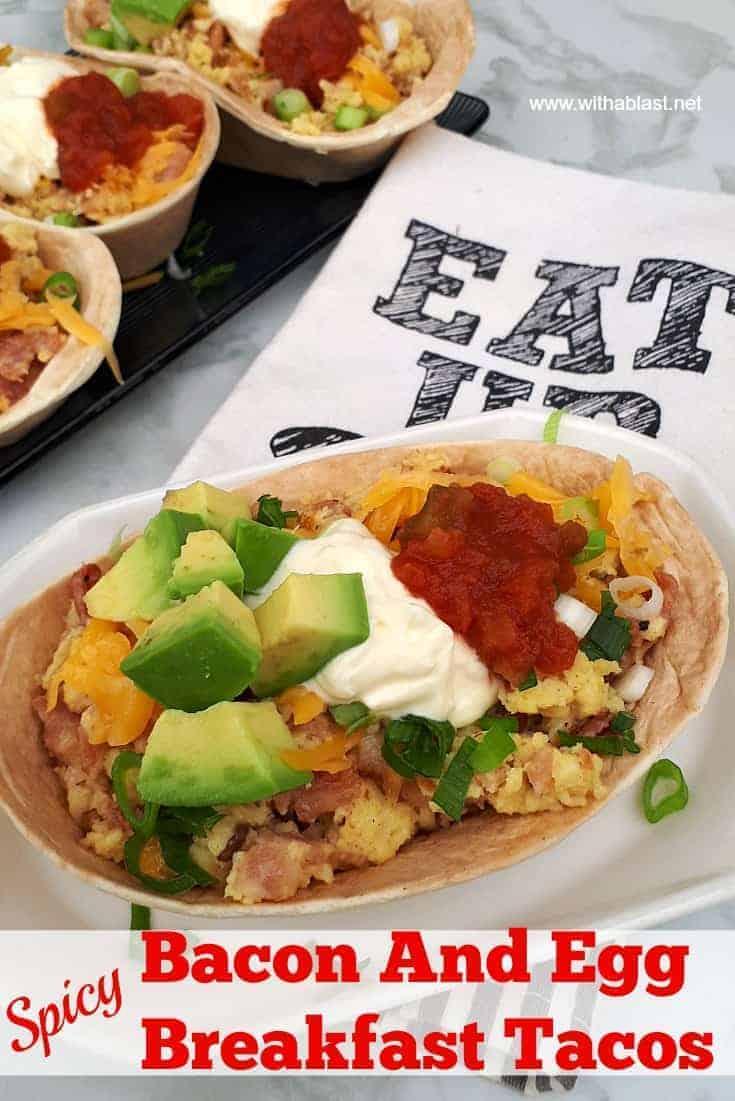 Filling the tacos are so easy. I arranged all the tacos on a long plate – filled each warm taco with the Egg filling, and then simply added the toppings one by one. Just like an automated factory !
From start to serving took me all of 20 minutes and my family loved it. Not one single complaint.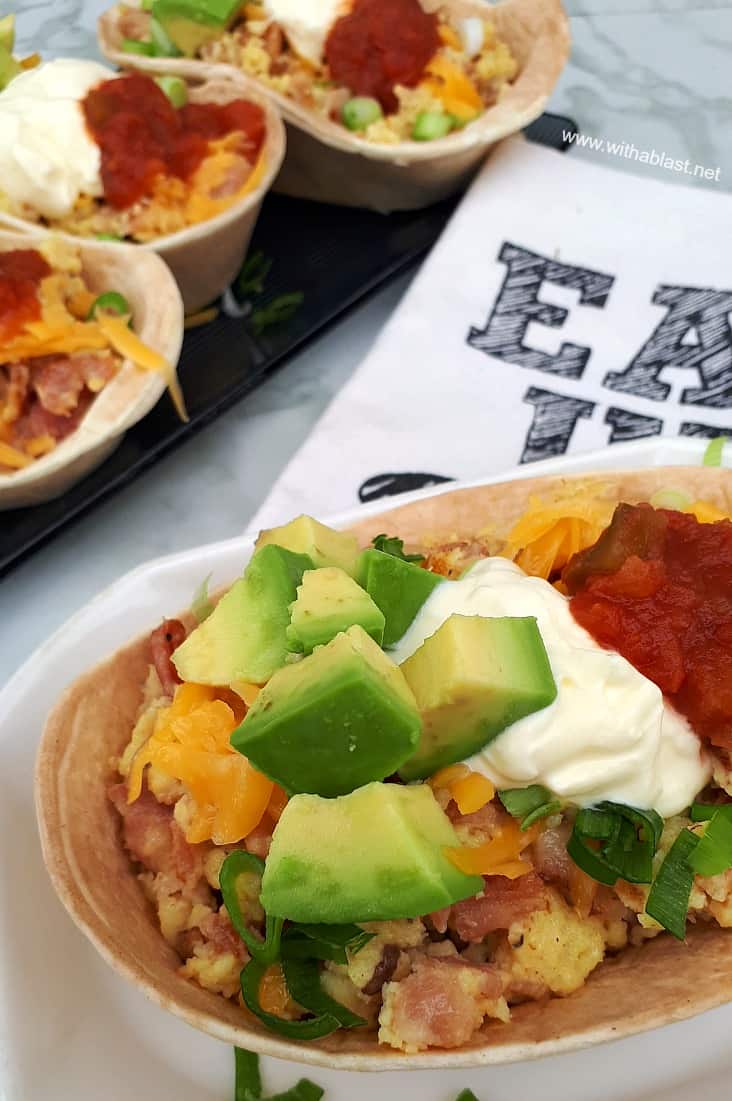 You can also start Game Day on the right note with these bowl-type tacos ! Nothing looks more like Game Day food than these delightful Breakfast Tacos.
More Breakfast recipes you might like:
Connect with us :
PINTEREST TWITTER FACEBOOK INSTAGRAM
Spicy Bacon And Egg Breakfast Tacos
Yield: 8 Servings
Spicy Bacon And Egg Breakfast Tacos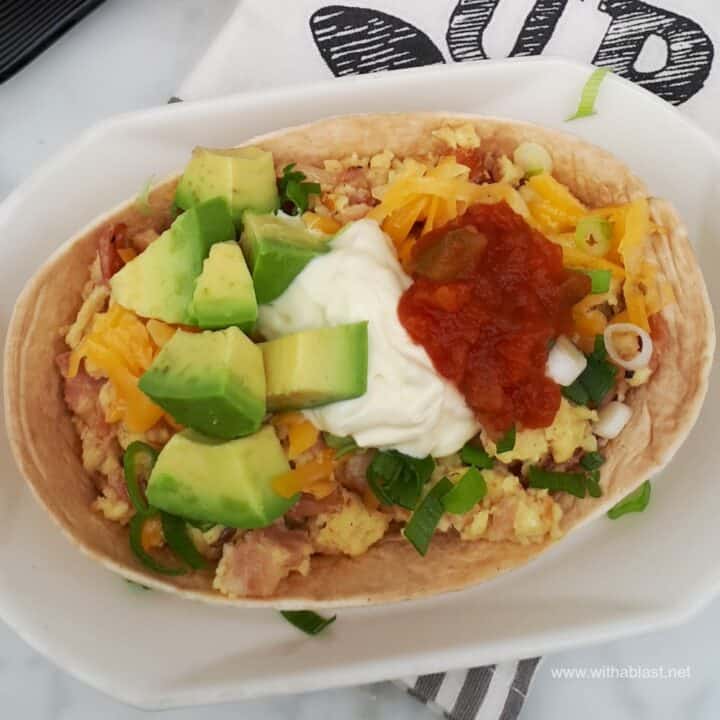 Spicy Bacon and Egg Breakfast Tacos are so quick and easy to make - perfect for busy week day mornings ! The filling can be as hot (or not) as you prefer
Ingredients
8 Eggs, extra-large
1/4 cup Milk
1 t Baking Powder
1 t Crushed Chilies, or 1 - 2 chopped fresh chilies
Salt and Black Pepper, to taste (see Note below)
1 TB Unsalted Butter
500 grams Bacon, cooked and chopped = 16 oz (Streaky or Back bacon is best)
8 Tacos, El Paso Standing 'N Stuff
4 Spring Onions, chopped (white and green parts)
1 cup Cheddar Cheese, grated
8 TB Chunky Salsa, mild or hot
8 TB Sour Cream
1 Avocado, cubed
Instructions
Whisk together the Eggs, Milk, Baking Powder, Crushed Chilies and season to taste with Salt and Black Pepper
Melt the Butter in a large skillet - pour in the whisked Egg mixture and cook until done (stirring continuously or use the fold over method)
Stir in the cooked Bacon to the scrambled Eggs
Heat the Tacos as per the instructions on the packet
Divide the Bacon and Egg mixture between the 8 Tacos
Sprinkle over the Spring Onions and Cheese - top with a tablespoonful each of Salsa and Sour Cream
Add cubes of Avocado and serve immediately
Notes
Go light on the seasoning as the Bacon will add a lot of saltiness as well
Vegetarian option: Leave out the Bacon and use a can of Black Beans instead
Nutrition Information
Yield
8 Servings
Serving Size
1 Taco
Amount Per Serving
Calories

736
Total Fat

50g
Saturated Fat

19g
Trans Fat

1g
Unsaturated Fat

27g
Cholesterol

322mg
Sodium

2061mg
Carbohydrates

29g
Fiber

5g
Sugar

4g
Protein

43g
Nutrition value is not always accurate