Potato Pizzas are perfect as a Game Day snack! Or serve as an appetizer ~ bacon, gooey cheese and more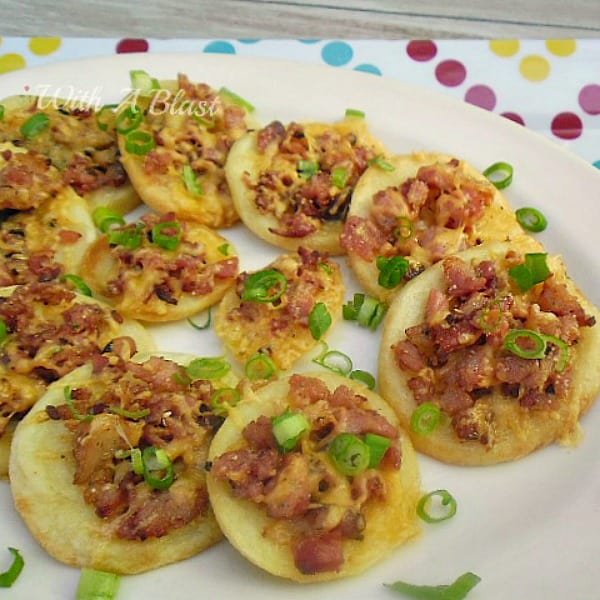 These Potato Pizzas are so delicious, you would not want to stop eating. It is the perfect snack while watching rugby, football or whatever sport you are into !

The little pizzas can also be served as an appetizer, with maybe a little less bacon (so as to not ruin your appetite for the main dish ~ only reason)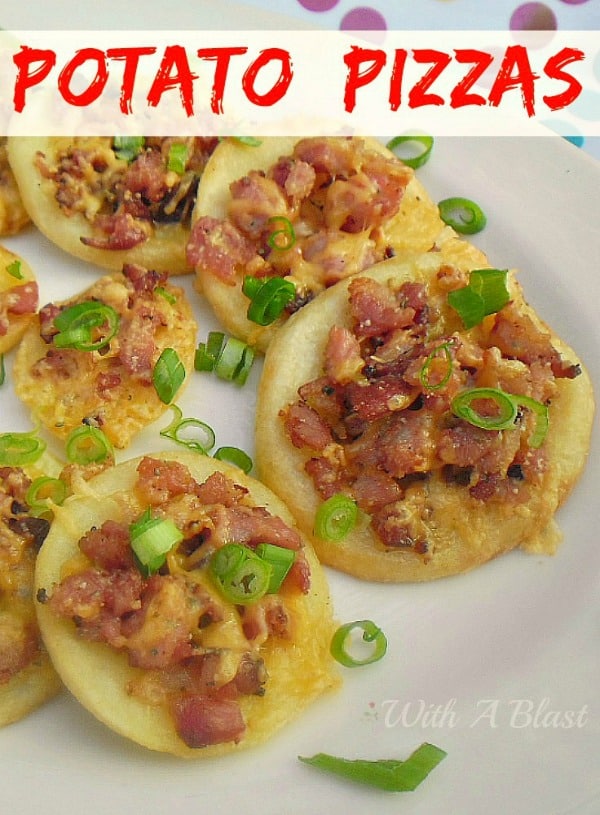 I used pre-sliced frozen potato slices, but fresh, unpeeled, potatoes will work just as well. Typical me to go the easier route and use pre-sliced.
Most of the slices were more or less the same size, about 5mm thick by 5cm (2 inches) in diameter. But there were smaller pieces as well, which I baked for the same time at the same temperature and the little ones turned out so crispy and was really just a single pop-in-the-mouth bite.
The topping varieties are absolutely endless – use whatever you have on hand. I have lots of bacon at the moment, thanks to month end specials at most stores, and bacon is usually one of my main ingredients on pizzas anyway.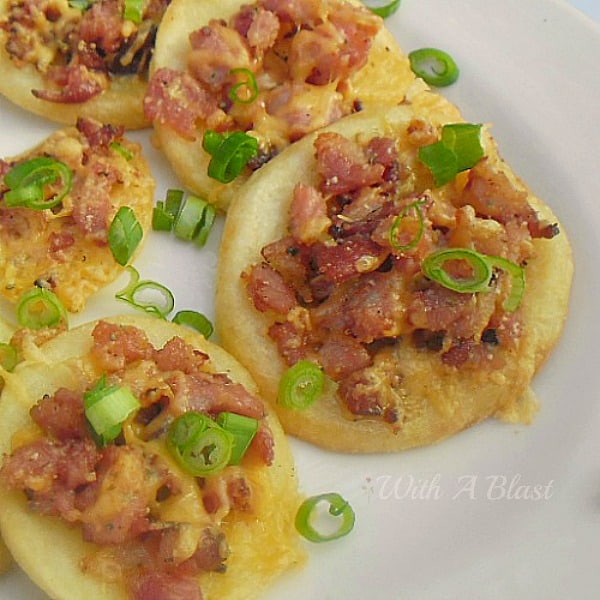 Potato Pizzas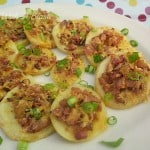 Potato Pizzas
Potato Pizzas are perfect as a Game Day snack! Or serve as an appetizer ~ bacon, gooey cheese and more
Ingredients
750

g

Potatoes

peeled or not, sliced 5mm thick (about 1 1/2 pounds)

250

g

Bacon

cooked ( 8 oz )

1

cup

Cheddar Cheese

finely grated

2

TB

Parmesan Cheese

finely grated

1

t

Dried Italian Herbs

1

t

Garlic Powder

Salt and Black Pepper

to taste (optional)

1

TB

Olive Oil

1

Spring Onion

sliced
Instructions
Pre-heat the oven to 220 deg C (425 deg F) – line two baking sheets with aluminum foil

Arrange the Potato slices in a single layer on the baking sheets – bake 25 – 30 minutes or until tender and the edges are slightly crispy (turn over half way through baking)

Meanwhile, in a small bowl, mix together the Bacon, Cheeses, Herbs, Garlic Powder and season to taste with Salt and Black Pepper (I did not add any additional Salt and Pepper as the Bacon and Cheeses are already salty enough for us)

Remove the baked Potato slices from the oven when done – scoop spoonfuls of the Topping mixture onto the slices – return to the oven for a further 5 minutes or until the Cheese has melted

Remove from the oven – drizzle lightly with the Olive Oil – leave to stand a minute and transfer to a serving dish
Sprinkle with the Spring Onion and serve warm – best – or cold – also delicious !
LINDA