Scrumptious warming and Hearty Chicken Gumbo cooked to perfection in the slow-cooker is the perfect meal on a cold day and ready in 2 hours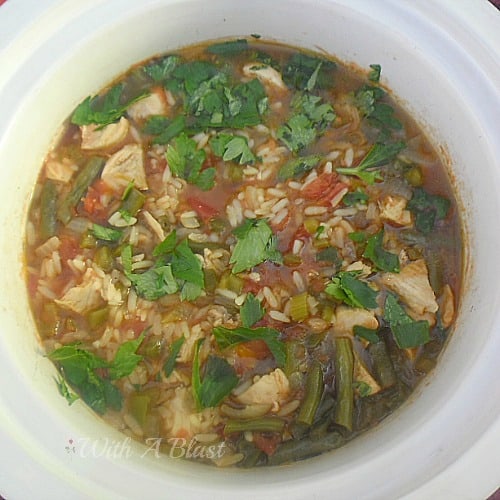 Another favorite ingredient which I use a lot, is Celery. Stalks and leaves, depending on the recipe.
In this hearty Chicken Gumbo , which is made in the Slow-Cooker, I use both, but the Leaves do not actually get cooked.
The Celery leaves are sprinkled over the cooked Chicken Gumbo and that way you get the most out of the Celery's flavor.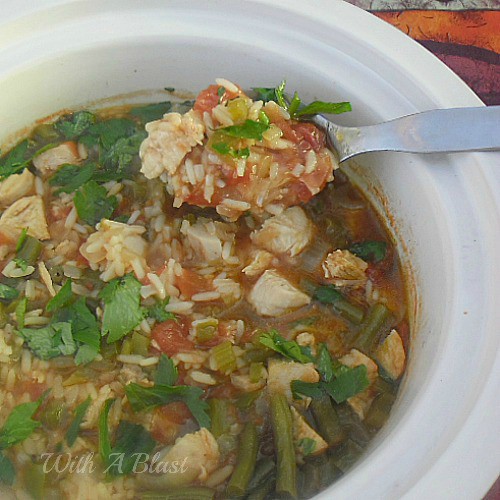 If you set your Slow-Cooker on High this dish will be ready in about 2 hours. But now and then I prepare everything around lunchtime.
Then set the Slow-Cooker on Low, which will have the Chicken Gumbo ready in about 3 1/2 hours. I only do this when I need to go out in the afternoon and will be back too late to still prepare, cook and serve dinner.
We have dinner at around 5 o'clock during the week. No set time on Saturdays and on Sundays we have dinner at 3 o'clock (or around that time).
Lots of people ask me why so early ? Well, we normally have dessert and my family and I, prefer to give a little time between dinner and dessert. Usually we will have dessert an hour or so after dinner.
If someone is still a bit peckish, there is always something to nibble on, and believe me, they find anything and everything, especially when I hide it for a reason 😉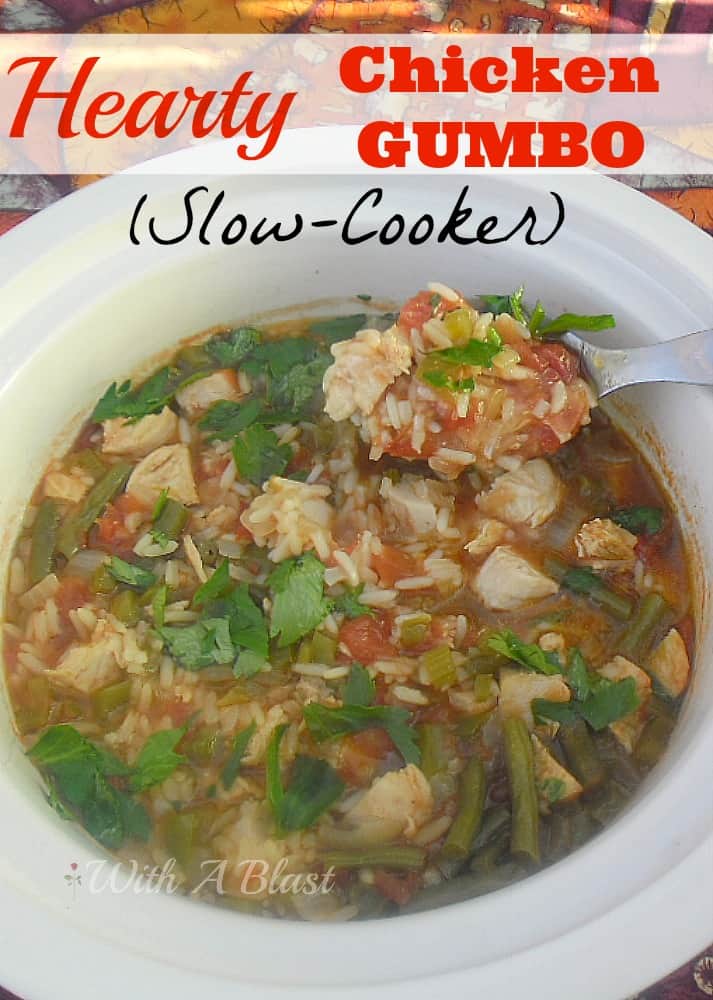 Don't like canned Tomatoes ? Substitute with fresh chopped Tomatoes !
More Comfort food recipes you might like:
Connect with us :
PINTEREST TWITTER FACEBOOK INSTAGRAM
Chicken Gumbo (Slow-Cooker)
Yield: 8 Servings
Hearty Chicken Gumbo (Slow-Cooker)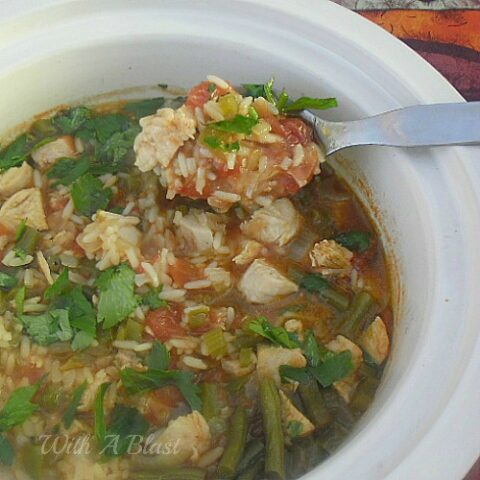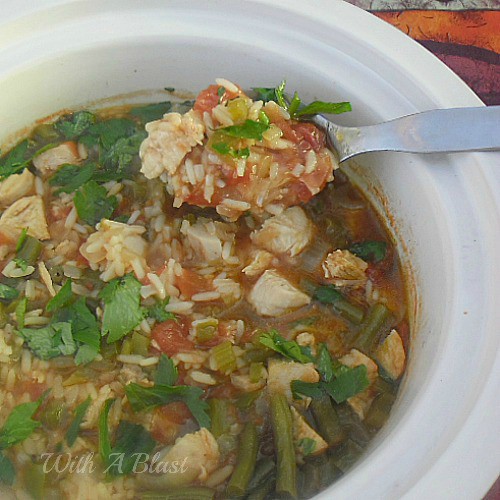 Scrumptious warming Chicken Gumbo made in the Slow-Cooker is the perfect meal on a cold day and ready in 2 hours
Total Time
2 hours
10 minutes
Ingredients
1 TB Olive Oil
1 Onion, large, chopped
3 Celery Stalks, chopped (chop and keep the leaves)
1 Green Bell Pepper, large, chopped
1 cup Green Beans, trimmed and cut in thirds
4 cups Chicken Stock
1 cup White Rice
1 can (410g) Chopped Tomatoes
2 Bay Leaves, fresh (but dried will do)
450 g Cooked Chicken, cubed or shredded ( 1 pound )
Salt and Black Pepper, to taste
Instructions
Pre-heat the slow-cooker on HIGH for 20 minutes
Meanwhile, heat the Oil in a medium skillet – saute the Onion, Celery and Bell Pepper for 5 minutes
Pour the Chicken Stock into the slow-cooker – add the Beans, sauteed Vegetables, Rice, Tomatoes and Bay Leaves – cover and cook 1 1/2 – 2 hours or until the Rice is cooked
Stir in the cooked Chicken, cover and cook a further 30 minutes
Remove the Bay Leaves – season to taste with Salt and Black Pepper – stir through the retained Celery Leaves and serve
Nutrition Information
Yield
8
Serving Size
1 Serving
Amount Per Serving
Calories

185.3
Total Fat

4.8g
Saturated Fat

1g
Unsaturated Fat

3.3g
Cholesterol

38.5mg
Carbohydrates

17.1g
Fiber

1.6g
Sugar

5.1g
Protein

17.5g
Nutrition value is not always accurate
LINDA