Eggnog Marshmallows are perfectly spiced sweet treats with a good shot of rum added ! Nothing better than fresh, homemade marshmallows, especially added to your hot drinks.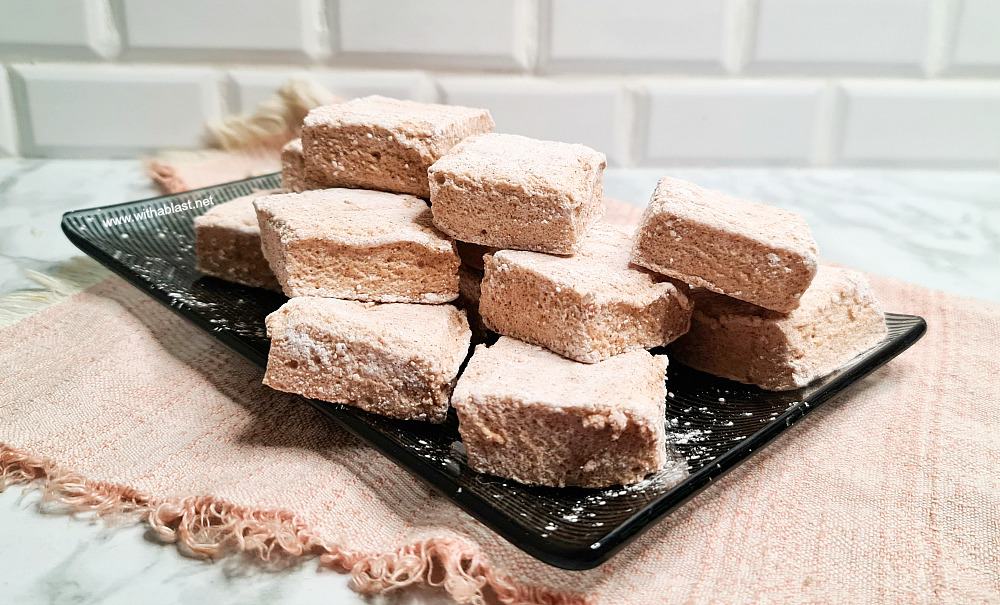 I love a good eggnog and an eggnog candy is the proverbial sweet treat to an awesome Christmas time drink !
There is not much better than a homemade candy recipe to have on hand like these Salted Caramel Truffles. Or a copycat recipe for Ferrero Rocher !
Melt-in-the-mouth deliciousness in these Eggnog Marshmallows. They are pillowy soft and hardly needs any chewing.
Which of course also make them perfect to add to your hot drinks – think hot chocolate or even Eggnog. Eggnog and Eggnog marshmallows equals double the delight.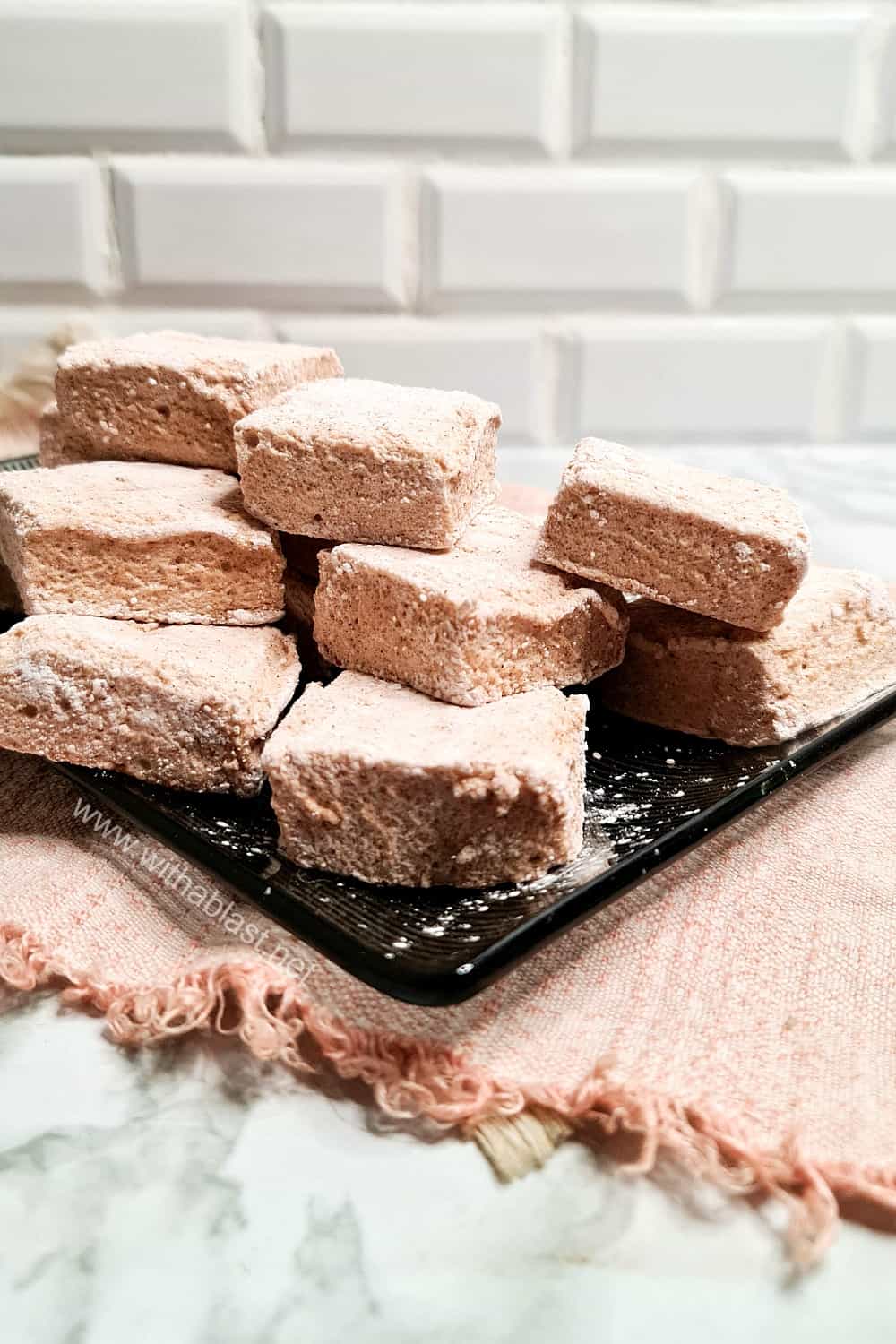 If making these for the kiddos as well, simply substitute the Rum with 1 teaspoon of Rum extract. My grandaughter does not like marshmallows in any flavor, color or taste, therefore I only make them using Rum.
I will make her some Eggless Eggnog this year though ! We will see how she likes that.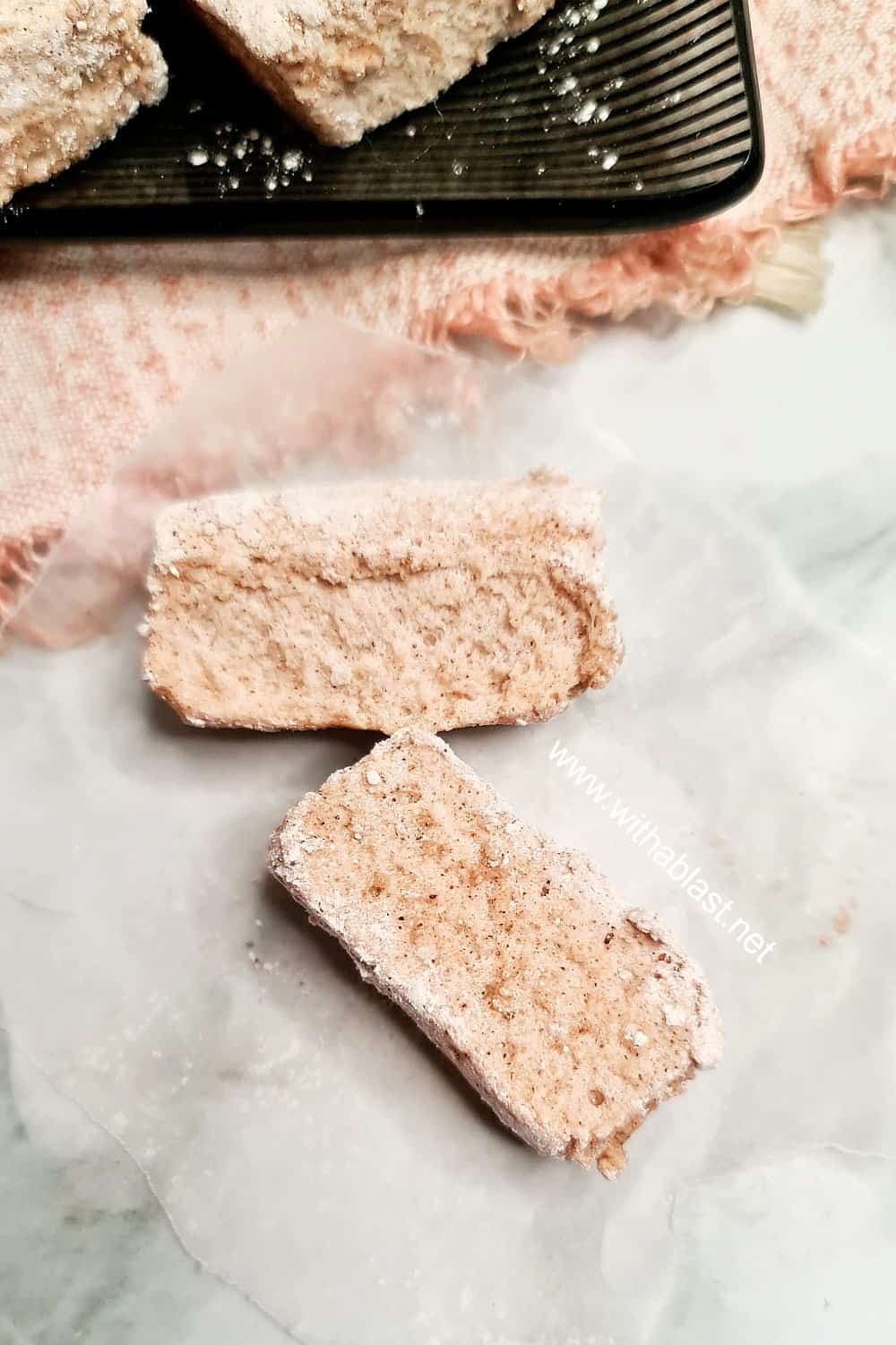 How do you make Eggnog Marshmallows ?
(Scroll down for the printable recipe card)
Ingredients needed for Eggnog Marshmallows:
DUSTING SUGAR:
1/2 cup Icing Sugar, (Powdered Sugar)
1/2 cup Cornflour, (Cornstarch)
1 teaspoon Ground Cinnamon
1/2 teaspoon Ground Nutmeg
EGGNOG MARSHMALLOW:
6 teaspoon Powdered Gelatin
205 ml Cold Water, ( 7 oz )
1 cup Sugar
1 cup Powdered Glucose
4 extra-large Egg Whites, room temperature
1/8 teaspoon Salt
1 teaspoon Vanilla Essence
1 Tablespoon Dark Rum
2 teaspoon Ground Cinnamon
1/2 teaspoon Ground Nutmeg
Instructions how to make Eggnog Marshmallows:
DUSTING SUGAR: Prepare first – Sieve all the dusting sugar together – line a baking tray ( 20 x 30 cm / 8 x 12 inch ) with baking paper and dust well with some of the dusting sugar – reserve the remaining spiced sugar for later
MARSHMALLOWS: Place 1/2 cup Cold Water in a small bowl – sprinkle the Gelatin Powder over and let sponge
Meanwhile combine the Sugar and Glucose in a small saucepan – add the remaining Cold Water – heat on medium until the Sugars have dissolved
Now place the Egg Whites in the bowl of a stand mixer and beat on low speed until frothy – add the Salt
Once the syrup has reached about 99 deg C ( 210 F ) – use a sugar thermometer – increase the speed of the mixer to high and beat the Egg Whites until thick, fluffy and reach the stiff peak stage
When the syrup reaches 118 deg C ( 235 F ), while the mixer is running on high speed, temper the syrup into the Egg Whites, down the side of the bowl
Scrape the sponged Gelatin into the saucepan used for the syrup – swirl to dissolve
Slowly pour the melted Gelatin into the Egg White mixture as you are whipping. Add the Vanilla, Rum, Spices and continue to beat, 10 minutes, until the outside of the mixer bowl feels completely cool when touched
Pour the Marshmallow into the prepared baking dish and dust the top with more of the dusting sugar – allow to set, uncovered, 6 hours, at room temperature or until set
Use a sharp knife to cut the Marshmallows into squares – dust the sides with any remaining dusting sugar
Keep in a sealed container ( good for 1 – 1.5 weeks )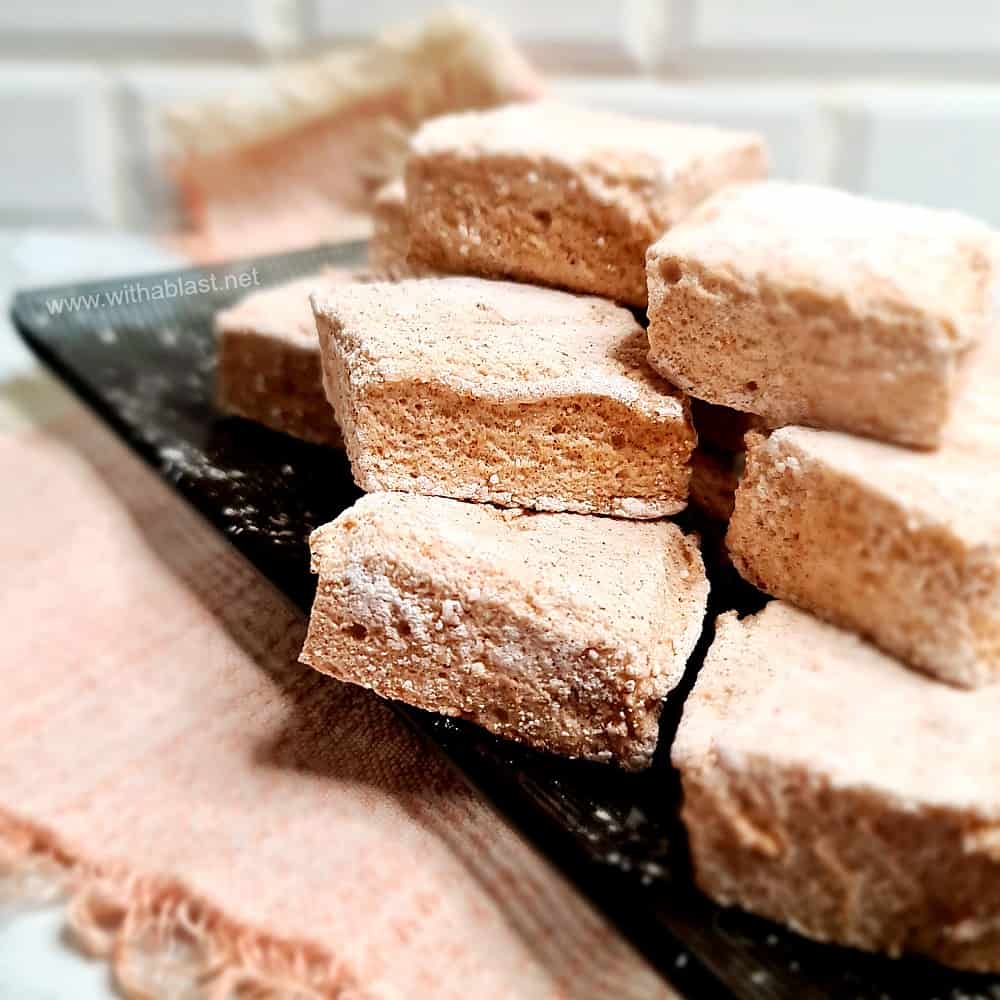 The Eggnog Marshmallows also make a great edible gift or stocking filler. Simply place in a pretty box (parchment paper between layers if more than one layer), wrap and your gift is ready to go.
I normally love to gift people with an Old-Fashioned Fudge, however the Marshmallows are a nice change and just as delicious.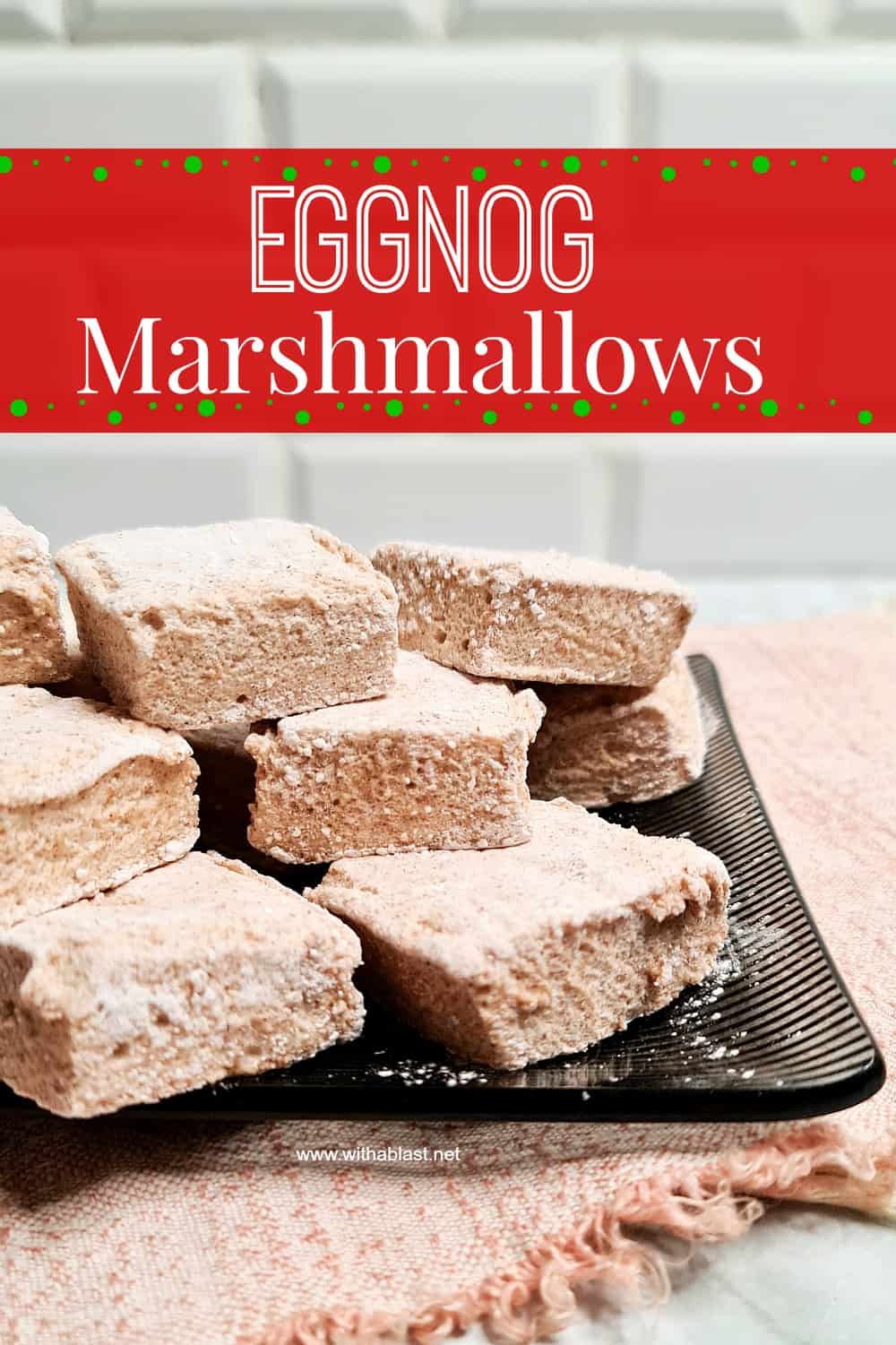 Eggnog Marshmallows
Yield: 36 Servings
Eggnog Marshmallows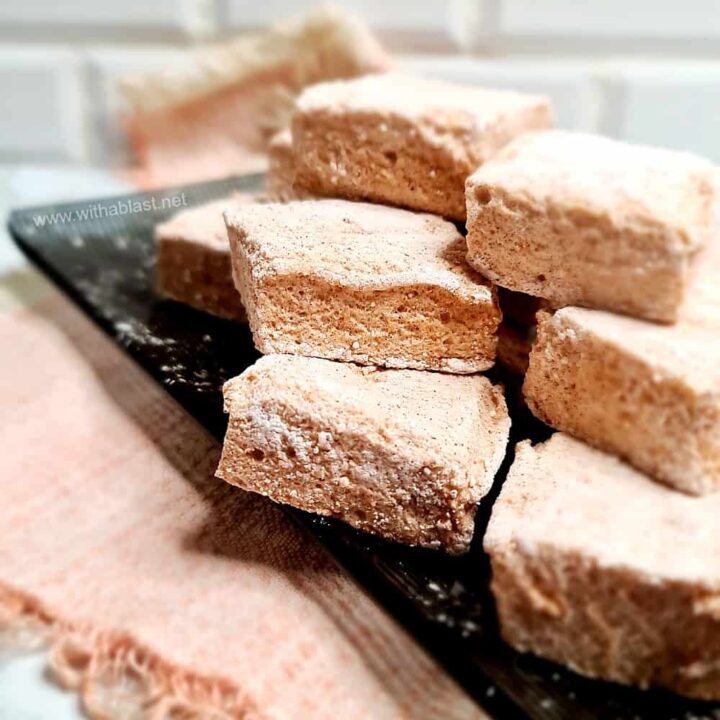 Eggnog Marshmallows are perfectly spiced sweet treats with a good shot of rum added ! Nothing better than fresh, homemade marshmallows, especially added to your hot drinks
Total Time
6 hours
23 minutes
Ingredients
DUSTING SUGAR:
1/2 cup Icing Sugar, (Powdered Sugar)
1/2 cup Cornflour, (Cornstarch)
1 teaspoon Ground Cinnamon
1/2 teaspoon Ground Nutmeg
EGGNOG MARSHMALLOW:
6 teaspoon Powdered Gelatin
205 ml Cold Water, ( 7 oz )
1 cup Sugar
1 cup Powdered Glucose
4 extra-large Egg Whites, room temperature
1/8 teaspoon Salt
1 teaspoon Vanilla Essence
1 Tablespoon Dark Rum
2 teaspoon Ground Cinnamon
1/2 teaspoon Ground Nutmeg
Instructions
DUSTING SUGAR: Prepare first - Sieve all the dusting sugar together - line a baking tray ( 20 x 30 cm / 8 x 12 inch ) with baking paper and dust well with some of the dusting sugar - reserve the remaining spiced sugar for later
MARSHMALLOWS: Place 1/2 cup Cold Water in a small bowl - sprinkle the Gelatin Powder over and let sponge
Meanwhile combine the Sugar and Glucose in a small saucepan - add the remaining Cold Water - heat on medium until the Sugars have dissolved
Now place the Egg Whites in the bowl of a stand mixer and beat on low speed until frothy - add the Salt
Once the syrup has reached about 99 deg C ( 210 F ) - use a sugar thermometer - increase the speed of the mixer to high and beat the Egg Whites until thick, fluffy and reach the stiff peak stage
When the syrup reaches 118 deg C ( 235 F ), while the mixer is running on high speed, temper the syrup into the Egg Whites, down the side of the bowl
Scrape the sponged Gelatin into the saucepan used for the syrup - swirl to dissolve
Slowly pour the melted Gelatin into the Egg White mixture as you are whipping. Add the Vanilla, Rum, Spices and continue to beat, 10 minutes, until the outside of the mixer bowl feels completely cool when touched
Pour the Marshmallow into the prepared baking dish and dust the top with more of the dusting sugar - allow to set, uncovered, 6 hours, at room temperature or until set
Use a sharp knife to cut the Marshmallows into squares - dust the sides with any remaining dusting sugar
Keep in a sealed container ( good for 1 - 1.5 weeks )
Nutrition Information
Yield
36
Serving Size
1 Square
Amount Per Serving
Calories

41
Total Fat

1g
Saturated Fat

0g
Trans Fat

0g
Unsaturated Fat

0g
Cholesterol

26mg
Sodium

19mg
Carbohydrates

7g
Fiber

0g
Sugar

7g
Protein

1g
Nutrition value is not always accurate
Linked up at:
WEEKEND POTLUCK – Sweet Little Bluebird