Chili Beef Samoosas are spicy, hot snacks and perfect to add to a savory platter. Also perfect for lunch and definitely an awesome game day snack !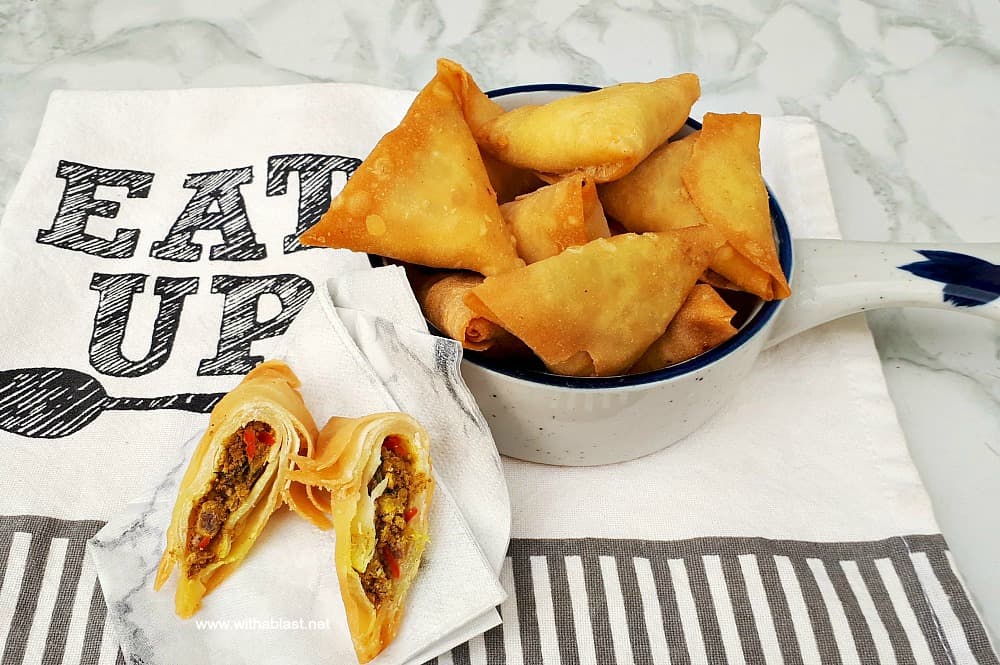 I made SAMOOSAS !! First time in my life, and I grew up munching away on these delectable snacks. And, really, homemade Samoosas are so much better than store bought.
Not sure about the rest of the world but here in South-Africa, any Indian shop, store or restaurant would have samoosas on their shelves and menus. (Not limited to Indian stores though!).
If not ready to eat, you can always buy them frozen to make at home. Which is fine, usually, but I now do prefer making my own from scratch.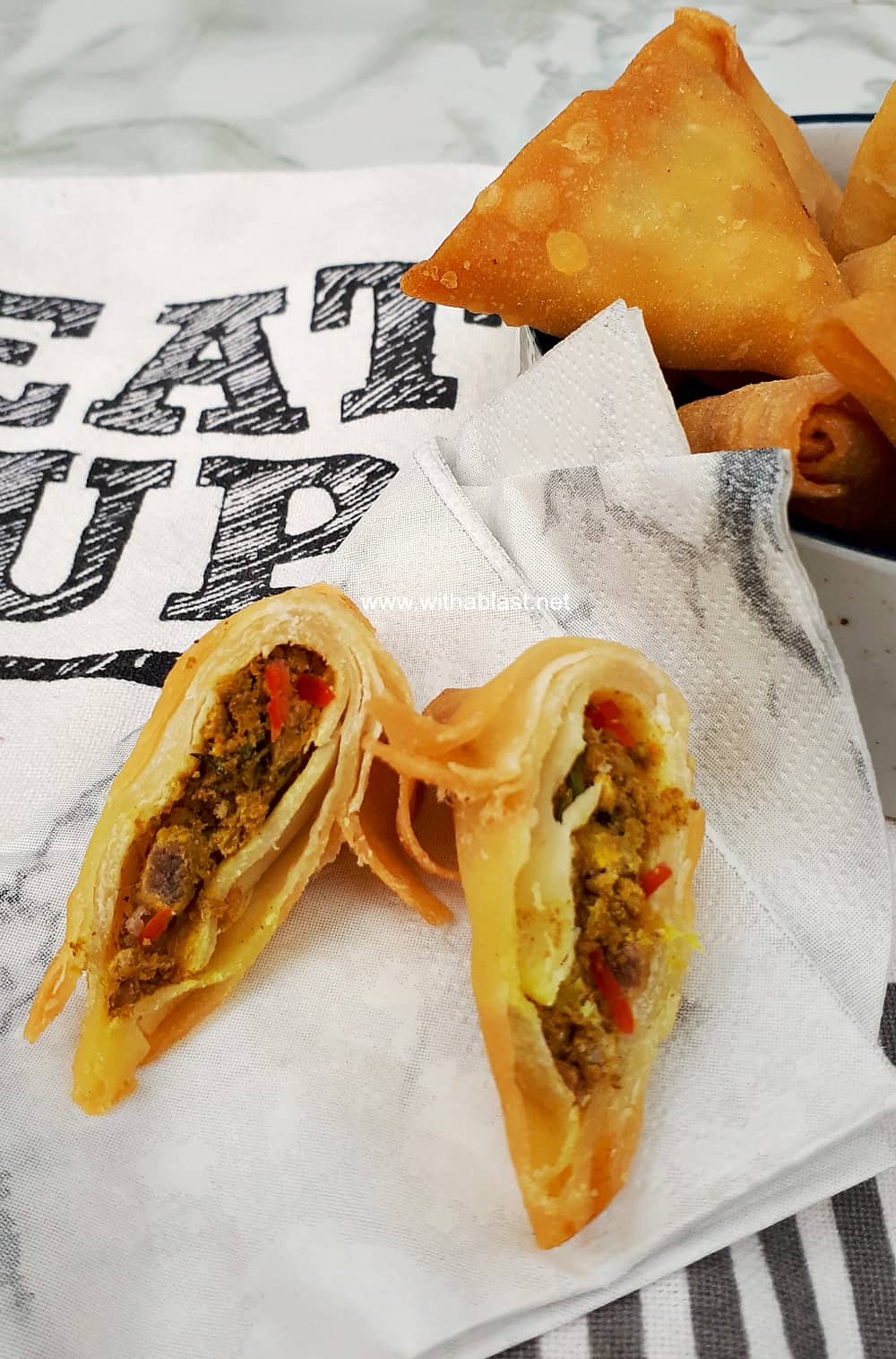 To be honest, after the first three I wanted to give up ! I am a very impatient person and when I could not get the hang of folding the pastry immediately, my blood pressure shot up miles high!
BUT, once I got the fold right, it was easy going. Remember to brush the pastry all over with water, before you start folding.
And follow the instructions (on folding) on the pack.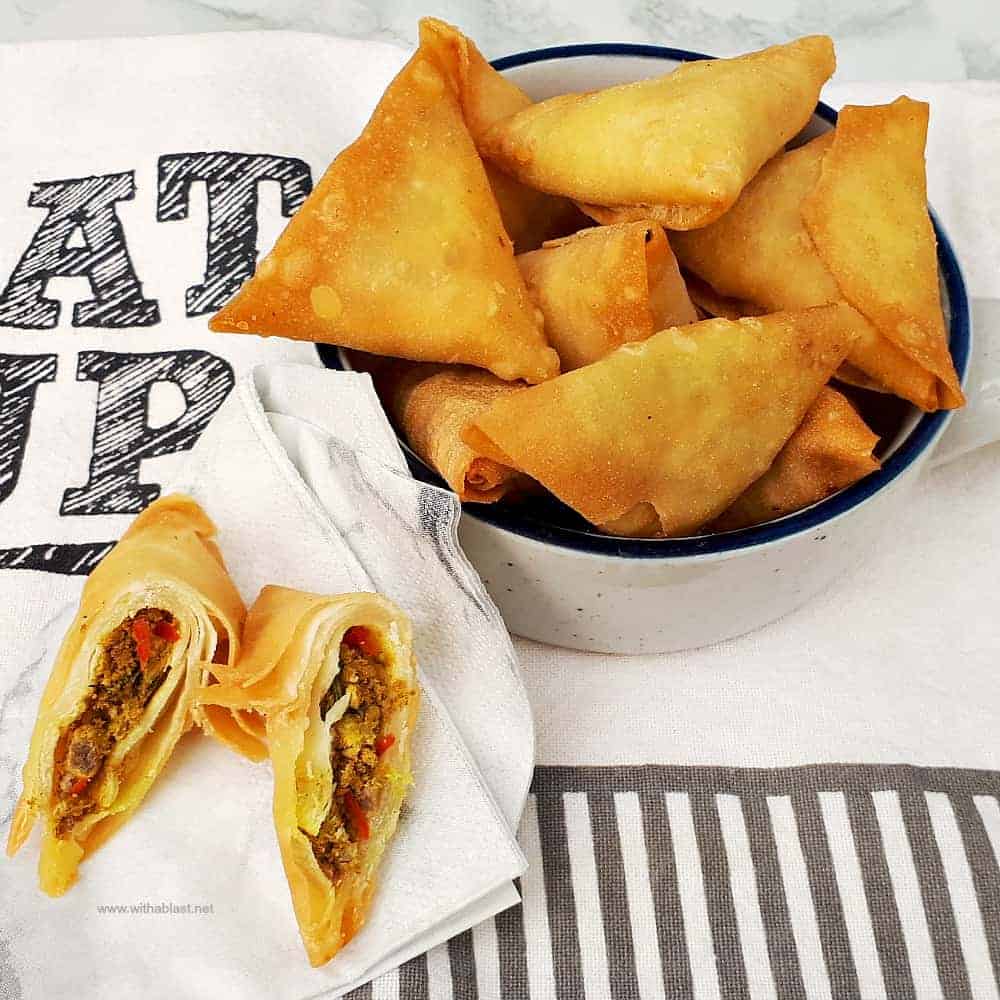 Now, the next part I am typing in bold because of personal experience: – if you are used to working with chilies – skip it, otherwise please take note:
Use plastic gloves when chopping chilies !!!! If you have sensitive hands, as I do, you will get CHILI BURN.
Go on – Google it, it is true and it is so painful. Washing my hands with Lemon Juice helped a little but the next day I still had a bit of burn.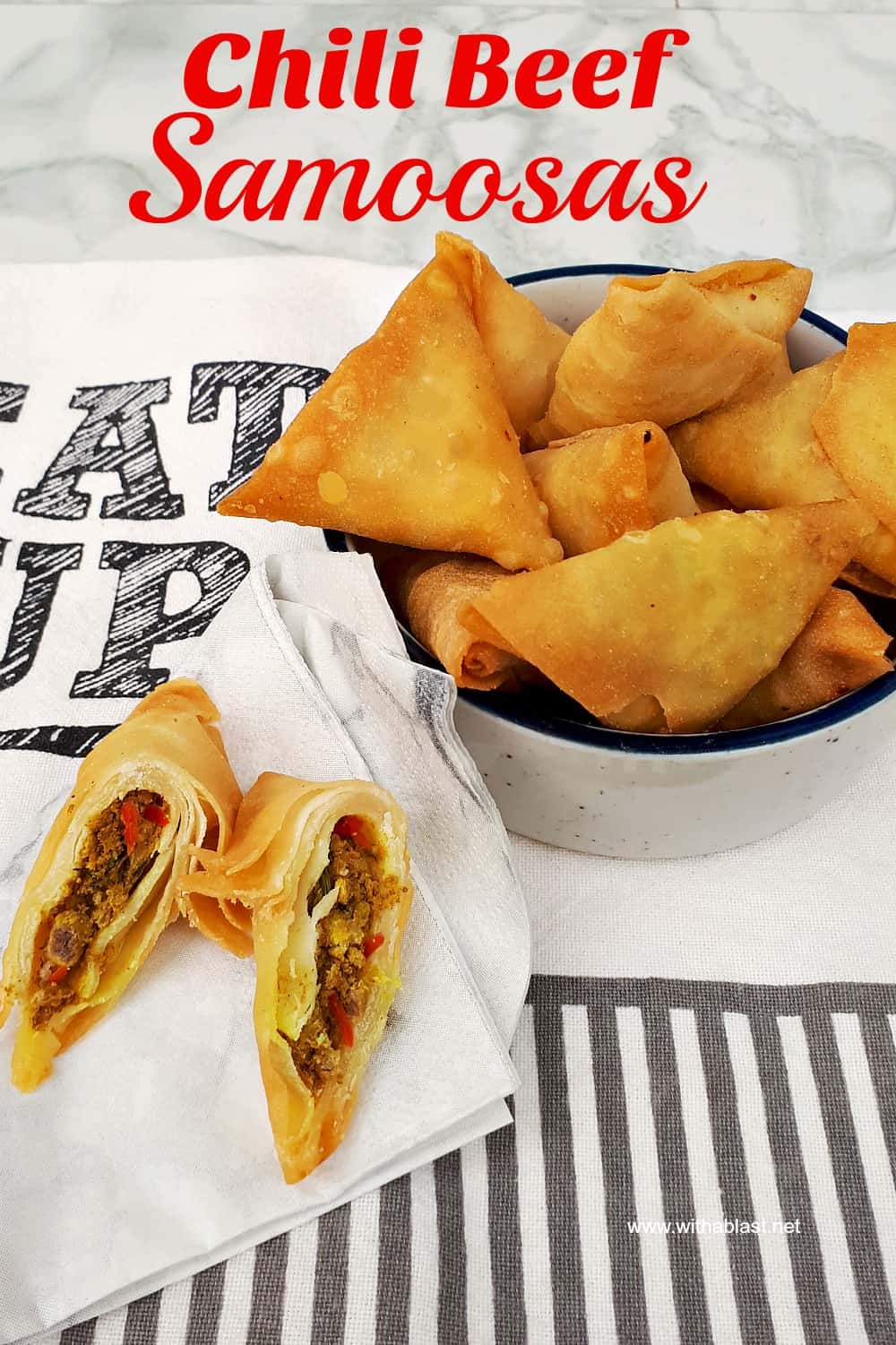 More Snack recipes you might like:
Chili Beef Samoosas
Yield: 60 Servings
Chili Beef Samoosas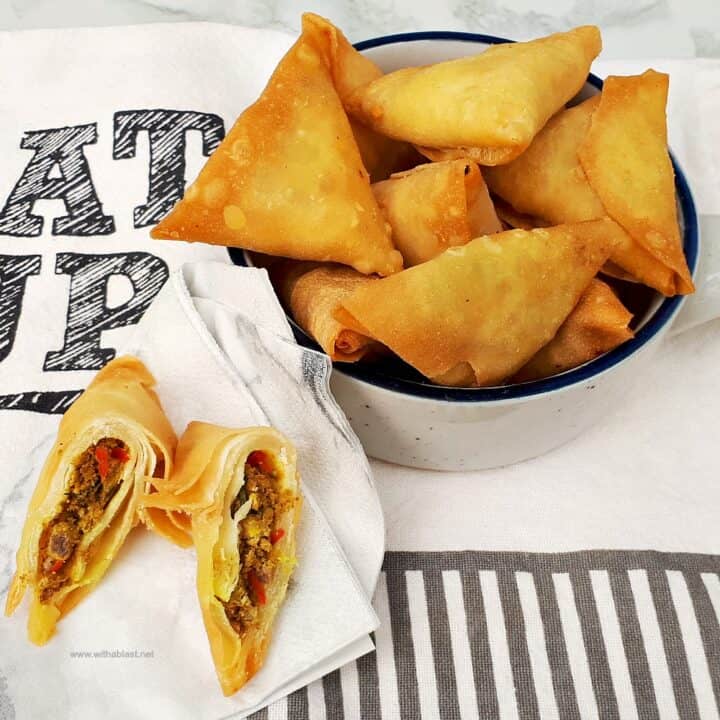 Spicy, hot snacks and homemade Chili Beef Samoosas are perfect to add to a savory platter. Also perfect for lunch and definitely an awesome game day snack !
Total Time
1 hour
10 minutes
Ingredients
1 TB Unsalted Butter
1/2 Onion, finely chopped
1 Red Chili, finely chopped
1 Green Chili, finely chopped
2 Curry Leaves, fresh, chopped finely
1 t Ginger, crushed
1 t Garlic, crushed
2 t Garam Masala
900 grams Lean Ground Beef ( 2 pounds )
Salt and Black Pepper, to taste
60 sheets Samoosa Pastry, defrosted
Oil for deep fry
Instructions
Melt the Butter in a large pan – add the Onion, Chilies and Curry Leaves – saute until the Onions are soft – add the Ginger, Garlic and Garam Masala – fry for 1 minute
Add the Ground Beef and cook until done and most of the moisture has evaporated – season to taste with Salt and Black Pepper – let the mixture cool for 30 minutes
Place filling on the Samoosa Pastry and fold as per the instructions on the pack (remember to brush with water)
Deep fry in batches until all is done (about 1 minute per batch)
Remove from oil with a slotted spoon and drain on paper towels
Nutrition Information
Yield
60 Servings
Serving Size
1 Samoosa
Amount Per Serving
Calories

361
Total Fat

19g
Saturated Fat

10g
Trans Fat

0g
Unsaturated Fat

7g
Cholesterol

60mg
Sodium

381mg
Carbohydrates

35g
Fiber

2g
Sugar

12g
Protein

11g
Nutrition value is not always accurate
Serve on it's own or with a sweet chili sauce – I usually make a Sweet Chili Cream Cheese or buy a ready to eat sauce/dip.
Enjoy this little hot snack and if you so wish, add some more chilies !