Puffy, feather light Cheesy Beer Hushpuppies with a hint of Chili – making a double batch would make more sense as these little gems disappear quickly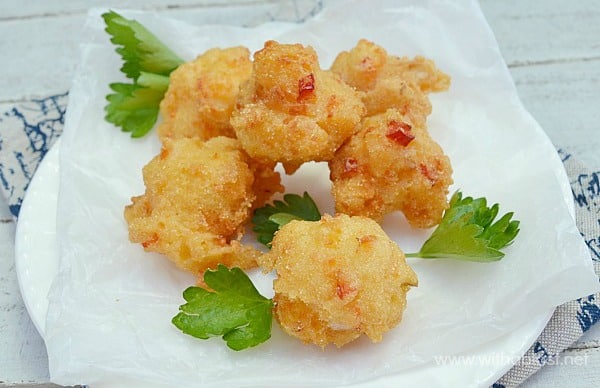 If you like snacking, or as I call it .. is a munchee, you should stop reading this post now. These Cheesy Beer Hushpuppies are dangerously addicting ! I did not have any less than half of the first batch I made.

Yes, I did say "first batch" because almost as soon as these scrumptious little snacks were done frying, we snacked away and I immediately handed the frying over to hubby and I whipped up a second batch.
It could also be because we did not have lunch yet and I made these before lunch time – for later that afternoon, therefore, not a good idea to make them when you are hungry.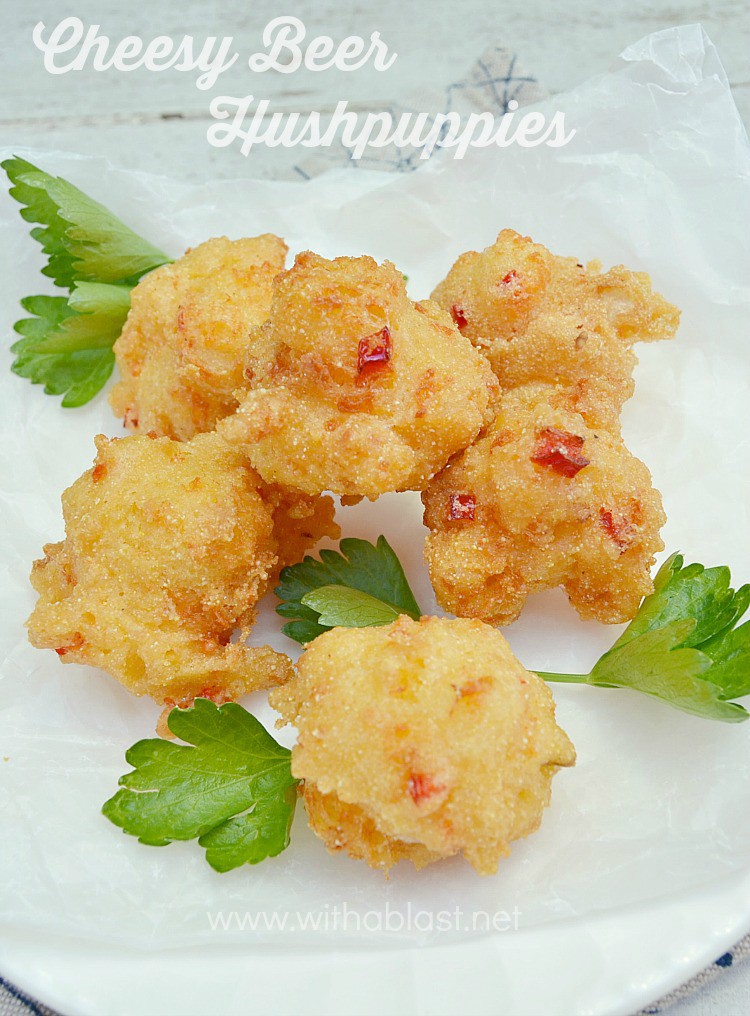 The Cheesy Beer Hushpuppies are extremely light, it is almost unbelievable that such a small snack can be that tasty.
I used Polenta and on the photos you will see these Hushpuppies look and have a slightly different texture, than the usual Hushpuppies.
And all Chili lovers out there – add one or two (or more!) finely chopped chilies to the batter to make it even more spicy with that extra bite in it.
For us, the Garlic and Chili Powder, is more than enough to make these only just spicy.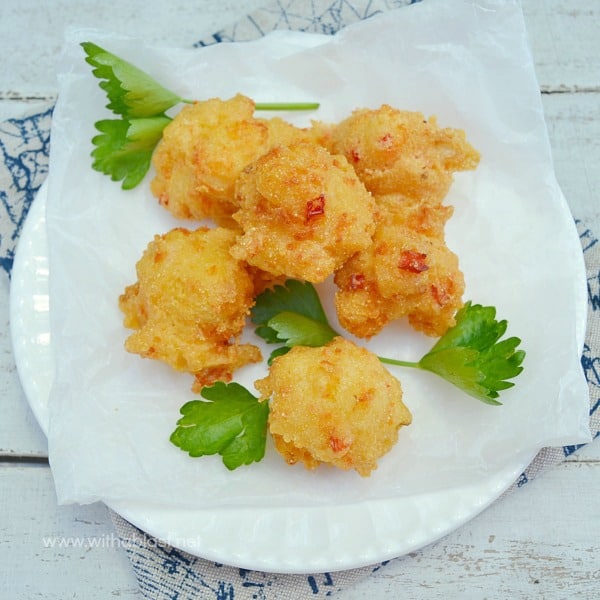 Right, so the first batch never made it to the afternoon (which we spent with the kids), but the second batch most certainly did !
I had a large savory platter out which we enjoyed while watching a Rugby game, and again these Cheesy Beer Hushpuppies were among the first to go.
Cheesy Beer Hushpuppies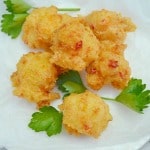 Cheesy Beer Hushpuppies
Puffy, feather light Cheesy Beer Hushpuppies with a hint of Chili - making a double batch would make more sense as these little gems disappear quickly
Ingredients
1

cup

Polenta

(or Yellow Cornmeal)

1

cup

Flour

1 1/2

t

Baking Powder

1

t

Garlic and Chili Powder

1

t

Sugar

1/2

cup

Cheddar Cheese

finely grated

1/3

cup

Onions

finely chopped

1/3

cup

Red Bell Pepper

finely chopped

1

Egg

lightly beaten

2/3

cup

Lite Lager Beer

Vegetable Oil

for deep-frying
Instructions
Mix together the Polenta, Flour, Baking Powder. garlic/Chili Powder and Sugar – add the Cheese, Onions and Pepper – stir until mixed and make a well in the center of the mixture

In a small bowl gently mix the Egg and Beer – pour into the well of the Polenta mixture – mix until just moistened (add a little more Flour of the mixture is too runny)

Heat the Oil over medium heat – drop rounded teaspoonfuls of the batter into the hot Oil – fry 2 – 3 minutes or until golden and done – fry 5 – 6 Hushpuppies per batch

Place on a paper towel lined plate to drain and serve
LINDA