Maple Banana Pockets are filled with a Maple, Cinnamon Banana filling all wrapped in a flaky puff-pastry pocket – perfect Fall dessert !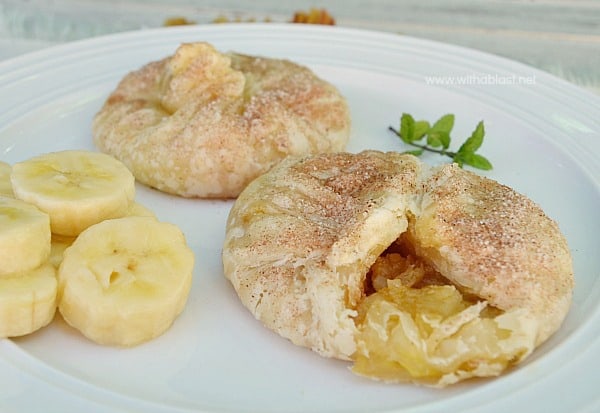 Treat your family to one of these Maple Banana Pockets when you have run out of dessert ideas.
Flaky Puff Pastry filled with a delicious Banana filling is such a simple recipe to make, yet it looks and tastes extraordinary.
Now and then I would even add some toasted Pecans or Walnuts, chopped coarsely. But my hubby and son are not huge fans of nuts in desserts.
I usually keep the last bit of mashed Banana and Maple Syrup for my own Maple Banana Pocket and only then add in the Nuts.
Since I do not have a very dependable memory (oh, you too ?! – then read on 😉 ), I either flatten the knotted piece of pastry at the top, or I turn it the other way around.
That way the anti-nuts …now, that sounds a little crazy, but you get what I mean, would not end up eating my dessert and the other way around.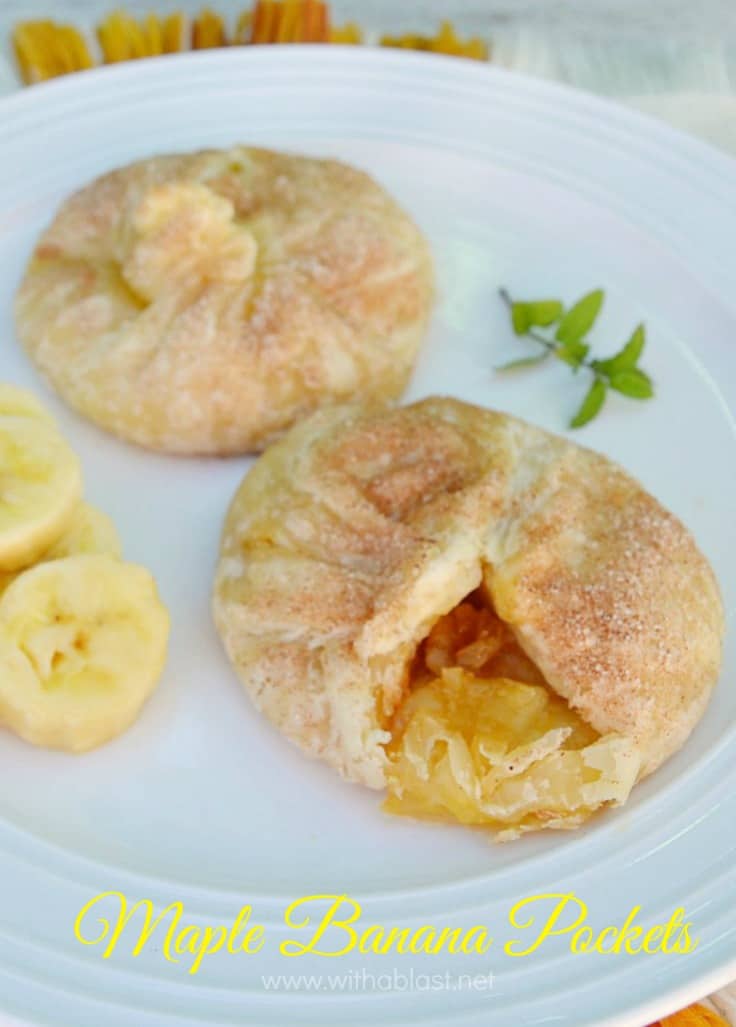 Do not over fill !
The first time I made these a couple of years ago, I tried to squeeze in as much filling as possible – that did not end too well !
The Maple Banana Pockets, popped open, spilling out most of the filling and it was just a royal mess.
I prefer whipped cream with mine, but my family loves ice-cream served with most kinds of warm desserts like this one.
I do not mind ice-cream, but I definitely have a preference to whipped cream on the side of just about any dessert (and even some drinks!).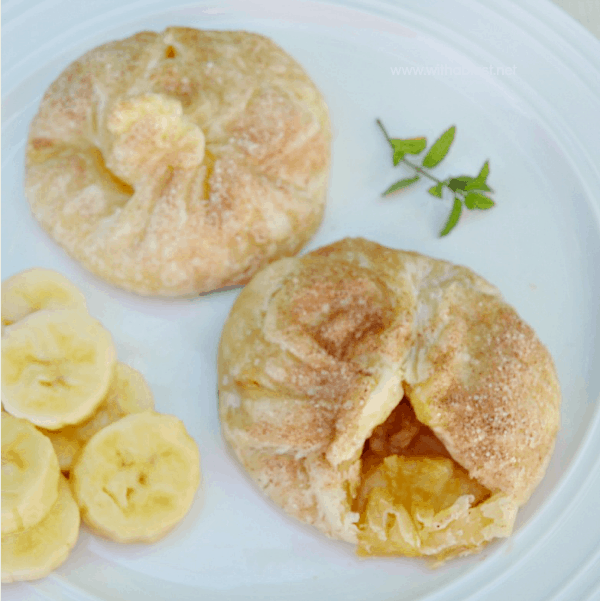 These Maple Banana Pockets are extremely quick and easy to make, providing that you remember to defrost the Puff Pastry ahead of time.
If Banana is not your thing, try using canned Pears or canned Apples – I recommend canned because it would be easier to mash.
More Sweet Treat recipes you might like:
Maple Banana Pockets
Yield: 6 Servings
Maple Banana Pockets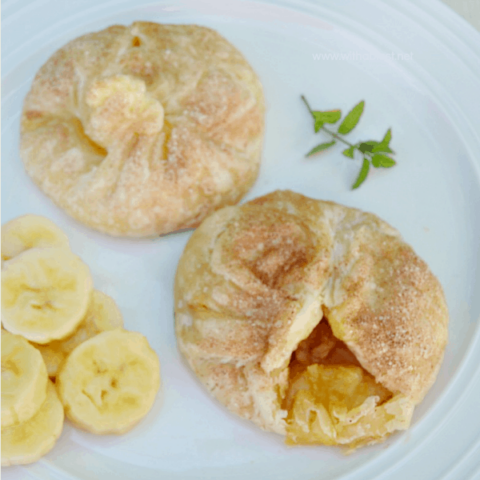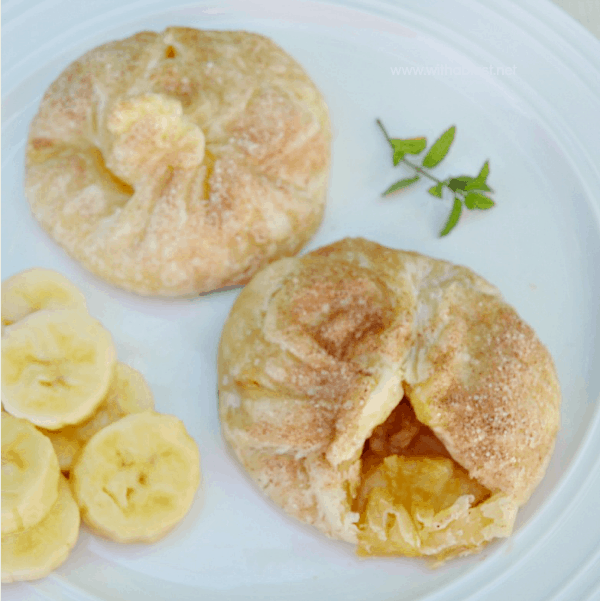 Maple Banana Pockets are filled with a Maple, Cinnamon Banana filling all wrapped in a flaky puff-pastry pocket - perfect Fall dessert !
Ingredients
1 Roll Frozen Puff-Pastry, defrosted
4 Bananas, chopped roughly
1/4 cup Maple flavored Syrup
2 TB Milk
1 TB Sugar
1 TB Ground Cinnamon
TO SERVE:
Fresh Banana Slices (optional)
Instructions
Pre-heat the oven to 200 deg C (400 deg F) – line a baking sheet with baking paper

Roll out the Puff Pastry – if necessary roll a little thinner (bigger) to yield six 15 x 15cm (6 x 6 inch) square pieces

Mash together the Banana and Maple Syrup – divide the mixture between the 6 pieces of Puff Pastry, placing heaps in the center of each square – lift up all 4 corners of one piece, pinch the seams and make a twist in the top to seal completely – repeat with the other 5 and transfer to the baking sheet, leaving about 2.5 cm (1 inch) spaces between each pocket

Brush the Puff Pastry with Milk – mix the Sugar and Cinnamon and sprinkle over the pockets

Bake 20 – 25 minutes or until golden and done



Remove from the oven – leave to cool for 15 minutes
Nutrition Information
Yield
6
Amount Per Serving
Calories

526.2
Carbohydrates

70.1g
Fiber

3.7g
Sugar

31.2g
Protein

5.9g
Serve warm with extra Fresh Banana slices, whipped cream or ice-cream.
LINDA