Quick, easy and delicious recipe for thick EggLess Eggnog made with standard pantry ingredients (boozy or not!) and the must have drink for Christmas !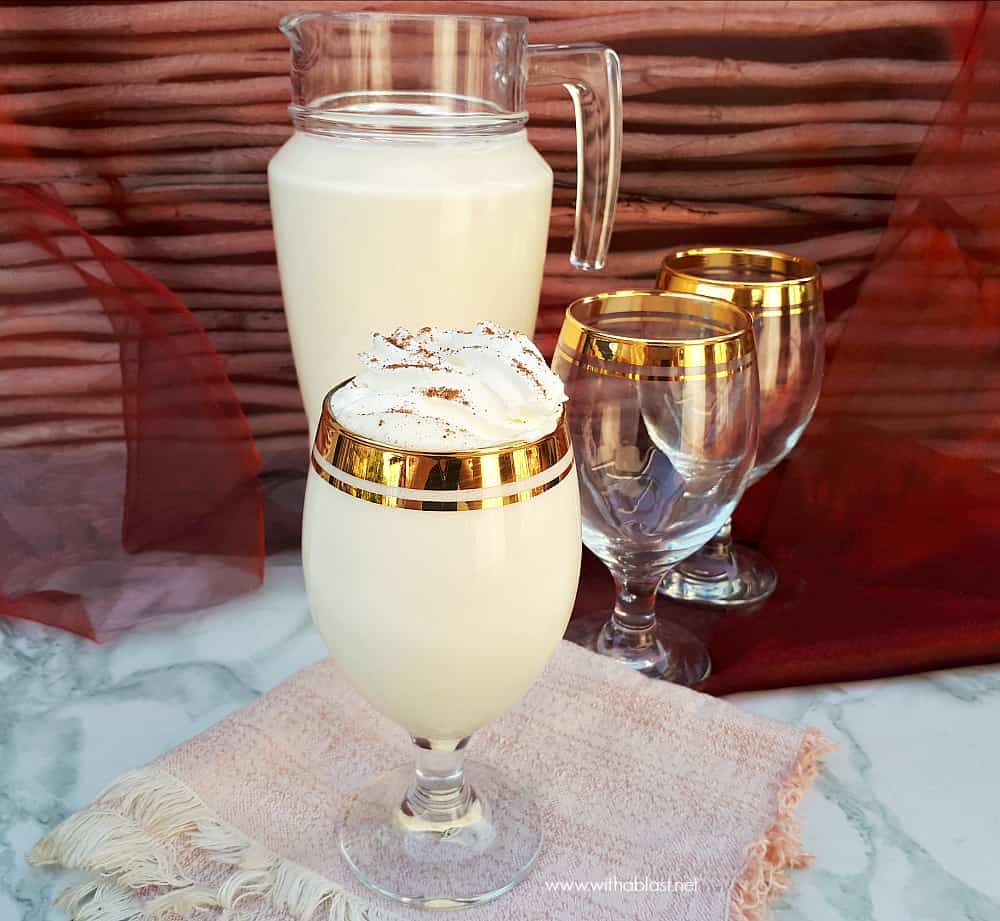 Post and images updated November 2018
I have never had Eggnog before ! It always looks and sounds so delicious.
However, I am not one for raw egg. And every recipe I have seen contains raw egg and I had gone in search of an Eggless Eggnog recipe.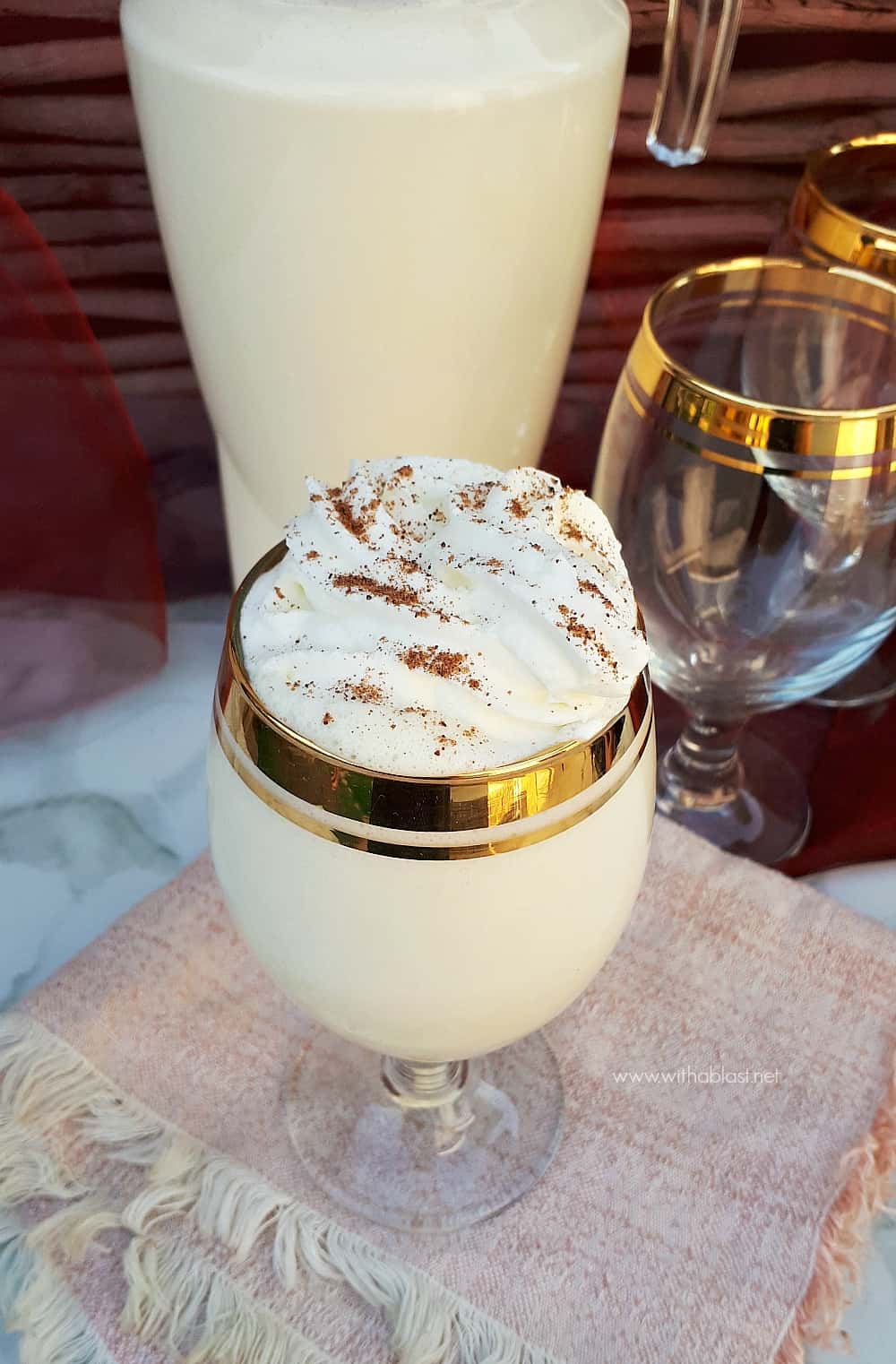 I suppose it should then only be called Nog, right ? But I am not sure everyone would know what that is !
Interestingly, NOG means "more" in my one home language Afrikaans. We speak both English and Afrikaans on both sides of our families.
Until a couple of days ago when Mandy from MANDY'S RECIPE BOX shared an eggless eggnog recipe!
I could hardly wait to try it out … and when I finally did — Delicious !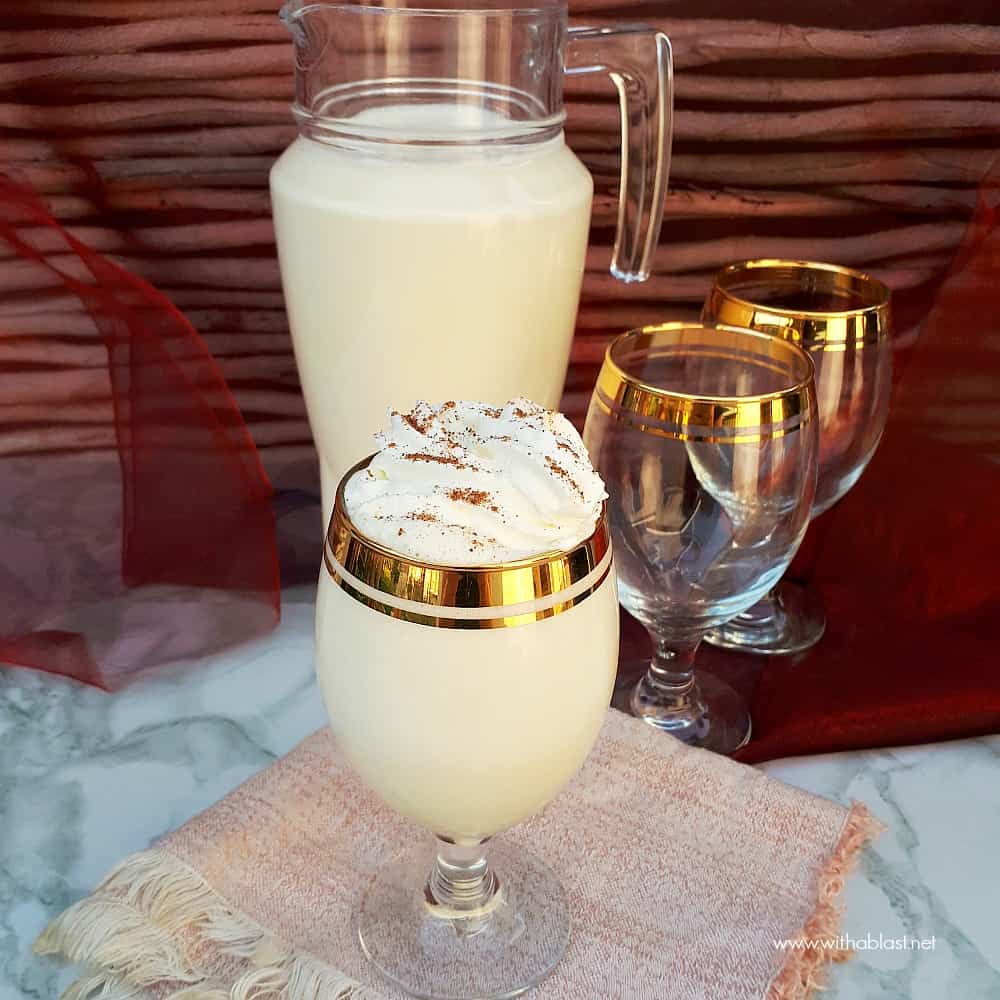 The only change I made was to use Caster Sugar (superfine sugar) instead of normal sugar. Other than that, I followed her recipe which can be found here.
When my son, who is normally very fussy, tasted this the first time, he finished two tall glasses and gave his nod of approval immediately !
Update November 2018 : Over the years I am still using this recipe, but have also added Rum, instead of Rum Extract. The quantity varies to how we prefer the Eggnog.
Stir in the Rum just before serving, not as with the extract which gets added before chilling.
However, I still make non-boozy batches as well, as we now and then have kids over Christmas time, and I, myself do not drink a lot of alcoholic drinks.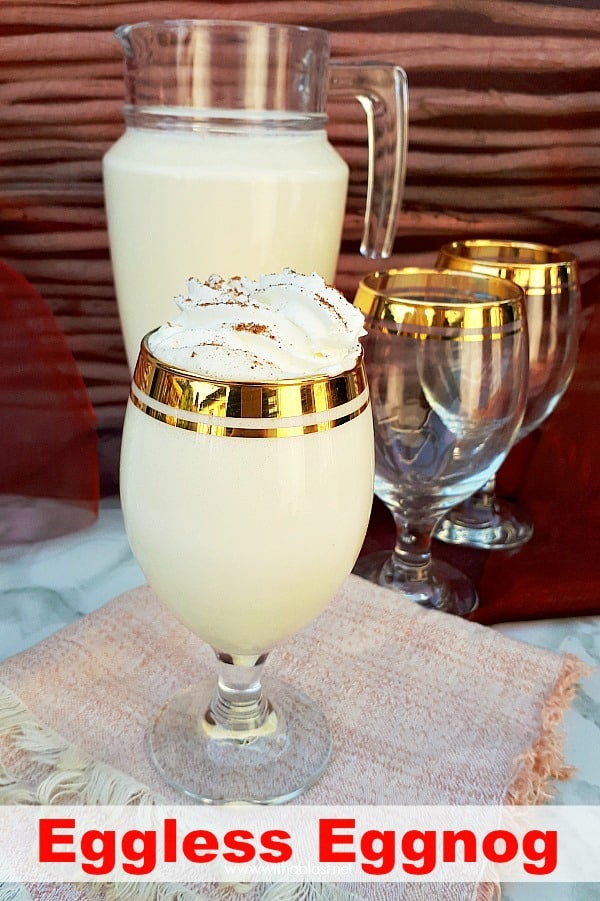 More Christmas recipes you might like:
Eggless Eggnog
Yield: 2 liters / 8 cups
Eggless Eggnog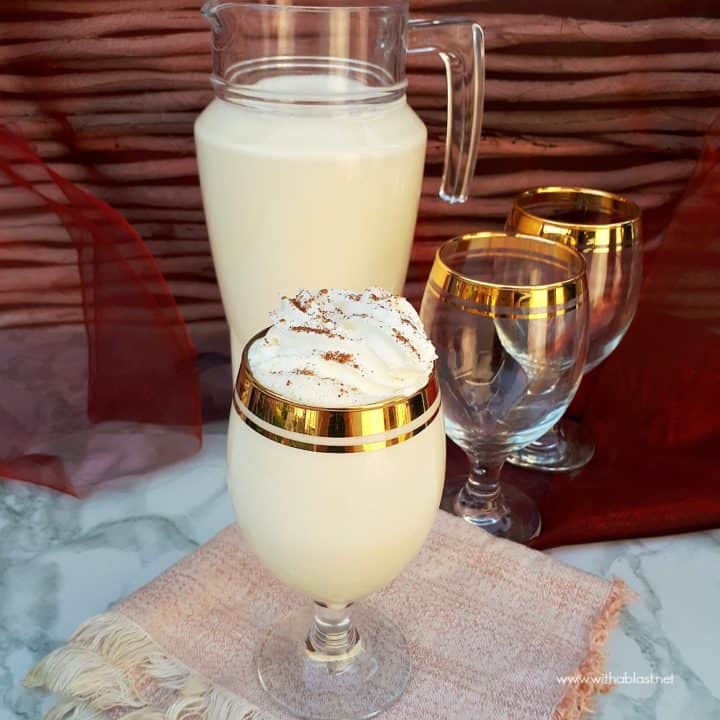 Quick, easy and delicious recipe for thick Eggless Eggnog made with standard pantry ingredients (boozy or not!) and the must have drink for Christmas !
Total Time
1 hour
10 minutes
Ingredients
1 Box Instant Vanilla Pudding ( 90g / 3oz )
4 cups Milk
4 cups Fresh Cream (Heavy/Whipping)
1/2 cup Caster Sugar (Superfine Sugar)
2 t Vanilla Extract
2 t Rum Extract (see note below)
TO SERVE:
Whipped Cream (optional)
Nutmeg, sprinkled over (optional)
Instructions
In a large bowl or blender, beat together the Vanilla Pudding with one cup of Milk until it starts to thicken

Add all the remaining ingredients (except the TO SERVE ingredients) – mix well with a blender

Transfer to a serving jug, cover and chill for about an hour to thicken
Serve with Whipped Cream and a sprinkling of Nutmeg (optional)
Notes
Instead of using Rum extract (for a non-alcoholic version) omit the extract
Stir in Rum just before serving (quantities are up to you - I like to add a cup !)
Nutrition values for the non-alcoholic version
Nutrition Information
Yield
8
Serving Size
1 cup
Amount Per Serving
Calories

577.1
Cover and chill for about an hour before serving, although I usually gulp down a glass as soon as the Eggnog is all mixed !
LINDA