2 Cheeses Garlic and Onion Pull-Apart Bread is filled with gooey, double Cheese, Garlic and Spring Onions – this makes this Pull-apart Bread a winner every time !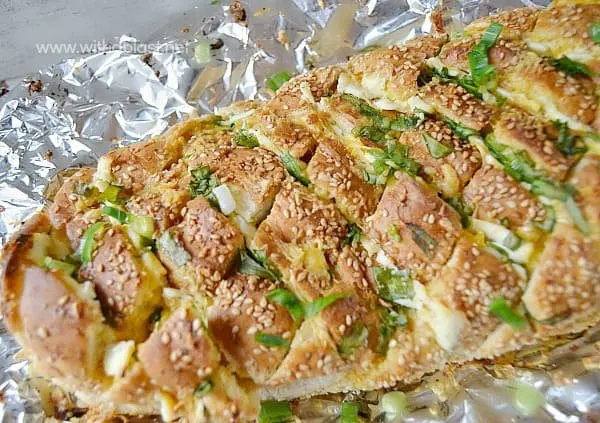 I had a Pull-Apart bread on my menu the other week, and had Mozzarella cheese on the list when we had gone shopping. But at the store my eye caught some Cream Cheese slices, yes, slices.
Never seen them before, and changed my mind there and then to use these new (to me!) slices instead of Mozzarella in this 2 Cheeses, Garlic and Onion Pull-Apart Bread.

Cream Cheese slices do not melt much. Therefore not as gooey as Mozzarella would have been, but it definitely had a different taste and texture as well.
The Cream Cheese slices between the criss-crosses, gave the bread a bit more of a chewiness. Which actually made a great difference to the usual Pull-Apart bread I make, using the combination of Mozzarella and Cheddar.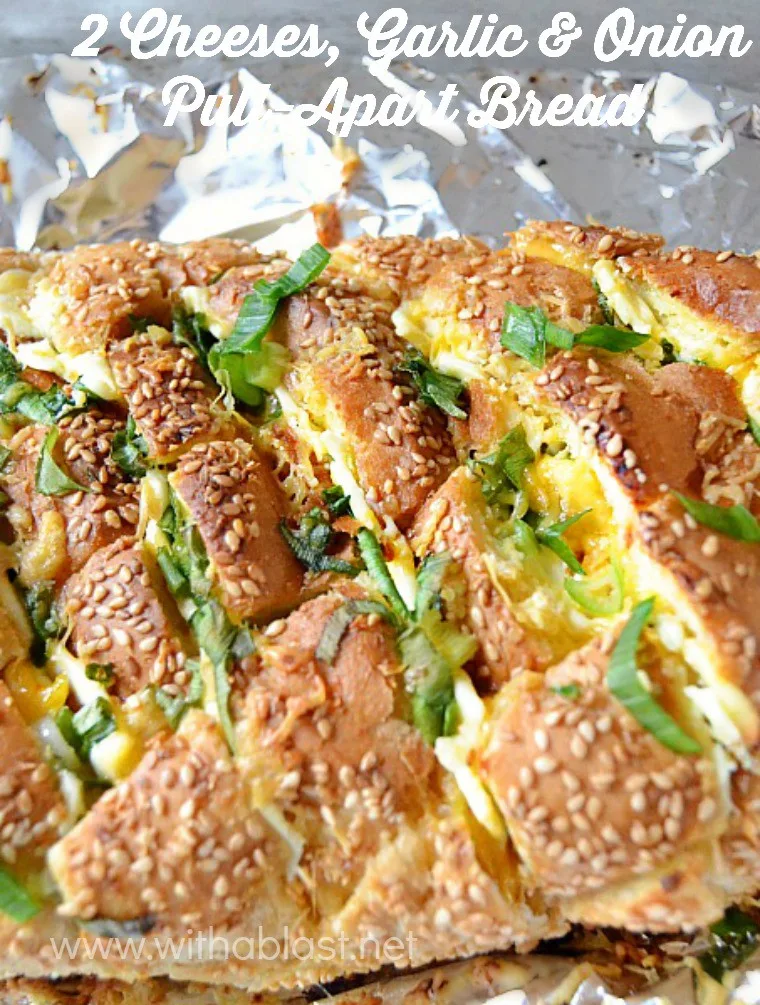 My hubby liked the Cream Cheese much more than when I use Mozzarella. He is not a huge fan of Mozzarella, unless it is on a pizza !
I have to mention, though, that no matter which of the two cheeses you use, the secret in this scrumptious Pull-Apart Bread, is in the Butter mixture !
You can substitute the Herb Infused Oil with another flavor easily. Especially if you are a huge garlic lover, then use a Garlic Infused Oil, as long as all the flavors will play nicely together.
The photos are somewhat miserable as we had heavy rain on that day, and I had to take photos indoors, which I absolutely hate.
I am still in the very early learning process of my new camera and to be honest, the tripod and me,,, well, I do not think we will be getting along all that well.
2 Cheeses Garlic And Onion Pull-Apart Bread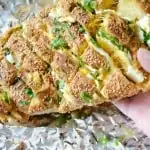 2 Cheeses Garlic And Onion Pull-Apart Bread
Gooey, double Cheese with Garlic and Spring Onions makes this Pull-apart Bread a winner every time
Ingredients
1

Oval French Loaf

1/4

cup

Unsalted Butter

1/4

cup

Herb Infused Avocado Oil

or Olive Oil

1/2

t

Salt

3

t

Fresh Garlic

minced

1

TB

Dijon Mustard

3/4

cup

Cheddar Cheese

grated

6-8

slices

Cream Cheese

plain (or Mozzarella slices)

2-3

Spring Onions

chopped
Instructions
Pre-heat the oven to 180 deg C (350 deg F) – loosely place a double layer of aluminum foil (size of a baking sheet} on a baking sheet)

Make criss-cross slits in the Loaf without slicing all the way through

Combine the Butter, Oil, Salt, Garlic and Mustard in a small bowl – pour into the slits made in the bread

Stuff all the openings with the two Cheeses and the Spring Onions – place loaf on the prepared baking sheet and fold over the aluminum foil to cover the loaf – bake 15 minutes, remove and open the top of the aluminum foil – bake a further 10 minutes or until the Cheese has melted
Serve immediately.
LINDA
You Might Also Like: