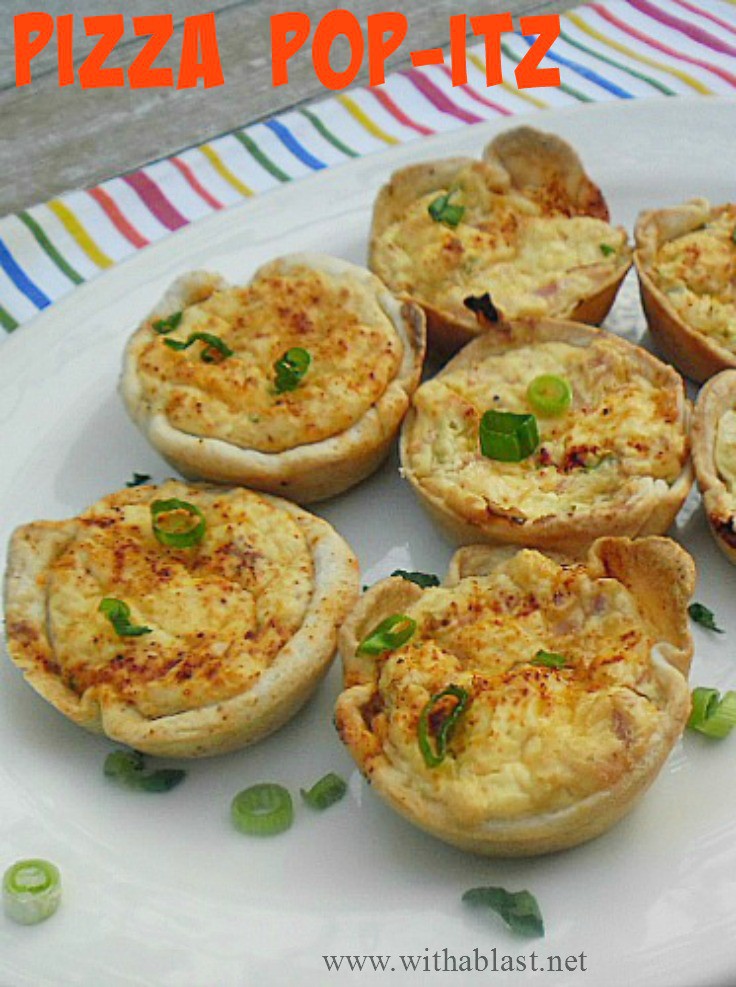 This is my take on our local Pizza restaurants' little snacks (which costs way more than homemade by the way!). I decided to start making my own Pizza Pop-Itz at the end of last year and they were an instant hit.
I did actually blog about this particular recipe at the time, but unfortunately it was one of the posts which had mysteriously vanished from my blog – together with another 45 posts. That was during my horrible few months I spent on WordPress and I am sure it was something I did wrong as WordPress and I —– well, let's just say we will never be BFF's !
Some of the recipes I lost, I eventually added to the blog again, but as I did not have a complete record of all that went missing, like this one for the Pizza Pop-Itz, it took some time before I realized I needed to add them again.
Fortunately I know this recipe by heart for one simple reason – I make these little savory Pop-Itz all the time. I did notice however, that the Pizza restaurant have a new flavor available and be sure of it, there will be some (homemade) on our table soon !
Serve these Pizza Pop-Itz as a savory snack, with or without more snacks on Game Day, or make some for the lunchbox (although I do prefer them warm). You can also serve these as an appetizer.
Pizza Pop-Itz
18 Servings
INGREDIENTS:
1 Roll Frozen Shortcrust Pastry, defrosted
1 1/2 cup Cream Cheese, plain, softened ( 12 oz )
1 Extra-Large Egg
1/2 t Salt
1/4 t Black Pepper
1 t Oregano
1/2 t Paprika + extra to sprinkle
1/2 cup Cheddar Cheese, grated
1/2 cup Mozzarella Cheese, grated
Extra's for the "Chutney and Cheese" flavored
1 1/2 TB Chutney
1/4 cup Cheddar Cheese, grated
Extra's for the "Spring Onion and Ham" flavored
3 TB Spring Onions, chopped
3 TB Deli Ham, chopped
DIRECTIONS:
1.) Pre-heat the oven to 180 deg C (350 deg F) – spray 2 x 12 hole muffin pans with cooking oil.
2.) Unroll the Shortcrust pastry and use a 5cm (2 inch) diameter cookie cutter to cut out 18 round pastry pieces – roll a little thinner and bigger – press into the muffin holes.
3.) Combine the Cream Cheese, Egg, Salt, Pepper, Oregano, Paprika and both Cheeses – use an electric mixer on medium.
4.) Divide the mixture into two bowls – add the ingredients for each flavor to each of the two bowls and mix to combine well.
5.) Fill each pastry round 3/4 of the way (these will puff during baking and then settle again on cooling), half with the one flavor and the other half with the second flavor.
6.) Sprinkle with extra Paprika and bake 20 – 25 minutes or until puffed and golden.
7.) Remove from the oven – let cool and settle for 10 minutes – transfer to a cooling rack.
Best served warm.
ps: You can also only make one flavor – choose your flavor and double up on the Extra's ingredients.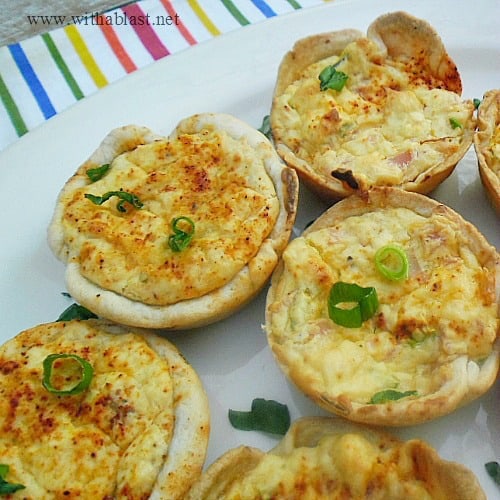 LINDA