Perfectly spiced Cape Chicken Breyani is a South-African Indian dish and loved by all ages. A Hearty meal which only requires (maybe!) a crunchy salad on the side.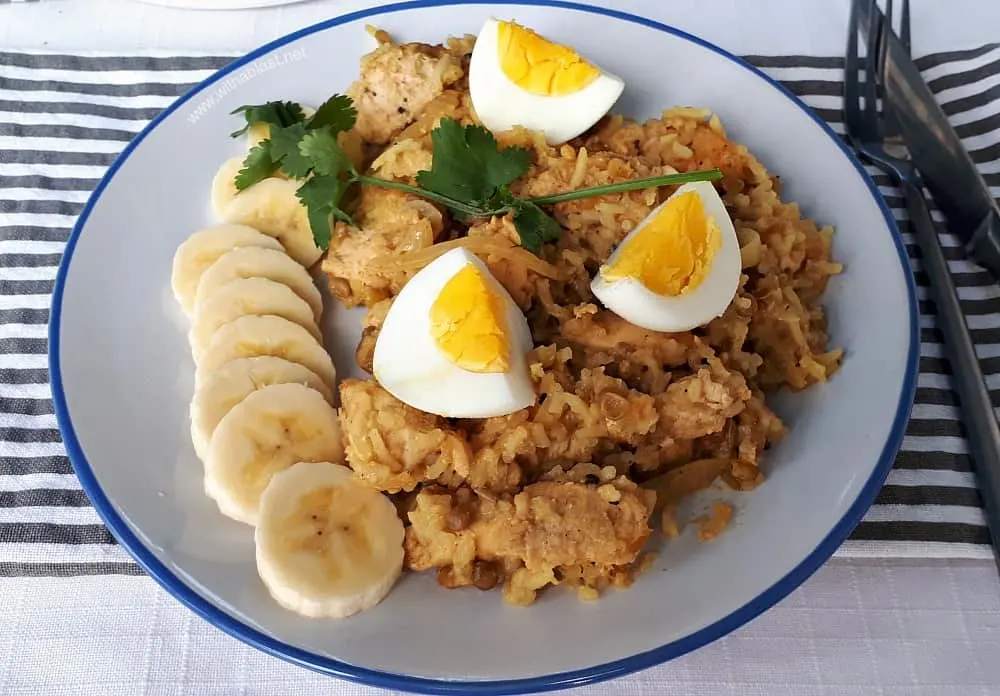 Also known as Chicken Biryani … Breyani – same thing ! In South-Africa, Gauteng we prefer to spell it Breyani, which is a spicy dish usually made with chicken.
However, I have seen other meats in local and international recipes as well. I, myself, have always made it with chicken.
This Cape Chicken Breyani is spiced just right and the ideal all-season dinner.
Chicken Breyani or Chicken Biryani, if you wish, images, both in the baking dish, as well as plated below.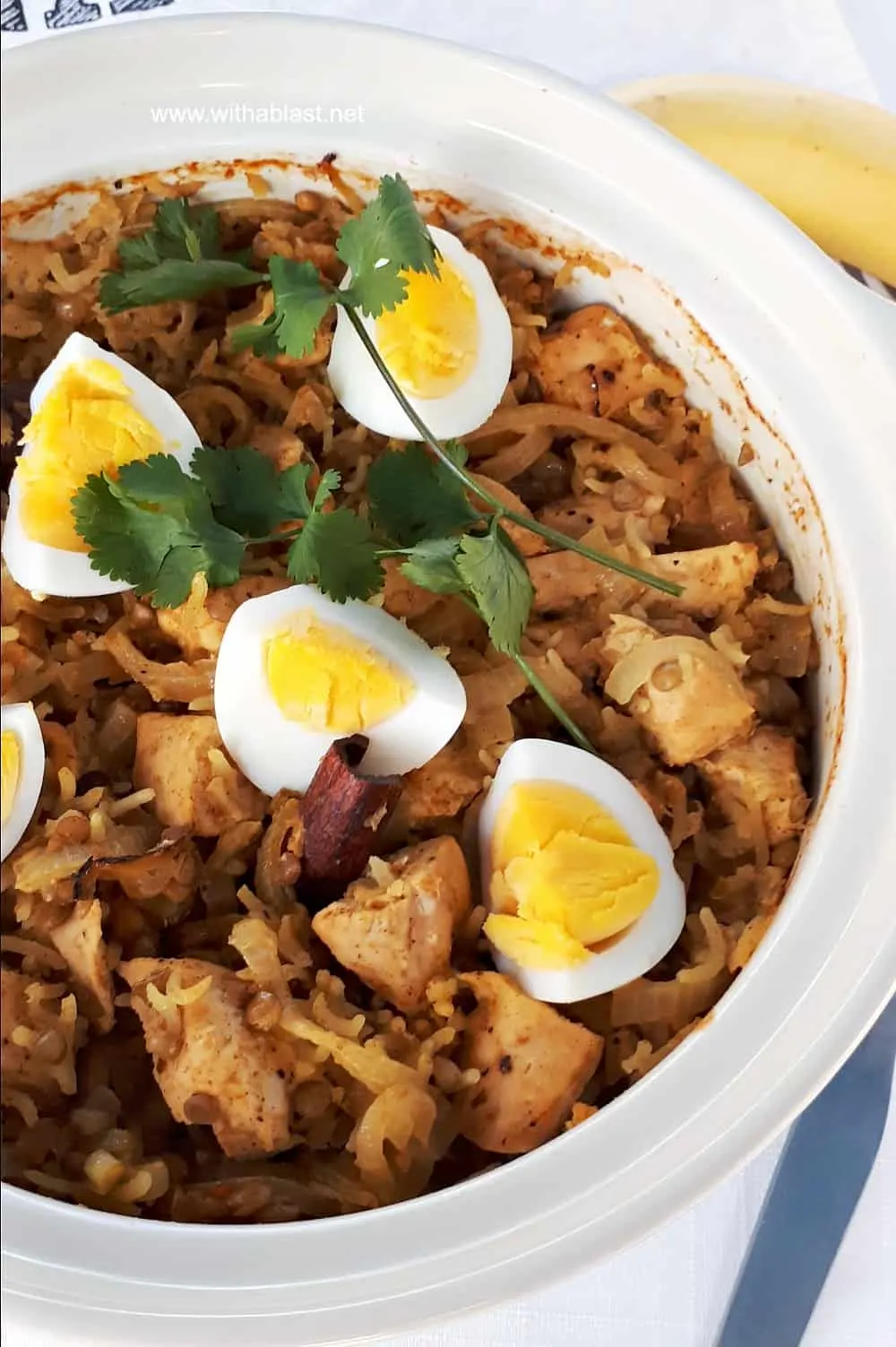 We have a boxed type of meal which you only need to add Chicken and you have Chicken Breyani in about half an hour.
However, it is short cut way of making this delicious dish. And as with most of these boxed meals, it tastes a little bland.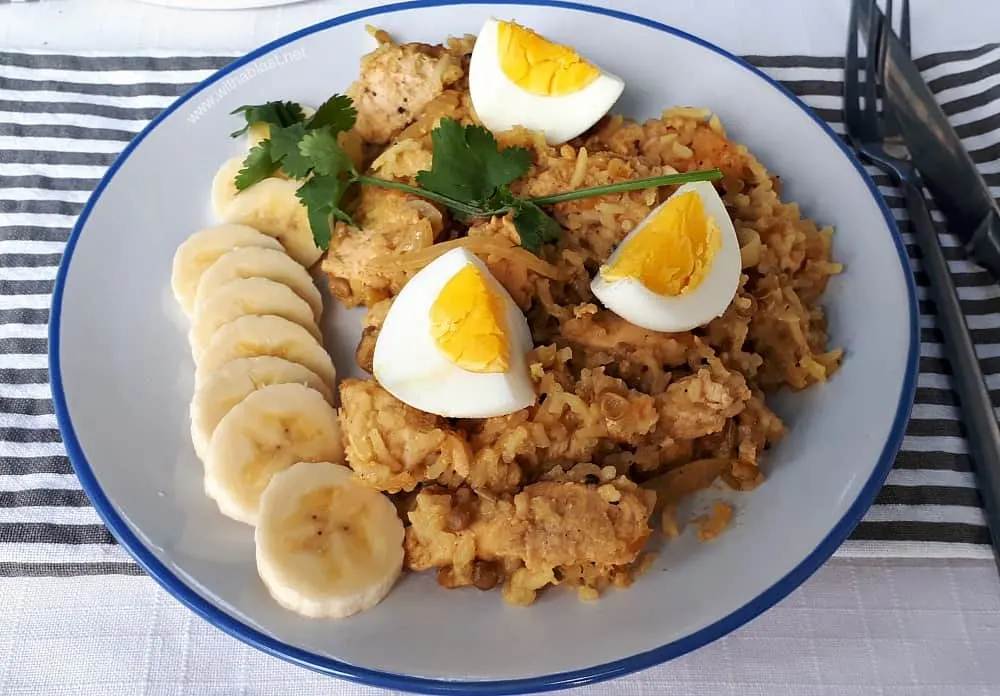 This recipe for the Breyani is so flavorful and you can taste it is freshly made immediately. That is if you tried the boxed type before.
I also love the addition of hard boiled eggs to the dish ! Which is actually how a great Chicken Breyani should be served, by the way.
Another addition is of course sliced banana on the side. Personally I add a teeny-tiny bit of chutney to mine once on the plate.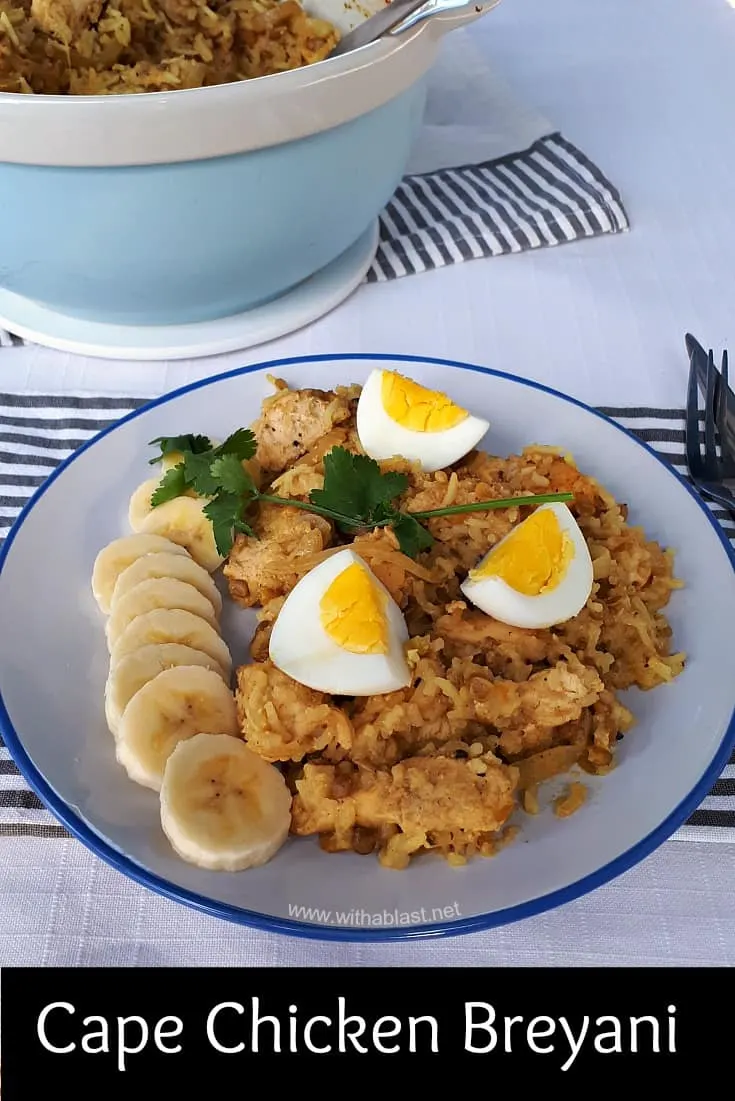 Hubby firmly believes no chutney ! However, do try some chutney, especially if you are a fruit chutney lover.
This Chicken meal is so hearty and filled with goodness, only a side salad is required. And that is also debatable.
We normally only have the Breyani as is (with the trimmings as per the recipe). I do now and then serve a simple tomato and onion salsa on the side.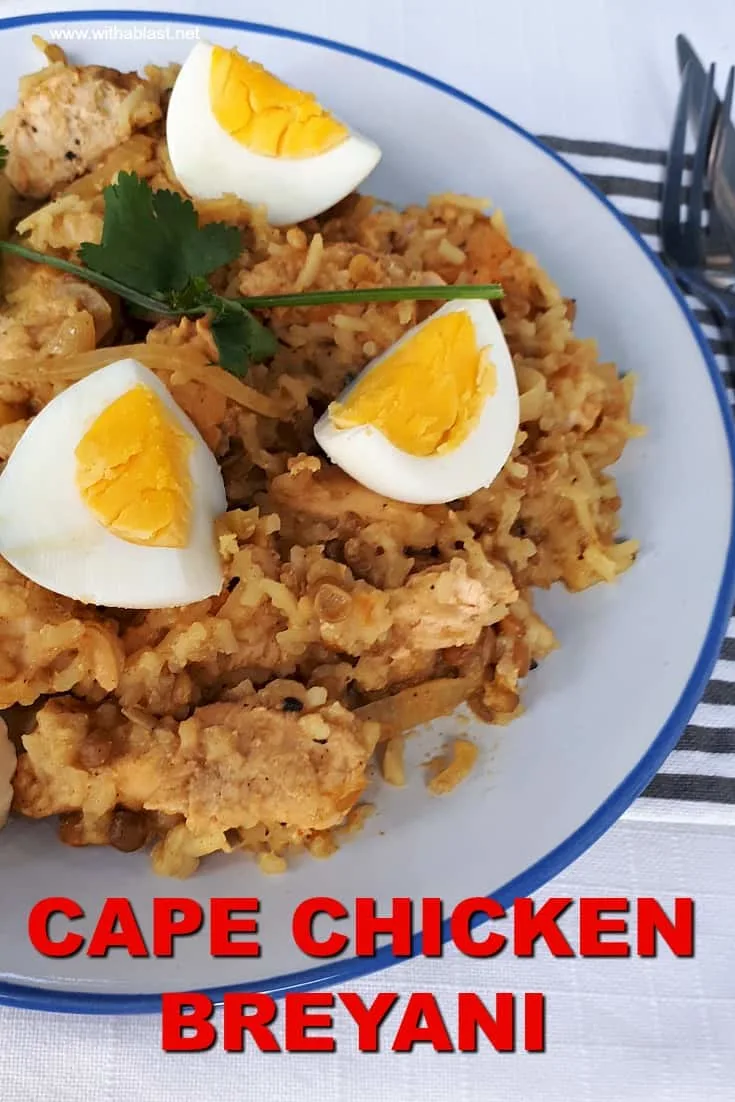 More Chicken dinner recipes you might like:
Cape Chicken Breyani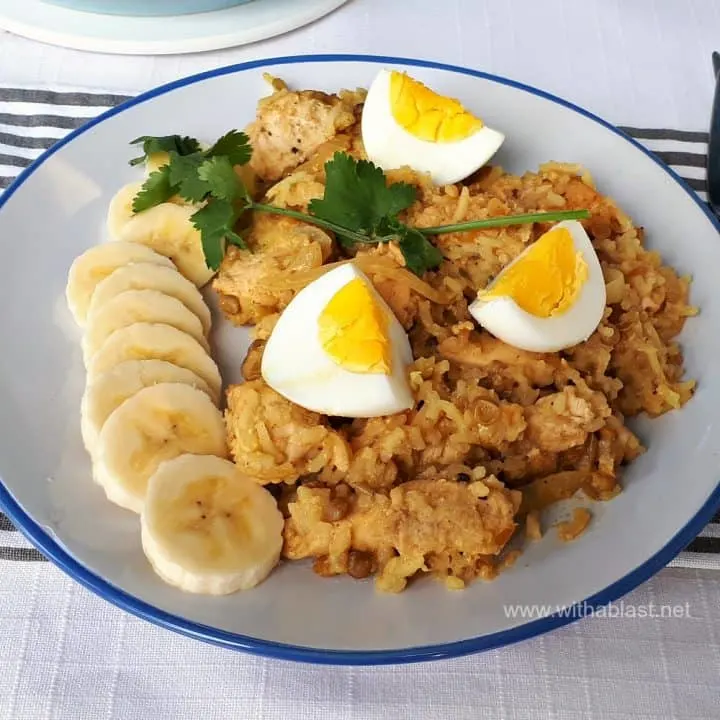 Cape Chicken Breyani
Total Time:
1 hour
40 minutes
Perfectly spiced Cape Chicken Breyani is a dinner dish loved by all ages
Ingredients
1/2 cup Brown Lentils
4 – 5 Chicken Fillets, cut into big chunks
Salt and Freshly Black Pepper, to taste
1 cup Plain Yogurt
2 teaspoons Curry Powder
1/2 teaspoon Turmeric
1/2 teaspoon Ground Cumin
1/2 teaspoon Ground Coriander
2 tablespoons Unsalted Butter
2 Onions, halved and sliced
2 Cinnamon Sticks
6 Cardamom Pods, husks removed and slightly crushed
1 1/2 cups Basmati Rice
2 cups Chicken Stock
Salt and Black Pepper, to taste
TO SERVE:
4 Hard Boiled Eggs, quartered
Sliced Banana, optional
Fresh Cilantro, for garnishing
Instructions
Place the Brown Lentils in a pot – cover with water, bring to the boil and simmer for approximately 20 minutes

Meanwhile, pre-heat the oven to 180 deg C (350 deg F) – Spray a large oven dish, with a lid, with cooking oil

Season the Chicken chunks with Salt and Pepper. Mix the Yogurt, Curry Powder, Turmeric, Cumin and Coriander – sprinkle over the Chicken until it is covered – put aside

Using a large skillet, saute the Onions in the Butter until soft and golden – add the Cinnamon and Cardamom – sizzle for 15 – 20 seconds – add the Rice and boiled Brown Lentils – stir and then add the Chicken Stock – season (if necessary) with Salt and Pepper

Transfer to the prepared oven dish and gently place the spiced Chicken chunks in the mixture – cover and bake for 50 - 60 minutes or until the Chicken is cooked through and the Rice has absorbed all the liquid

Garnish with Cilantro and serve with quartered Eggs and sliced Banana
Nutrition Information
Yield

6
Serving Size

1
Amount Per Serving
Calories

383
Total Fat

12g
Saturated Fat

5g
Trans Fat

0g
Unsaturated Fat

6g
Cholesterol

209mg
Sodium

440mg
Carbohydrates

30g
Fiber

3g
Sugar

9g
Protein

37g
Nutrition value is not always accurate