Valentine Wreath is an easy, romantic do-it-yourself decor piece to make your Valentines Day extra special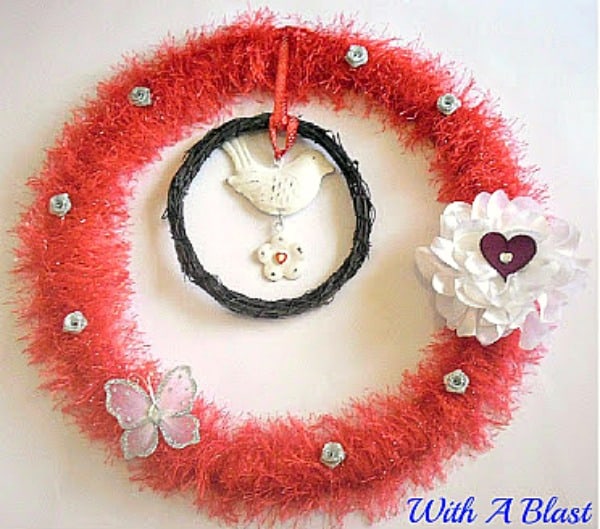 Totally a first for me! I finally decided to make a wreath, and what better than a Valentine Wreath ?

I knew four things which I wanted most definitely 1) must be red and white 2) the ring must not be thick and chunky – it has to be thin-nish 3) it has to have a soft romantic look 4) my mini rustic wreath with the little bird must hang on the inside.
Started gathering my craft goodies, but I still had no thin ring to use as a base ! I told hubby what I needed, and off he went (he has all sorts of stuff in his garage!). And returned with an old chlorine container's lid ??
Now what … I thought maybe he misunderstood, but no he explained what he will do. See below how the container lid looked after he had a 5 minute go at it: (The lid is around 40cm – 16 inches in diameter)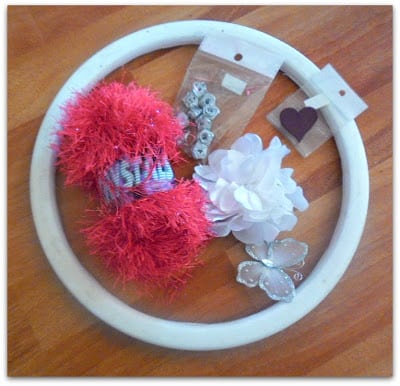 He cut out the center of the lid and gave it a quick sanding where he made the cuts so that it looks nice and smooth!
The other materials I used:
-Half a skein of a wispy (is that the right descriptive?) type of wool.
-Silver Butterfly.
-Large White Flower.
-Small dark Red Heart.
-Tiny Silver ribbon roses.
-and off course my Rustic mini Wreath which I bought a few years ago.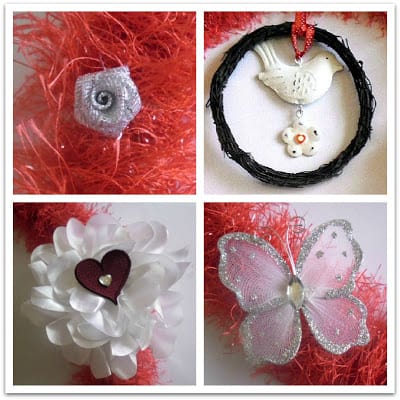 Top left – close-up of one of the tiny silver ribbon roses
Top right – my rustic mini wreath
Bottom left – I glued the heart onto the center of the white flower and added a heart Rhinestone
Bottom right – silver butterfly (this is so adorable!)
Valentine Wreath
Basically this is what I did:
-Wrapped the wispy wool all around the ring
-Used a red ribbon to tie the mini wreath to the larger wreath
-Added the white flower with the heart
-I could not get the Butterfly to stick using glue (as I did with all the others) and I ended up using a piece of Prestik… that did the trick
-Finally I added the tiny silver roses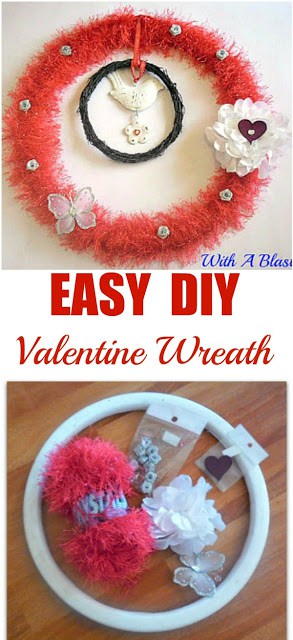 How is everyone else's Valentine crafts doing? Done a few yet, or still trying to get over Christmas and New Years ?
LINDA