Lovely Valentines Doily Banner and Vase to pretty up your Valentine's Day table. Perfect for a breakfast/brunch table or even a romantic dinner !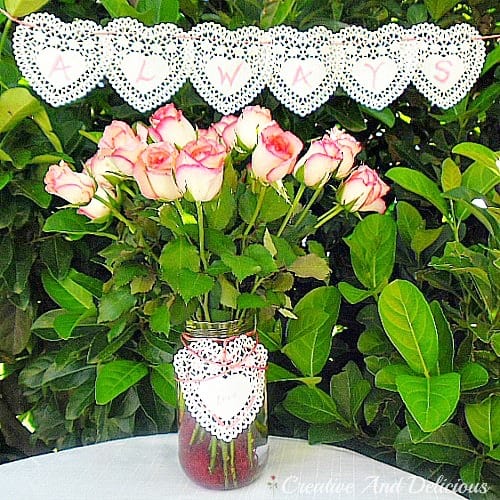 I shared this quick tutorial for a Valentines Doily Banner and Vase over at Creative and Delicious as part of my Valentines Day Breakfast . But thought I would share it here on With A Blast as well.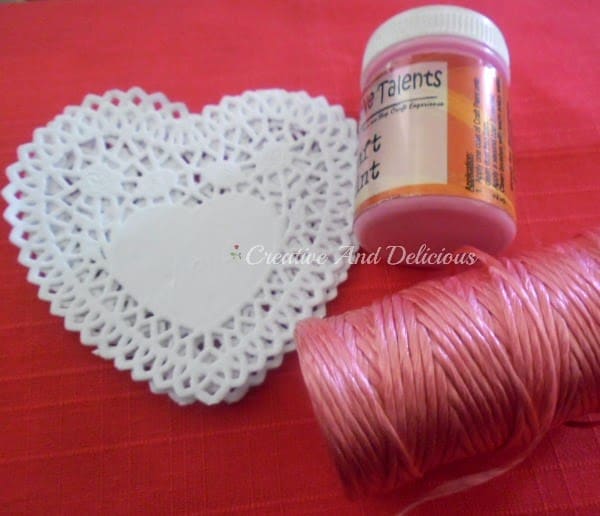 All you need to make the banner and vase is the following :
Paper Heart Doilies
Pink String
Pink Craft Paint
Empty Jar/Bottle (not shown)
Small Paint Brush (not shown)
For the Vase I threaded the string through the openings of the doily and left two long ends which I then tied twice around the empty jar
I also painted the raised letters (LOVE) on the paper doily and added a splash of pink to the raised pieces on top
For the Banner I used 6 paper doilies, painted letters (ALWAYS). One letter per doily – in pink – threaded the doilies with pink string which I tied in a tree. (this can be inside or outside – weather permitting)
After adding some Roses and red mesh (to add a little more color)to the Vase, I was done in under 20 minutes.
Valentine's Day recipes you might like: