Thai Chicken Nuggets are the perfect snack or appetizer – mix, fry and ready in minutes !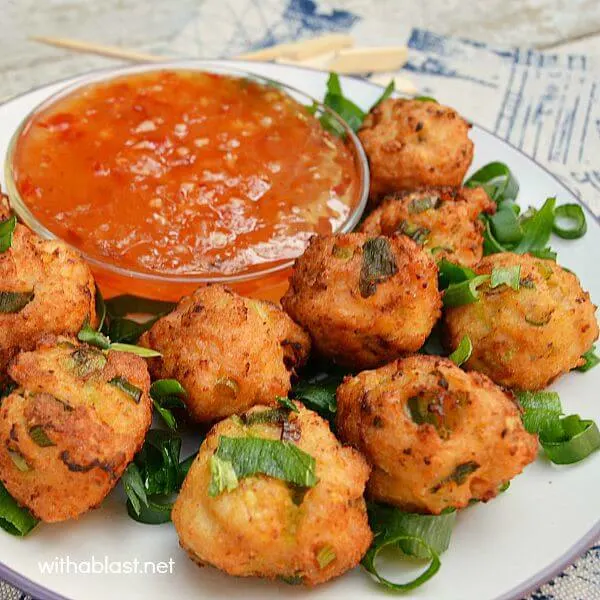 Today I have yet another delicious chicken snack. These Thai Chicken Nuggets are bursting with flavor and if you only give the ingredients a quick glance, you will soon see why.

The Nuggets are lightning quick to make too, especially if you use already ground Chicken.
I have to be honest, I do not like the ground Chicken from either the supermarket we usually buy from or from the local butcher.
No idea why not, as I am sure we all ground the Chicken more or less the same way.
Anyhow, I prefer to buy chicken fillets, cut them up roughly and place in my mixer with the sharp blade where I can chop it up to exactly the texture I like.
There is no need to refrigerate the mixture before cooking, however if you prefer to make the Nugget mixture ahead of time, there will be no harm in chilling it until you are ready to fry them up.
I fry the Nuggets in two or three batches and each batch only takes a couple of minutes, so keep the already fried Nuggets in the warming compartment of your oven and add the rest as you finish frying.
That way all will be nice and warm and you won't need to re-heat them in the microwave, which might cause the Nuggets to soften.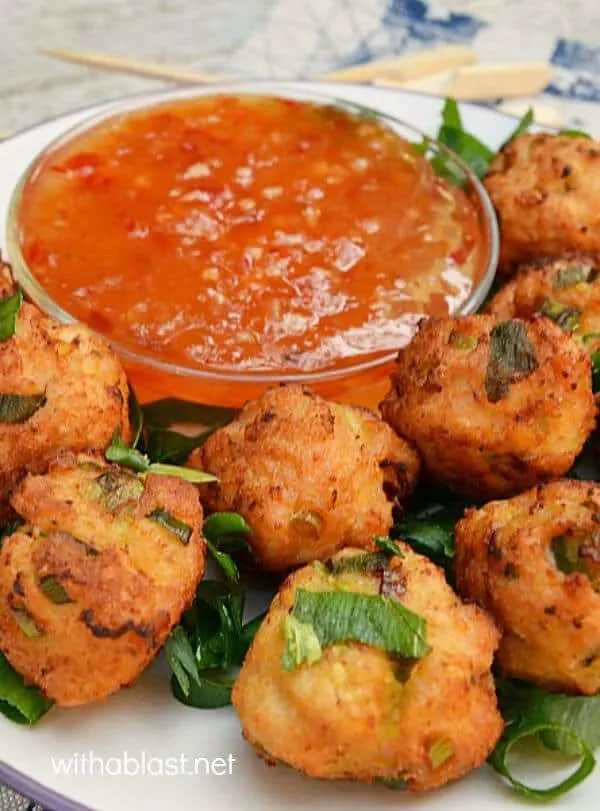 Whether you serve these Chicken Nuggets as an after school treat, a snack during the big game on the television, or as part of a savory party platter, everyone will fall in love with these tasty treats immediately.
You Might Also Like:
Thai Chicken Nuggets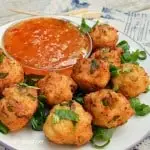 Thai Chicken Nuggets
Thai Chicken Nuggets are the perfect snack or appetizer and ready in minutes !
Ingredients
450

g

Ground Chicken

( 1 pound )

1

Egg

lightly beaten

1/2

cup

Fresh Breadcrumbs

1

TB

Fish Sauce

1

TB

Red Curry Paste

Salt and Pepper

to taste

4

Spring Onions

finely chopped

1

TB

Garlic, Ginger and Dhania Paste

1/2

cup

Vegetable Oil
Instructions
Combine all the ingredients except the Oil – roll into small balls (or you can drop tablespoonfuls into the Oil)

Fry the Nuggets in the Oil over medium heat until done (about 5 minutes, turning over once)
Serve with a dipping sauce. Sweet Chili Sauce is great with the Thai Chicken Nuggets.
LINDA