Ultra creamy, Bacon and Onion topped Potatoes ~ serve as an appetizer or side dish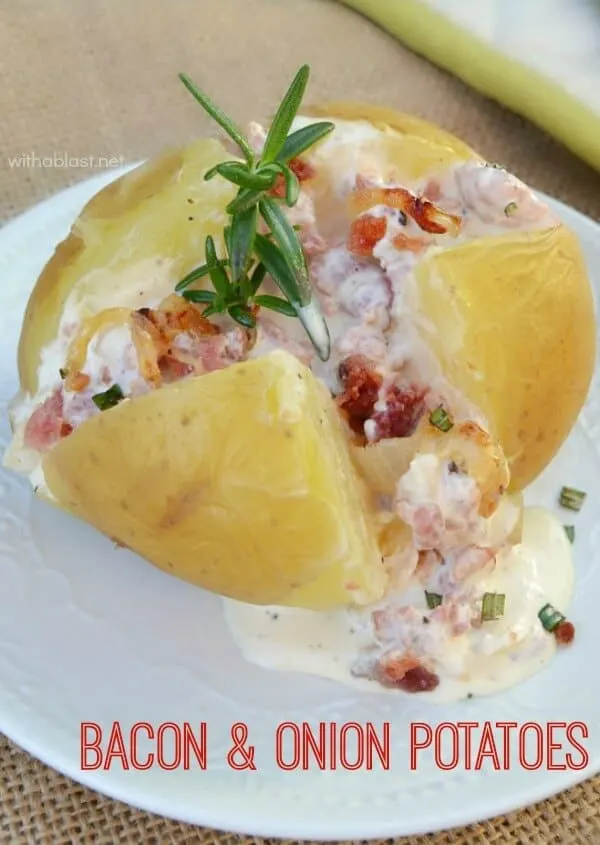 You can give me Bacon and some Potatoes anytime ! As part of, or as the main meal, morning, afternoon or at dinner time. This recipe for Bacon and Onion Potatoes are so quick and easy.
And if you have been a follower of With A Blast for a while now, you will now, that is exactly my kind of recipe.

This specific topping is more like a sauce, runny and ever so delicious to scoop up with the Potato remaining in the end.
If you prefer more of a stiff kind of topping which would sit exactly where you place it on the cooked Potatoes, simply use ice cold Sour Cream and whip it up before adding the rest of the ingredients.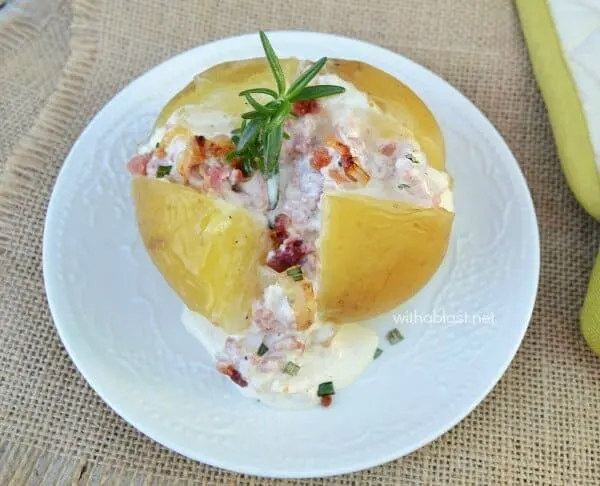 We usually have one of these Bacon and Onion topped Potatoes as an appetizer. Especially when I know the main meal will take a while to get ready or it's one of those recipes where patience is needed.
Speaking of patience, my family has none when it comes to dinner time. Seriously, some days I think this bunch is just not used to food !
Or maybe the exact opposite … who knows, but one thing I know is to at least keep them happy until the main meal is ready.
Another reason these Potatoes are so ideal, filling, but not that much that it would spoil their appetites. Of course I also serve the saucy, Bacon loaded Potatoes as a side as well.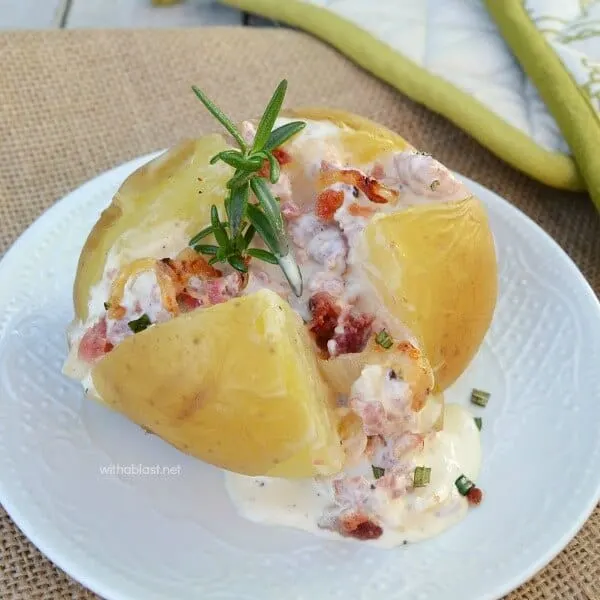 Served together with meat and a salad or two, (or vegetable sides), you have one delicious meal together.
Bacon And Onion Potatoes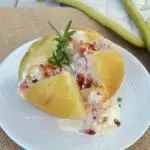 Bacon And Onion Potatoes
Ultra creamy, Bacon and Onion topped Potatoes ~ serve as an appetizer or side dish
Course:
Appetizer, Side Dish
Ingredients
4

t

Vegetable Oil

250

g

Bacon Bits

( 8 oz )

1

Onion

halved and thinly sliced

1

cup

Sour Cream

1

t

Fresh Rosemary

chopped

Salt and Black Pepper

to taste

6

Large

Potatoes

cooked in the skin (kept warm)
Instructions
Heat the Oil in a skillet – fry the Bacon until crispy – add the Onion and fry until soft – remove from heat

Pour the Sour Cream into a mixing bowl – remove the Bacon and Onion with a slotted spoon from the skillet and add to the Sour Cream – stir in the Rosemary

Season to taste with the Salt and Pepper

Cut a cross into each Potato – spoon the Bacon and Onion mixture over
Serve immediately as an appetizer or a side.
LINDA