Strawberry Mascarpone Bruschetta is a delicious treat or addition for breakfast, brunch, a snack or even for dessert and it only takes a couple of minutes to make.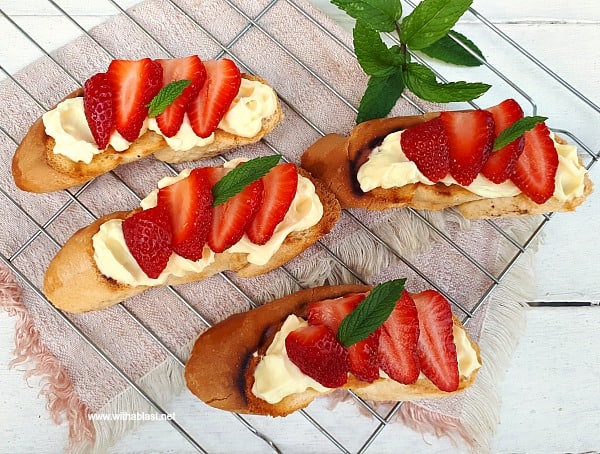 Looking for a quick snack? I love to snack on a Strawberry Mascarpone Bruschetta often, sometimes as a snack after dinner – should call it a dessert then, shouldn't I? But most often, I will have one for breakfast.
They are extremely quick to make, and always a winner. My kids absolutely love these Strawberry Mascarpone Bruschetta treats.
Strawberries and Mascarpone go hand in hand and besides making Tiramisu, I mostly have a tub of Mascarpone in the refrigerator.
We always buy Strawberries when in season, usually too much for us to finish before they go bad !
But over the years, I have collected several recipes which are perfect for over ripe Strawberries, i.e. making a Strawberry sauce for desserts, juicing, and something else I still want to try is making my own Strawberry Jam.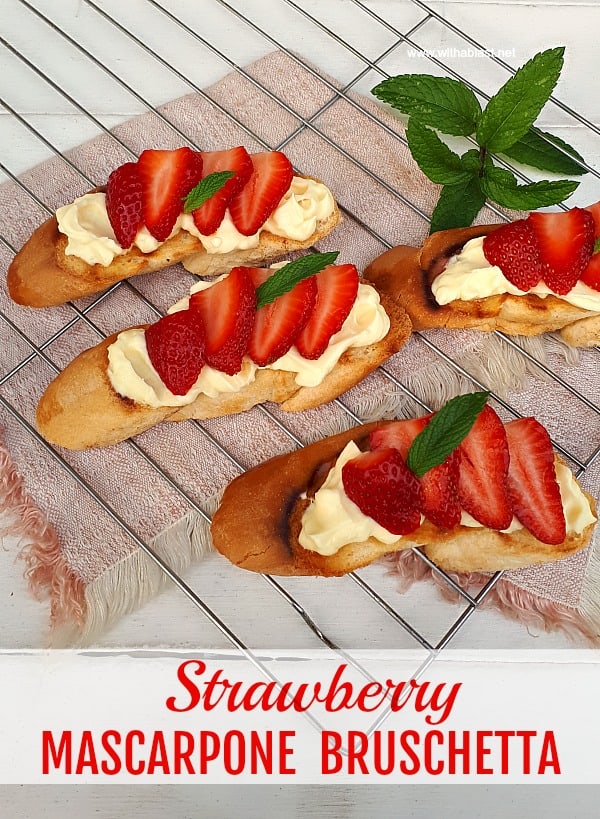 Depending on how I feel on a specific day, I might add more Strawberries. However, I never really slather the whole slice with the Mascarpone mixture as that makes it a little too rich. Especially since I normally have one or two slices in the morning.
When the kids were still in school, I liked to make a small bowl of the Mascarpone-Honey spread in advance, even sliced the Strawberries, which I kept in a sealed container in the refrigerator for exactly this kind of snack.
Once they got home – usually at different times, due to sports practice after school – they could help themselves to a quick snack mostly with a small sandwich as well.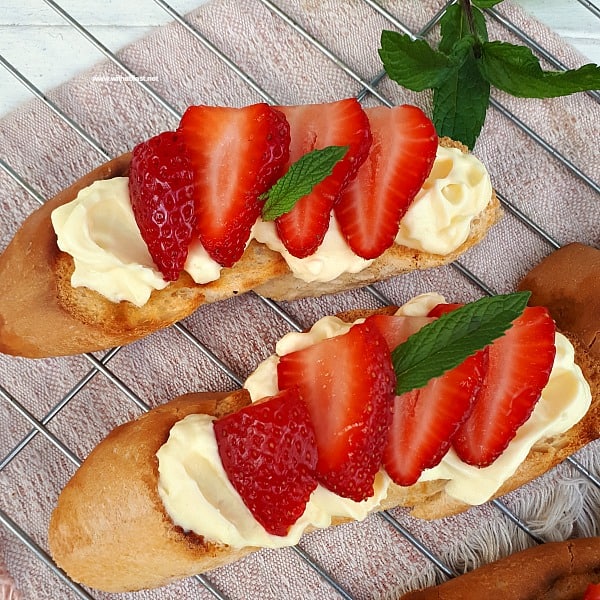 Seeing as we have our dinner fairly early, around 4 – 5 pm, the kids really do not need much after they have come home from sports practice.
I packed their lunches (we do not have cafeterias etc at our schools) for the day, as well as something which they could have between leaving school and their sports practices.
My son had a personal coach at a sports stadium close to the school, so he normally went there first, and then returned to school for Rugby practice, which was always later in the afternoon.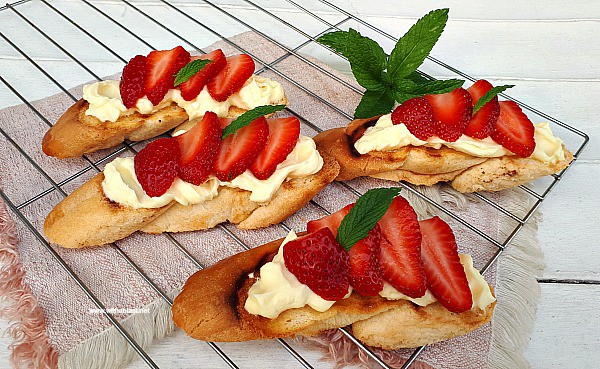 My daughter had Hockey after school, therefore she stayed behind whilst her brother went on to the stadium ( we picked him up at school and would sit at the sports stadium till he was done ). Afterwards we all met up at the school again.
I miss those days, even though we had to juggle our times like something crazy on certain days ! But now you can see why my kids loved snacking, or rather needed to snack on something to keep up with their busy schedules.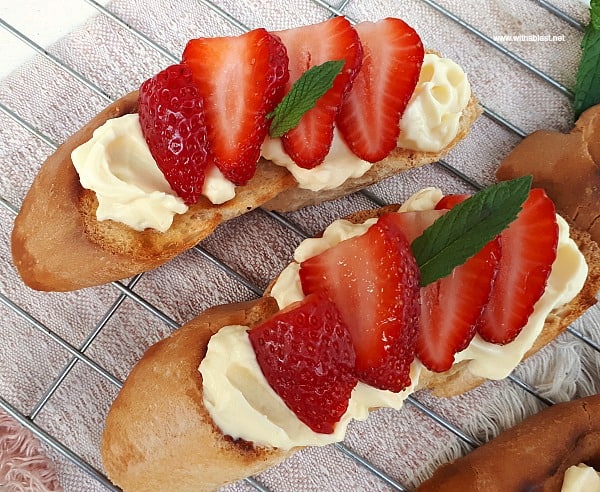 That being said, we are all snackers, especially myself ! I try to keep it to mostly healthy snacks, and leave the sweet-not-so-healthy bites for dessert.
I think these Strawberry Mascarpone Bruschettas fall somewhere in the middle, not classed as healthy, but at least not all that unhealthy !
Strawberry Mascarpone Bruschetta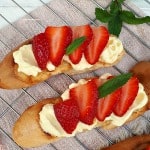 Strawberry Mascarpone Bruschetta
Strawberry Mascarpone Bruschetta is a delicious treat or addition for breakfast, brunch, a snack or even for dessert and it only takes a couple of minutes to make.
Ingredients
12

slices

French Bread

1-2

TB

Olive Oil

to brush

1/2

cup

Mascarpone Cheese

2

TB

Honey

1

TB

Lemon Juice

12

Fresh Strawberries

thinly sliced

12

Mint Leaves

to garnish
Instructions
Brush the Bread slices with Olive Oil – grill until lightly toasted

Combine the Mascarpone, Honey and Lemon Juice – spread over the toasted slices

Top with Strawberries and garnish with a Mint leaf
Serve immediately.
LINDA
You Might Also Like: