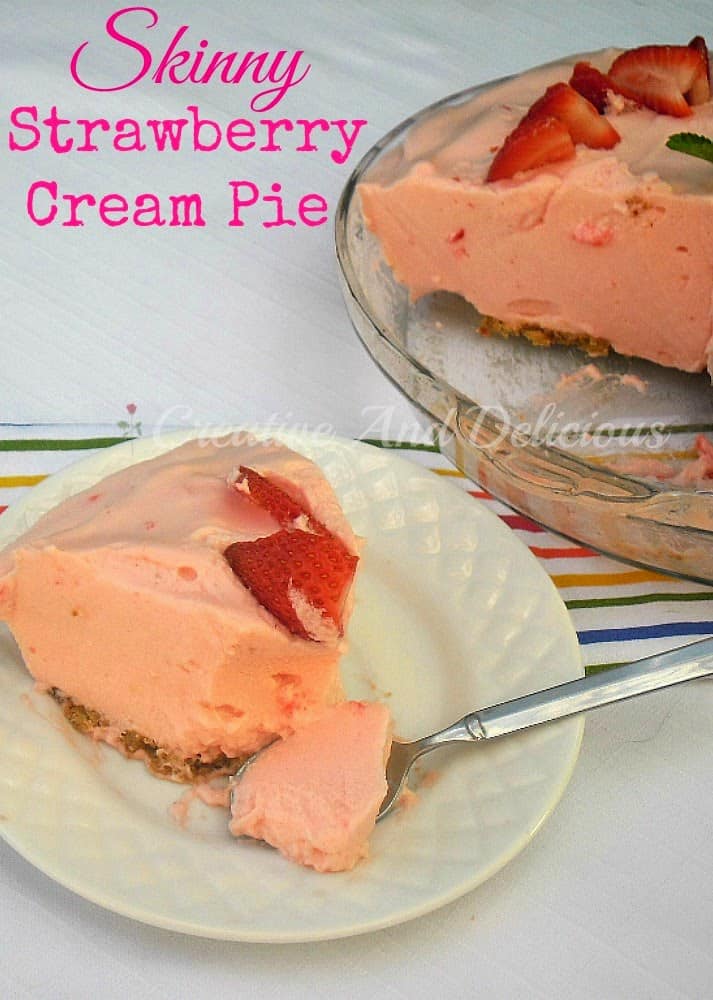 You would never guess this is a Skinny Strawberry Cream Pie. It is full of flavor and so very, very creamy !
I only made a smallish crust on the bottom, but you can always double the crust's ingredients and take it up the sides if you'd like to.
Low-Fat Evaporated Milk is the Cream for anyone watching their weight or even just to have a sweet treat, but on the healthier side.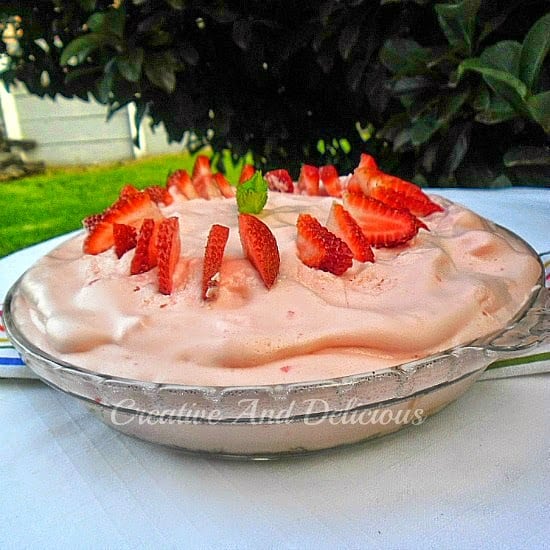 Okay, I know my decorating needs some work, but you can arrange the Strawberries in so many ways. Our Strawberry season is just about over, and for the next couple of weeks, we would be lucky to find decent Strawberries, and at a reasonable price, anywhere.
Fortunately, we now have peaches, nectarines, plums, peaches and loads of other delicious fruits available now. I have a few recipes to share with you in the near future – so… keep an eye out !
SKINNY STRAWBERRY CREAM PIE
INGREDIENTS:
Adapted from: Gesonde Gesinskos
1 cup Quick-Cook Oatmeal
3 TB Extra-Light Margarine, melted
2 TB Honey
1 box Strawberry Jello
1 cup Boiling Water
1 can (410g) Low-Fat Evaporated Milk, chilled overnight
3/4 cup Strawberry Yoghurt
1 TB Gelatine, plain
1 TB Cold Water
Fresh Strawberries & Mint Leaves, to decorate
DIRECTIONS:
1.) Pre-heat the oven to 200 deg C (400 deg F) – spray a large pie dish with low-fat cooking oil.
2.) Combine the Oatmeal, Margarine and Honey in a small mixing bowl – press into the bottom of the prepared pie dish – bake 12 – 15 minutes until golden brown – remove and let cool completely.
3.) Dissolve the Jello in the Boiling Water – leave to cool.
4.) Beat the Evaporated Milk until stiff – fold in the Yoghurt.
5.) Place the Cold Water in a small microwavable mixing bowl – sprinkle over the Gelatin – once it has turned spongy – microwave 8 – 10 seconds until dissolved and clear – leave 1 minute to cool.
6.) Add the Jello and the Gelatin to the Cream mixture – beat on medium for 30 seconds.
7.) Pour filling into the prepared pie crust – refrigerate until set.
8.) Decorate with the Strawberries and Mint.
Serve and enjoy !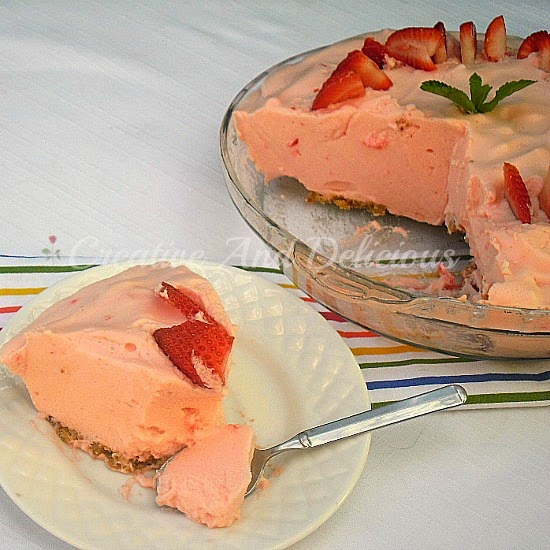 Linking up with these parties – also see my Party List: