Banshee Cocktail ~ Creamy Banana Cocktail with a divine kick !
MSG intended for our readers 21+ only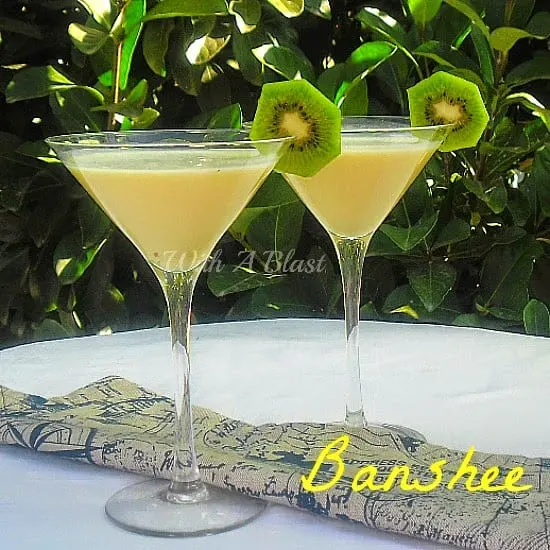 I thought it a good idea to end the month of April off, with a nice creamy Banshee Cocktail.
We have had so many long weekends during April and most were treated as mini vacations. Even though we stayed home – but we had lots of party food and of course a cocktail now and then.
My hubby joined my daughter and her boyfriend for a day and night, fishing. Now, fishing is just not my son and myself's thing ! Instead, the two of us stayed home and enjoyed a Banshee or two 😉
The other day I mentioned to hubby that I want to look up what Banshee means, as we know the cocktail and also we watch BANSHEE on TV.
If you haven't seen the series yet, it is about a town called "Banshee" where all kinds of crazy stuff happens.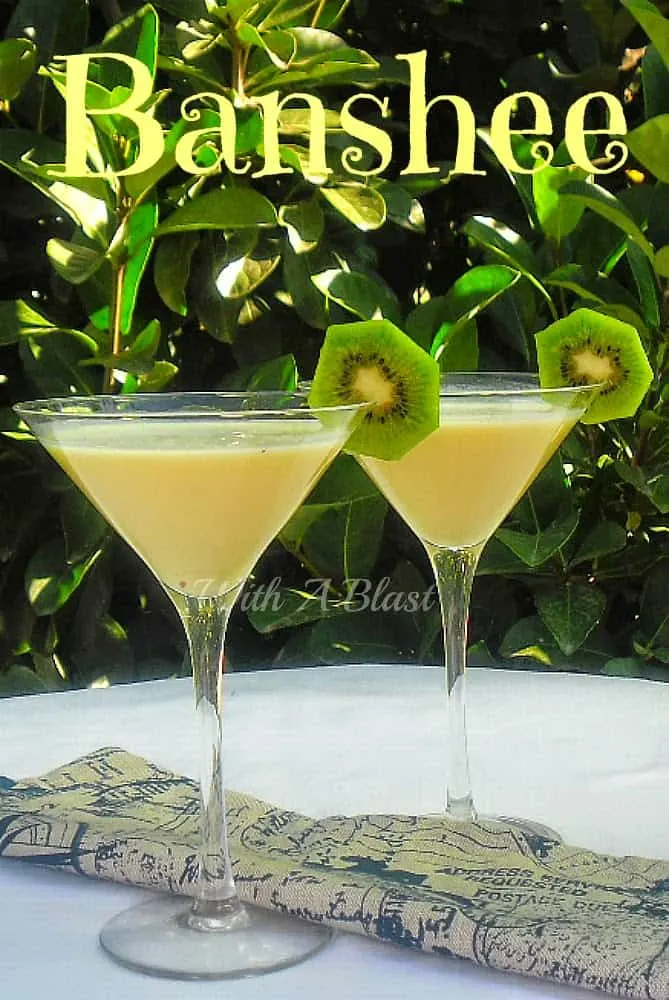 I did finally look up what it means, and was quite surprised and maybe even a little horrified. It is an Irish saying which is roughly this :
A Banshee is a female family member (not sure whether alive or deceased) whose voice you can hear screaming, 3 nights in a row at the exact time – this means there will be death in the family soon.
Yes, not really what I expected – the internet is however, full of different versions, but the basic meaning is — Irish Death Bringer ..grr.
So, be careful drinking this cocktail meaning : do.not.overindulge ! Drink responsibly.
Banshee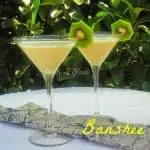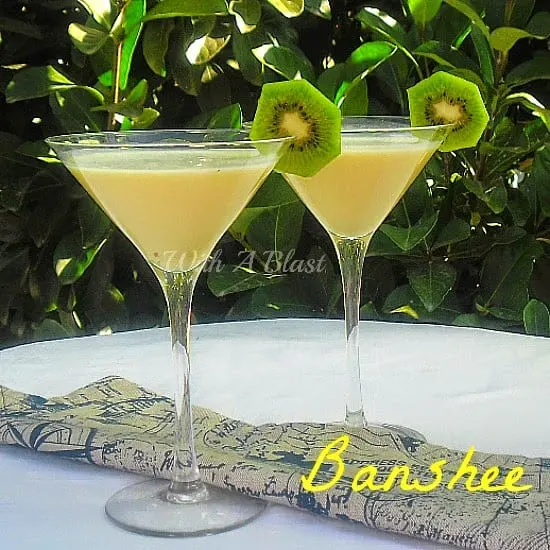 Banshee
Banshee Cocktail ~ Creamy Banana Cocktail with a divine kick !
Ingredients
1

part

Creme de Cacao

1

part

Creme de Banane

1

part

Fresh Cream

(the whipping kind, but not whipped)

small dash

Sugar Syrup

Broken Ice

1

Kiwi Fruit

sliced, to garnish
Instructions
Place all ingredients, except the Kiwi Fruit, in a cocktail shaker and shake well – pour through the shaker's sieve into serving glasses

Serve ice-cold, garnished with a slice of Kiwi Fruit
Recipe Notes
Use the same measuring cup/spoon for all parts
Sit back and enjoy !
LINDA