Roasted Peppers Salad is a tenderly roasted Bell Peppers with Herb Leaves Salad which goes with any main meal and kids actually love this !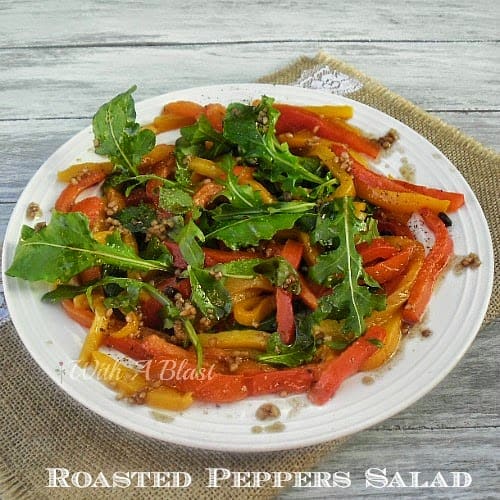 Roasted Peppers have that cooked, but still fresh taste which I just love. Bell Peppers in general are one of my favorite foods, fresh and raw, or roasted and warm. But this Roasted Peppers Salad is the best.
Strangely enough, I have seen that kids prefer this roasted cold Bell Peppers and they are not that crazy over raw Bell Peppers.
I had my first taste as a kid at my aunt's house when they were having a BBQ and I absolutely fell in love with all kinds of Peppers.
I do not think my Mom or Dad ever made anything with Bell Peppers.
It was only years later when I was married and beginning to experiment with cooking that I made a salad with green Bell Peppers. Which reminded me of the ones I had at my aunt's many years previous.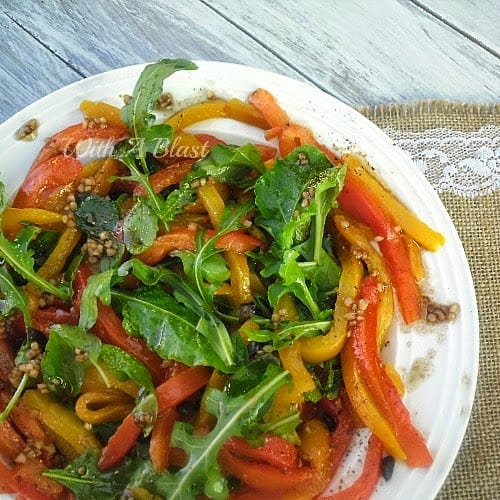 Ever since that first salad I made, Bell Peppers have been on our grocery list every single week.
I have mentioned before that we started a small vegetable garden and one of the musts to plant were … yep, Bell Peppers !
We had quite a turn out with the first lot and after that kept growing and we were actually very surprised as we had only expected a couple.
Anyhow, it is definitely worth planting some as they are most delicious when picked freshly from the garden and used straight away in a dish – cooked or raw.
Roast the Peppers ahead of time if possible !
I normally roast the Peppers the night before, or early in the morning. By the time I need to throw together this salad it only takes a couple of minutes.
For this specific salad I also prefer a coarser kind of crushed (more minced than crushed) garlic, but you can use whichever you prefer.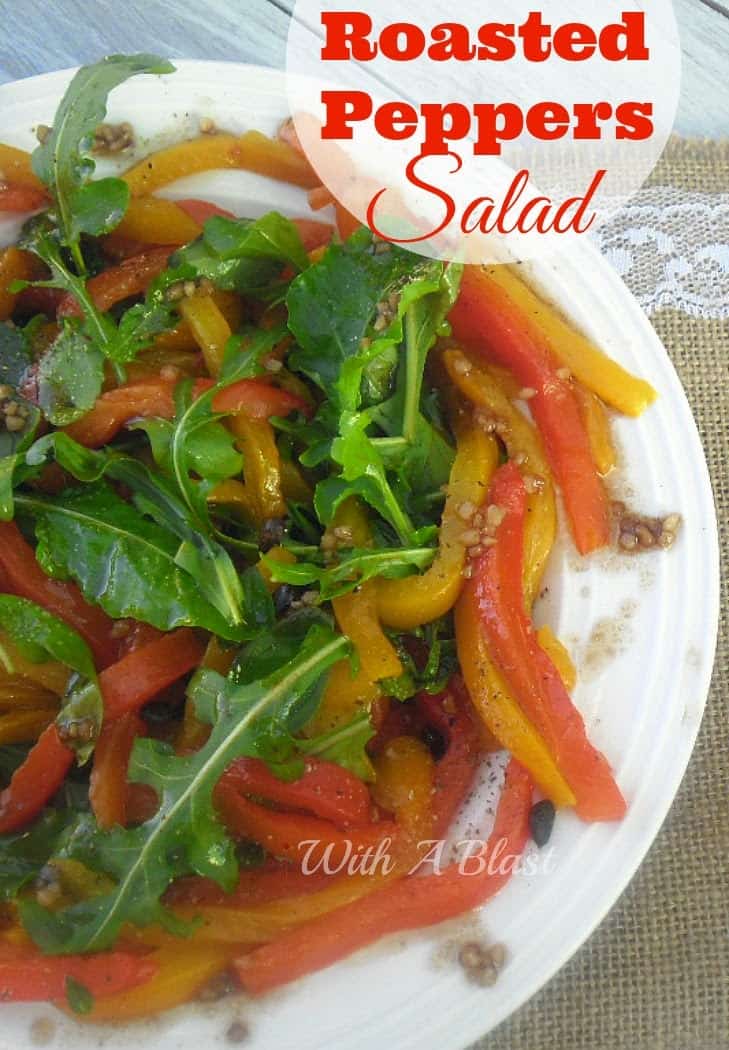 More Salad recipes you might like:
Connect with us :
PINTEREST TWITTER FACEBOOK INSTAGRAM
Roasted Peppers Salad
Yield: 6 Servings
Roasted Peppers Salad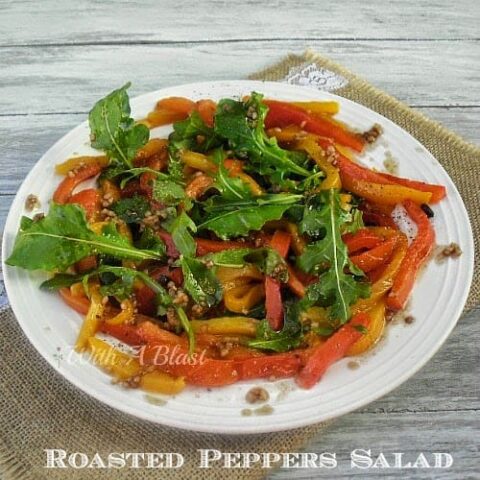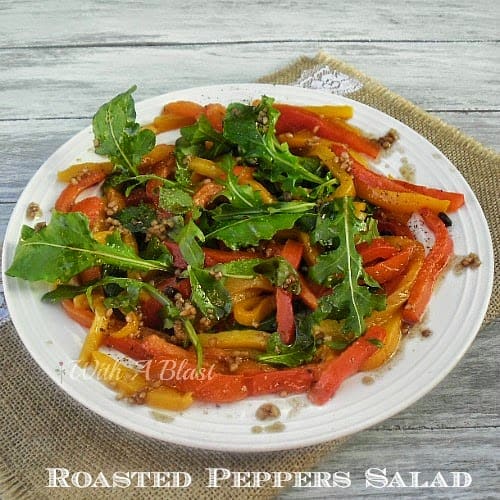 Roasted Peppers Salad is a tenderly roasted Bell Peppers with Herb Leaves Salad which goes with any main meal and kids actually love this !
Total Time
1 hour
20 minutes
Ingredients
2 Red Bell Peppers, washed
2 Yellow Bell Peppers, washed
1 1/2 TB Olive Oil, extra-virgin
1 1/2 t Balsamic Vinegar
2 t Garlic, crushed (or minced)
1 cup Arugula Leaves
1/2 cup Basil Leaves, chopped roughly
1/2 cup Toasted Pine Nuts
Salt and Black Pepper, to taste
Instructions
Pre-heat the oven to 180 deg C (350 deg F) – spray a medium oven dish with cooking oil

Arrange the Bell Peppers on the prepared oven dish – roast 10 – 15 minutes or until lightly blackened (turn halfway)

Remove the roasted Bell Peppers from the oven – place in a plastic bag immediately and close to sweat and cool completely – once cooled, remove from the bag, peel and de-seed – slice thinly

Combine the Olive Oil, Balsamic Vinegar and the Garlic in a small bowl let stand 1 minute

Meanwhile, toss together the Peppers, Arugula, Basil and Pine Nuts – season to taste with Salt and Pepper – transfer to a serving bowl



Drizzle the Olive Oil mixture over the salad
Nutrition Information
Yield
6
Amount Per Serving
Calories

132.4
Total Fat

11.5g
Saturated Fat

1.1g
Unsaturated Fat

8.9g
Carbohydrates

7.5g
Fiber

1.7g
Sugar

1.5g
Protein

2.6g
Nutrition value is not always accurate
Chill until ready to serve.
LINDA