It is no secret that our family loves meatballs. Whether they are stuck on a stick with a dip, over pasta with a sauce or in a pie as in this Parmesan Meatball Pie , we enjoy them all the time.
I like making my own meatballs from scratch, but when I am pressed for time, I simply use my favorite sausage meat and form it into meatballs – nothing easier, as sausages are already spiced and full of flavor.
The meatballs I used in this Parmesan Meatball Pie did however get a shot of added Sweet Chili Sauce, just for that extra bite.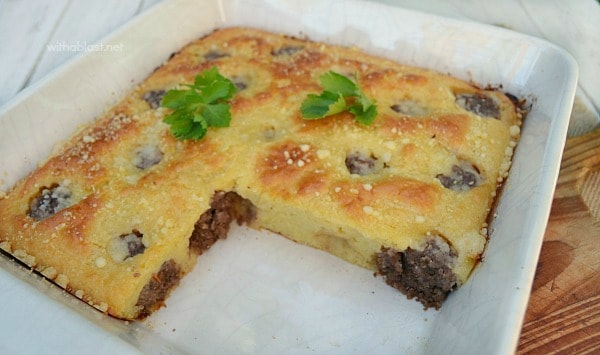 Use whichever sausage meat you prefer, I used traditional Boerewors which I know is very hard, if not totally impossible, to find in most countries outside of South-Africa. This recipe would work with chicken, beef, pork and most other sausages which are easy to remove from the casings and also easy to form into meatballs.
Not a fan of sausages ? Make your own, favorite kind of meatball and use those instead ! The batter is not spicy or even have a strong flavor, therefore you have plenty of room to play around with flavoring the meatballs which you intend on using for this Parmesan Meatball Pie.
Parmesan Meatball Pie
4 – 6 Servings
INGREDIENTS:
Meatballs:
500g Sausages, meat removed from the casings ( just over 1 pound )
2 TB Sweet Chili Sauce
Pie:
1 1/2 cups Flour
2 t Baking Powder
1 t Salt
4 Eggs
3 TB Butter, melted
1 1/2 cups Milk
1/2 cup Parmesan Cheese, grated
DIRECTIONS:
1.) Pre-heat the oven to 180 deg C (350 deg F) – spray a 20 x 30cm ( 8 x 12 inch ) oven dish with cooking oil.
2.) Combine the meat and the Chili Sauce and form into golf ball size balls – place in the prepared oven dish a little apart.
3.) Sift together the Flour, Baking Powder and Salt in a medium mixing bowl.
4.) In a separate mixing bowl – beat together the Eggs, Butter, and Milk – add to the dry ingredients and mix well (beat until smooth) – pour over the meatballs and bake 35 – 40 minutes.
5.) Sprinkle the Parmesan Cheese over, 10 minutes before the end of the baking time.
Serve with salads or vegetable sides.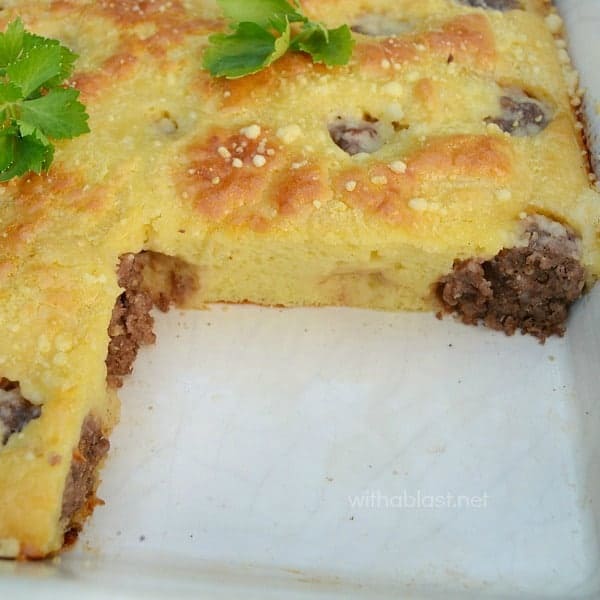 LINDA