Orzo Stuffed Peppers with Feta is perfect to serve as a side dish, and very impressive as an appetizer – all standard pantry ingredients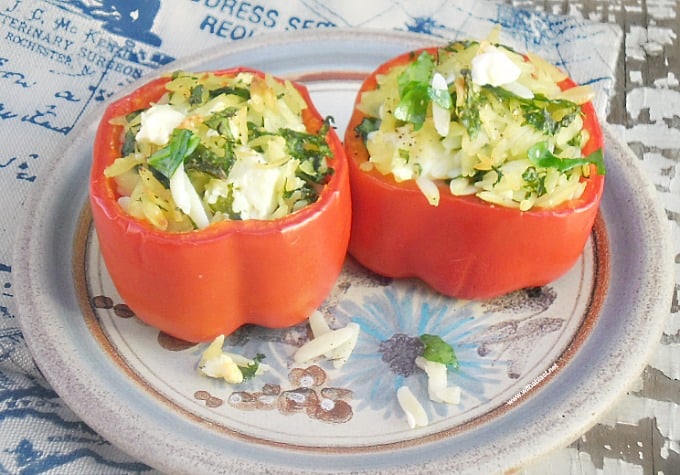 I am always looking for new, or different, side dishes.
The main focus is always on either the meat, fish, poultry or the dessert after.
But not that much thought is given to the side dishes. Not sure about you, but I am totally like that.
These Orzo Stuffed Peppers are wonderful, not only as a side dish, but also as an appetizer.
I prefer the Red Peppers because it is tastier than a Green Pepper (as in this specific dish). However, I do make stuffed Green Peppers as well.
Similar ingredients to this recipe, but I would then add chopped tomatoes instead of the Arugula to balance out the colors and of course a slight change in taste as well.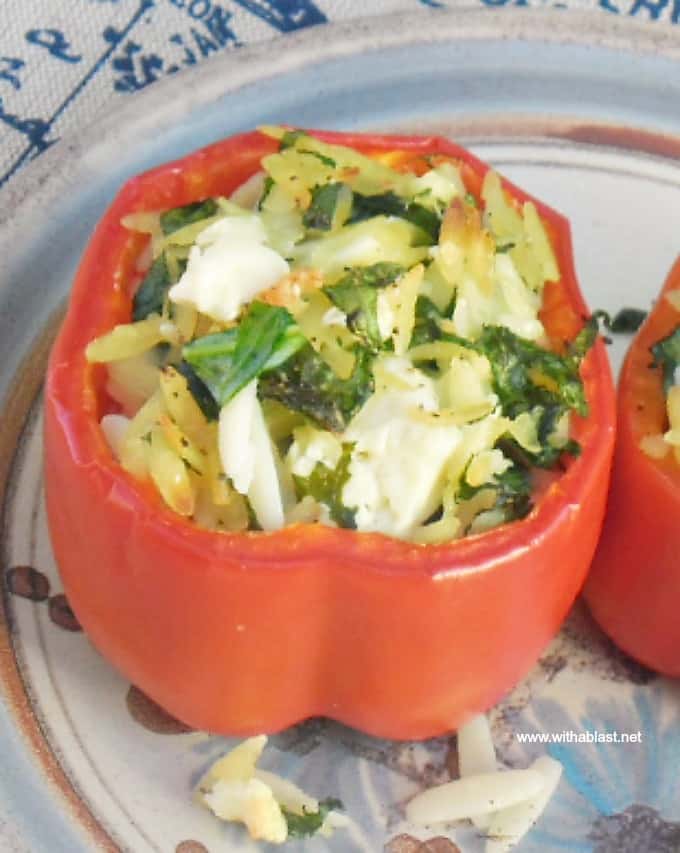 One half is usually enough per adult, whether served as a side or as an appetizer.
I normally make extra, because I know we all love these stuffed Peppers and it is just as delicious cold, as it is served warm.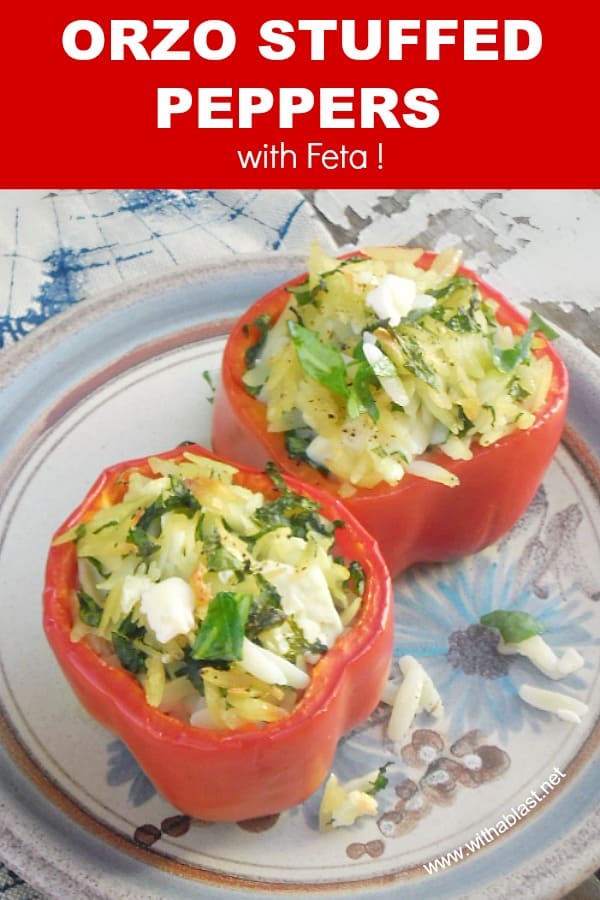 Which make the Orzo Stuffed Peppers great to take along on a picnic 😉
Note : Bake the Peppers to the degree of tenderness you like, I like them still a little crunchy, but enough to let the juices inside mix a bit with the stuffing.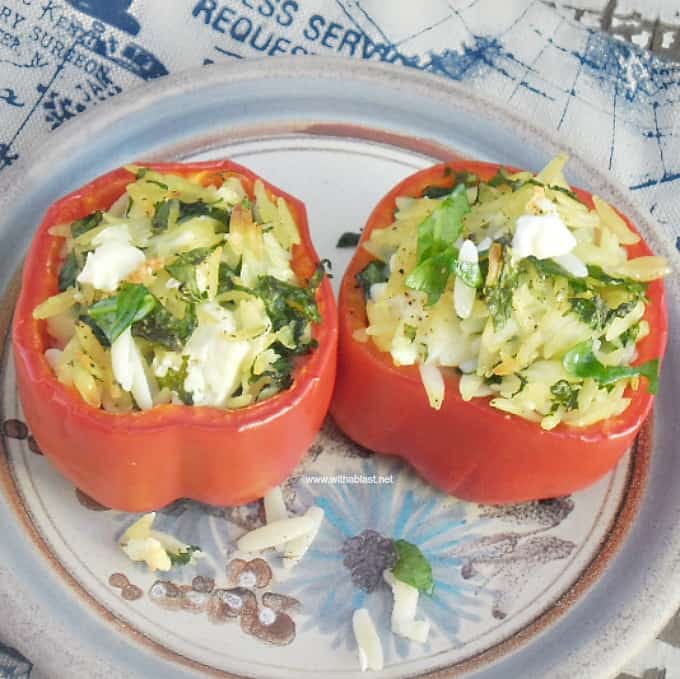 More Appetizer recipes you might like:
Orzo Stuffed Pepper
Yield: 4 Servings
Orzo Stuffed Peppers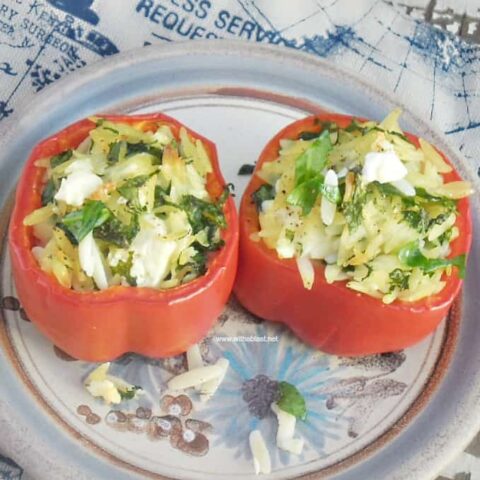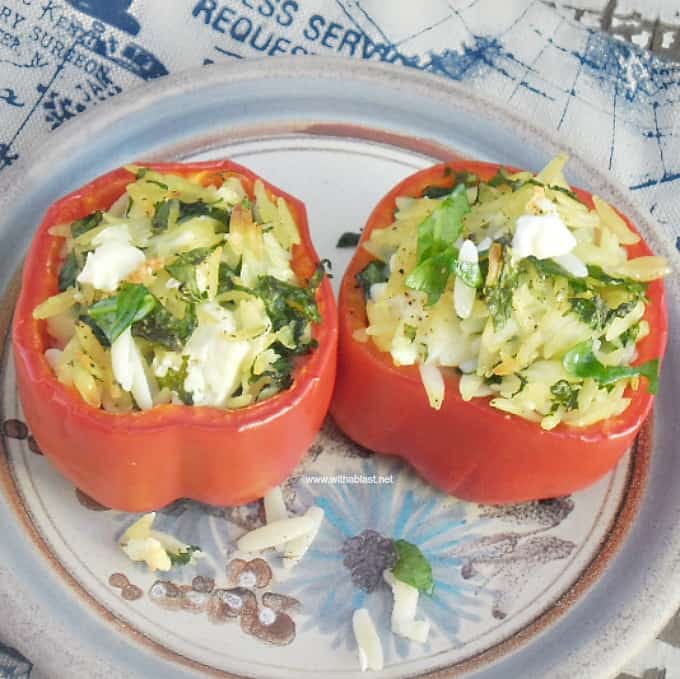 Orzo Stuffed Peppers with Feta is perfect to serve as a side dish, and very impressive as an appetizer - all standard pantry ingredients
Ingredients
1 cup Orzo Pasta, uncooked
3 cups Arugula, chopped roughly
1/4 cup Low-Fat Feta Cheese, crumbled
1 TB Olive Oil, extra-virgin
Salt and Black Pepper, to taste
2 Large Red Bell Peppers, halved, seeded and lightly seasoned inside
Instructions
Pre-heat the oven to 180 deg C (350 deg F) – spray an oven dish with cooking oil

Cook the Orzo as per the instructions on the packet – drain and add back to saucepan

Stir in the Arugula, Feta and Olive Oil – season to taste with Salt and Pepper

Place the halved Peppers on the prepared oven dish – scoop the Orzo mixture into the Peppers, pressing down gently to fill all the nooks and crannies – cover with aluminum foil and bake 35 – 40 minutes or until the Peppers are soft but still firm (see Note in post)
Nutrition Information
Yield
4
Amount Per Serving
Calories

222.8
Total Fat

5.3g
Saturated Fat

1.1g
Unsaturated Fat

3g
Cholesterol

2.5mg
Carbohydrates

35.8g
Fiber

2.5g
Sugar

1.5g
Protein

8.1g
LINDA