Orange-Chocolate Loaf ~ Drenched in Orange Syrup ! This is an easy Orange-Chocolate dessert which can be served on it's own or with a bit of cream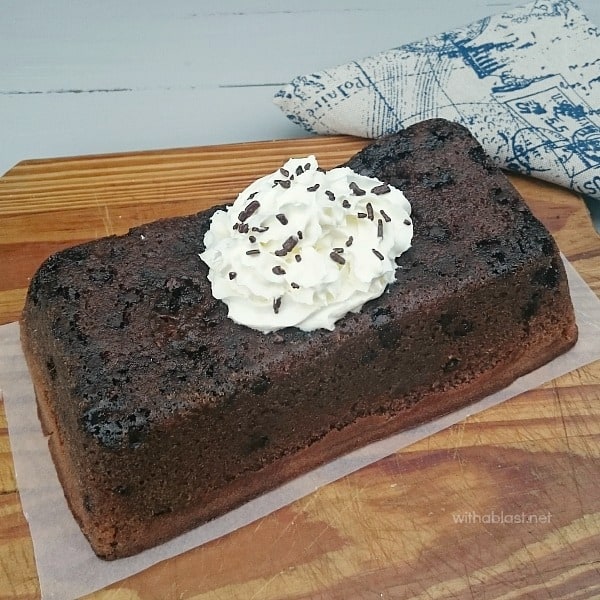 Chocolate is an all season treat, right? Orange might not be, but combined with Chocolate it is one of the most loved treats. This Orange-Chocolate Loaf will soon be a family favorite.
The baked Chocolate loaf is drenched in an Orange syrup, making it the ideal dessert or tea time treat to serve on it's own.
I do like a little whipped cream with mine as the Loaf is quite sweet. A very lightly sweetened whipped cream, balances the sweetness perfectly.
My son has recently started being a huge fan of anything Orange-Chocolate. I, on the other hand am not crazy over this combination in chocolate bars.
But in a dessert ? Oh, yes, I am always game !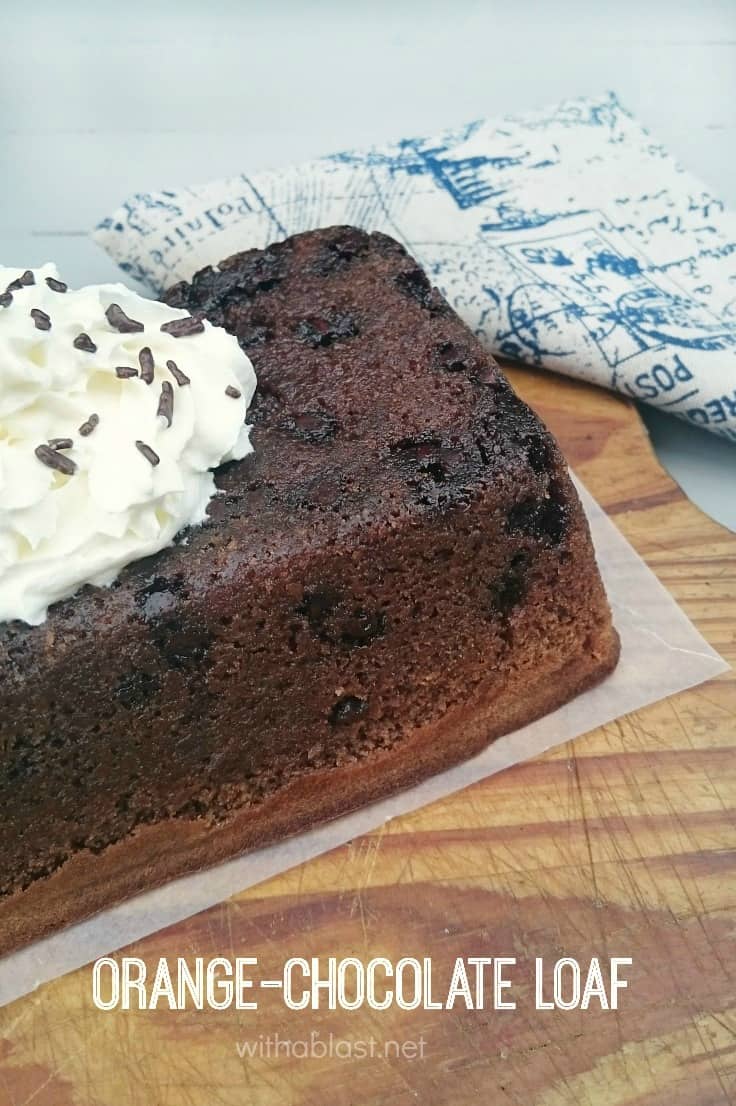 I serve the Loaf at room temperature during the warmer months and slightly warmer on a chilly evening.
And I might even add a scoop of Vanilla ice-cream to mine – delicious ! The ice-cream melts into the slices and taste fantastic.
This is the first time since I started baking the Orange-Chocolate Loaf, that I served it upside-down.
It is not like a loaf of bread with a round top when baked. Therefore I simply tipped it over when I transferred the loaf to the serving board – removed the lining and voila !
A bit of whipped cream and some sprinkles and the loaf was ready to serve. I prefer it the upside-down way, as it looks better.
You might also like these Chocolate treat recipes:
"Unbeetable" Chocolate Cake
Orange-Chocolate Loaf
Yield: 1 Medium Loaf
Orange-Chocolate Loaf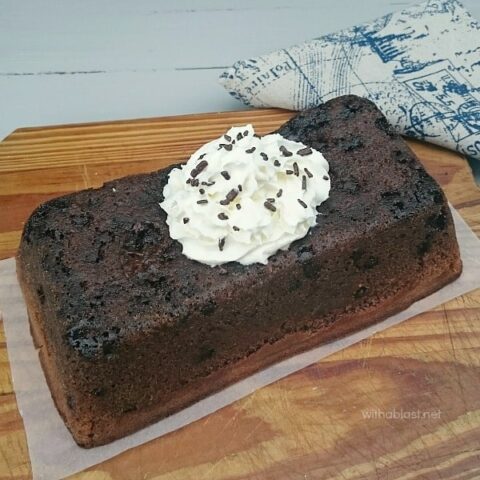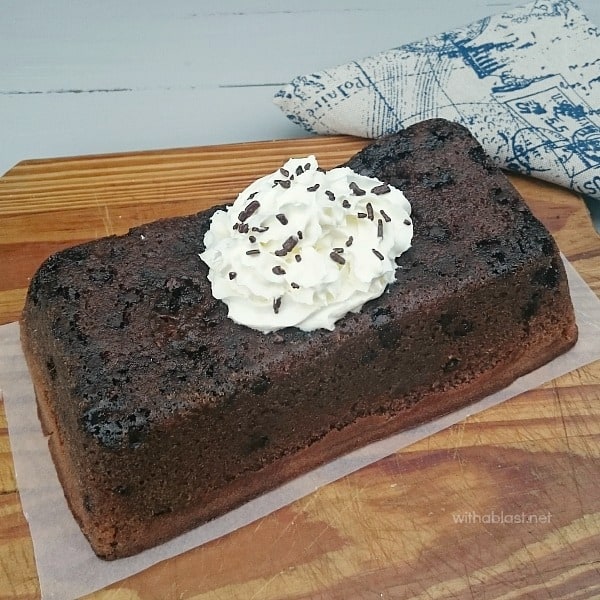 Orange-Chocolate Loaf ~ Drenched in Orange Syrup ! This is an easy Orange-Chocolate dessert which can be served on it's own or with a bit of cream
Additional Time for Sauce
5 minutes
Total Time
1 hour
15 minutes
Ingredients
LOAF:
1 cup Unsalted Butter
1 1/4 cup Caster Sugar (Superfine Sugar)
3 large Eggs
2 cups Flour
1 TB Cocoa Powder
1 1/2 t Baking Powder
1/4 t Salt
1/4 cup Chocolate Chips
SAUCE:
1/2 cup Sugar
2 TB Unsalted Butter
3/4 cup Orange Juice
Instructions
LOAF:
Preheat the oven to 180 deg C (350 deg F) – line and spray a medium loaf pan with cooking oil

Beat together the Butter and Caster Sugar until light and creamy – add the Eggs one-by-one, beating after each addition

In a separate bowl, sift together the Flour, Cocoa, Baking Powder and Salt – fold into the Butter mixture and stir in the Chocolate Chips – pour batter into the prepared pan

Bake 55 – 60 minutes or until a tester comes out clean – remove from the oven and let cool 5 minutes
SAUCE:
Meanwhile make the Sauce

:

Boil together the Sugar, Butter and Orange Juice, stirring regularly, for about 3 – 5 minutes until syrupy

Leaving the loaf in the pan – cut small slits in the top – pour over the Orange Sauce and let stand until cooled

Transfer to a serving dish and serve with whipped cream or as is
Nutrition Information
Yield
10
Amount Per Serving
Calories

498.5
Total Fat

24.1g
Saturated Fat

14.6g
Unsaturated Fat

7.7g
Carbohydrates

68.6g
Fiber

1.4g
LINDA